Submit your captivating architecture story in 5 images for Blank​ ​Space's Fairy Tales competition
Blank Space, an online competition platform, has announced the 2018 Fairy Tales competition for its 5th edition, in partnership with the National Building Museum, Washington, DC. Focusing on more societal and communicate ways of architecture in its special themed-based tasks, Blank Space's competitions can completely be evaluated out of the box!
For the Fairy Tales competition, all architects, designers, writers, artists, engineers, illustrators, students and creatives to submit their own unique architectural fairy tales by using only 5 selected images and creative architecture narrative, in the most spectacular way possible.
After four successful years, this year the fifth annual Fairy Tales competition returns with a strong jury panel to assess the striking proposals and to select the most provocative "storytellers" in the competition. This year's jury includes Daniel Libeskind, Elizabeth Diller of DS+R, Bjarke Ingels and Thom Mayne and many more...
"Over the last four years, the Fairy Tales competition has captured the imagination of designers and architects around the world. Last year's record breaking competition drew over 1,500 participants, making the competition once again the largest annual architecture competition in the world," said Blank Space.
"Today, the Fairy Tales competition returns to inspire creatives and designers at a time when the world is struggling to distinguish fact from fiction — when real news is often grim and scary, and 'fake news' sows discord and diffidence," said Blank Space founders Matthew Hoffman and Francesca Giuliani.
"I n a time like this, storytelling might be the most powerful tool to unlock universal truths and rediscover what matters."
This year, the competition will also be printing a special edition book, bringing together the top entries from the past 5 years for the first time ever. The book, titled as "Storytelling Architecture," will be published by Volume, a new publishing platform. The book will be released in Spring 2018.
"Over the years, Fairy Tales submissions challenged us, inspired us, and awed us, tackling real world issues through the lens of creativity. The world can't wait to be challenged, inspired, and awed once more," added Matthew Hoffman and Francesca Giuliani.
The first-prize winner will not only be a well-known name of a well-told story, but also he/she will receive a $2,000 cash prize, a $500 travel stipend, and a Storytelling Architecture book. In the same way, second-prize winner will receive a $1,000 cash prize, a $500 travel stipend, and a Storytelling Architecture book, while third-prize winner receiving a $500 cash prize, a $500 travel stipend, and a Storytelling Architecture book.
Besides that, the international jury will choose up to 10 honorable mentions. Each honorable mention will receive a complementary copy of the book.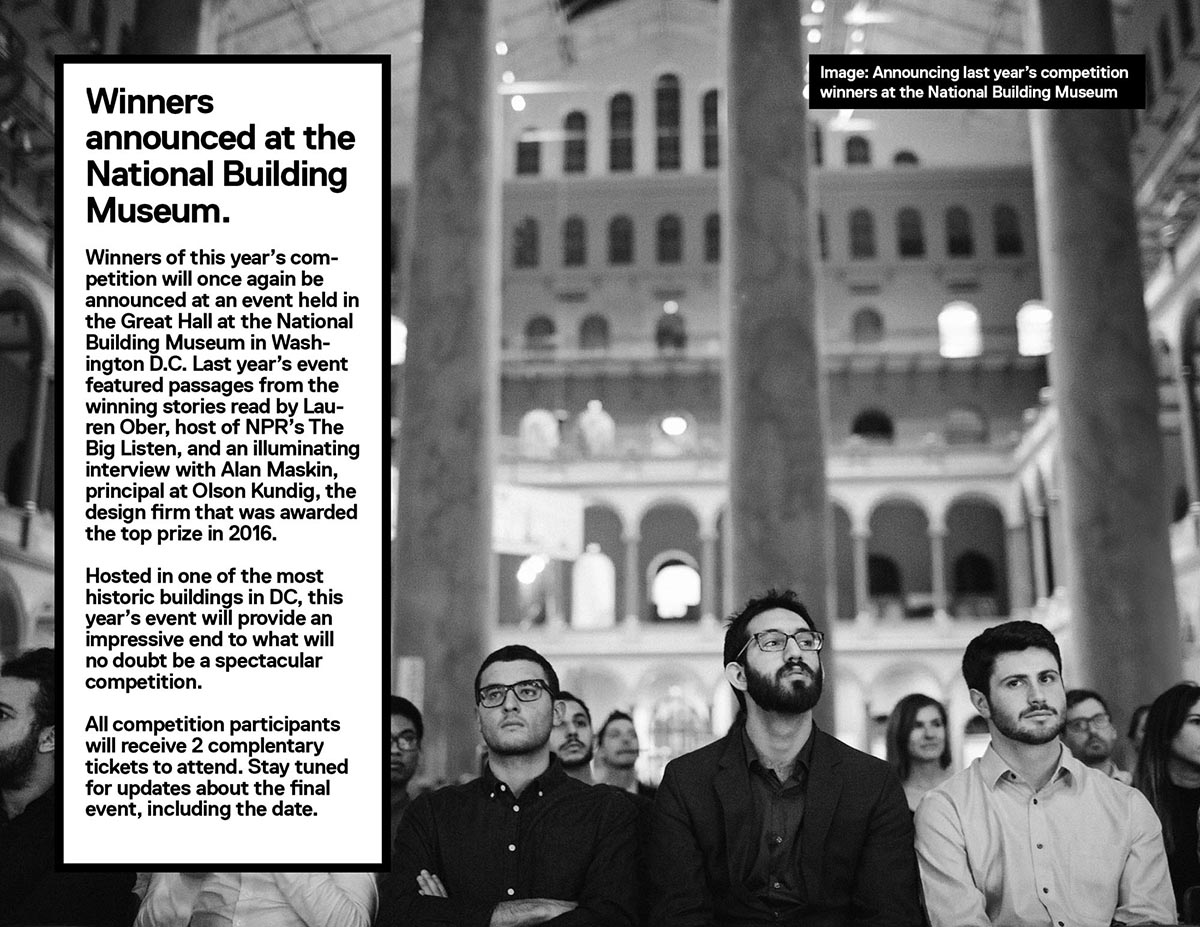 The competition has started to receive regular registrations ($55) and regular registration period will be open until December 7th, and Late Registrations ($70) will be received until January 5th, 2018. All registrants in the competition will receive a discount voucher for their copy of Storytelling Architecture.
The competition winners will be announced live at the National Building Museum in March 2018. Hosted in one of the most historic buildings in DC, the final event will bring together participants, jury members and design fans from around the world.
To start your application, learn more about jury members and download the competition brief, click here!
In the fourth edition, first award went to Mykhailo Ponomarenko for his ''Last Day'' story and in its third edition, Olson Kundig won the first prize for his "Fifth Facade" architecture narrative.
Blank Space is an online platform for architecture, founded in 2013 by Matthew Hoffman and Francesca Giuliani. Matthew is an architect who believes architecture can be more interesting, more fun and more social. Francesca is a journalist who believes that communication is omnipresent, and that good communication helps great ideas change the world.
"Through competitions, publications, and projects, we uncover the true power of architecture by creating new opportunities for design to engage the public. We like to think of Blank Space as an office for thought provocation, challenging architecture to rethink its role in society by speaking about things everybody can relate to, in a language understandable to all," said the team.
Top image: Terrence Hector for "City Walkers", second-prize winner in the 2017 Fairy Tales competition.
All images courtesy of Blank Space
> via Blank Space