OMA explores the flexibility of scaffolding systems in an exhibition by The Center for Architecture
OMA New York has installed a small version of scaffolding in an exhibition organised by the Center for Architecture - AIA's New York Chapter to explore potential uses and applications of scaffolding as a kit-of-parts technology.
Designed by OMA New York Partner Shohei Shigematsu and curated by independent researcher Greg Barton, the exhibition - called Scaffolding - will be on view at the gallery from October 2 through January 18, 2018. The exhibition explores the transformative potential of scaffolding, a pervasive but often-maligned element of New York City.
The show, coloured with reflective orange surfaces and panels, examines the history and extraordinary applications of scaffolding as a kit-of-parts technology to provide novel forms of inhabitation and access.
The exhibition demonstrates how the ubiquitous architectural system lends itself to compelling installations, positioning it as a pragmatic tool for radical architecture and civic engagement.
Presented in the Center's disparate gallery spaces across three levels, OMA New York's design will disrupt the architectural space through an installation of an exhibition infrastructure, instilling new perspectives of scaffolding and its transformative potential.
Referring to dissemination of actual construction scaffolding works seen in and around New York City, the exhibition takes cues from both practical and unconventional uses of scaffolding and it deploys flexible devices for display to support curatorial ambitions.
The armature fills the Center for Architecture – a matrix of scaffolding inserted into the atrium vertically connects disparate gallery spaces, while an infill of scaffolding in the Hines Gallery visually extends the exhibition beyond gallery walls and onto the street.
"I am thrilled that the Center for Architecture will be temporarily "under construction." It is exciting to experiment with the flexibility of scaffolding systems as an exhibition environment," said Shohei Shigematsu, Partner at OMA New York.
OMA has also designed a system of periscopes within the scaffolding in the atrium. Climbing from Tafel Hall below ground, through the mezzanine, to the storefront window, a series of mirrors reveal views to both the exhibition's content and gallery spaces otherwise not visible from the street.
The periscopes in conjunction with the exhibition content adds a new immersive dimensionality to the Center for Architecture, while simultaneously allowing the city to inspect the exhibition from the outside and activating intrigue from the urban realm well after-hours.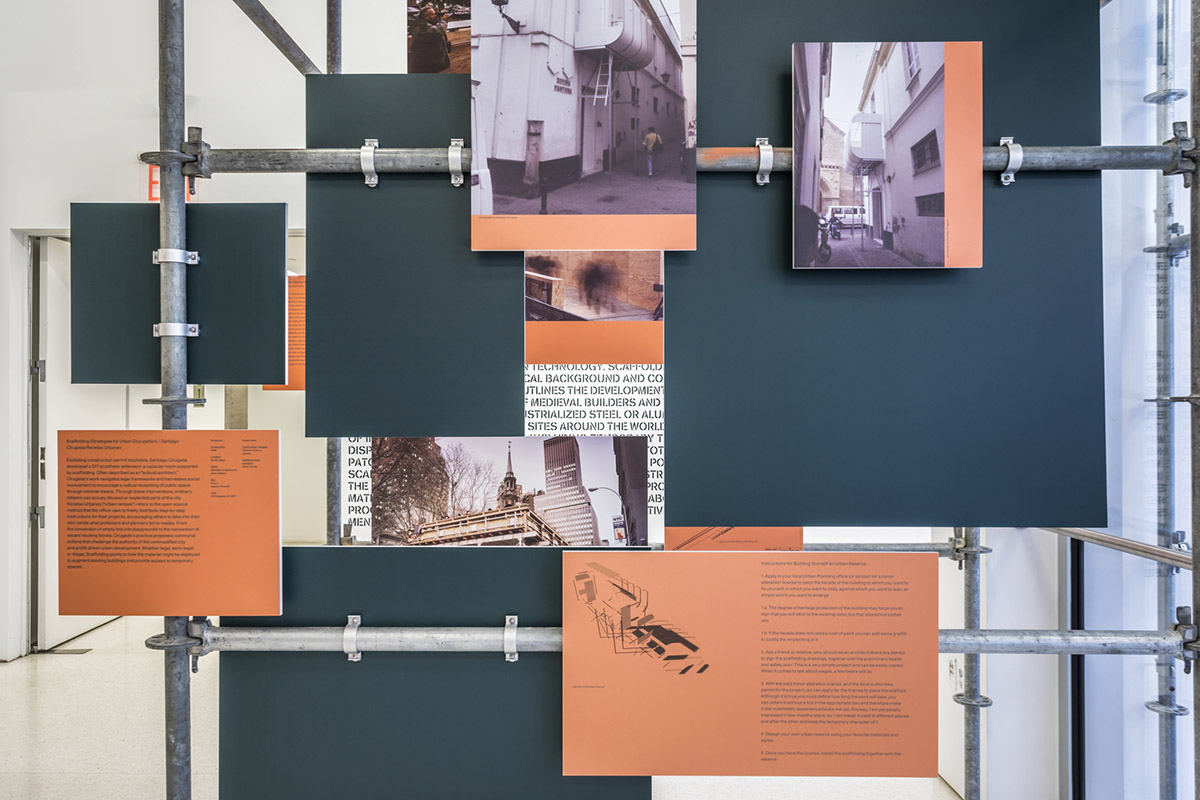 Project facts
Location: New York, USA
Client: Center For Architecture
Year: 2017
Status: Completed (commissioned 2016 / completion september 2017)
Program: 957 sqf / 89 sqm
Partner in charge: Shohei Shigematsu
Associate in charge: Scott Abrahams
Team: Carly Dean, Jackie Woon Bae, Sophia Choi, Christine Noblejas, Titouan Chapouly
Collaborators:
Graphics: MTWTF
Scaffolding: UBS
All images © Brett Beyer
All drawings © OMA
> via OMA