Unique futuristic architecture is reimagined in Roman Vlasov's architectural visuals
Ukranian designer Roman Vlasov delves into new 'solely architecture' with elegant and sharp details in such deserted places, embracing the feeling of natural embracement. Roman Vlasov creates a series of fascinating architectural visuals that unfold the building's simplistic but effective details in an unimaginable nature.
Vlasov's design concepts are based on the juxtaposition of nature and man-made rigidity of the structure attributing to its sharpness, fluidity, sleekness, purity, elegance and concrete 'abstractness' in a longitudinal building.
In such an eloquent combination, 'Concept 37' residence does not let you guess the right angle of the structure in this unique place-the private residence is placed on the rocky mountains with two-sided fully transparent facades and fluid roof- that looks like a flying-bird hit the stone in the nature.
When the users rotate around the structure, they get different angle for each time because of its unusual form and setting. In each creation of Vlasov, he presents a unique architectural identity, subliming the building's character and proportions as a new breathtaking place with their innovative and futuristic interiors-which goes beyond its aesthetic values and technological aspects. Each building becomes a new protagonist of these wild places.
Most of Roman Vlasov designs include a private car parking and swimming pool unarmoured -but the dominant attribute here is to make a perfect fit to the context showing that how a user can integrate to this snake-like body moving on the skirts of the mountains.
The structure is standing on the rocky island without any support -that displays a perfect balance between nature and the building.
A sculptural integration in the nature and you never catch the same angle from every perspective.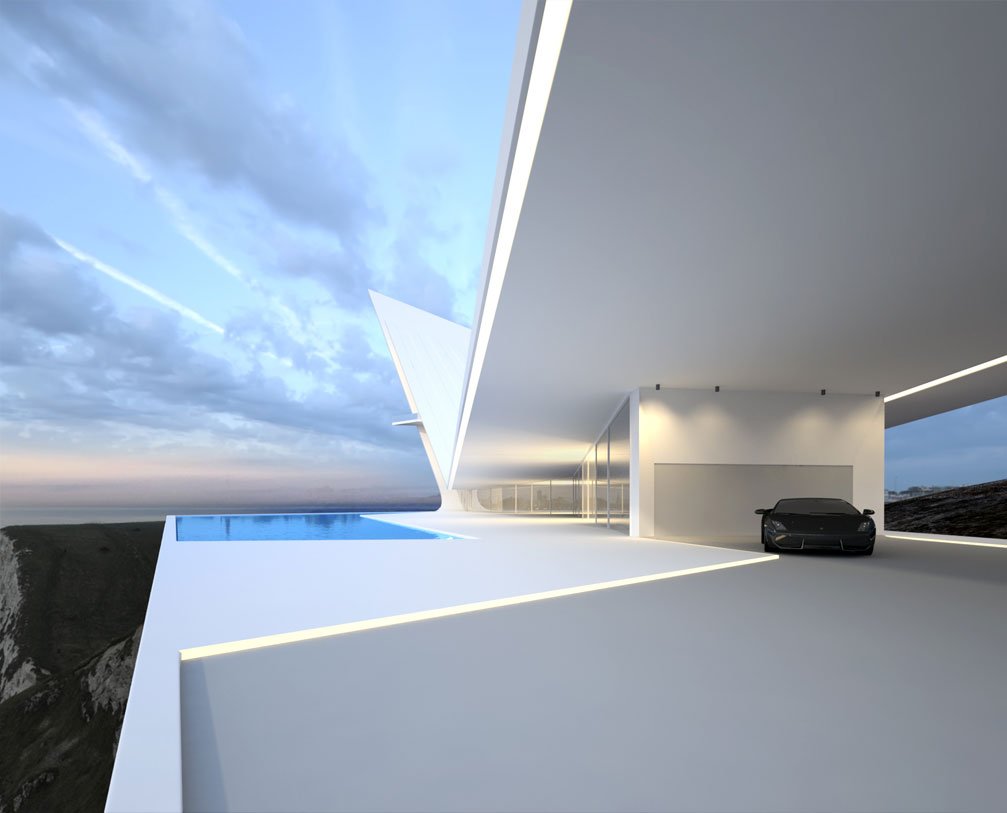 The architect never uses addition material in the buildings he visualised. They are fully naked but original buildings searching for different spatial experiences for users.
All images courtesy of Roman Vlasov
> via archvizual.com