SIT Furniture Design Award 2022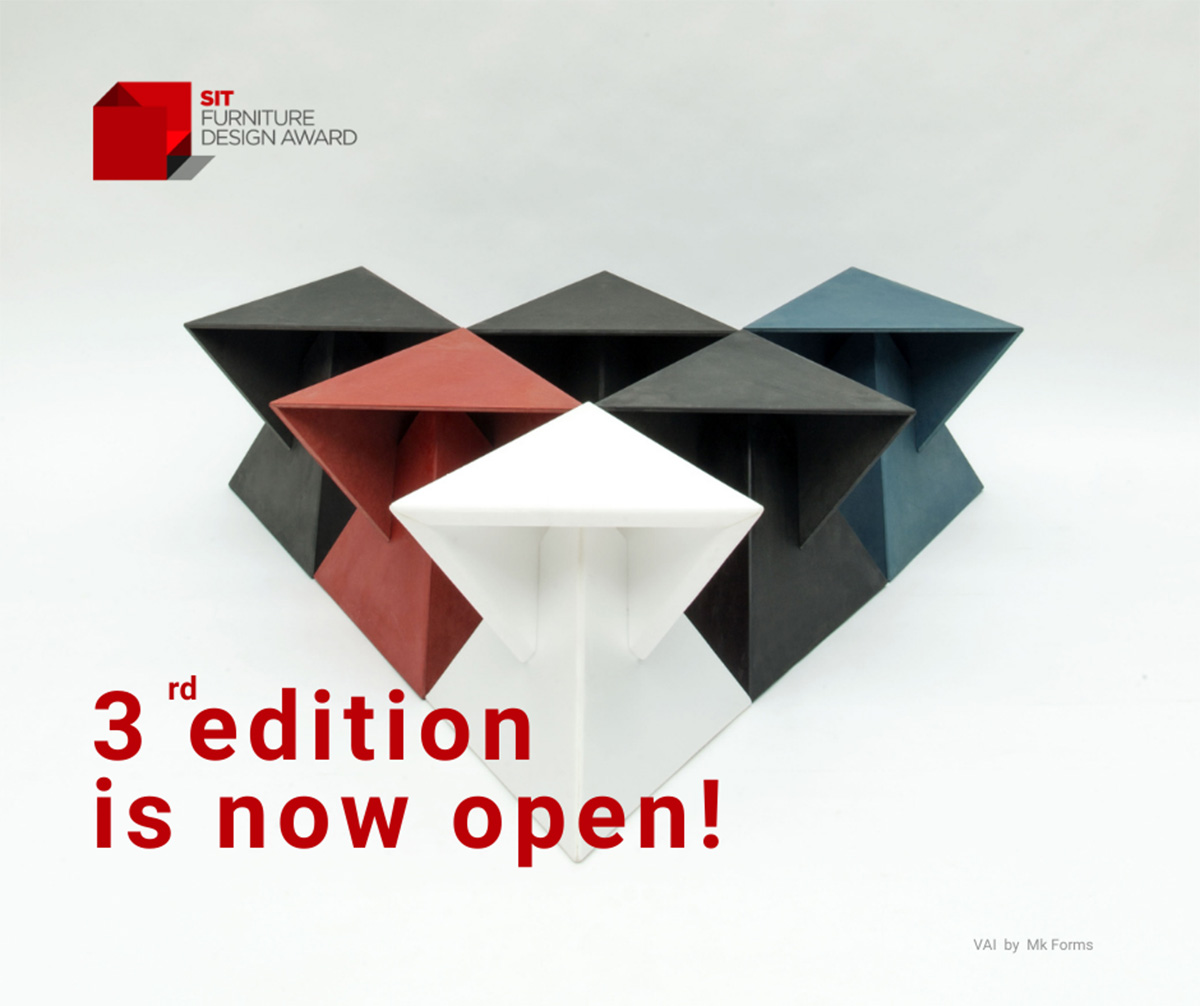 The 2022 SIT Furniture Design Award is now accepting entries into its two major categories, Furniture Design and Interior Design. It welcomes submissions from professional, emerging designers and students until the 28th of February 2023, the program promises to attract entries from some of the most forward creative furniture firms, manufacturers, distributors and independent designers from all around the world!
The SIT Furniture Design Award ™ was created as a way to celebrate and share the remarkable work of furniture designers and those who use furniture in their projects. Creativity, innovative vision, and accessibility in the furniture design community deserve to be applauded and shared widely, across the world.
Looking at challenges and seeking ways to overcome them are central to furniture design. For this reason, the SIT Furniture Design Award has created an Innovation Center, the winner of which will receive a cash prize of CHF 3'000 to create a prototype or to start production. Each year, a different topic will be chosen, focusing on projects which highlight invention, closely examine today's challenges, and find ways to overcome them.
In 2021, the awards received over 350 submissions from 47 countries, the range of work was as astounding as always, with honorees Jader Almeida, receiving the "Furniture Design of the year" grand title for "May', Studio GAIA with the design of "W Washington D.C. Hotel", RotoBed® designed by Hans Sandgren Jakobsen; based in England Knightsbridge Furniture Productions was awarded for the "Tron Furniture Range", the program also recognized Messana O'Rorke with the "Junegrass House" and Karim Rashid for the "Keen Sun Chaise". … just to name a few.
The 2022 jury, composed of 21 experienced designers and decorators' experts, academics and media representatives will select the winners in each category in February 2023. Jurors include Juan Mellen, president of the Design Institute of Spain, Radhika Seth, Vice President of Sales for the well-known media Yanko Design, Stella Hernandez, Assistant Professor, Environmental Design Department at the ArtCenter College of Design in California and Fabio Colturri, Professor at the Istituto Marangoni Milano Design.
The "Furniture Design of the year" and "Interior Design of the Year" professionals and students will receive the coveted SIT Design Award Trophy; their winning projects will be showcased to the global audience and be featured in the Annual SIT Award catalog. Winning the SIT Design Awards is an opportunity to step into the global spotlight, elevate the company profile or boost a starting career.
Registration for the SIT Design Award is now open and will close on February 28th, 2023. Those who register before August 15th; will receive an early bird discount of 15%.
Requirements / Eligibility
SUBMISSION DETAILS
Entries can be submitted as conceptual designs, in progress, or as completed projects. The only restriction is that entries or completed projects must be no more than 5 years old. Submissions can be made as a Professional or as a Student.
Winners are chosen based on a single project – not for a body of work.
ELIGIBILITY
The SIT Furniture Design Awards competition is open to anyone aged 18+ residing anywhere in the world. Professional entries will be judged against other professionals and student entries against other students.
Submission requirements
The project must have been completed within the last five years.
Provide a brief description of the design or implementation.
Provide a Designer/Student and/or Company Profile/University name.
Give names of those who need to be credited for the design or product (i.e. company, designer, engineer, mentor, professor, etc.).
Add up to ten images of your design, including an optional company logo.
Adding a product specification PDF, as mentioned above, is recommended if you think this adds extra information.
Submission / Key Dates
Deadlines 2022
SIT Furniture Design Award 2022 is open
15% Early Fees discount until August 15th, 2022
10% Extended Early Fees discount until September 18th, 2022
Regular Deadline: November 30th, 2022
Final Deadline: January 15th, 2023 (10% late fee applies) till closure on 28th February 2023
Submission: https://sitaward.com/submit/login.php.
ENTRY FEES
Professional CHF 200 incl VAT ( approx: US$220)
Same Product in additional categories at a 50% discount
Student CHF 100 incl VAT ( approx: US$110)
Same Product in additional categories at a 50% discount
About the SIT Furniture Design Award:
The SIT Design Awards is a sibling program of the LIT Lighting Design Award (LIT), The BLT Built Design Awards (BLT), the FIT Sport Design Awards (FIT) and The LIV Hospitality Design Awards (LIV) which have emerged as some of the most well-known Design Prize today.
SIT Furniture Design Award is a program under the 3C Awards, a leading organization curating and promoting design across the globe. The company represents today's diversity and innovation in Lighting Design, Furniture Design, Sport Design, Interior Design, and Architecture. Each brand is a symbol of design excellence around the world, showcasing Professional and Emerging designers' work to over 100 expert jury members.
For more details please visit the competition's website.
Top image courtesy of SIT Design Awards.
> via SIT Design Awards