Giuseppe Gallo creates syntax poster series of BIG's prominent projects
Italy-based designer Giuseppe Gallo has created nine posters of BIG's famous projects to explore an "architectural syntex" on evolutionary part of architecture and urbanism.
Presented in 9 colourful, vivid and triggering posters, the playful series feature the firm's "BIGgest" projects built around the world, including the Serpentine Pavilion in London, the Kistefos Museum in Scandinavia, the Amager Resource Center in Copenhagen, the VM Houses in Copenhagen, the Via 57 West in New York, the Spiral in New York, the Wilson Secondary School in Arlington, USA, the Kimball Art Center in Park City, USA and the 1200 Intrepid in Philadelphia, USA.
Serpentine Pavilion in 2016, London, UK
The designer is inspired by the architecture of Bjarke Ingels Group (BIG), where syntax between individual elements arises from responses to functional problems, characterizing or generating new formal solutions.
"The widespread use of digital tools has changed the architectural profession. A mature use of technology is influencing the language of "post digital" architecture," said Giuseppe Gallo, describing her project.
Kistefos Museum in Scandinavia
Gallo adds: "Charles Morris argues that in every language the study of semiotics is discernible in three different fields: Semantics, Pragmatics and Syntax:"
"Semantics is the study of relations between the system of signs and their meanings. Pragmatics is the study of the relations of signs to interpreters, and in architecture the relationship between the sign and the behavior it engenders."
"Syntax (syntactics) is then defined as the study of the formal relations between signs; this field of analysis makes the study of signs possible, with particular reference to their relations with each other, by excluding from the survey both their meanings and functions," Gallo explained.
Amager Resource Center in Copenaghen, Denmark
The posters detail BIG's projects in much more detailed graphical layout that gives a texture, correct materiality and a different presentation technique, with a deep play of light and shadow - all of which can be a branded-logo representation of the firm.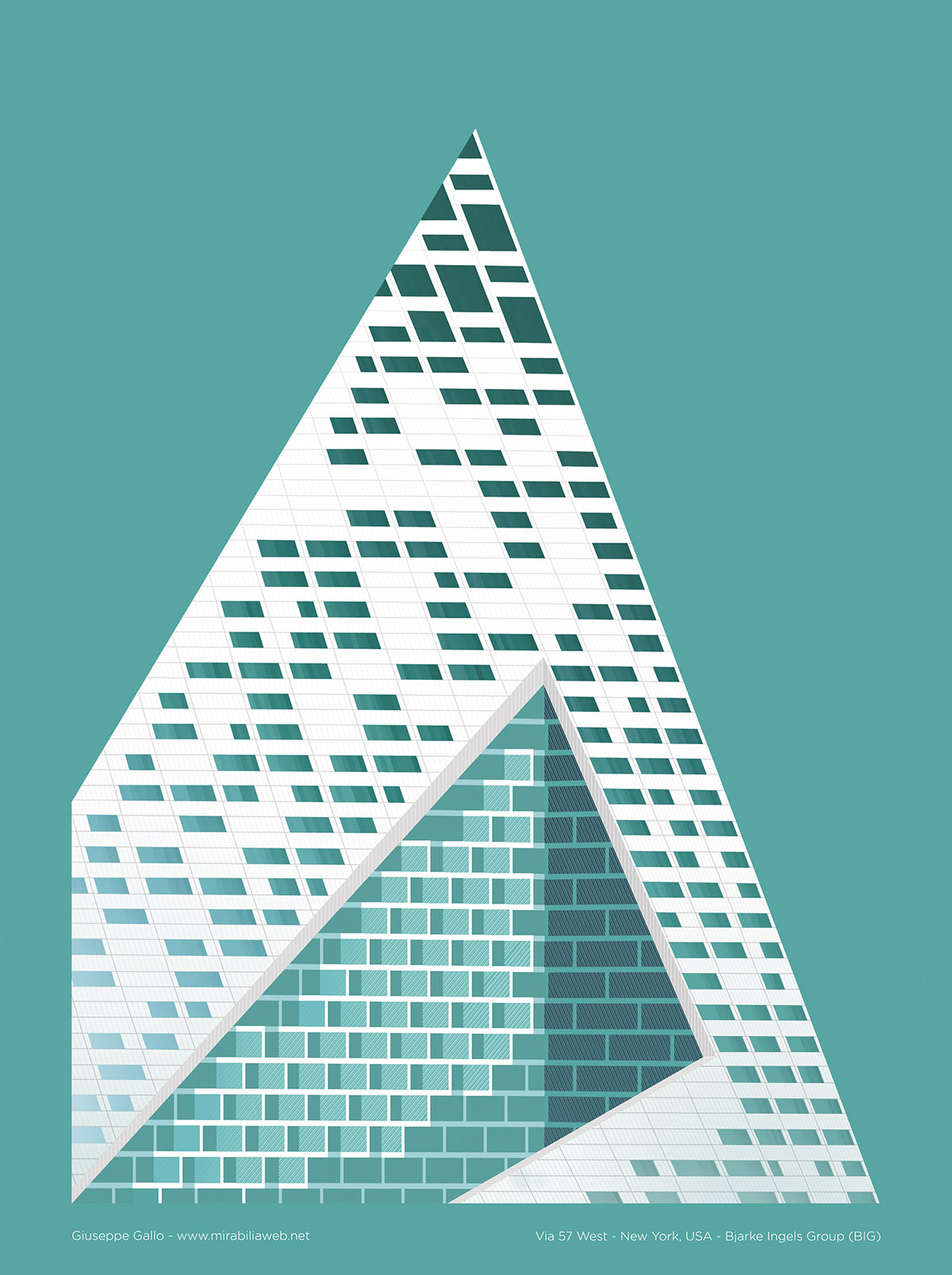 Via 57 West in New York, USA
"Today's computational architecture and collaboration tools made architectural design an even more choral work, architecture has also complex requirements, which need a broader approach. This affects the evolution of architectural syntax, which will change further with applications of AI and robotic," added the designer.
"Bjarke Ingels Group (BIG)'s projects and philosophy have had wide spread success in recent years. Working on these posters gave me the opportunity to understand how their approach affects the finished architecture and in particular more about the syntax of their projects."
The Spiral in New York, USA
"Indeed syntax is one of the formal aspects that, in my opinion, characterizes many of BIG's works compared to the work of previous generations of architects. Their projects generate a syntactic evolution transpired by the will to find new solutions for environmental, social, economic and technological problems. I then developed a total of nine posters," added Gallo.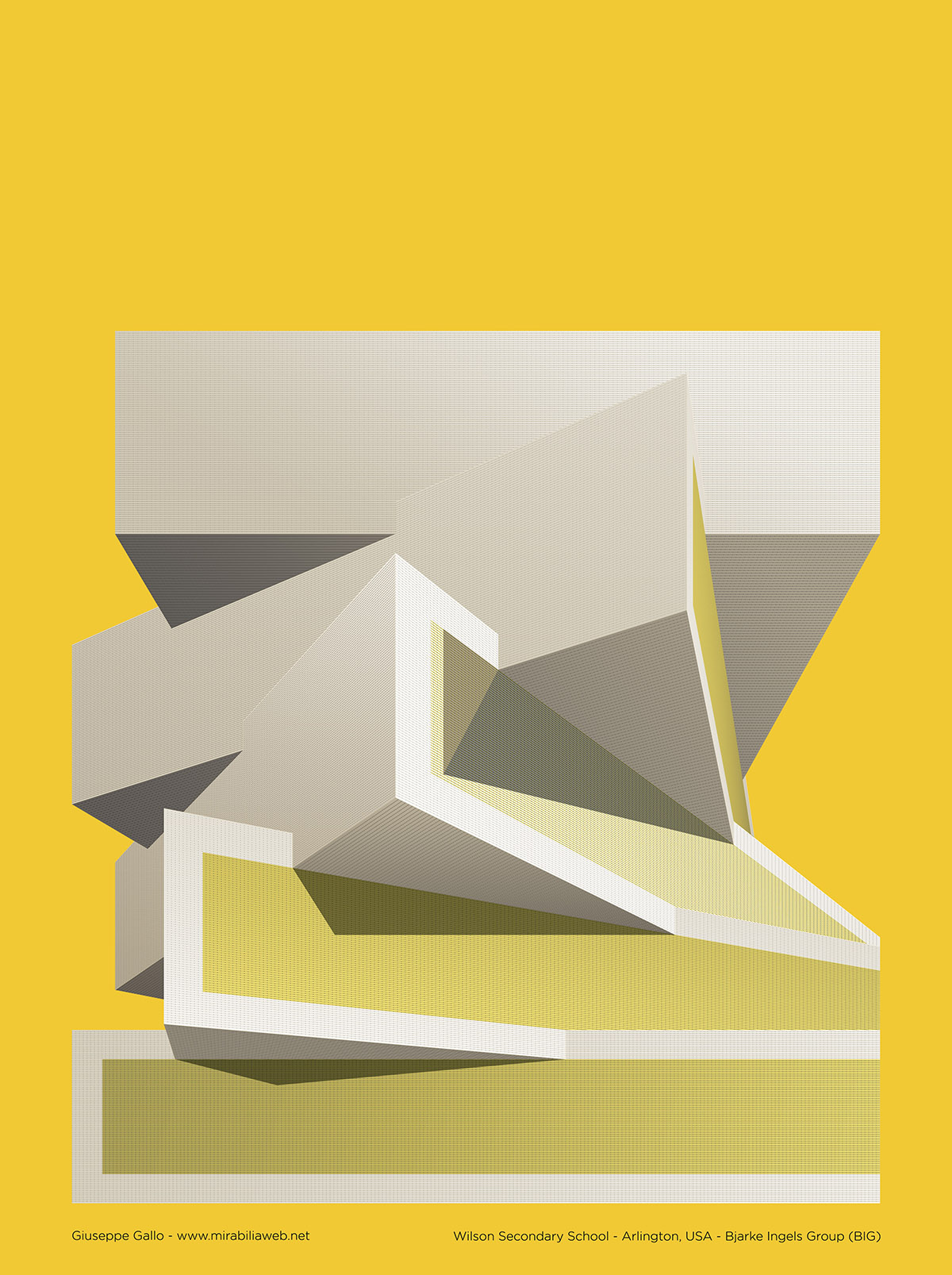 Wilson Secondary School in Arlington, USA
Kimbell Art Center in Park City, USA
1200 Intrepid in Philadelphia, USA
Giuseppe Gallo, Creative Director of Mirabilia, a communication design studio founded on 2008, based in Palermo, Italy. Gallo is co-founder, together with Eliano Felicio, of Archinerds.
All poster can easily be downloaded from Giuseppe Gallo's website.
Top image: Vm Houses in Copenhagen, Denmark
All images © Giuseppe Gallo
> via Giuseppe Gallo