Architectural Fable Writing Competition - Call for Entries
Architectural Fable Writing Competition Series is the Ninth initiative of the Architectural Journalism & Criticism Organization; India founded by architect Pappal Suneja to spread awareness about this subject and sow the seeds of inspiration to explore and write about Architecture and allied fields from a dreamer and explorer's perspective.
Theme for the Series in this cycle is Fictional Saga
Brief:
Let me tell you a story.
This very line attracts everyone. Reality is constant, but fictions are dramatic. It's a world where animals speak, humans squeak, and where the history lives. What if our stories and dreams come alive? Fictions are where incredible things happen to leave us astounding. It gets us out of the box with unparalleled thoughts. This helps us broaden the horizon and alter the facts.
We welcome fables in 2 categories: Students and Professional/Academician
Submission Guidelines
- Use the following characters to twine your story into a fable as required
Bowen – A giraffe with high temper
Ronald – A lion who is sassy and cool
Mike – A cunning fox
Arthur – A nerdy rabbit
Edith – An ant who is an architect
Jodie – A lazy panda
- Maximum 2 fables per entry are allowed
- The fable may or may not be accompanied with an illustration.
- Each fable should not exceed 300 – 500 words.
- The entry should be sent to [email protected] with the subject line Architectural Fable Writing Competition, Category (Student/Professional) in a word document with 12 pt., Arial font, single-line spacing.
- All entrants must mention their social media handles with the submission.(Instagram, Twitter, Facebook)
- The submission should be an original work of the entrant and will go through a plagiarism test.
Jury Panel for the Competition comprises of
Dr. Preeti Puri, Asstt Professor, Humanities, NIT Jalandhar
Prof. Kanika Bansal, Professor & Architect, Chitkara University, Chandigarh
Dr. Priya Sasidharan, Professor, Architect & Planner, Chennai
Ar. Riddhima Sharma, Design Researcher & Writer, New York
Ar. Pappal Suneja, Design Researcher & Writer, Germany
Deadlines & Timeline:
Submission window for Series opens on 20th October 2020 – 30th November 2020 (11:59 pm IST/8:29 pm CEST)
- Standard Registration till 27th November 2020, (600 INR for participants from India and 11 Euros for International Participants)
Indian Participants can follow the link to register. International Participants can follow here to register.
Curatorial Assistants: Vidya Ramesh and Radhika Singh, Editorial Associates, AJC.
Winning Prizes for the Competition are
Citation (A set of Books):
- The Design of Everyday Things by Don Norman
- The Future of Architecture in 100 Buildings: TED Series by Mark Kushner
- 'Myriad Disciplines of Architectural Writing' by Pappal Suneja
- Bauhaus Dessau Booklets
Special Mention (A set of Books):
- How to Think Like Da Vinci by Daniel Smith
- Mandala Art: Colouring Book
- 'Poetry & Architecture', Series (18-19) curated by Pappal Suneja
- Bauhaus Dessau Booklets
Three winning entries, that is one citation and two special mention awards shall be announced for the competition. Besides this, all the entrants shall be sent E-Certificate attested by all the jurors and the winning entries shall be featured on several web architectural portals.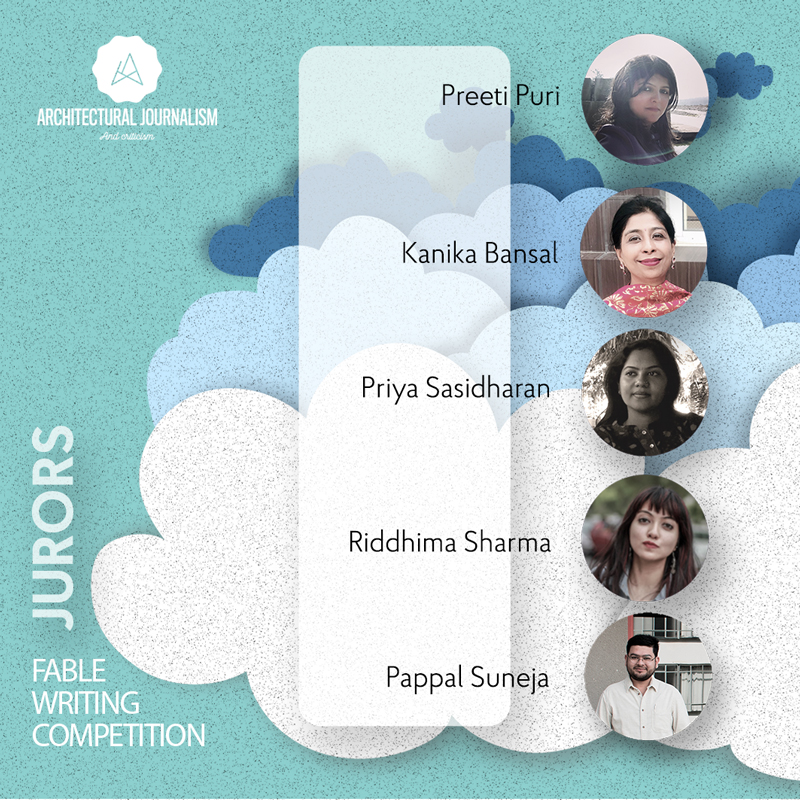 Note: AJC, India is a non-profitable initiative and supports underprivileged children of the society, we are also in the process to expand our reach, thus interested organizations may contact us in this regard. For further updates, Visit the Instagram and Facebook handle of the Organisation.
Head Image Design © Saurav Eknath Bavalekar