Winners announced for the Building 4Humanity Design Competition 2019 - Taiwan Prize
Winners have been announced for the 2nd edition of the Building 4Humanity Design Competition (B4H-DC) — 2019 Taiwan Prize. The second edition of B4H-DC aimed to address the notion of having architecture as a social and cultural facility, by seeking design ideas that would contribute towards the social inclusion and integration of Syrian war refugees in the Turkish border city of Reyhanlı.
The competition had two separate categories: it welcomed submissions from students and recent graduates, as well as experienced professionals.
The evaluation committee was composed of over by two prominent architects and educators - Juhani Pallasmaa and World Architecture Community's President Prof. Suha Ozkan.
See the full winning projects below:
---
See Winning Projects for Professional Category
Sedat Dulkadiroğlu Sinan Gan, Taha Akbulut, Onur Ünal, Sıla Kartal
Honorable Mention
Reza Jamnezhad, Shirin Mohammadhosseinzade h Banafsheh, Zeynep Nur Sahbaz,
Honorable Mention
Nicolai Steinø, Marwa Dabaieh
Honorable Mention
Mustafa Mortas, Ahmet Talha Cagla, Betül Öz
---
Winning Projects for Students Category
First prize: Elif Arpa, Boğaziçi University Department of Sociology, Turkey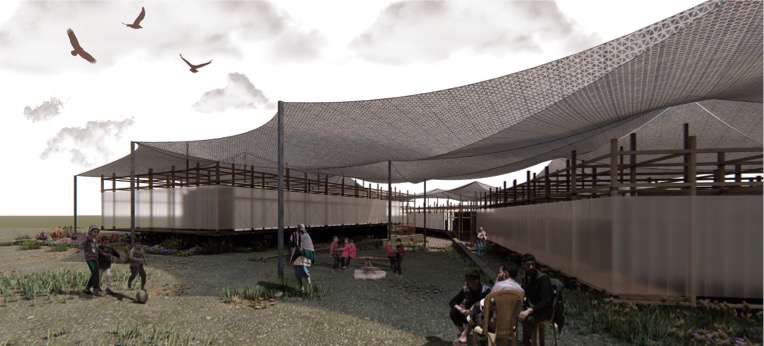 Second prize: Ariel Gajardo Barahona, Pablo Cantillana, Osvaldo Garrido Parada, Alejandro Olives, Danilo Reyes Universidad de Valparaiso, Chile

Third prize: Çağan Köksal, Barış Açık, Burak Arifoğlu, Begüm Yoldaş, Akın Ertürk, Kadir Has University, Turkey
Honorable mention: Constanza Soto Peña, María Paz Farías Henríquez, Carolina Alejandra Carvajal Ogaz, Javiera José Jaramillo Arratia, Stephanie Gabriela Reveco Guzmán, Universidad de Valparaiso, Chile

Honorable mention: Wang Yujie

Honorable mention: Natalia Labrin Hinojosa, Francisca Alejandra Gonzalez Zarate, Camila Belén Orellana Fuentealba, Renato Jean Piero Vassallo Moreno, Universidad de Valparaiso, Chile
All images courtesy of B4H-DC
> via B4H-DC