World Architecture Festival announces shortlisted projects for 2019 heralding sustainable future
The World Architecture Festival, the world's biggest architectural awards programme, has announced its strong shortlist for 2019, the 534-project shortlist heralds sustainable future. ALA Architects, Mecanoo, Heatherwick Studio, JKMM Architects, Rogers Stirk Harbour + Partners, Zaha Hadid Architects, Studio Gang, BIG and more are among WAF's 2019 shortlist.
Following the establishment of "Architects Declare", a collective of some of the most renowned practices who have come together to announce a state of climate emergency, this year's World Architecture Festival shortlisted entries demonstrate how buildings can play a major role in a more sustainable future.
WAF will reconvene in Amsterdam, The Netherlands, from 4-6 December this year. This is the second time the event has been hosted in the Dutch capital, following previous editions in Barcelona, Singapore and Berlin.
World Architecture Community is official Media Partner for this year's festival and offers to its Professional Members 10% discounted tickets over regular festival prices during WAF registration!
All you have to do is to upgrade your World Architecture Community membership to Professional here or visit your WAC Settings page and send us ([email protected]) an email to get your promo code for your WAF registration!
3XN's sinuous Olympic House in Lausanne. Image © Adam Mørk
Amongst the shortlist is an eco-airport in Singapore designed by Safdie architects centred around a 15,000-square-metre state-of-the-art, indoor public garden, which features a 40-metre indoor waterfall falling through the centre of a doughnut-shaped glass roof, alongside 3,000 trees and 100,000 shrubs from around the globe.
Dortheavej Residence by Bjarke Ingels Group flies the flag for both affordable and sustainable modular housing in Copenhagen, shining a light on this nascent mode of construction which has the potential to offer much to the housing crisis.
Mecanoo's Arts Center in Taiwan. Image © Iwan Baan
Whilst one of last year's winners, Studio Gang, tackles environmental concerns at a volumetric level through its 'Solstice on the Park' project – a 26-storey residential tower in the USA optimised for environmental performance through angled window panels which are slanted inwards at 72 degrees—the precise angle at which the sun hits the Chicago skyline at the height of the summer solstice.
In the culture category, Helsinki Central Library Oodi by AL_A Architects, whose founder Amanda Levete is a founding member of Architects Declare, heralds a new era of library design where traditional functions meet modern technology, to create an almost zero-energy building with panoramic views.
ZHA's Morpheus Hotel in Macau. Image © Ivan Dupont
The "Future Project: Experimental' and 'Future Project: Infrastructure" categories also launched some exciting and innovative entries, including the proposal for a waterfront park in NYC, transforming oil tanks into community gardens, by STUDIO V Architecture, and the proposal for man-made, mid-bay barrier islands to act as a surge protection system for the Port of Houston, by Rogers Partners Architects + Urban Designers.
Major world architects shortlisted include Zaha Hadid Architects, Heatherwick Studio, Bjarke Ingels Group, Rafael Vinoly Architects, Rogers Stirk Harbour + Partners, Grimshaw and White Arkitekter.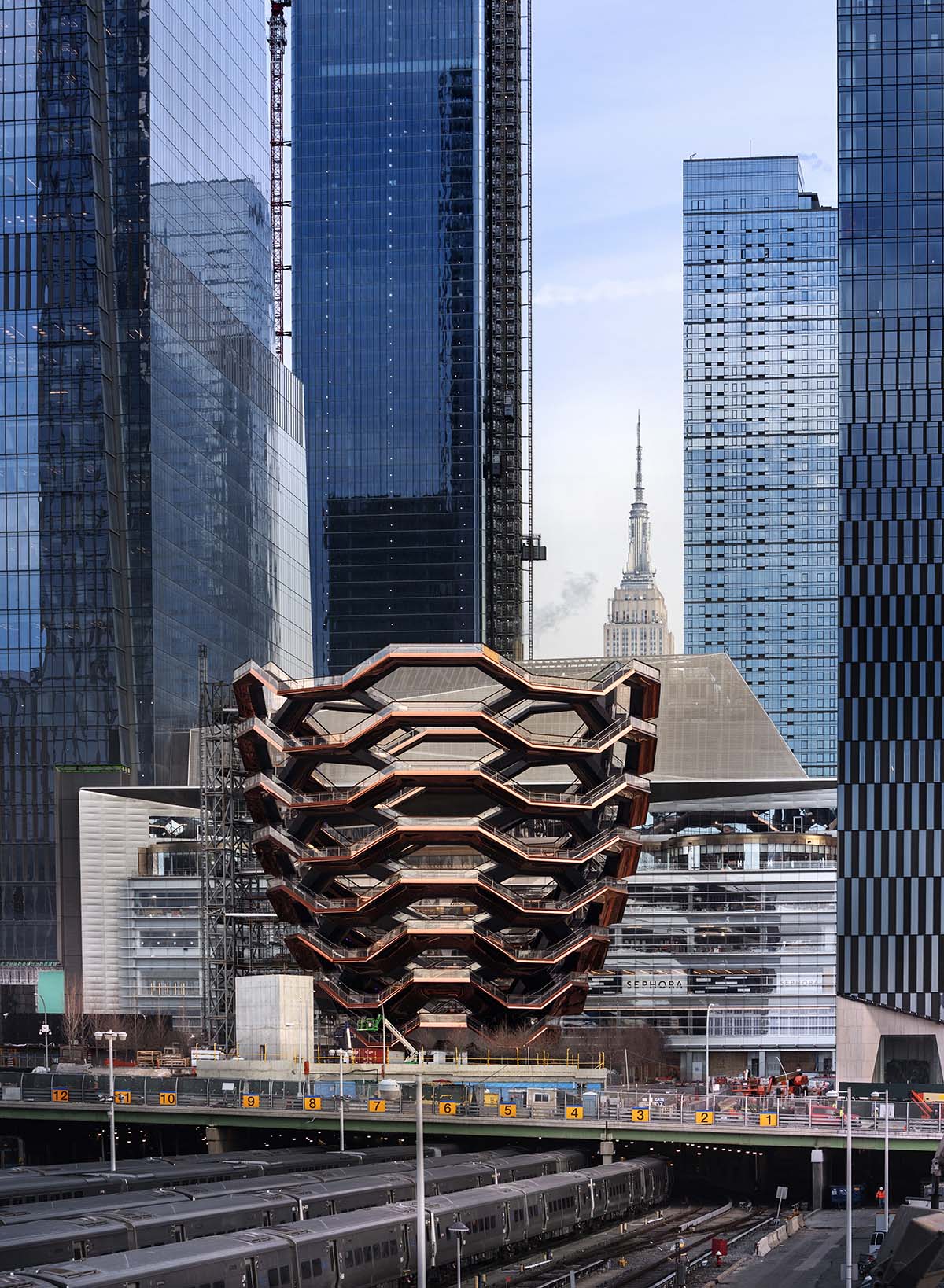 Heatherwick Studio-designed Vessel at Hudson Yards Opened to the public. Image courtesy of WAF
Many smaller practices will also take part to pitch against the big names. This year's 534-strong shortlist, ranges from private residential, to education, infrastructure, healthcare, hospitality, cultural/civic, interior and landscape projects across 70 countries.
"We have been inspired by the levels of innovation in this year's entries, that show the incredible range of ways in which architects are responding to the global climate and biodiversity emergencies we face," said WAF programme director Paul Finch.
"WAF has attracted more than 1,000 entries, for the second year in a row, from 70 countries, and we look forward to more than 500 live presentations at the Festival in Amsterdam, showcasing these exemplar projects from around the world."
The top 5 countries entering WAF 2019 are China and Hong Kong, Australia, UK, United States, India.
See the full WAF 2019 shortlist below:
Diego Guayasamin Arquitectos Unasur, General Secretary Headquarters. Image courtesy of WAF
Completed Buildings Categories
Civic and Community - Completed Projects
Raleigh Campsite in Guizhou, Architectural Design Institute of South China University of Technology, Zhenfeng County, China
Taijiang Administrative and Visitor Centers, Bio-architecture Formosana, Tainan, Taiwan
Gaobu Book House, Condition Lab - School of Architecture CUHK, Hunan Province, China
Bunjil Place, fjmt, Narre Warren, Australia
The Frank Bartlett Library and Community Centre, fjmt, Moe, Australia
HeFei Fei River Central Smart Garden Library, GEEDESIGN, HeFei, China
The Crystal - Kiruna City Hall, Henning Larsen, Kiruna, Sweden
Yun Shang Xi Tang wetland community center, IAPA, Jiangmen, China
Anzac Memorial Centenary Project, Johnson Pilton Walker with the Office of the New South Wales Government Architect, Sydney, Australia
Cloud of Luster, KTX archiLAB, Himeji City, Japan
The Evans Tree House at Garvan Woodland Gardens, modus studio, Arkansas, USA
Zhelin Community Service Center, One Design, Shanghai, China
Turanga, Schmidt Hammer Lassen Architects in assocation with Architectus, Christchurch, New Zealand
Cultural center of Beicheng Central Park in Hefei, Shenzhen HuaHui Design, Hefei, China
Cabin for Casa Naomin, Varun Thautam, Guanajuato, Mexico
Nanjing International Youth Cultural Centre, Zaha Hadid Architects, London, United Kingdom
Children's Bamboo Community Library, Zhang Hai'ao, Wan'an, China
Culture - Completed Projects
Helsinki Central Library Oodi, ALA Architects, Helsinki, Finland
Qasr Al Hosn: Al Musallah, CEBRA, Abu Dhabi, United Arab Emirates
LocHal Public Library, Civic architects (lead architect), Braaksma & Roos Architectenbureau, Inside Outside / Petra Blaisse, Tilburg, Netherlands
Cairns Performing Arts Centre, Cox Architecture and CA Architects, Brisbane, Australia
MPavilion 2018, Estudio Carme Pinós, Melbourne, Australia
Royal Academy of Music - Theatre and new Recital Hall, Ian Ritchie Architects, London, United Kingdom
Amos Rex, JKMM Architects, Helsinki, Finland
Hanna Boutique Hotel, Mahsa Majidi , Persian Garden Studio, Tehran, Iran
National Kaohsiung Centre for the Arts, Mecanoo architecten, Kaohsiung, Taiwan
Tai Kwun Centre for Heritage and Arts, Purcell; Herzog & de Meuron; Rocco Design Architects, Hong Kong, China
Tibetan Intangible Cultural Heritage Museum, Shenzhen HuaHui Design, Tibetan, China
Cultural center of Beicheng Central Park in Hefei, Shenzhen HuaHui Design, Hefei, China
Royal Opera House 'Open up', Stanton Williams, London, United Kingdom
Green Square Library and Plaza, Studio Hollenstein in association with Stewart Architecture, Sydney, Australia
CRG Archive Library, Studio Link-Arc, Shenzhen, China
Zaryadye Concert Hall, TPO Reserve, Moscow, Russia
Dangrove, Tzannes, Sydney, Australia
Tian Han Cultural Park, WCY Regional Studio, Changsha, China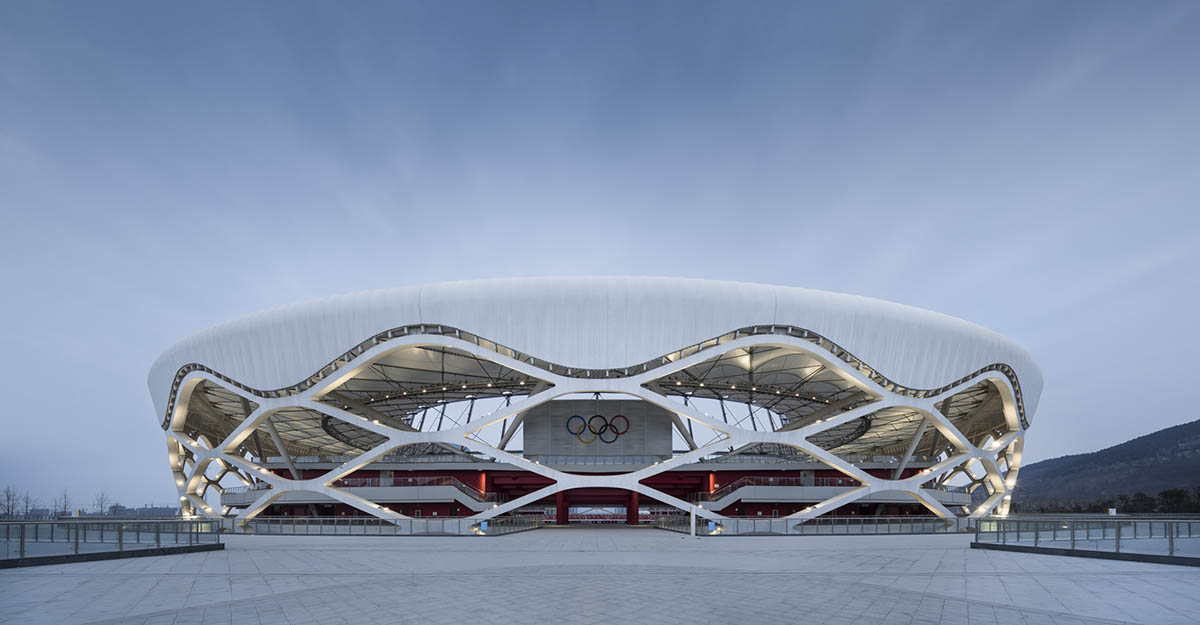 Shanghai United Design Group's Zaozhuang Stadium. Image courtesy of WAF
Display - Completed Projects
Greentown Yiwu Peach Blossom Land Living Experience Centre, 9M Architectural Design, Jinhua, China
Chongqing, VANKE Life Experience Center, Arch-Age Design (AAD), Chongqing, China
Toy as Architecture, Architecture as Toy, GROUNDWORK, Architects & Associates, Hong Kong, China
Vessel, Heatherwick Studio, New York, USA
Bilya Koort Boodja- Centre for Nyoongar Culture and Environmental Knowledge, iredale pedersen hook architects, Northam, Australia
Doubleground, MUIR+OPENWORK, Melbourne, Australia
Art Center of Jingdezhen Ceramic Cultural Tourism Town, Shanghai Urban Architectural Design, Jingdezhen City, China
The Historic District of Nanchang Three-eye Well Urban Renovation Planning Exhibition Center, Shanghai Urban Architectural Design, JiangXi NanChang, China
HHXT Exhibition Center, Shanghai Urban Architectural Design, Honghu Xintan City, China
Chongqing Tiandi Art Gallery, Shenzhen HuaHui Design, Chongqing, China
Think Design, Shibanee & Kamal Architects, Bangalore, India
Exhibition Center of Shimao Shenzhen-Hong Kong International Center, SHUISHI, Shenzhen, China
Living in Nature installation, SPEECH, Moscow, Russia
Historic Rolling Stock Park at Baltiysky Station, Studio 44 Architects, Saint Petersburg, Russia
Lokadhatu (The World), Studio Link-Arc, Zhangzhou, China
Swirling Cloud: Bulletin Pavilion for BJFU Garden Festiva, SUP Atelier, Beijing, China
119 Great North Road, Warren and Mahoney Architects, Auckland, New Zealand
Shenzhen Huahui Design, Tibetan Intangible Cultural Heritage Museum. Image courtesy of WAF
Health - Completed Projects
National University Centre for Oral Health, Singapore (NUCOHS), architects 61, Singapore
AGORA Pôle de recherche sur le cancer, Behnisch Architekten, Lausanne, Switzerland
Northern Beaches Hospital, BVN, Sydney, Australia
The Chrisite Proton Beam Therapy Centre, HKS, Manchester, United Kingdom
Perth Children's Hospital, JCY Architects and Urban Designers, Cox Architecture and Billard Leece Partnership with HKS, Perth, Australia
SACHI HOUSE, NOSIGNER, anotherAPARTMENT, Fuji city, Japan
The Greater Accra Regional Hospital at Ridge, Perkins+Will, Accra, Ghana
Bayalpata Regional Hospital, Sharon Davis Design, Achham, Nepal
Pondok Indah Bintaro Jaya Hospital), Silver Thomas Hanley (Lead Architect), Arkonin (Architect of Record), Jakarta, Indonesia
New Karolinska Solna Project, White Tengbom Team, Stockholm, Sweden
Higher Education and Research - Completed Projects
Faculty of Arts and Social Sciences, Architectus, Sydney, Australia
Silesia university's radio and tv department, katowice, BAAS arquitectura + Grupa 5 Architekci + Maleccy Biuro Projektowe, Katowice, Poland
Glasir Tórshavn College, BIG-Bjarke Ingels Group, Tórshavn, Faroe Islands
A Past Receding Disaggregation and Metamorphosis, Creative Blueprint, Mbombela, South Africa
Future Africa Campus, Earthworld Architects cc, Pretoria, South Africa
Helmholtz Diabetes Center München, HDR GmbH, München, Germany
The Ian Potter Southbank Centre, John Wardle Architects, Melbourne, Australia
E3MG - Ecole des Mines et de la Métallurgie de Moanda, Maissa architectures - Jean Pierre Maissa, Moanda, Gabon
Montgomery Sisam Architects and Feilden Clegg Bradley Studios, Myhal Centre for Engineering Innovation & Entrepreneurship, University of Toronto, Toronto, Canada
KOKUGAKUIN UNIVERSITY Learning Center, NIKKEN SEKKEI, Tokyo, Japan
Rutgers University-Camden: Nursing and Science Building, Perkins Eastman, Camden, USA
Masdar Building, Graphene Engineering Innovation Centre, The University of Manchester, Rafael Viñoly Architects, Manchester, United Kingdom
University College Dublin, Robin Lee Architecture / Arthur Gibney & Partners, Dublin, United Kingdom
National University of Singapore School of Design & Environment, Serie + Multiply Architects with Surbana Jurong and National University of Singapore School of Design & Environment, Singapore
Bhau Institute of Innovation, Entrepreneurship & Leadership, Shibanee & Kamal Architects, Pune, India
Aalto University Väre Building, Verstas Architects, Espoo, Finland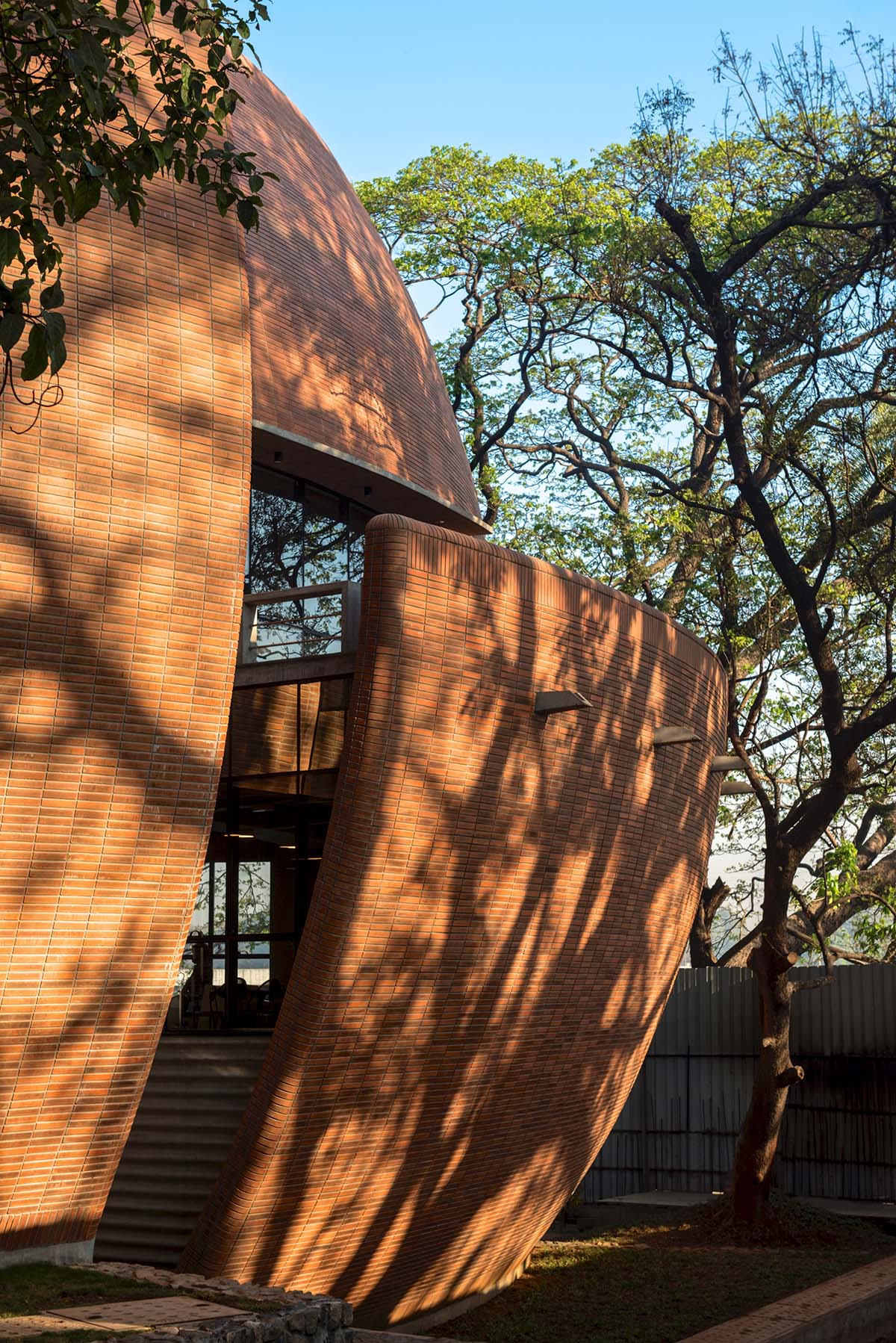 Shibanee & Kamal Architects, Bhau Institute of Innovation, Entrepreneurship & Leadership. Image courtesy of WAF
Hotel and Leisure - Completed Projects

Ranwu Lake (Tibet) International Self-drive Tour and Recreational Vehicle Campsite, ARCH-HERMIT, Changdu, China
Lindis Lodge, Architecture Workshop, Omarama, New Zealand
Glass-less House: Pavilion for Yoga and Pool in XY Yunlu Hotel, Atelier Liu Yuyang Architects, Yangjia Village, China
Ahsa Farmstay, Creative Crews, Mae Chan, Thailand
The Museum Hotel Antakya, EAA-Emre Arolat Architecture, Antakya, Turkey
The Opera Terrace, Covent Garden, Eric Parry Architects, London, United Kingdom
Hanna Boutique Hotel, Mahsa Majidi , Persian Garden Studio, Tehran, Iran
Hotel Birks, NEUF Architect(e)s, Montreal, Canada
THE TIING, TEJAKULA, NIC BRUNDSON, Tejakula, Bali
Gloriette: A travel through time, noa* network of architecture, Ritten, Italy
Mohr Life: The theatrical spa, noa* network of architecture, Leermoos, Austria
PINE VILLA, SHANGHAI JUND ARCHITECTS, Huangshan, China
Solaz Los Cabos, Sordo Madaleno Arquitectos, Los Cabos, Mexico
Fuchun New Century Wonderland Resort of Hangzhou, The Design Institute Of Landscape & Architecture China Academy Of Art, Hangzhou, China
Nobu Hotel Los Cabos, WATG and Studio PCH, Cabo San Lucas, Mexico
Morpheus Hotel, Zaha Hadid Architects, Cotai, Macau
House - Completed Projects
Gnodde house, 70F architecture, Amsterdam, Netherlands
Contemporary Boatshed Home, Atelier Aitken Architecture, Omaha, New Zealand
Beach Shack, Bryden Wood, Florida, USA
Minka Twins, bureau^proberts, Brisbane, Australia
Welcome to the Jungle House, CplusC Architectural Workshop, Sydney, Australia
Redfern Warehouse, Ian Moore Architects, Sydney, Australia
JCA Living Lab, J.C. Architecture, Taipei city, Taiwan
LR2 Residence, Montalba Architects, California, USA
Cloud House, Neil Cownie Architect, Mandurah, Australia
Powell Street House, Robert Simeoni Architects, South Yarra, Victoria
18 SCREENS, SANJAY PURI ARCHITECTS, Mumbai, India
GGL House, Studio AG Arquitetura, São Paulo, Brazil
EQ House, TAKENAKA CORPORATION, Tokyo, Japan
Castle Cove House, TERROIR, NSW, Australia
Housing - Completed Projects
Student hostel for chandigarh group of colleges, Aman Aggarwal, Mohali, India
Comfort Town, archimatika, Kyiv, Ukraine
Hanhai Luxury Condominiums, Archimorphic, Zhengzhou, China
Nordbro, Arkitema Architects, Copenhagen, Denmark
Dortheavej Residence, BIG-Bjarke Ingels Group, Copenhagen, Denmark
Walan, bureau^proberts, Brisbane, Australia
Freebooter, GG-loop, Amsterdam, Netherlands
Danxia the Heirloom, GRAND DEVELOPMENTS, Taichung City, Taiwan
Cedrus Residential, Nextoffice, Tehran, Iran
338 housing units, Paris XIX, PETITDIDIERPRIOUX Architectes, Paris, France
277 Fifth Avenue, Rafael Viñoly Architects, New York, USA
Lilla Integralen, sandellsandberg arkitekter, Linköping, Sweden
The Magic Faraway Tree, Shibanee & Kamal Architects, Bangalore, India
E Central Building, studio CACHOUA TORRES CAMILLETTI, Mexico City, Mexico
Solstice on the Park, Studio Gang, Chicago, USA
Dyson Institute of Engineering and Technology, WilkinsonEyre, Malmesbury, United Kingdom
537 Elizabeth Street, Woods Bagot, Sydney, Australia
Studio Gang's Solstice on the Park in Chicago, USA. Image courtesy of WAF
Mixed-use - Completed Projects
Hawley Wharf, Allford Hall Monaghan Morris, London, United Kingdom
Benjamin Street, Allford Hall Monaghan Morris, London, United Kingdom
MahaNakhon, Buro Ole Scheeren, Bangkok, Thailand
DUO, Buro Ole Scheeren, Singapore
Arc, Koichi Takada Architects, Sydney, Australia
Yagan Square, Lyons in collaboration with iredale pedersen hook architects and ASPECT Studios, Perth, Australia
Suzhou Center, NIKKEN SEKKEI, Suzhou, China
Amstel Tower, Powerhouse Company, Amsterdam, Netherlands
Oasis Terraces, Serie + Multiply Architects, Singapore
Tomioka Chamber of Commerce, Tezuka Architects, Tomioka City, Japan
Opus, Zaha Hadid Architects, Dubai, United Arab Emirates
New and Old - Completed Projects
Picture Gallery and Exhibition Space, Esterházy Castle, 3h architecture - Katalin Csillag, Zsolt Gunther, Fertod, Hungary
The Bower, Allford Hall Monaghan Morris, London, United Kingdom
Centre Point Tower, Conran and Partners, London, United Kingdom
Rassvet Loft*studio, DNK ag, Moscow, Russia
RE-VALUE FACOTRY, FCHA, Shenzhen, China
Alexandra Palace East Wing Regeneration Project, Feilden Clegg Bradley Studios, London, United Kingdom
234 Bath Road, Flanagan Lawrence, Slough, United Kingdom
11-15 Grosvenor Crescent, Flanagan Lawrence, London, United Kingdom
Norton Museum of Art, Foster + Partners, Florida, USA
Hawker Reload, GROUNDWORK, Architects & Associates, Hong Kong, China
Smith Campus Center, Harvard University, Hopkins Architects, Boston, USA
Hanna Boutique Hotel, Mahsa Majidi , Persian Garden Studio, Tehran, Iran
Rivierstaete, MVSA, Amsterdam, Netherlands
Interface Headquarters, Perkins+Will, Atlanta, USA
Courtyard No.7 at The Drum Tower, RSAA/ Büro Ziyu Zhuang, Beijing, China
Empire Stores, STUDIO V Architecture / S9 Architecture, Brooklyn, USA
Waihinga Martinborough Community Centre, Warren and Mahoney Architects in association with Wraight and Associates (Landscape Designers), Wellington, New Zealand
Nationalmuseum, Wingårdhs and Wikerstål Architects, Stockholm, Sweden
Office - Completed Projects
Olympic House - International Olympic Comittee HQ, 3XN Architects and Itten+Brechbühl, Lausanne, Switzerland
The Ray Farringdon, Allford Hall Monaghan Morris, London, United Kingdom
Office 543, Aman Aggarwal, Mohali, India
Bitwise Headquarters, ASWA (Architectural Studio of Work - Aholic), Samutprakarn, Thailand
Gran Via Office Building, Batlle i Roig Arquitectura, Barcelona, Spain
Parc Glòries Office Building, Batlle i Roig Arquitectura, Barcelona, Spain
CC Office, Creative Crews, Bangkok, Thailand
UNASUR General Secretary Headquarters, DIEGO GUAYASAMIN ARQUITECTOS, Quito, Ecuador
Garanti Bank Technology Campus, ERA Architects, Istanbul, Turkey
One Fen Court, Eric Parry Architects, London, United Kingdom
Vanke Liuxiandong Design Community - A4+B2 Plot Design, FCHA, Shenzhen, China
U-CUBE Office Reconstruction, Lacime Architects, Shanghai, China
Agemar Headquarters (Headquarters of Angelicoussis Group), Rena Sakellaridou SPARCH PC, Athens, Greece
Krushi Bhawan, Studio Lotus, Bhubaneshwar, India
Now Bomonti Office Tower, Tabanlioglu Architects, Istanbul, Turkey
Kanda Holdings Headquarters, TAKENAKA CORPORATION, Tokyo, Japan
12 Madden, Warren and Mahoney Architects, Auckland, New Zealand
Generali Tower, Zaha Hadid Architects, Milan, Italy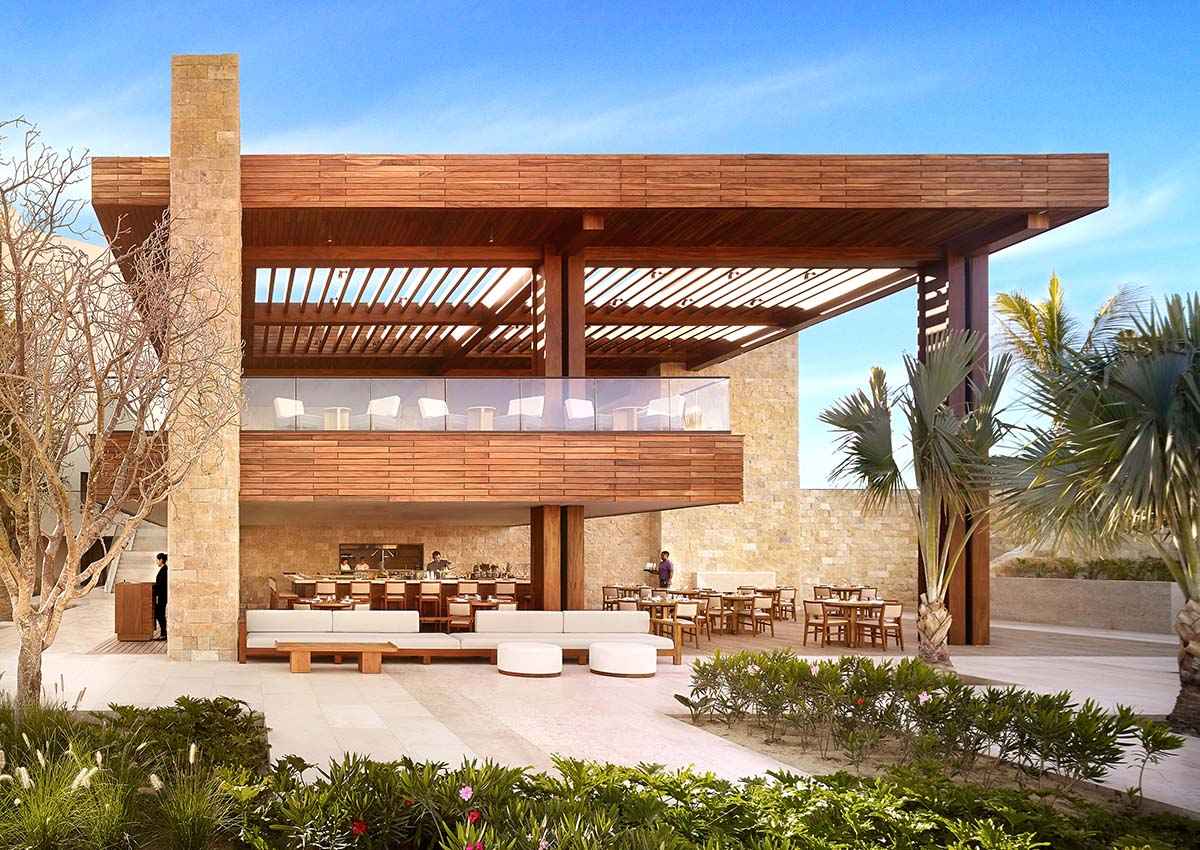 Studio PCH's Nobu Hotel Los Cabos. Image courtesy of WAF
Production Energy and Recycling - Completed Projects
BILAMED pharmaceutical storage with office part, 3XA SP. Z O.O., Pisz, Poland
Delas Frères Winery, Carl Fredrik Svenstedt Architect, Tain l'Hermitage, France
Wine Cellar Dockner, goebl architecture, Höbenbach, Austria
Deposite, KG Mimarlik, Istanbul, Turkey
Bodega Océanica, Marcelo Daglio Arquitectos, Maldonado, Uruguay
Brunswick Power Terminal Station, Beca, Melbourne, Australia
Helsinki Datacenter, Parviainen Architects, Helsinki, Finland
Harvard MA – Energy Plus House, Paul Lukez Architecture, Harvard, USA
The Macallan Distillery and Visitor Experience, Rogers Stirk Harbour + Partners, Craigellachie, United Kingdom
La Salle Charging Station, Romera y Ruiz Arquitectos, Santa Cruz de Tenerife, Spain
Aquatic Center - 'Wodny Park Tychy', TKHolding, Tychy, Poland
Chengdu Aerospace Superalloy Technology Campus, TANGHUA ARCHITECT&ASSOCIATES, Chengdu, China
Dangrove, Tzannes, Sydney, Australia
Jiaxing Qixing Xiyue Rural Complex Exhibition Center, Zhejiang Antao Design, Jiaxing, China
Religion- Completed Projects
Qasr Al Hosn: Al Musallah, CEBRA, Abu Dhabi, United Arab Emirates
Novena Church (Church of St. Alphonsus), cgnArchitects, Singapore
Mary Help of Christian Church (Chaweng), Juti architects, Suratthani, Thailand
Grace Baptist Church, LAUD Architects, Singapore
Cor Jesu Oratory, Lead Architect: Buck Richnold Sia, Zubu Design Associates; Designer: Kenneth Cobonpue, Cebu, Philippines
The thickness of emptiness.Funerary Chapel, Pedro García Martínez, Murcia, Spain
School - Completed Projects
A la Croisée des Chemins, B2Ai, Neder-Over-Heembeek, Brussels
Park Legend Kindergarten, Challenge Design, Chengdu, China
Adelaide Botanic High School, Cox Architecture and Design, Adelaide, Australaia
Site Van Oost, DDS+, Brussels, Belgium
Guangzhou Tianhe Vanke Plaza, FCHA, Guangzhou, China
YM Nursery, HIBINOSEKKEI + Youji no Shiro + KIDS DESIGN LABO, Yonago, Japan
My First Skool at Segar Gardens, LAUD Architects, Singapore
Gangxia International School, Leigh & Orange, Shenzhen, China
Hangzhou Haishu School of Future Sci-Tech City, LYCS Architecture, Hangzhou, China
Northcote High School Performing Arts & VCE Centre, Openwork, Melbourne, Australia
Remodelling for Brains School, Romera y Ruiz Arquitectos, Telde, Spain
Freemans Bay Primary School Re-development, RTA Studio, Auckland, New Zealand
Ayb School building, Storaket Architectural Studio, Yerevan, Armenia
School As Urban Garden - Nanshan Foreign Language School, Studio Link-Arc, Shenzhen, China
Fuwen Primary School Reconstruction Project, Wang Wei Studio, The Design Institute Of Landscape & Architecture China Academy Of Art, Hangzhou, China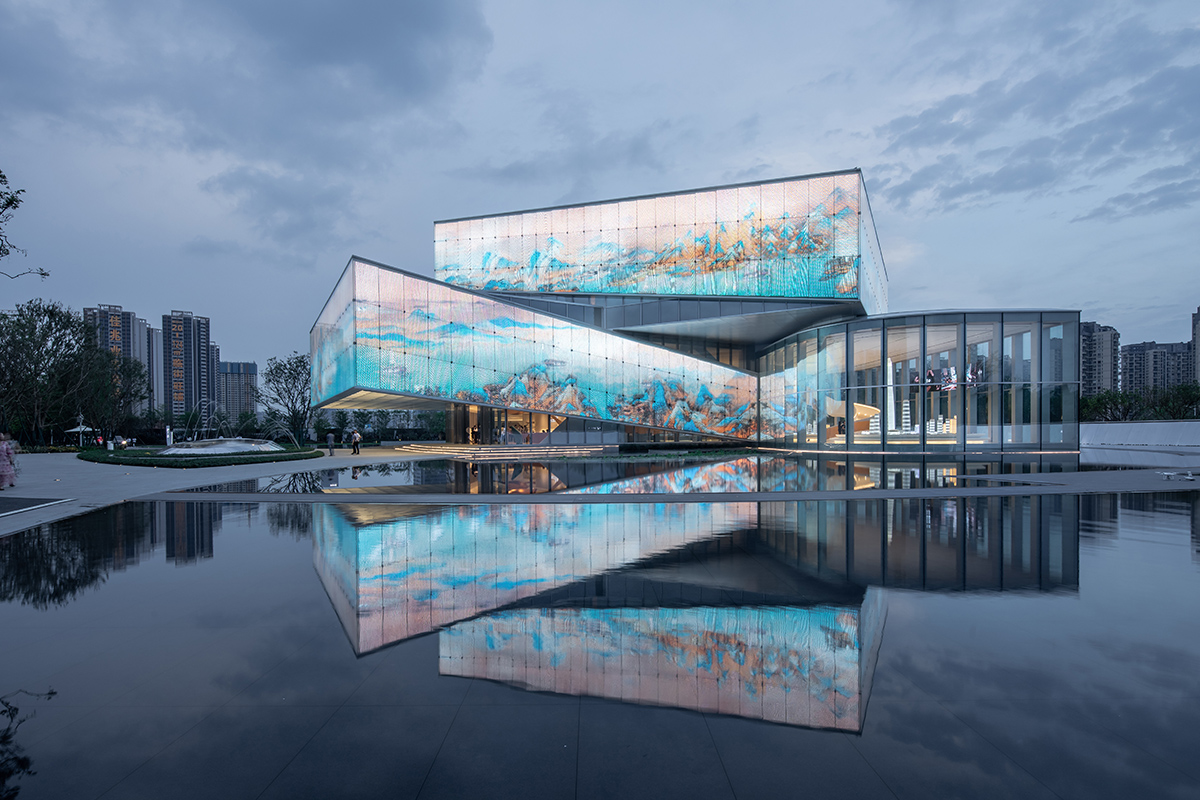 Exhibition Center of Shimao Shenzhen-Hong Kong International Center, SHUISHI, Shenzhen, China. Image courtesy of WAF
Shopping - Completed Projects
ATAKULE NEW LIFE CENTER, A TASARIM MIMARLIK- ALI OSMAN OZTURK, Ankara, Turkey
INZONE, Arizon Design, Dezhou, China
Xi Chao bookstore, Fan Wenbing(ATELIER FAN), Shanghai, China
Grand Central Shopping Centre, fjmt and Buchan, Toowoomba City, Australia
The Village, gianni ranaulo design, Villefontaine, France
Coal Drops Yard, Heatherwick Studio, London, United Kingdom
Shopping center near «Teply stan» metro station, KPLN, Moscow, Russia
Harbour Kiosk, LAAB Architects, Hong Kong, China
Furi Time Square Mall, White Matter Design Studio, Sihanoukville, Cambodia
Sport - Completed Projects
TURÓ DE LA PEIRA'S SPORTS CENTER AND LAYOUT OF THE INTERIOR URBAN BLOCK, Anna Noguera, Javier Fernandez, Barcelona, Spain
The Club Stand, Bates Smart, Flemington, Australia
Roland Garros Stadium - Modernization of the Historic Triangle, Chaix & Morel et Associés, Paris, France
Irina Winer-Usmanova Rhythmic Gymnastics Center in the Luzhniki Complex, CPU PRIDE, Moscow, Russia
GAME Streetmekka Viborg, EFFEKT Architects, Viborg, Denmark
HaiKou Wuyuan River Stadium, gmp & Shanghai United Design Group, Haikou, China
The Curragh Racecourse, Grimshaw, Newbridge, United Kingdom
Boost, Hypothesis, Bangkok, Thailand
Pingelly Recreation and Cultural Centre, iredale pedersen hook architects with Advanced Timber Concepts Studio, Pingelly, Australia
Tottenham Hotspur Stadium, Populous, London, United Kingdom
Zaozhuang Stadium, Shanghai United Design Group, Shandong, China
Indoor Playground (Doubling as lecture hall) of Yueyang County No.3 Middle School, SUP Atelier, Yuyang, China
Transport - Completed Projects
Hong Kong West Kowloon Station, Aedas (Architect: Andrew Bromberg at Aedas), Hong Kong, China
Hong Kong-Zhuhai-Macao Bridge Hong Kong Port Passenger Clearance Building, Aedas and Rogers Stirk Harbour + Partners (Joint Venture Designer), Hong Kong, China
Tainan Bus Station, Biophilia Architecture Association, Tainan, Taiwan
Caulfield to Dandenong Level Crossing Removal, COX Architecture, Melbourne, Australia
Barangaroo Ferry Wharf, COX Architecture, Sydney, Australia
Mernda Rail Extension, Grimshaw, Melbourne, Australia
Istanbul Airport, Grimshaw, Nordic-Office of Architecture, Haptic Architects; Scott Brownrigg, Istanbul, Turkey
MACTAN CEBU INTERNATIONAL AIRPORT TERMINAL 2, Integrated Design Associates, Cebu, Philippines
Jewel Changi Airport, Safdie Architects, Singapore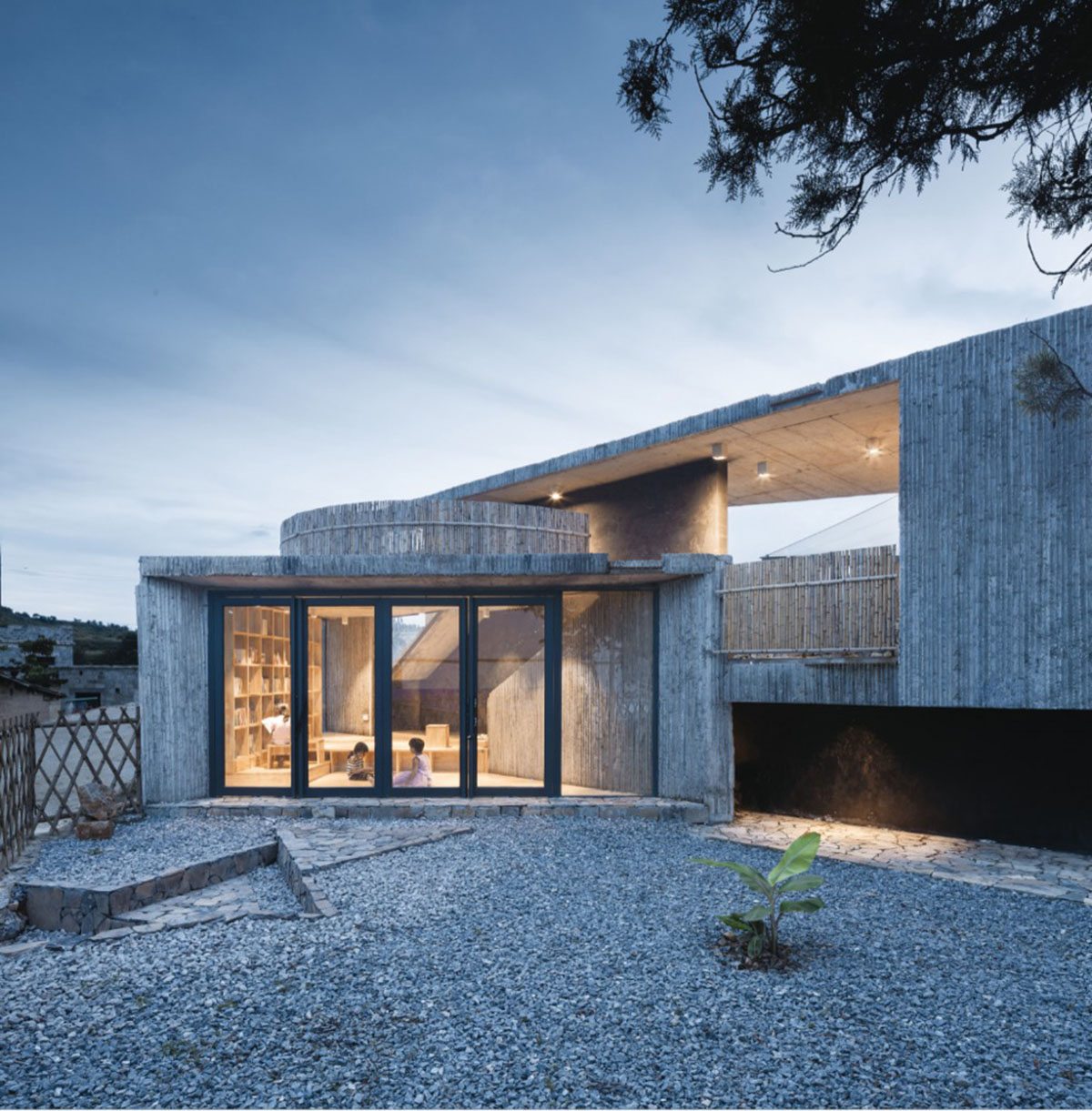 Raleigh Campsite in Guizhou, Architectural Design Institute of South China University of Technology, Zhenfeng County, China. Image © Li Yao
Villa - Completed Projects
No Footprint House, A-01, Ojochal, Costa Rica
K House, AIM ARCHITECTURE & Norm Architects, Sri Lanka
LOONG PALACE - Genuine Elegance, Architectural Design and Research Institute of Tsinghua University, Beijing, China
St Andrews Beach House, Austin Maynard Architects, St Andrews Beach, Australia
Asa House, Bernardes Arquitetura, Rio de Janeiro, Brazil
Pipa House, Bernardes Arquitetura, São Paulo, Brazil
ANAVILLA, FLAT12x, Nakorn Si Thammarat, Thailand
Villa B, Powerhouse Company, Munich, Germany
Arrowtown House, RTA Studio, Arrowtown, New Zealand
The DRIFT House on The little MUCH farm, Shonan Purie Trehan, Language.Architecture.Body, Mulshi, India
Casa Cozumel, Sordo Madaleno Arquitectos, Cozumel, Mexico
Amaltas, Squareworks LLP / Apartment, Vadodara, India
Bellbird Retreat, Steendijk, Brisbane, Australia
St Andrews Beach Villa, Woods Bagot, St Andrews Beach, Australia
Tara Villa, ZAV architects, Larijan, Iran
Landscape Rural - Completed Projects
Ecoland Planning and Design Lao-Ju River Oasis Restoration of Riverfront Ecosystem, Linfen, China
EFFEKT Architects, Forest Tower, Haslev, Denmark
Romera y Ruiz Arquitectos, Moving shadows, Maspalomas, Spain
SED Landscape Architects, Pioneer Cattle Sculpture Square, Huizhou City, China
XWG Arch-Studio, Brick Labyrinth Garden, Zhangjiakou, China
Yǒu Lanscape Architecture Design, On the Pastoral Urban Edge - A Bountiful Wetland Park in Southwest China, YunNan, China
SUP Atelier/ School of Architecture,Tsinghua University, Beijing Forestry University, Beijing, China
Landscape Urban - Completed Projects
!melk,ZilArt Park (Tufeleva Roshcha, Moscow, Russia
ASPECT Studios, Caulfield to Dandenong Level Crossing Removal Project, Melbourne, Australia
Batlle i Roig Arquitectura, Maquina de Batre Square, Barcelona, Spain
Buro Ole Scheeren, DUO, Singapore
Cobblestone Design Canada, Shanghai Office, Daxing Ecological Civilization Education Park, Beijing, China
Greenview Landscape International Group, Ink, Residential Cultural Display Pavilion, Xiamen, China
Gustafson Porter + Bowman, València Parque Central, València, Spain
James Corner Field Operations; URBIS Limited; Ronald Lu & Partners, Tsim Sha Tsui Waterfront Revitalization - Avenue of Stars and Salisbury Garden, Hong Kong, China
LandLAB, Avon River Park Terraces + City Promenade, Christchurch, New Zealand
Lyons in collaboration with iredale pedersen hook architects and ASPECT Studios, Yagan Square, Perth, Australia
North West LA, ATA Architects & Planners, South Gate Garden, Xi An, China
Mosbach Paysagistes, New Construcion Office, Taichung City Government, Taichung, Taiwan
Original Design Studio, Demonstration Section of Yangpu Riverside Public Space, Shanghai, China
SHUISHI, Changchun Culture of Water Ecology Park, Changchun, China
SHUISHI, Nanchang Red Earth Park, Nanchang, China
TURENSCAPE, Deep Forms of Nature-based Solutions: Meishe River Greenway and Fengxiang Park, Haikou,China, Haikou City, China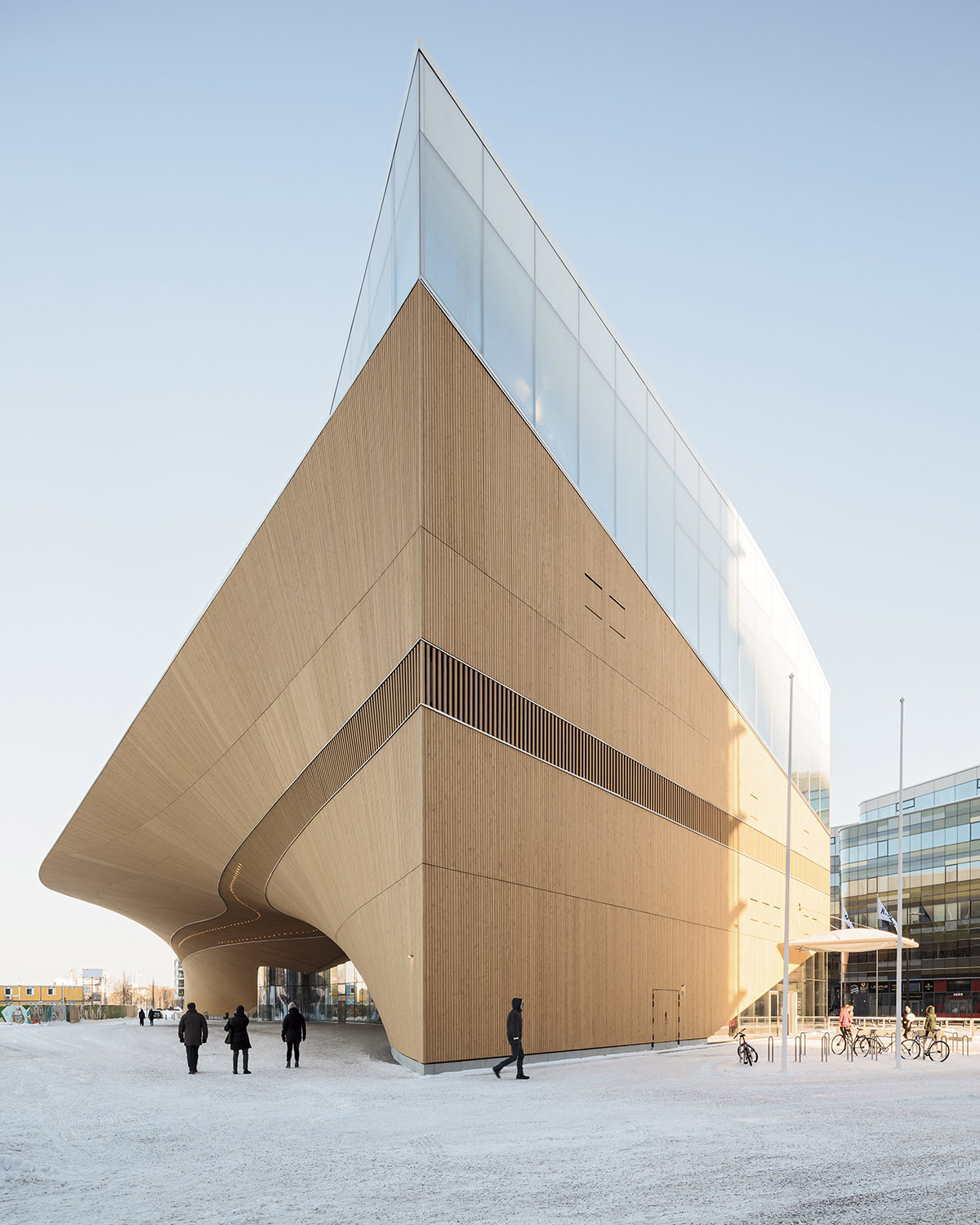 Helsinki Central Library Oodi, ALA Architects, Helsinki, Finland. Image courtesy of WAF
Future Project Categories
Civic - Future Projects
Baliwag Community Center, Alero Design Studio, Baliwag, Philippines
Prison Haren CAFASSO nv with B2Ai / EGM Architecten, Brussels, Belgium
Commonwealth Lane: Death & The Community, CIAP Architects and Ong & Ong (Landscape), Singapore
Vaux: New City Hall, FaulknerBrowns Architects, Sunderland, United Kingdom
Harry Jerome Community Recreation Centre, HCMA Architecture + Design, Vancouver, Canada
CaptialMed Medical City, HKS, Cairo, Egypt
Tank Park, LandLAB, Auckland, New Zealand
Tall Hut, Moller Architects, Auckland, New Zealand
Bandy (Russian-hockey) stadium in Syktyvkar, SPEECH, Komi, Russia
Funeral Home of Tianmen Longevity Memorial Garden, China Architectural Design Research Institute, Tianmen City, China
New Zealand International Convention Centre, Warren and Mahoney Architects in association with Moller Architects and Woods Bagot, Auckland, New Zealand
Future Projects - Commercial Mixe-use projects
1-2 Broadgate, Allford Hall Monaghan Morris, London, United Kingdom
Egham Gateway West, Allford Hall Monaghan Morris, London, United Kingdom
Damen Belatchew Arkitekter, Norrköping, Sweden
Ningbo Sino Ocean, Benoy, Ningbo, China
POST Rotterdam, ODA Architecture, Rotterdam, Netherlands
Taopu Smart City Land Block 604, Former HERO Pen Factory Preservation and New Construction, Ennead Architects, Shanghai, China
The Goodsyard, FaulknerBrowns Architects, London, United Kingdom
Tehran Eye, FMZD | Farshad MehdiZadeh Design, Tehran, Iran
77 Market Street, fjmt, Sydney, Australia
Multifunctional Complex in Vilnius, MAD Architects Rus, Vilnius, Lithuania
Unveiling Connectivity: Back-of-House Reconnecting a Pedestrian Network, NEUF Architect(e)s, Toronto, Canada
X-Space | Urban Fabric Regeneration, DESIGN & MORE INTERNATIONAL, Dubai, United Arab Emirates
Xi'an Guoba Factory Renovation, NEWS, Xian, China
88 Harris Street, SJB, Sydney, Australia
De Meelfabriek, Studio Akkerhuis, Leiden, The Netherlands
FOUR Frankfurt, UNS+HPP. FOUR Frankfurt, Frankfurt, Germany
Southbank by Beulah, UNStudio and COX Architecure, Melbourne, Australia
Future Projects - Competition entries
Mashhad C.E.O.Headquarter, Nextoffice, Mashhad, Iran
NEW CAIRO CAPITAL STADIUM, Boogertman+Partners Architects, Cairo, Egypt
Housing NYC 2.0, Domaine Public Architects, New York, USA
The Golden Cage, John Marx, Architect, Black Rock City, USA
The Circle of Good Hope, GLH Architects, Cape Town, South Africa
Il Monastero, noa* network of architecture, Arco, Italy
THE CULTURAL CANYON - Rebuilding Baghdad Design Center, DESIGN & MORE INTERNATIONAL, Baghdad, Iraq
University of Chicago Center in Paris Project, Studio Gang, Paris, France
Våga Water Tower, White Arkitekter, Varberg, Sweden
JKMM's Amox Rex Art Museum in Helsinki. Image © Mika Huisman
Future Projects - Culture
Southern Branch of the National Library and National Depository Library, morpheus, Tainan, Taiwan
Bao'an Public Culture and Art Center, Coldefy & Associates, Shenzhen, China
Urban wetland museuem of Wenzhou, IAPA, Wenzhou, China
CULTURAL CENTER LA TUILERIE, Jacques Ferrier and Pauline Marchetti Architects, Limoux, France
Fondazione Luigi Rovati Museum, Mario Cucinella Architects, Milan, Italy
Çanakkale Antenna, IND [Inter.National.Design] & Powerhouse Company, Çanakkale, Turkey
Richard Gilder Center for Science, Education, and Innovation at the American Museum of Natural History, Studio Gang, New York, USA
Magnaura Palace Tower Remains Renovation, Tabanlioglu Architects, Istanbul, Turkey
Puffing Billy Lakeside Station, TERROIR, Victoria, Australia
The New GoDown Arts Centre, White arkitekter, Nairobi, Kenya
Future Projects - Education
SAKHA_Z — Park for the Future Generations, ATRIUM, Yakutsk, Russia
The First Concept Design of 3.0 Smart HUB Nursery School in Poland, Design Studio of W.P.I.P. Sp. z o.o. Sp. k., Wroclaw, Poland
Ulster University's Belfast City Campus, Feilden Clegg Bradley Studios, Belfast, United Kingdom
Monte Sant' Angelo Mercy College, Fox Johnston & Tribe Studios, North Sydney, Australia
The Polish 'Henry Arctowski' Antarctic Station, Kuryłowicz & Associates, King George Island, Antarctica
Chung Chi Student Development Complex of The Chinese University of Hong Kong, Leigh & Orange, Hong Kong, China
Shenzhen Qianhai Education Complex, Leigh & Orange, Shenzhen, China
The School in a Park, Maisam Architects & Engineers, Amman, Jordan
Hebrew Institute, Perkins and Will, Santiago, Chile
PRESTIGE UNIVERSITY, sanjay puri architects, Indore, India
E. M. Primakov Gymnasium New Building and Dormitories, Studio 44 Architects, Moscow, Russia
Yinhu Future School, Studio Link-Arc, Shenzhen, China
Astana University of Sports, Tabanlioglu Architects, Astana, Kazakhstan
Wahiawa Value-Added Product Development Center, University of Arkansas Community Design Center; Urban Works Architecture; University of Arkansas Resiliency Center, Hawaii, USA
Arran Marine Discovery Centre, Woods Bagot, Isle of Arran, Scotland
Middle East Technical University Coworking & Cafeteria, Yazgan Design Architecture, Ankara, Turkey
Future Projects - Experimental
Warrane Walk, ASPECT Studios, Sydney, Australia
Sanatheon Vertical City, Desitecture, Shenyang, China
Modular Water Dwellings, Grimshaw, Bergen, Netherlands
Genedos Coop. Settlement, MEMALONDON, Kaş, Turkey
Schnals Biwak, noa* network of architecture, Schnals, Italy
The Powerhouse Hayes, Pilbrow & Partners, Hayes, United Kingdom
Qianhai Telecommunication Center, schneider+schumacher, Shenzhen, China
The Tanks at Bushwick Inlet Park, STUDIO V Architecture, Brooklyn, USA
Future Projects - Health
THE KEY_Health and Well-being for Alzheimer's Patients Through Architecture, Beijing Archinest International architectural, Providence, USA
Sagip-Kanlungan: A Compact Hospital Model for Disaster-Prone Rural Philippines, Ar. John Ryan Santos of John Ryan Santos & Partners, Pangasinan, Philippines
INTERNATIONAL MEDICAL CLUSTER. SECOND PHASE OF CONSTRUCTION. MEDICAL CENTER, Mochly-Eldar architects, Skolkovo, Moscow
PARS MEDICAL AND HEALTH CENTER, NEW WAVE ARCHITECTURE STUDIO, Bandar Abbas, London
Pink Park Village, P Landscape, Bangkok, Thailand
Kommunarka Hospital with Maternity Center, TPO Reserve, Moscow, Russia
Psychiatric clinic, Nuuk, White arkitekter AB / DIFK Dipl.-Ing. Florian Kosche / ÅF Engineering AS, Nuuk, Greenland
Populous' Tottenham Hotspurs Stadium. Image courtesy of WAF
Future Projects - House
BAYT K, AKK Architects, Beirut, Lebanon
Infinity House, Carlo Calma Consultancy, Makati City, Philippines
Residence 91, Aman Aggarwal, Panchkula, India
Open House, Jean Nmeir, Abadieh, Lebanon
The Cube House, Ahmed Habib - Lines, Khaldiya, Kuwait
Gallery House, Modern Office of Design + Architecture, Calgary, Canada
Mulberry Grove the Forestias (Villas), F+P (Thailand),DT Design,ITEC Entertainment,EEC Engineering Network,TK Studio, Samutprakarn, Thailand
XALOC HOUSE, JAIME OLIVER, Palma de Mallorca, Spain
75.9 House, Omer Arbel Office, Surrey, Canada
Huangshan House, Park + Associates, Anhui, China
Bryon Bay, Rob Mills Architecture & Interiors, Bryon Bay, Australia
Casa Grand Coral, Sordo Madaleno Arquitectos, Playa del Carmen, México
Living among the trees, UArchitects / Misak Terzibasiyan, Eindhoven, Netherlands
ROUND RETREAT, UNITEDLAB Associates LLC, Kurzeme, Latvia
Flock Hill Station – The Lodge, Warren and Mahoney Architects, Canterbury, New Zealand
Future Projects - Infrastructure
Xiamen North Station Vanke Plaza, FCHA, Xiamen, China
Overpass System Design of Longgang Central Area, FCHA, Shenzhen, China
Tashkent International Airport, GMW MIMARLIK, Tashkent, Uzbekistan
City Rail Link, Jasmax + Grimshaw, Auckland, New Zealand
Dubai Super Park, Machou Architects Group, Dubai, UAE
Wynyard Crossing, Monk Mackenzie | BECA | EADON | Athfield, Auckland, New Zealand
Shuzhou High Gardens, One Design, Suzhou, China
Damen Green Line Station, Perkins+Will, Chicago, USA
Galveston Bay Park, Rogers Partners Architects + Urban Designers, Houston, USA
Highway 27, Sanjay Puri Architects, Gujarat, India
Financial District Coastal Improvement Program, Scott Brownrigg + Crown, New York City, USA
Richmond BridgePark Foundation, Spatial Affairs Bureau, Richmond, USA
Integrated Intermodal Metropolitan Station, Tremend, Lublin, Poland
Våga - Varberg Water Tower, White Arkitekter, Varberg, Sweden
Shenzhen Bay Avenue, WilkinsonEyre and Morphis, Shenzhen, China
Rogers Stirk Harbour + Partners' The Macallan Distillery and Visitor Experience. Image courtesy of WAF
Future Projects - Leisure Led Development
Taikoo Li Qiantan, 5+design, Pudong, Shanghai, China
Viewing Platform of Nujiang(Salween River) 72-turnings Canyon in Basu Tibet, ARCH-HERMIT, Changdu, China
Bonnevaux Meditation Retreat, DP Architects, Poitiers, France
Britannia Leisure Centre, FaulknerBrowns Architects, London, United Kingdom
Sangan Hotel, FMZD | Farshad MediZadeh Design, Sangan, Iran
Campsort Hotel, gad · line+ studio and Zhejiang gad architectural design, Huangshan, China
Crystal Pool and Wellness Centre, HCMA Architecture + Design, Victoria, Canada
WAITOMO BUNGY TOWER, Ignite, Waitomo, New Zealand
Resort Hotel in Bodrum, Izgi Architectural Design, Bodrum, Turkey
Marchwiel Estate, John Wardle Architects, Marion Bay, Australia
Rennes Palais du Commerce, MVRDV, Rennes, France
ARRÁBIDA RETREAT, NIC BRUNDSON, Arrabida, Portugal
Bledisloe Quarter, Peddle Thorp, Auckland, New Zealand
Chablé La Paz, Sordo Madaleno Arquitectos, La Paz, México
Maldives Hotel, studio mk27, Kaffu Atol, Maldives
Tersane Halic - Halic Shipyards, Tabanlioglu Architects, Istanbul, Turkey
Igneada Glamping, Yazgan Design Architecture, Kırklareli, Turkey
Future Projects - Masterplanning
THE CONNECTED CITY Oberbillwerder, ADEPT and KARRES EN BRANDS together with Transsolar, Büro Happold, Kraft, Hamburg, Germany
Ulsoor Lake, Arup, Bangalore, India
Masterplan Paraty, Bernardes Arquitetura, Paraty, Rio de Janeiro - Brazil
LifeLines | Heart of Cairo Urban regeneration, Design & More and Verform, Cairo, Egypt
Renovation of Changchun tractor factory, East China Architectural Design & Research Institute, Changchun, China
the Forestias - Masterplanning, F+P (Thailand),DT Design,ITEC Entertainment,Atelier10,EEC Engineering Network,Grant Associates,TK Studio, Samutprakarn, Thailand
Huli Creative Industrial Park Urban Design, FCHA, Xiamen, China
Badaevskiy Brewery, Redevelopment, Herzog & de Meuron and APEX project bureau, Moscow, Russia
Cardrona, Monk Mackenzie, Cardrona, New Zealand
Oslo Airport City, Nordic — Office of Architecture and Haptic Architects, Oslo, Norway
Ningbo, Jiangbei core area, One Design, Ningbo, China
Airport City Istanbul, Perkins and Will, Istanbul, Turkey
8 Albert Embankment, Pilbrow & Partners, London, United Kingdom
ITMO University, RTDA, Saint Petersburg, Russia
Mount Ngongotatha Masterplan, Scott Brownrigg, Rotorua, New Zealand
Svobodny Strategic Master Plan 2030, Strelka KB, Svobodny, Russia
NONG FAB LNG TERMINAL: The Harmonized Juxtaposition between Industry and Nature, TK Studio, Rayong, Thailand
Safdie Architects' Jewel Changi Airport in Singapore. Image courtesy of Jewel Changi Airport
Future Projects - Office
Skypark Business Centre South, Aravia Design & +FUN, Luxembourg
210 George Street, Grimshaw Architects, Sydney, Australia
Attabotics Headquarters, Modern Office of Design + Architecture, Calgary, Canada
Flow, MVSA, Amsterdam, The Netherlands
Uber Headquarters, SHoP Architects, San Francisco, USA
X-Space | Urban Fabric Regeneration, Verform, Dubai, UAE
MO(O)D A Prototype for an office building, SOS School of Sustainability, Changzhou, China
40 Tenth Ave, Studio Gang, New York, USA
Future Projects - Residential
Aqualuna, 3XN Architects, Toronto, Canada
James Avenue Pumping Station, 5468796 Architecture, Winnipeg, Canada
S5, King's Cross, Alison Brooks Architects, London, United Kingdom
Snail Appartments, archimatika, New York, USA
Greenland Centre, BVN, Sydney, Australia
King's College Croft Gardens, Feilden Clegg Bradley Studios, Cambridge, United Kingdom
Edith Summerskill House, Henley Halebrown, London, United Kingdom
Badaevskiy Brewery, Redevelopment, Herzog & de Meuron and APEX project bureau, Moscow, Russia
505 George Street, ingenhoven architects, Düsseldorf + architectus, Sydney, Australia
Almanakken, Kant Arkitekter A/S, Helsinge, Denmark
MET Tirana Residential Building, Mario Cucinella Architects, Tirana, Albania
Launch Bay West, Monk Mackenzie, Auckland, New Zealand
RED7, MVRDV, Moscow, Russia
Neuländer Quarree, SAOTA, Hamburg, Germany
The Artists' Garden studios, Ateliers Jean Nouvel, Qingdao, China
Residential Complex on the Velikaya River, Studio 44 Architects, Pskov, Russia
BRODSKY, Tsimailo Lyashenko and Partners, Moscow, Russia
Top image: Shanghai Jund Architects' Pine Villa, Huangshan, China. Image courtesy of WAF
> via WAF