'Quintessential Constructs of Indian Architecture' by Pappal Suneja held at University of Rome
Seminar on 'Quintessential Constructs of unfolding Indian Architecture' by Pappal Suneja & Book Launch of 'Poetry & Architecture' held on 29th May 2019 at the University of Rome, Tor Vergata, Italy in the presence of Prof. Claudio Greco, Prof. Donato Abruzzese, Prof. Rosalia Vittorini and Ing Daniele Sansoni.
The event was attended by Building Engineering-Architecture third-year students of the University of Rome, Tor Vergata and UG Fellowship Indian Students from Aditya College of Architecture; Mumbai, DY Patil; Akurdi, Dr.Baliram Hiray College of Architecture, ITM University; Gwalior, Pilla's College; New Panvel and Vishwaniketan College of Architecture, Arts & Design.
Architectural Poem Writing Competition Series is the third initiative of the Architectural Journalism & Criticism Organisation to spread awareness about this subject and sow the seeds of inspiration to explore and to write about Architecture from a lyrical perspective. This book covers best entries of the myriad themes floated namely An Architect's Life, A Building worth Applauding, Urban Issues, Hybrid Thinking, Contextual Architecture, Bamboo Magic, Building Blocks, Heritage Conservation, Haiku Writing et cetera
Book Details: Curator & Editor: Pappal Suneja, ISBN: 978-9389085204, Publisher: White Falcon, Chandigarh
This event was a part of UG Fellowship, Architecture program by CGC (CTIF Global Capsule). The Capsule organizes Summer Training Programs across the globe. The Indian Chapter is led by Vishwaniketan Institute. The capsule is an integral part of CTIF (Center for Tele-Infrastructure) that deals with R & D Centers; focused on product Development based Research. The network is led by Dr. Ramjee Prasad; Prof at Aarhus University, Denmark as the President and Dr. S.S Inamdar, Vice President, Vishwaniketan chairs as the Director. In 2019, for the first time, the CTIF Initiative has extended to Architecture and Design disciplines. The universities floated are University of Rome, Tor Vergata, Ural Federal University, Russia and Teesside University, UK. These are flagship programs by Vishwaniketan College of Architecture, Arts & Design under the direction of Dr. Janhavi Inamdar and Coordination of Ar. Pappal Suneja
The Seminar on Quintessential Constructs of unfolding Indian Architecture started with the basis of our origin and a few questions such as Why are we unique? Why Architecture is so Diverse? When do we realize that Traditional Architecture involves Indigenous Approach? It basically covered the diversity of India in terms of Soil conditions, Food, culture, language and much more. Some specific buildings and complexes were discussed briefly namely Taj Mahal, Akshardham, Capitol Complex; Chandigarh, Gwalior Fort, Sun Temple; Modhera, Jahaz Mahal; Mandu, Jal Mahal; Jaipur, Matri Mandir; Auroville. The seminar included a session on alternative building techniques being explored in India with greater visions like CSEB, Beer Bottles embedded in concrete for stained glass effect, use of bamboo, Filler slab, etc. Further, a few designs of Prof K Jaisim, Didi Contractor, CP Kukreja and Nimish Patel were taken up to deliberate upon the Current Scenario of Architecture in India. The Seminar winded up with question answer session as the audience was curious to know more about Auroville and Chandigarh.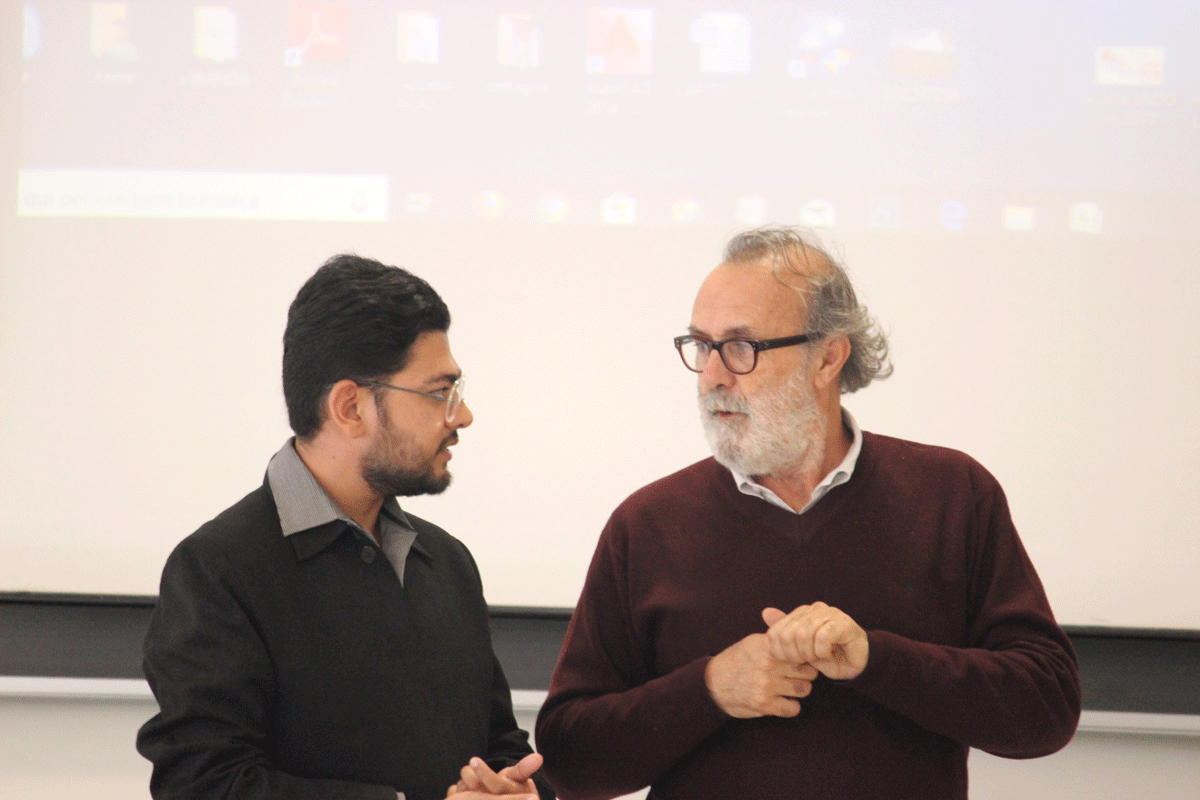 Candid discussion between Prof Claudio Greco and Pappal Suneja after the Seminar
Currently, at the University of Rome, Indian Students are working on the Design of an Art School under the leadership of Prof Claudio Greco and mentored by Ar. Pappal Suneja and Ing Daniele Sansoni. The school complex is to be built in an area that is currently not yet built in a peripheral area of Rome named "La Romanina", on the edge of the area that has already been largely built, which is included in the detailed development plan called Romanina A provided for in the General Town Plan of Rome, in the context of Urban Centrality Romanina. This area is part of a wider area of urbanization which also includes the part not yet built called Romanina B and which extends into the territories south of the Rome-Naples motorway, not far from the campus of the University of Tor Vergata.
Group Photograph with the Italian Students and Professors
The Book is available on Amazon, Flipkart and WFP Store
All Images © Pappal Suneja
> via Architectural Journalism & Criticism Organization