Demolition of Alexandria architectural gem begins
Owner of Villa Aghion, a landmark from city's 1920s heyday, blames foreign governments and groups who declined to help fund restoration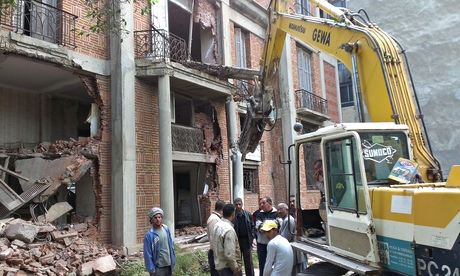 Villa Aghion in Alexandria being demolished. It is one of at least 36 landmark sites in the city to have been destroyed in the past five years. Photograph: Save Alex
Developers have begun to demolish an Alexandria villa that campaigners claim is one of the most important examples of Egypt's architectural heritage.
The Villa Aghion was a modernist villa built in 1928 by renowned architect Auguste Perret, whose work in France is protected by Unescoand whose career has just been celebrated in an exhibition in Paris.
But Perret's work is less appreciated in Egypt, where officials removed his landmark design from a list of protected buildings last month, allowing its owner to begin its destruction on Wednesday.
"It might be the most valuable villa that we might ever have had here in Alexandria," said Mohamed Aboulkheir, the co-founder of Save Alex, a campaign to save the port's vanishing heritage. "It's one of the masterpieces of Egypt."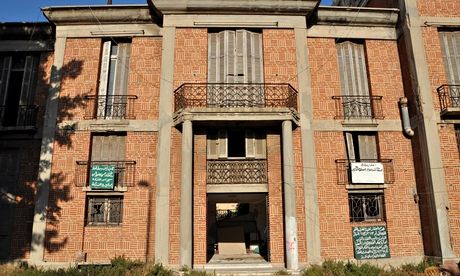 Villa Aghion before the bulldozers moved in. Officials removed the landmark design from a list of protected buildings last month, allowing its owner to begin its demolition. Photograph: Save Alex
The Villa Aghion is a relic of Alexandria's heyday in the 20s and 30s, when the city was one of the most cosmopolitan and grandest in the region, attracting writers such as EM Forster and Lawrence Durrell.
Now many of the buildings constructed during that era are under threat – with the Villa Aghion one of at least 36 landmark sites to have been destroyed in the past five years. That figure is expected to rise sharply in the near future, with 20 further properties removed from a list of protected buildings since mid-December, according to the Save Alex campaign.
Among them is the Villa Ambron, where Durrell lived and which inspired his Alexandria Quartet – one of the most acclaimed works of 20th-century literature. "We are about to face the same thing with the Durrell villa. It's a clone of this situation," said Aboulkheir.
The problem partly derives from how owners of buildings are given little financial incentive to maintain their properties. Due to an antiquated rent-control system, tenants of Alexandria's oldest buildings – such as the Villa Aghion – need only pay rent at decades-old rates, meaning annual earnings for owners are often now only worth a few English pounds.
With no money to renovate their buildings, and little support from the government or private groups, owners say they have no choice but to replace the villas with tower blocks that can provide a more sustainable income.
The owner of the Villa Aghion, Mohamed Hosni Hamed, defended its destruction, saying that foreign governments and groups had declined to help fund the restoration of the long-damaged villa.
"Why should I renovate it? It's something ruined and there is no interest in it," Hamed told the Guardian. "We wanted to preserve it and make it something for tourists but there was no interest from anyone."
Hamed's wife, Omnia, claimed the demolition was legal, and that the family had waited 14 years to get the right permissions to destroy the house. "We could have destroyed it back in 2011 [during the administrative chaos] after the revolution without facing all those problems we are facing now," she said. "But we preferred to do it according to the law."
On Wednesday Alexandria's governor put a temporary freeze on the destruction, but activists said further damage was made overnight.
> via The Guardian