Pavilion Of Humanity: First Contact / Edition 2 is launched!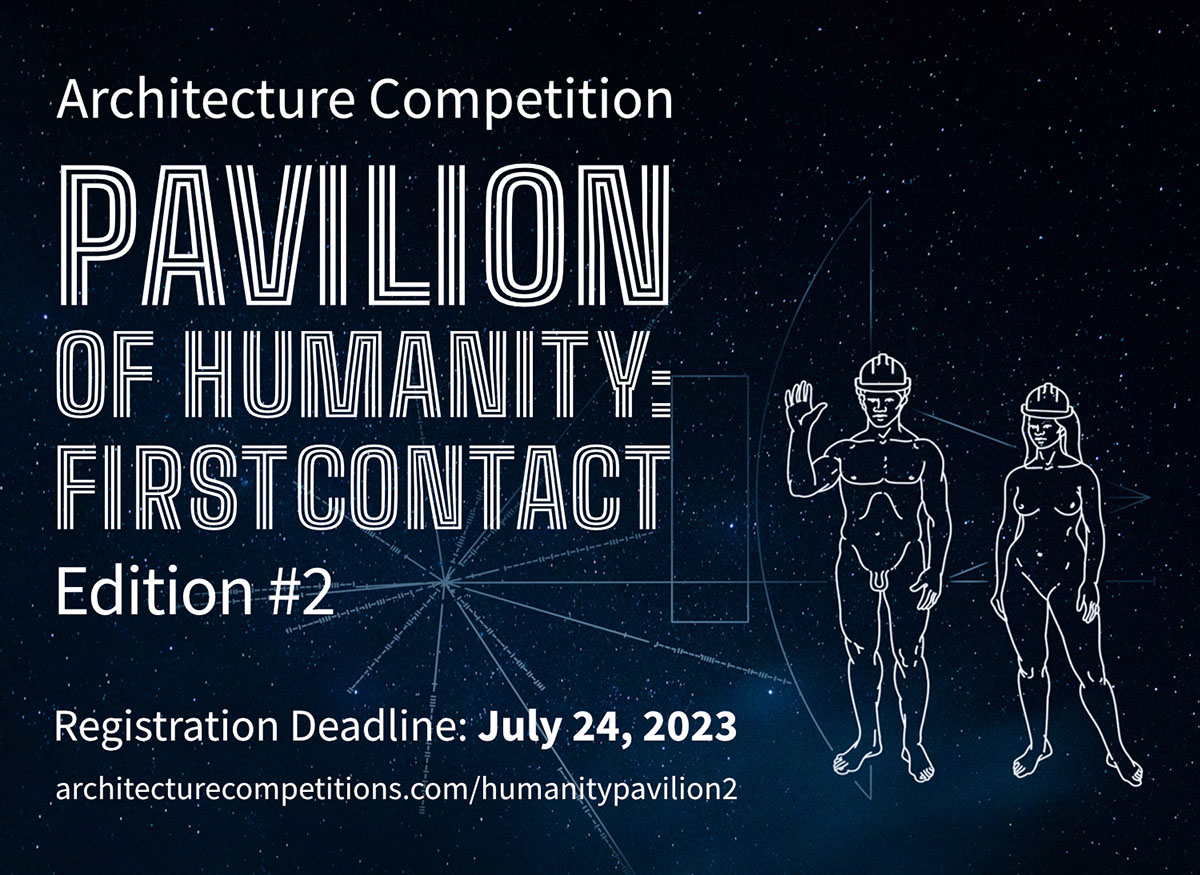 The Pavilion Of Humanity: First Contact architecture ideas competition tasks participants with designing a structure encapsulating the best and brightest of our species in a way that, should we ever be visited by other life forms, would allow them to learn about our achievements in a single space.
In the same way the Pioneer Plaques, placed on board the 1972 Pioneer 10 and 1973 Pioneer 11 spacecrafts, tell a pictorial story of humanity, the Pavilion of Humanity should represent the human race through architecture. The Pioneer Plaques included figures of a man and a woman, the sun and galactic landmarks, a schematic diagram of the Solar System, and a silhouette of the spacecraft. These drawings were designed to give extraterrestrials a basic understanding of humanity and the Earth.
Participants are asked to choose a site of their liking anywhere in the world, and as long as the structure is located on Earth and obeys the basic laws of physics, anything else goes. This is an opportunity for architecture and design enthusiasts to stretch the limits of their imagination and reflect on the greatest and most influential achievements of humanity.
Competition is open to all. No professional qualification is required. Design proposals can be developed individually or by teams (4 team members maximum). Correspondence with organizers must be conducted in English; All information submitted by participants must be in English.
Prizes
Total prize: 7,000€
1st prize: 3,000€, Publications + Certificate of Achievement
2nd prize: 1,500€, Publications + Certificate of Achievement
3rd prize: 1,000€, Publications + Certificate of Achievement
BUILDNER STUDENT AWARD (MORE DETAILS): 1,000€ + 50€ ARCHHIVE BOOKS Gift Card + 50 Points Buildner Architecture University Rankings + Publications + Certificate of Achievement
BUILDNER SUSTAINABILITY AWARD (MORE DETAILS): 500€ Publications, Certificate of Achievement
+ 6 HONOURABLE MENTIONS
CERTIFICATE: Buildner will also acknowledge the outstanding performance of all winners and honourable mentions with Certificates of Achievement.
Publicity campaign: The Buildner's extensive global publicity campaign for the competition winners:
"SEEN BY" ONE MILLION: Results published on buildner.com - one of the leading websites in the industry and is visited by over one million unique visitors each year.
"SEEN BY" 800 000 MORE: Publications on Buildner's social networks (over 600,000 followers) and newsletter campaigns (over 200,000 subscribers).
INTERVIEW: Exclusive interview published with the results and shared on Buildner's social networks.
MOVIE: The competition winners will be granted and opportunity to submit a movie about themselves. The video will be published on the Buildner's website and social networks.
MEDIA PARTNERS: The competition results will get international art and design media coverage and will be featured in the world's leading architecture media outlets.
Jury
Gonca Arik, Tabanlıoğlu Architects
Xuanru Chen, ZJJZ Atelier
Mark Dytham, Klein Dytham architecture (KDa)
Astrid Klein, Klein Dytham architecture (KDa)
Bartosz Haduch, NArchitekTURA
Sebastian Letz, Milla & Partner
David Telerman, Atelier David Telerman
Peter Walker, Cumulus Studio
Kenrick Wong, OOA - Orient Occident Atelier
Schedule
Early Bird Registration: January 30 - March 27
Advance Registration: March 28 - May 25
Last Minute Registration: May 26 - July 24
Closing date for registration: July 24, 2023
Closing date for submission: September 4, 2023 (11:59 p.m. London time)
*It is still possible to participate in this competition after the preliminary deadlines, however, a higher late registration fee will be charged.
Closing date for questions & answers: July 30, 2023
Announcement of the winners: October 18, 2023
Registration fees are between 70€ - 145€ / +4.5% VAT.
Download the full competition brief and read details on the competition's website.
Top image courtesy of Buildner.
> via Buildner