Beauty store by Spacemen features soft weaves made of soft white layers of fabric in Malaysia
A beauty store designed by Spacemen features soft delicate weaves made of soft white layers of fabric to reflect the brand's first product.
Named Ethereal Cave, the 60-square-metre store, designed by a beauty brand Clef Skincare, is located within Publika Shopping Gallery, in Kuala Lumpur, Malaysia.
Shanghai and Kuala Lumpur-based architecture practice Spacemen was commissioned to design the first physical experience store for Clef, a new beauty brand.
Presenting an ethereal experience, the store is designed as a homage to the brand's very first product, their signature facial sheet mask.
The studio translated the values of the brand into space, rhythm and texture.
The store consists of display cabinets, display plinths, cashier, packing station, back of house and store room.
Upon entering, customers are welcomed by a series of three dimensional curved surfaces at both sides.
Made of soft white layers of fabric, the soft and rounded pieces are hung side by side create a monochromatic environment that "is transportive and away from the familiar."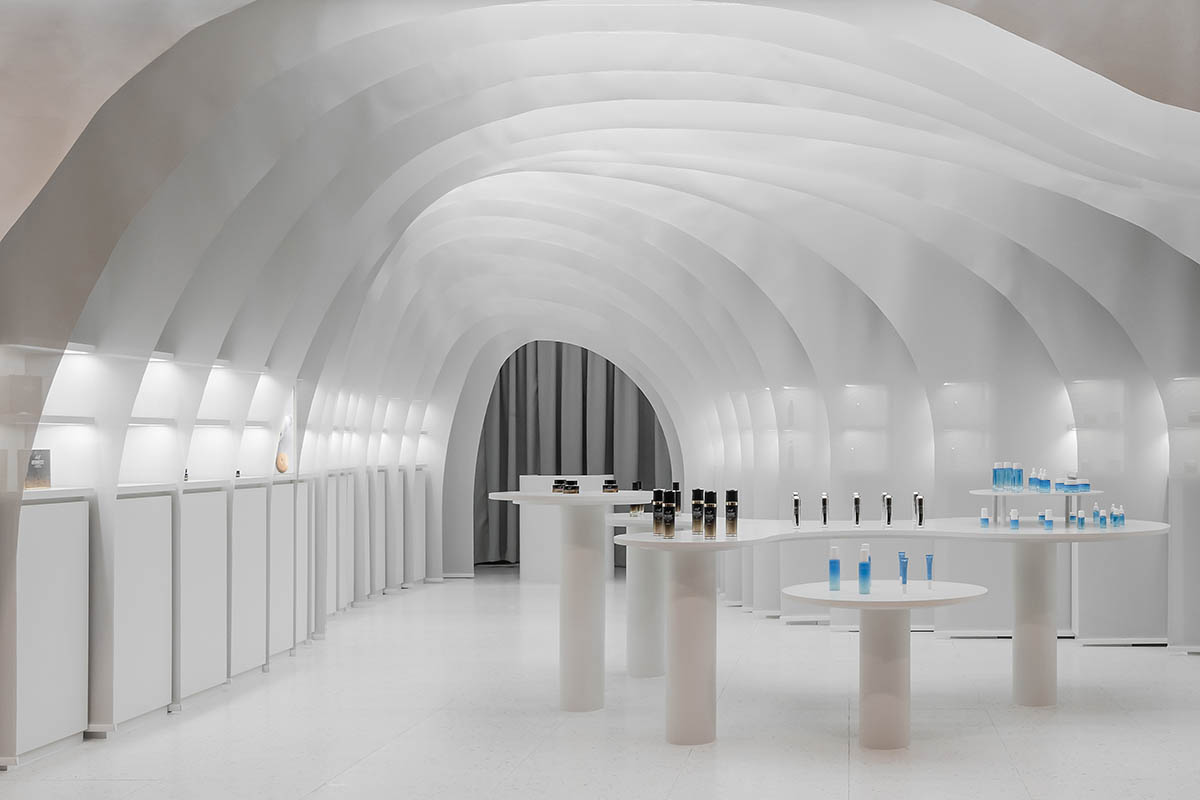 The interiors create these soft delicate weaves that take inspiration from the silk fibres that make up the construction of the sheet mask products.
"As visitors enter the space, they are enveloped by these rhythmic white surfaces that blurs the boundaries of the walls and ceiling," said Spacemen.
"The sleek and precise lines emphasizes the signature Clef product design language."
"Moreover, the use of a muted material palette of blinds and terrazzo flooring allows the wide range of product series which are in different colors to standout," the office added.
According to the studio, visitors are also greeted with an attractive ambiance by touching and feeling the gentle layers of the blinds.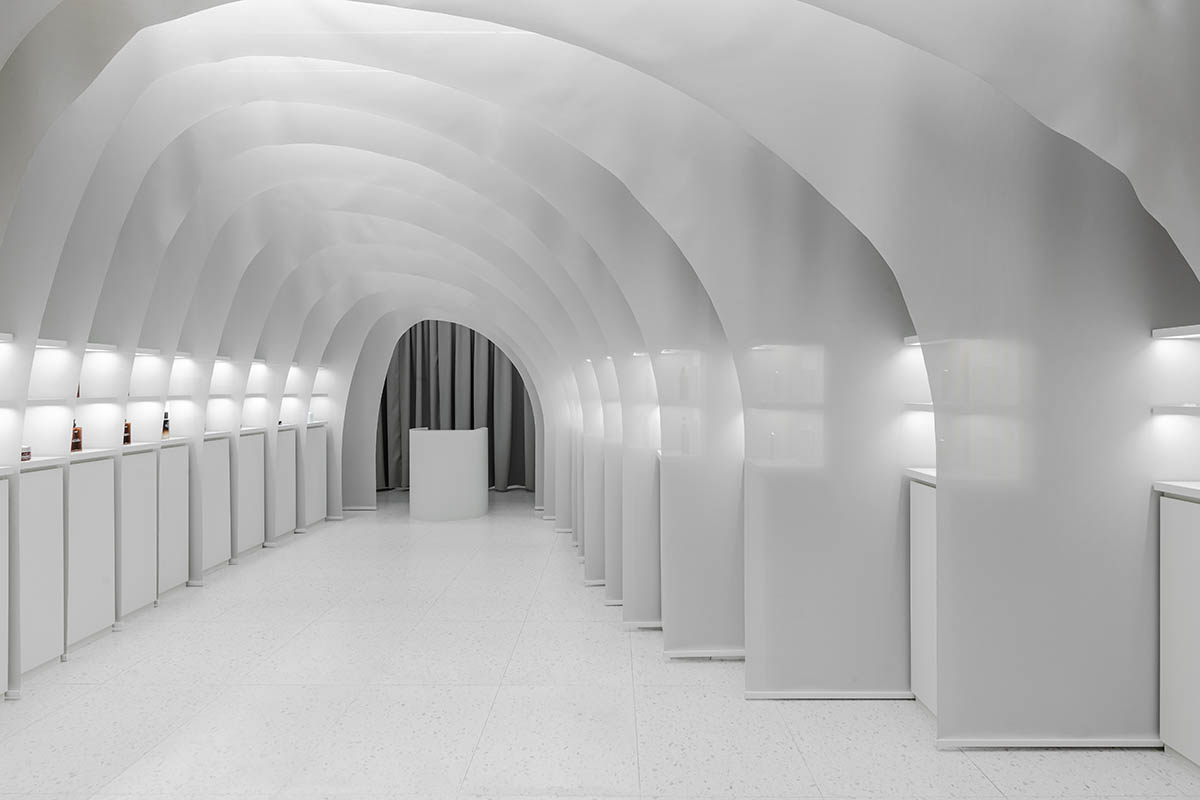 The interplay between the minimal aesthetic and the fluid free-flowing form of the blinds transforms the space into an unexpected environment creating a holistic and ethereal expression for Clef.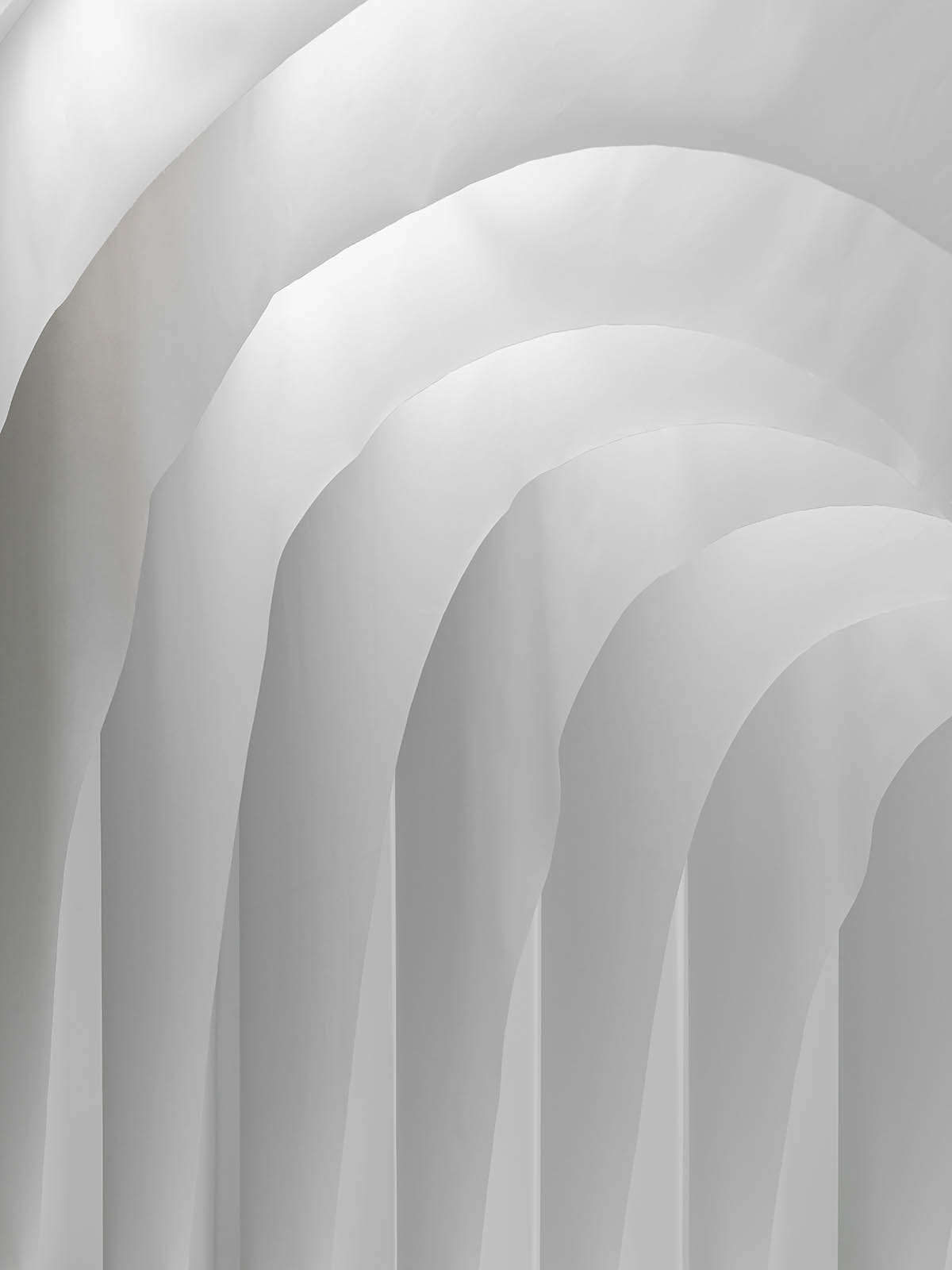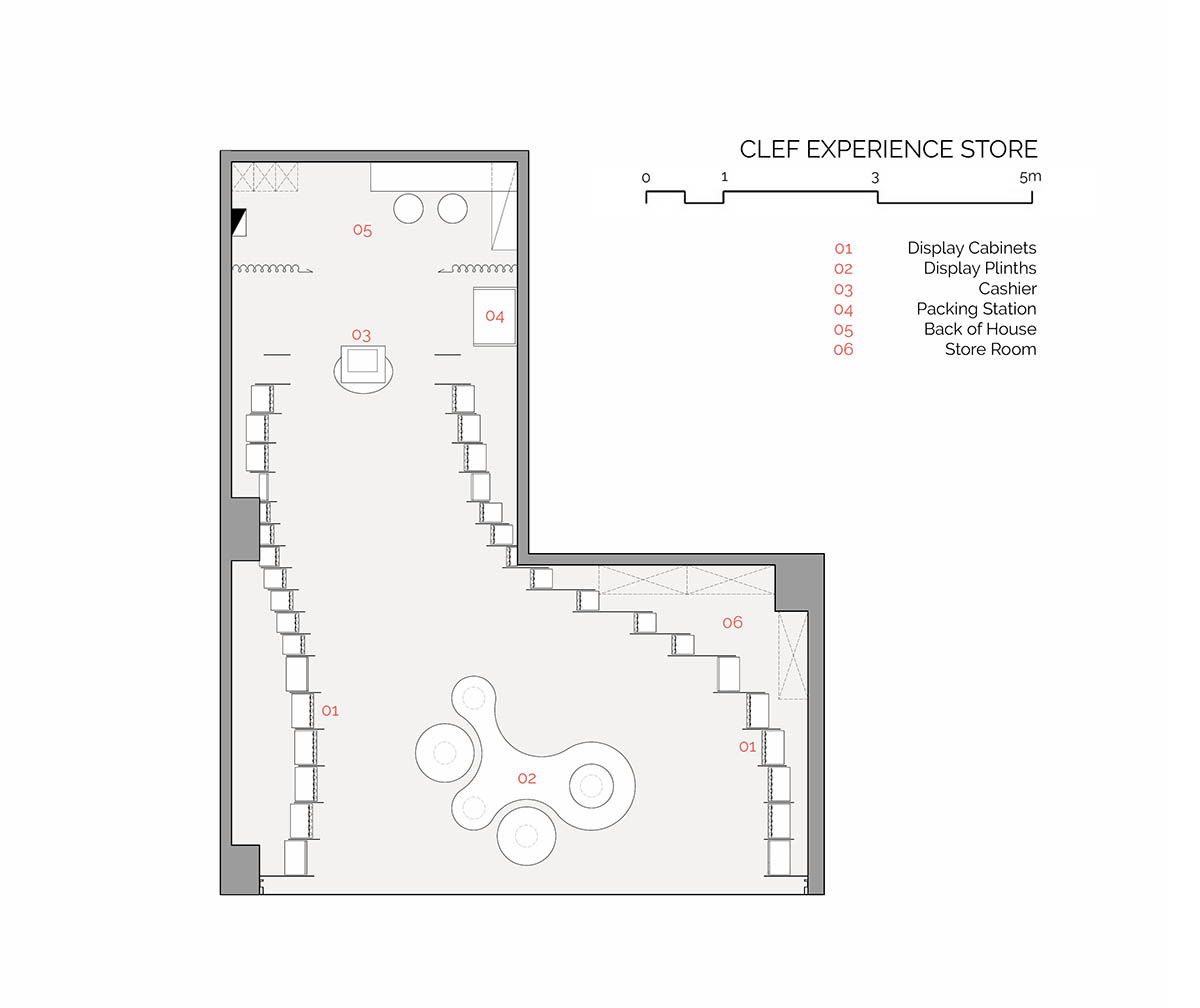 Floor plan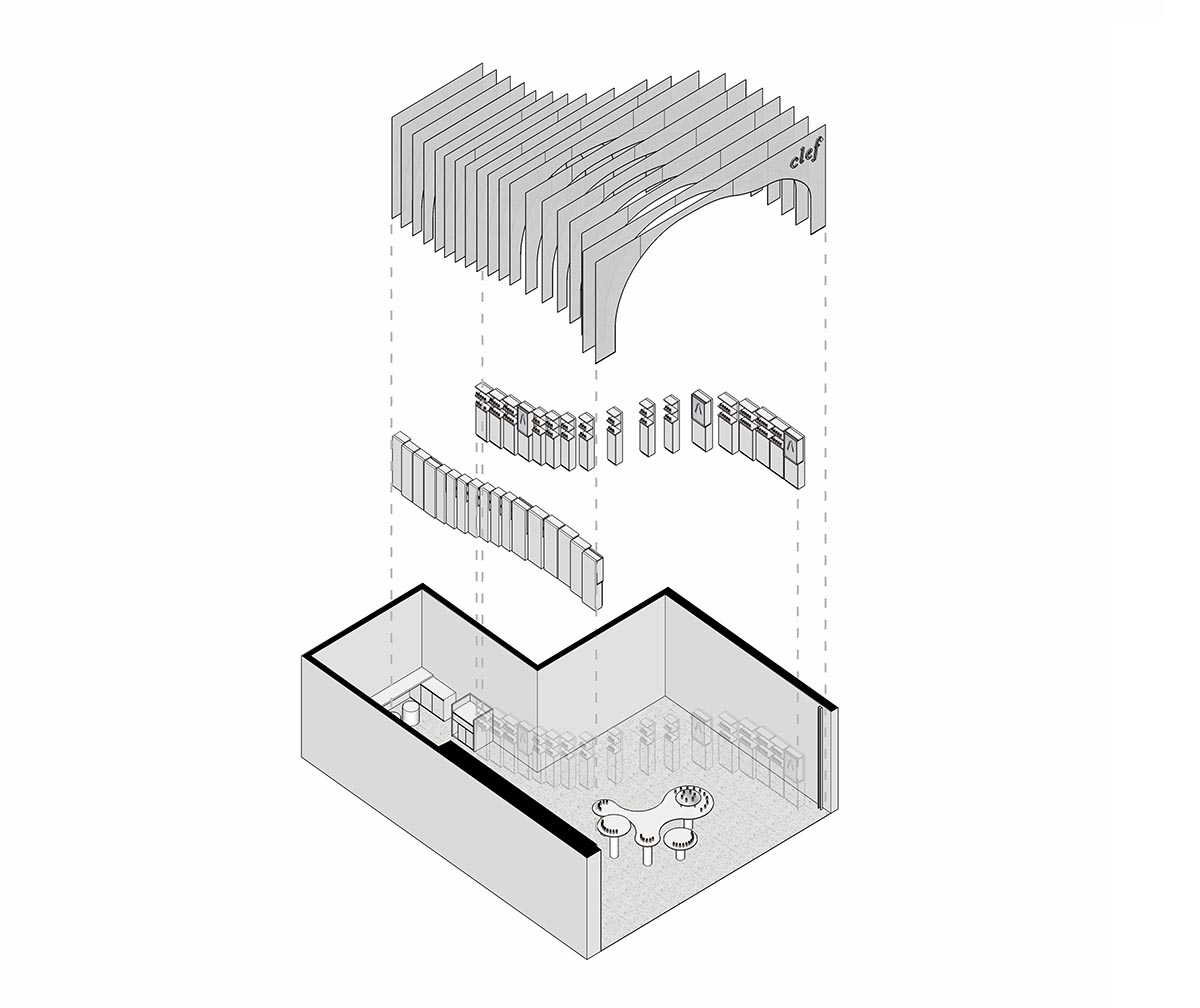 Exploded axonometric diagram
Spacemen completed a flagship store including a giant sienna-colored meteor rock that is suspended from the ceiling. The firm previosuly designed Urban Bloom Store, featuring an abstraction of a living tree in the interior in Putrajaya, Malaysia.
Project facts
Project name: Ethereal Cave
Architects: Spacemen
Location: Unit G2 - 46, Level G, Publika Shopping Gallery, Solaris Dutamas, No 1, Jalan Dutamas 50480 Kuala Lumpur, Malaysia.
Lead Architects: Edward Tan
Client: Clef Skincare
Team: Edward Chan, Raymond Tang, Phyllis Zhang
Completion Year: 2023
Type of project: Retail Store
Gross Built Area (square meters): 60sqm
Suppliers:
Terrazzo Floor: Feruni Ceramiche
Blinds Curtain: Pinoy White Pearl 86003
All images © David Yeow Photography.
All drawings © Spacemen.
> via Spacemen