Where Education Meets Aesthetics: Discover 5 Indian Schools with Remarkable Architectural Brilliance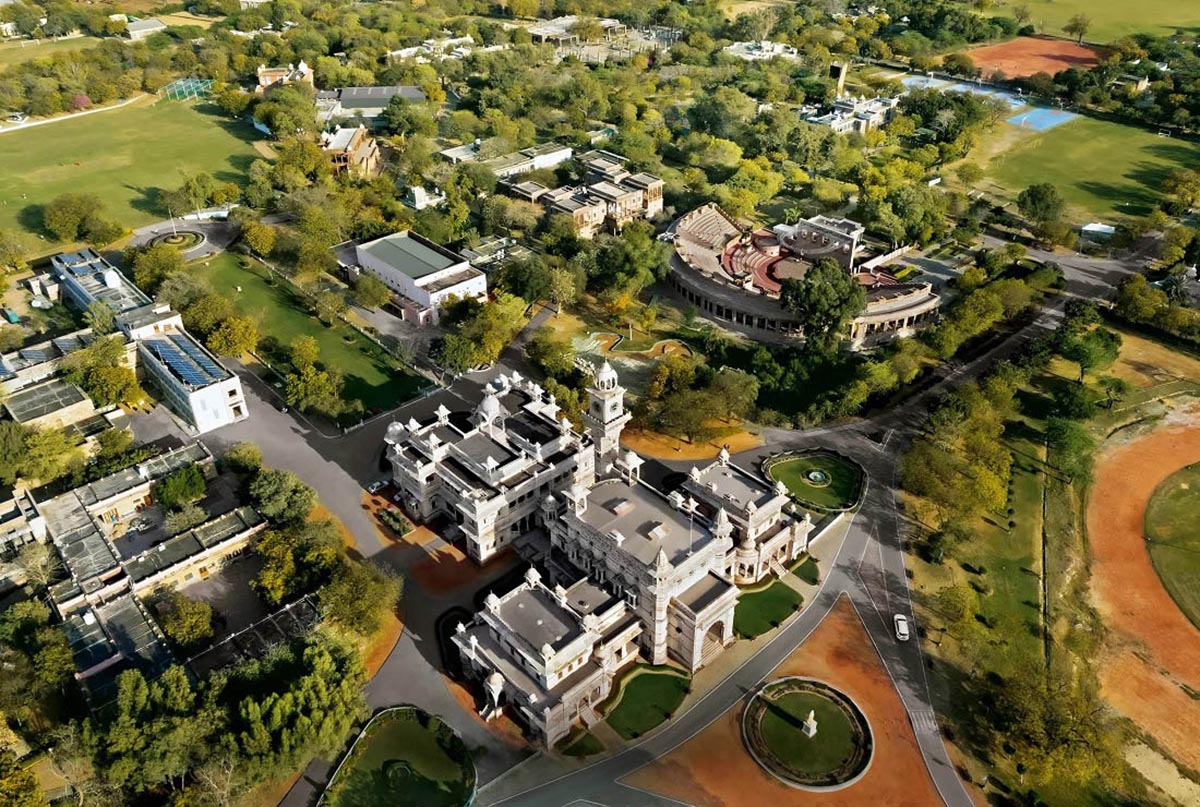 Education transcends the confines of textbooks and classrooms, extending its gentle touch into the very tapestry of the surroundings where young minds unfurl their wings. Within the architectural embrace of a school lies the potential to shape not just minds but hearts, to orchestrate a symphony of learning that reverberates with the harmonious chords of creativity, pride, and belonging. In the vibrant tapestry of India, certain educational institutions have emerged as celestial stars, shining their architectural brilliance and weaving a spellbinding narrative that seamlessly entwines functionality with aesthetics. From the venerable embrace of regal heritage structures that whisper secrets of bygone eras to the avant-garde marvels that dare to defy the bounds of convention, these educational sanctuaries are veritable oases for the eyes. They stand as resplendent testaments to the undeniable significance of visual allure in the vast landscape of learning.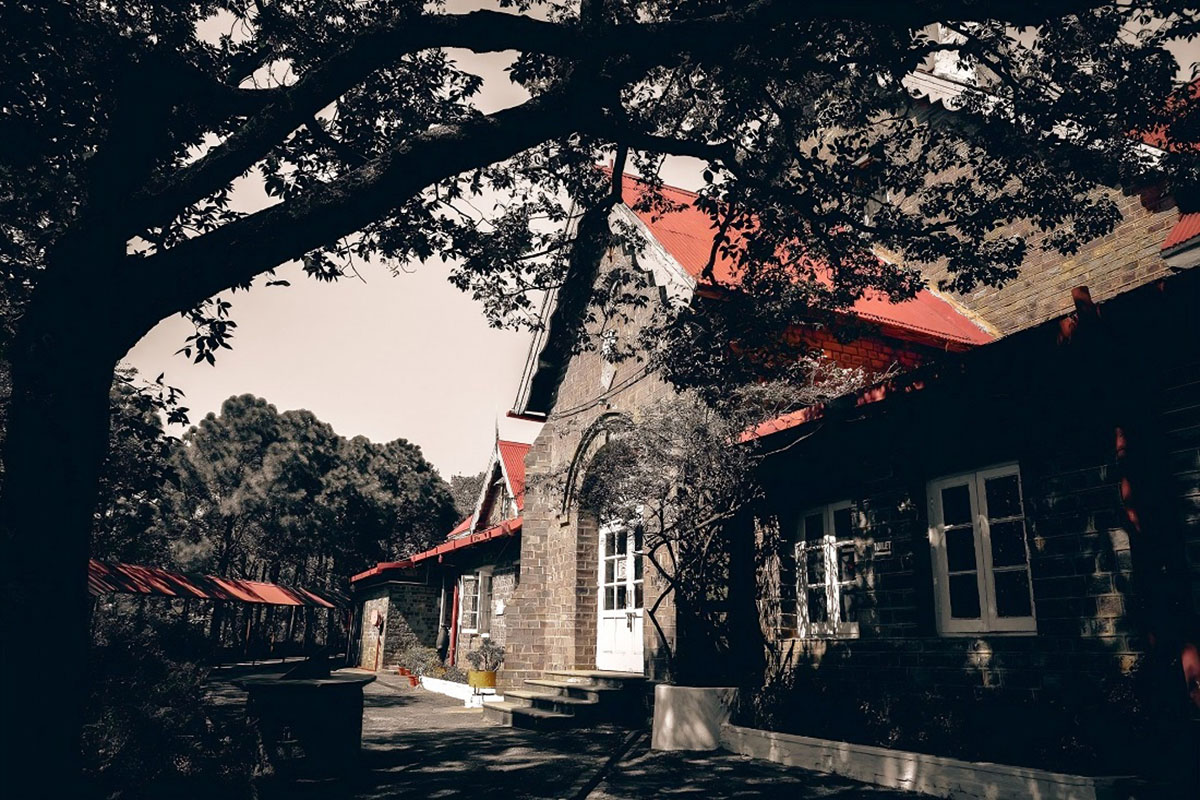 The Lawrence School, Sanawar, is a historical landmark showcasing its characteristic red roofs visible on the horizon for miles in all directions. Image © Sanawar
From the majestic Lawrence School, Sanawar, where colonial-era structures weave a timeless tapestry against the backdrop of nature's finest canvases, to the venerable Mayo College in Ajmer, where regal grandeur stands as a sentinel of tradition, these schools emerge as architectural marvels. They are more than just institutions; they are symphonies of design, echoing the whispers of wisdom in every nook and cranny, a testament to the enduring power of architecture in the realm of education. In Dehradun, two prominent schools, Welham Girls' School and The Doon School, are distinguished by their distinctive architectural aesthetics, harmoniously blending elegance with academic excellence. Meanwhile, in the bustling city of Mumbai, The Cathedral and John Connon School exude a captivating fusion of colonial and contemporary influences. Delving further into the architectural brilliance of these institutions, enriching the educational experience, these crafted spaces not only inspire creativity but also foster holistic development.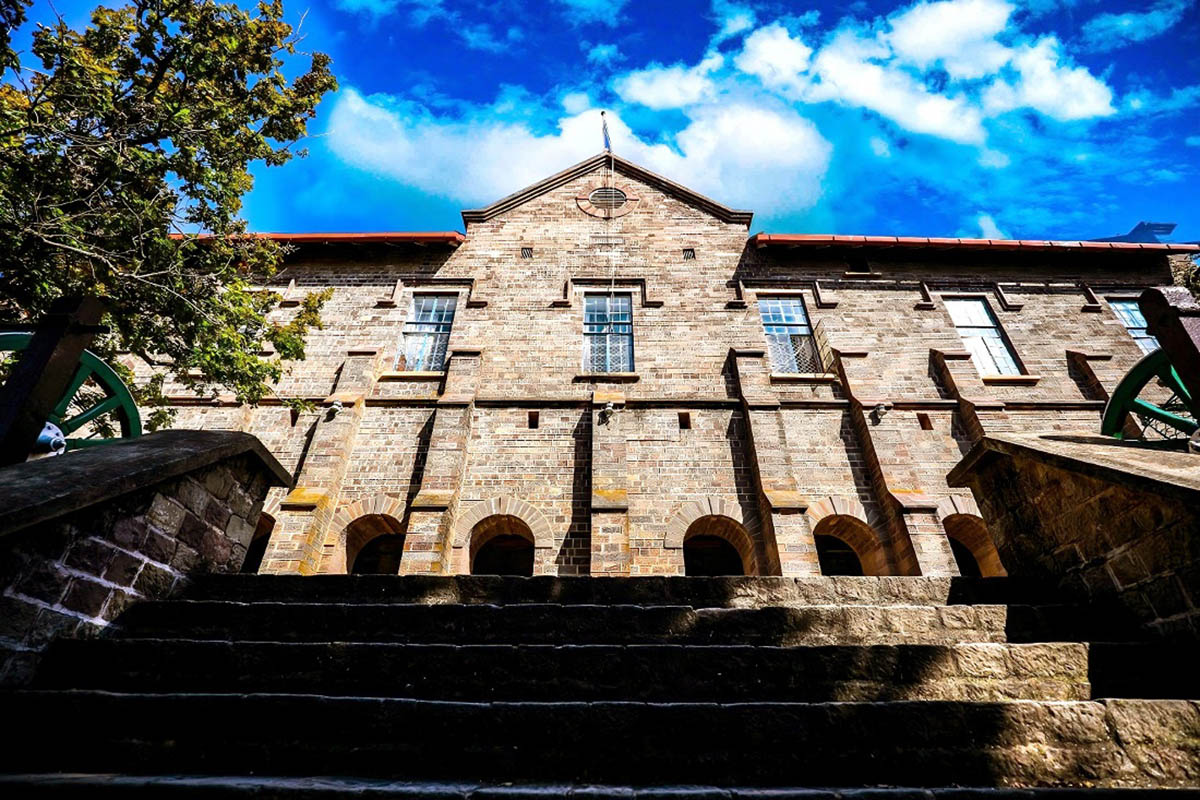 Founded by Sir Henry and Lady Honoria Lawrence, Sanawar is believed to be the first - co-educational boarding school in the world. Image © The Lawrence School
Established in 1847, The Lawrence School, Sanawar, stands as one of Asia's oldest boarding schools, boasting an architectural brilliance that seamlessly harmonizes with its natural surroundings. This institution presents a captivating fusion of colonial and modern architectural styles, creating a campus that exudes an enduring sense of beauty and allure. The school's architectural heritage pays homage to its Victorian origins, with buildings that showcase Gothic influences – from the austere stone facades to the graceful arches and gently sloping roofs. These elements weave a tangible connection to tradition and history, anchoring the school in its early roots.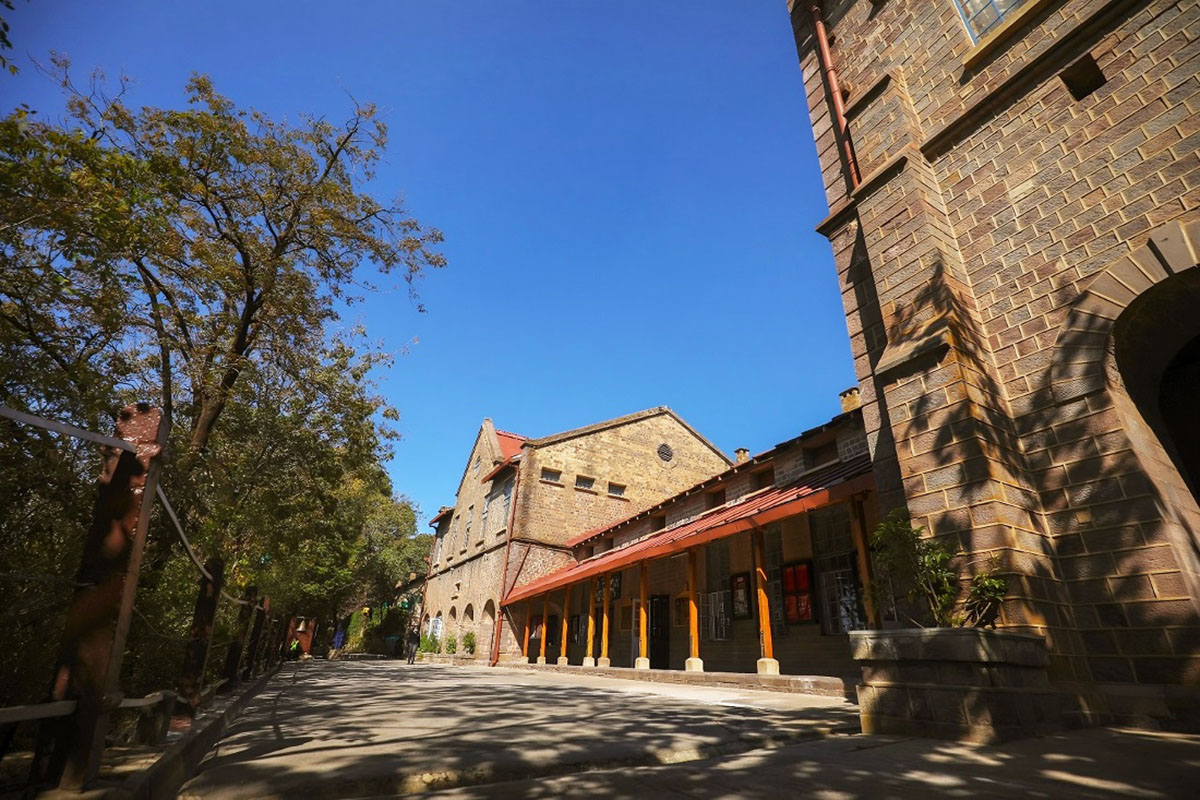 Situated at a height of 1,750 meters, it is spread over 139 acres, heavily forested with pine, deodar, and other conifer trees. Image © Sanawar
At the heart of the school, stands a remarkable Gothic Revival Chapel which is 169 years old, a masterpiece of architectural design. This chapel, with its pointed arches, intricate stone carvings, and resplendent stained glass windows, serves not only as a focal point but also as a spiritual sanctuary cherished by students and staff alike. What's more, the school's architectural layout seamlessly blends with the picturesque Himalayan landscape enveloping it. The campus nestles amidst verdant greenery, towering trees, and rolling hills, offering a serene and inspiring backdrop that enriches the journey of learning and personal growth.
Major Mant's iconic Indo-Saracenic design, chosen by the viceroy in 1875, cost 3.28 lakhs and stands as a timeless symbol of this architectural style. Today, it's an enduring classic, even featured in architectural courses and preserved in the British Museum's archives. Image © Mayo College/Facebook
Since its establishment in 1875, Mayo College has stood as a testament to regal and Royal grandeur and timeless elegance in its architectural splendour. It effortlessly transports both students and visitors to a bygone era saturated with opulence and sophistication. Mayo College's architectural design is a seamless blend of Rajput and colonial styles, a reflection of the cultural and historical tapestry of the region. The majestic edifices that grace Mayo College's campus are a fusion of intricate Rajasthani craftsmanship and the enduring influence of colonial aesthetics. This amalgamation creates a mesmerizing visual narrative that unfolds at every turn. The facades of the college's buildings bear the weight of ornate carvings, intricate jali work, and exquisite detailing, testifying to the skills of master artisans. Mayo College's commitment to preserving cultural heritage is etched in every corner, exemplifying how architectural brilliance can be a powerful guardian of tradition. As one steps into the campus, a palatial charm envelops, from the grand entrances to the spacious corridors and the regal domes that grace the skyline. The architectural elements, including arches, columns, and inviting courtyards, cast an aura of majesty that not only inspires academic pursuits but also nurtures personal growth within an environment that is steeped in history and grace.
Founded by the English Lady, Miss H. S. Oliphant with a desire to create an equal educational platform for young Indian women in Independent India in 1957 by acquiring a Nawab's estate in Dehradun stands today as Welham Girls School. Image © Welham, via Schools of Dehradun
Welham Girls' School seamlessly marries modern architectural elements with colonial influences, resulting in a campus that effortlessly combines the past with the present. It's a place where beautiful red-brick buildings, stately archways, and vibrant courtyards coexist, creating an atmosphere of timeless elegance. This architectural fusion strikes a harmonious chord between tradition and contemporary aesthetics. Nestled amidst the natural splendour of Dehradun, the school is embraced by lush green lawns, meticulously tended gardens, and awe-inspiring vistas of the surrounding hills. The architectural design ingeniously harnesses the tranquil surroundings, providing a serene atmosphere that elevates the entire learning experience to new heights.
The School has been described as one of the Eton equivalents in India. Image © Welham, via Education World
Established in 1935, The campus of The Doon School reflects a colonial influence, with majestic red-brick buildings that hark back to the era of British rule in India. The architectural style showcases grand archways, towering pillars, and sprawling lawns, creating a sense of tradition, scale, and grandeur that is both awe-inspiring and captivating.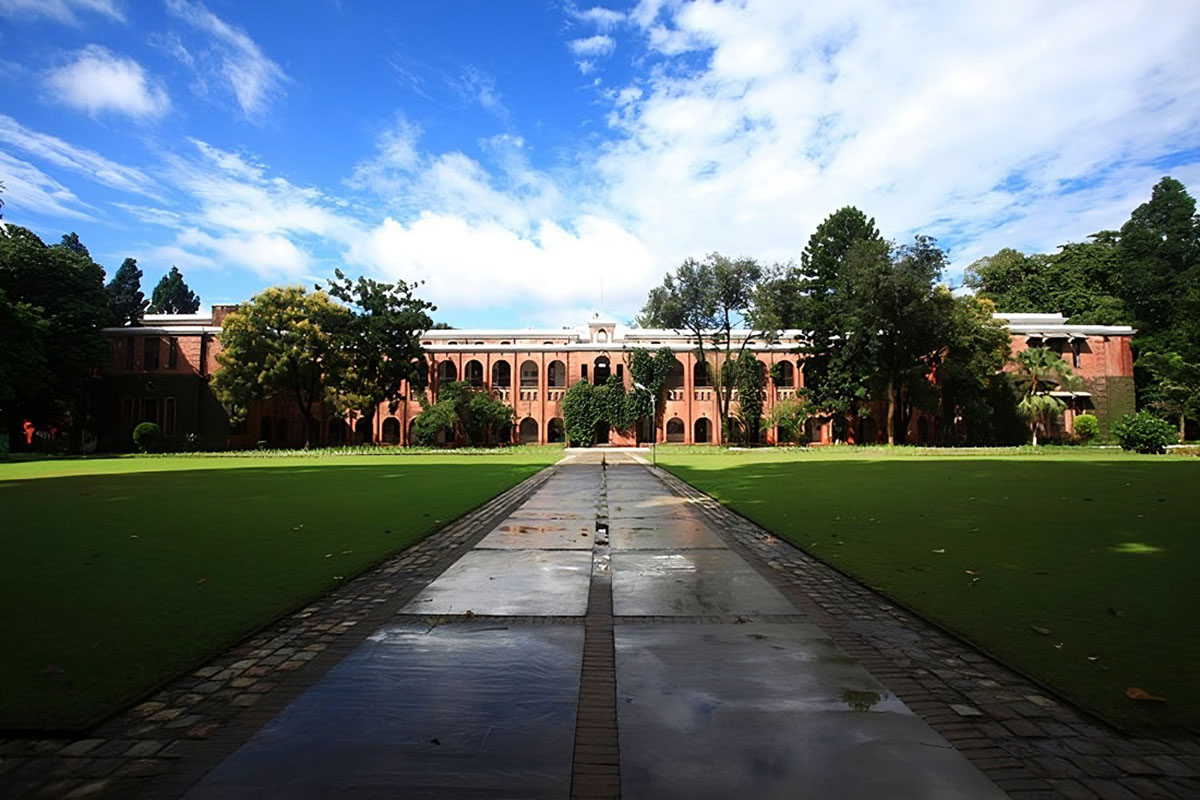 The Doon School is spread across a single campus covering approximately 72 acres of land flanked by Chakrata Road and Mall Road in the Dehradun Cantonment area of Dehradun city. Image © Rick Tyers/Wikimedia /CC BY-SA 3.0
One of the standout features of The Doon School's architecture is the iconic Clock Tower. Rising above the campus, the Clock Tower is a symbol of the school's legacy and heritage. It not only serves as a timekeeping mechanism but also acts as a focal point that instils a sense of pride and identity in the school's community.
Ground-floor corridor of the Doon school's Main Building, which houses classrooms and offices. Image © KramerVsSchramer/Wikipedia/CC BY-SA 4.0
Located in the heart of Mumbai, The architectural design of The Cathedral and John Connon School showcases the grandeur and elegance of Victorian Gothic style, transporting students and visitors to a bygone era of architectural splendour. The school's buildings are architectural masterpieces, characterized by their intricate carvings, soaring spires, and imposing facades. The combination of Gothic arches, pointed windows, and delicate traceries creates an enchanting ambience that is reminiscent of British colonial architecture.
Founded in 1860 by the Anglo-Scottish Education Society. What began as a modest initiative by Bishop Harding and the Cathedral Chaplain has evolved into a renowned institution, now divided into five sections, providing top-tier education. Image © The Cathedral and John Connon School, via SNK India
Top Image in the article. An areal view of Mayo College © Bharath Ramamrutham, via Architectural Digest.
Aesthetics Architecture Educational campus Heritage Institutions