Kuwait Pavilion suspends curved fabrics investigatig effects of Kuwait's modernist urban planning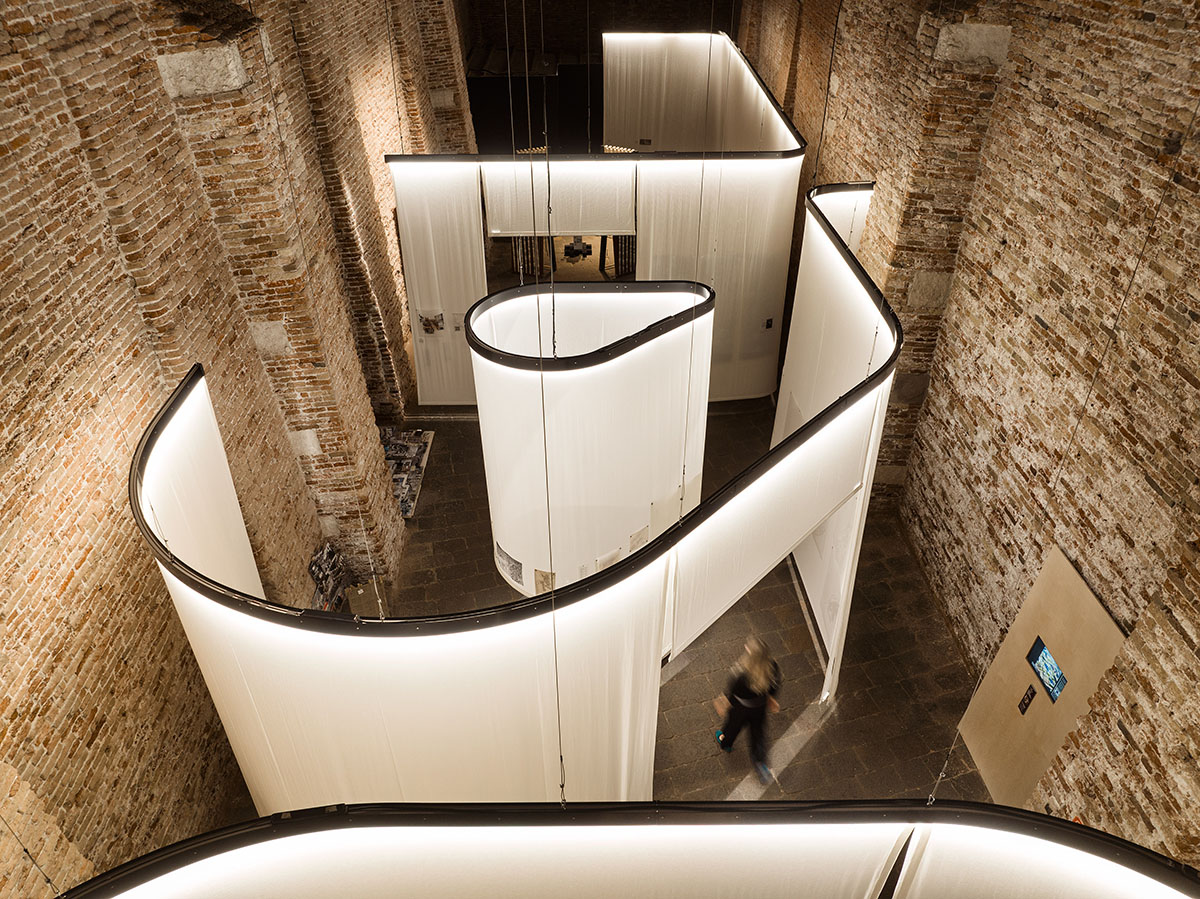 The Kuwait Pavilion has suspended curved-shaped fabrics that display photographs, drawings, maps, investigating the effects of modernist urban planning that led to the erasure of most of Kuwait's historic built fabric in this year's Venice Architecture Biennale.
Titled Rethinking Rethinking Kuwait, the pavilion, located at Magazzino Del Sale N.5, is curated by Hamad Alkhaleefi, Naser Ashour, Rabab Raes Kazem and Mohammad Kassem.
Commissioned by Abdulaziz Almazeedi - National Council for Culture Arts and Literature / Kuwait (NCCAL), the pavilion focuses on new methods for architectural and urban design that emerge from the intersections of space and time.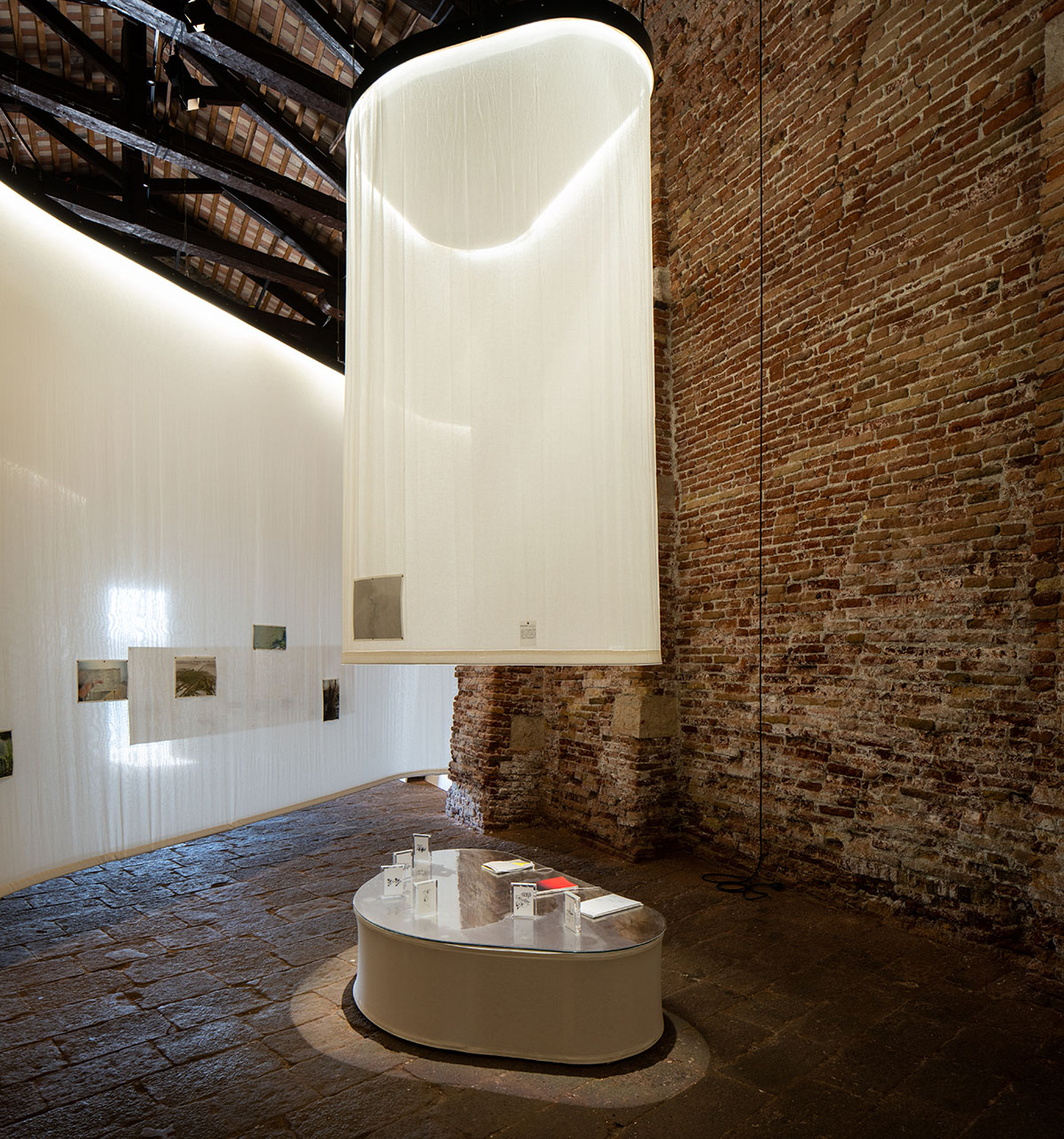 The project is presented as an ongoing investigation attempting to rectify the effects of modernist urban planning that led to the erasure of most of Kuwait's historic built fabric.
The pavilion explores ideas of decolonization and decarbonization by rethinking means of transportation and accessibility, by looking at Kuwait at a national scale with a focused study on Kuwait City as a prototypical condition.
The exhibition features various studies that explore transitional spaces in the city that range in scope and scale. In our collective philosophy, history is treated as a spiral rather than a linear timeline; looking for moments of precedent that can inform future developments.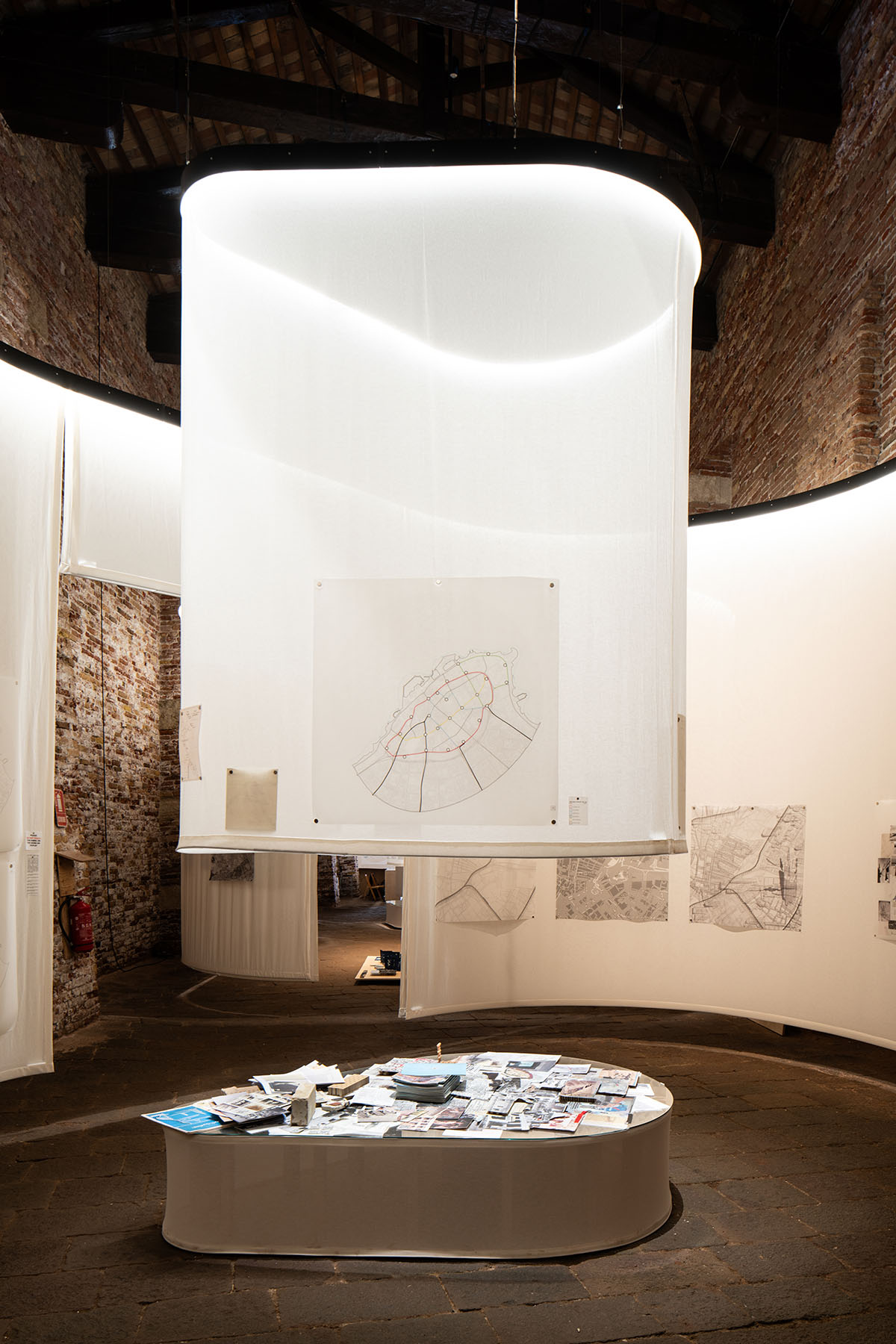 "The fabric of Kuwait City was once a field of organically aggregating structures interlaced with various scales of openness. Courtyard houses were connected by a network of paths with public courts that disrupted their density, creating platforms for cultural, political, and economic exchange," said the curators.
"Once the home of numerous aspects of Kuwaiti civil life, the walled city was mostly eradicated to make way for modernization. A new heritage was born, creating a new landscape of modern structures designed by significant international and regional architects of that era dissociated from its indigenous origins."
"The Kuwait Pavilion is rethinking urban planning processes through rethinking transportation, walkability, and accessibility. The experiment started as a response to various foreign master planning efforts for Kuwait."
"The project's focus is to improve the human scale of the city by enhancing urban transitional and interstitial spaces as well as prioritizing mass transit over individual vehicular modes of travel."
"The process looks at an approach to urban planning that explores a top-down macroscale simultaneously with a bottom-up microscale keeping the human experience and scale critical for the new plan. The interconnectivity of the city's historic fabric is revisited through various scales of urban interventions, resulting in a new network of connectivity that forms multiple modes of transportation that culminate on the human scale," the curators added.
Alongside images, photographs, drawings and maps, the exhibition is enriched with 3D physical models around the suspended fabrics.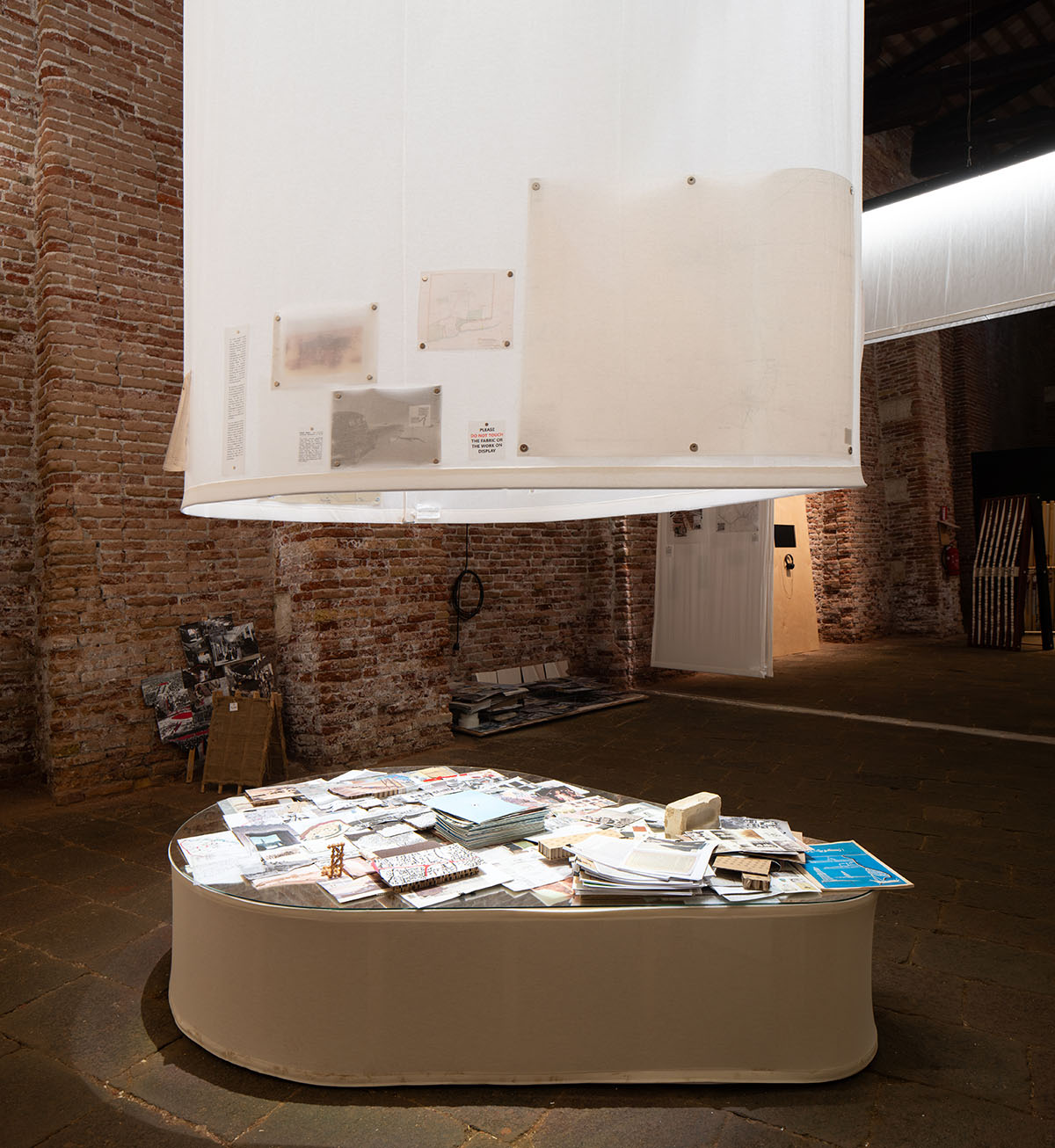 "The project's title reflects the process of rethinking as an effort to decolonize architectural discourse; "rethinking rethinking" emerges as a process for reevaluating existing processes while moving beyond the colonialist principles and values typically driving the development of architectural projects," said the curators.
"The approach examines existing conventions and precedents while allowing room for local forces to generate a new process."
"History is treated as a spiral rather than a linear timeline, looking for moments of precedent that can inform future development that is otherwise disjointed in a conventional linear workflow," the curatorial team added.
At the exhibition, the exhibitors are composed of Abdulaziz Bazuhair, Abdullah Albusaili, Aliaa Mahdy, Aziz Motawa, Bader Al Moulah, Batool Ashour, Dana Alrashid, Fatima Al Fulaij, Jassim Alelwani, Malak Al Suwaihel, Maryam Mohammed, Mohammed Khesroh, Nada Abu-Daqer, Noor Abdulkhaleq, Nour Jafar, Nourah Alazmi, Qutaiba Buyabes, Sara Al-zeer, Sayer Al Sayer, Sultan Alsamhan, Yasmeen Abdal, Zahra Al-Mahdi, Zahra Hashim.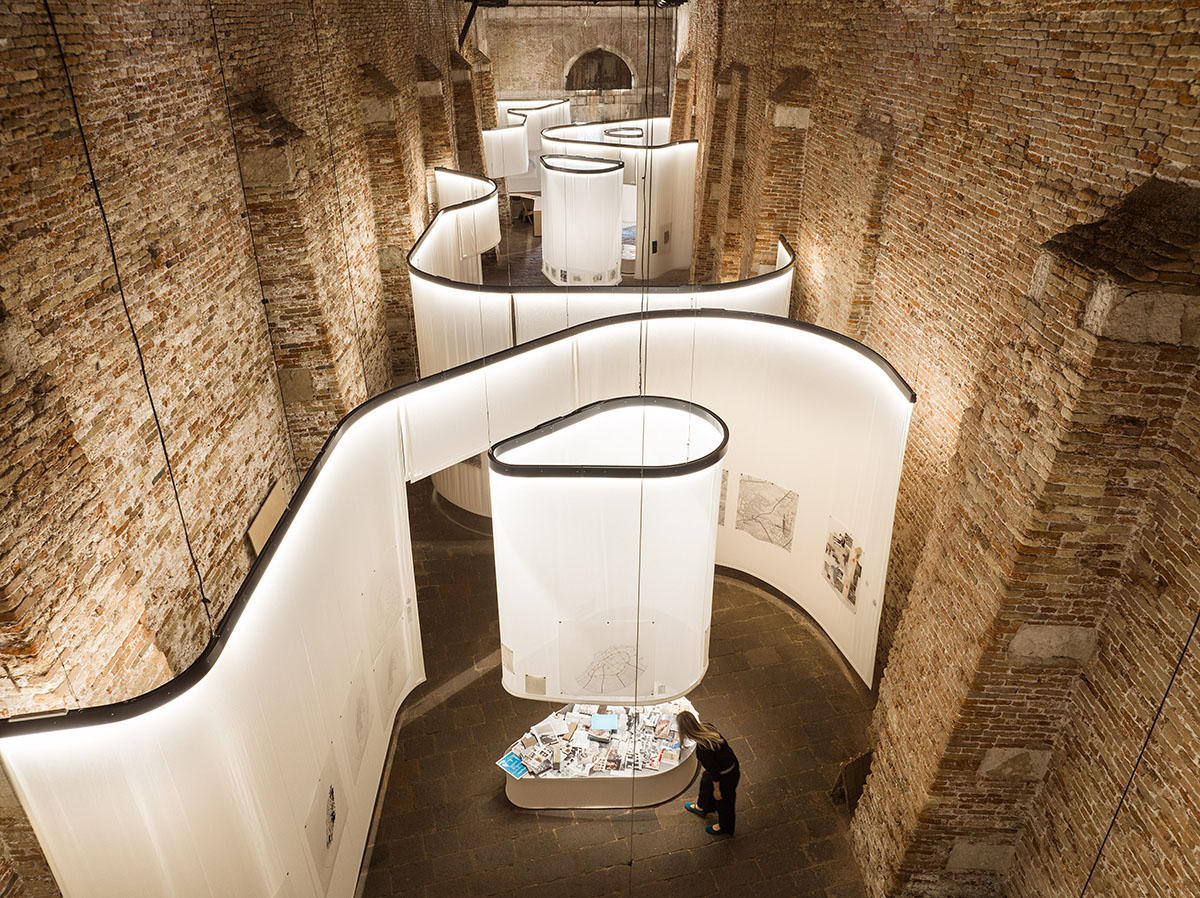 Contributors are Abdulrahman Sadeq, Fareed Alghimlas, Hasan Al Saffar, Jassim Alnashmi, Latifa Al-Hajji, Maha Al Asaker, Suad Al-Bahar, Vinod Kumar.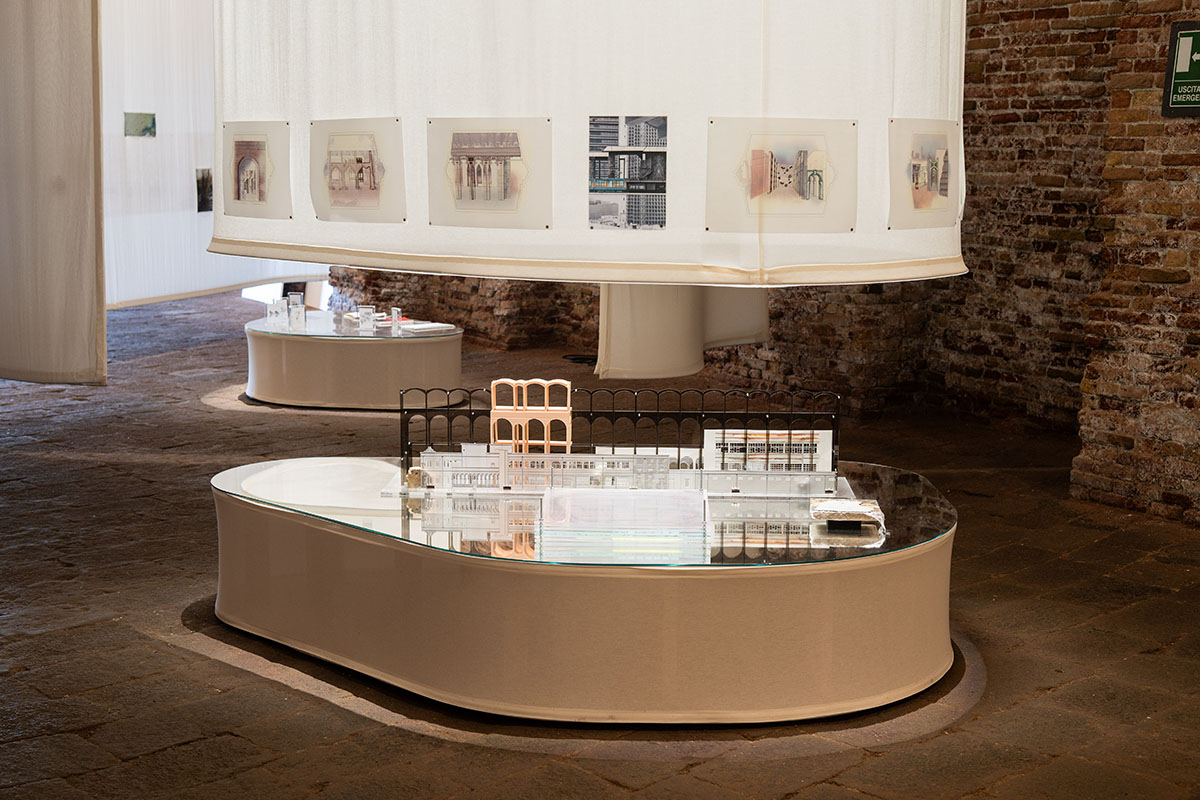 The Venice Architecture Biennale 2023 is taking place from Saturday 20 May to Sunday 26 November, 2023 at the Arsenale and Giardini venues in Italy.
The theme of the 18th Venice Architecture Biennale is The Laboratory of the Future curated by Ghanaian-Scottish architect, academic, and novelist Professor Lesley Lokko.
Read more about WAC's coverage about the biennale pavilions on Venice Architecture Biennale 2023. To see more pavilions from this year's biennale, you can also visit WAC's Instagram/Reels for exclusive videos.
All images © NGPhoto, courtesy of Kuwait Pavilion.
> via Kuwait Pavilion
exhibition Kuwait Pavilion pavilion Venice Architecture Biennale