Norman Foster Foundation and Holcim reveal sustainable housing prototype in Venice Biennale
Norman Foster Foundation and Holcim have revealed a sustainable housing prototype for displaced people at the Venice Architecture Biennale.
The project, called Essential Homes Research Project, is now being exhibited as part of Time Space Existence Exhibition at Marinaressa Gardens, Exhibition in Palazzo Mora, Italy.
The prototype is on view during the biennale from 20 May 2023 to 26 November 2023, Venice, Italy.
Developed by using Holcim's low-carbon, circular and energy-efficient solutions, the structure is described as "highly sustainable" since the home has a 70 per cent lower CO2 footprint compared to traditional structures.
Video by World Architecture Community
The home is wrapped by a low-carbon rollable concrete sheets in which the rollable mold contains a low-carbon cement mix and is laid on a rollable canvas. After spraying water on the canvas, this canvas dries and hardens, forming a solid shell.
The project was develeoped in this partnership the Norman Foster Foundation designed to create a sustainable home, meeting essential human needs, providing safety, comfort and wellbeing for people in displacement, who can live in temporary settlements for decades.
Image © Mika Cartier
By using Holcim's sustainable building solutions, the home offers low-carbon, energy-efficient and circular solutions, demonstrating how sustainable building can be possible for all.
According to Holcim, at the end of use each component of the Essential Homes model can be reused and recycled. The home represents a circular design in the end.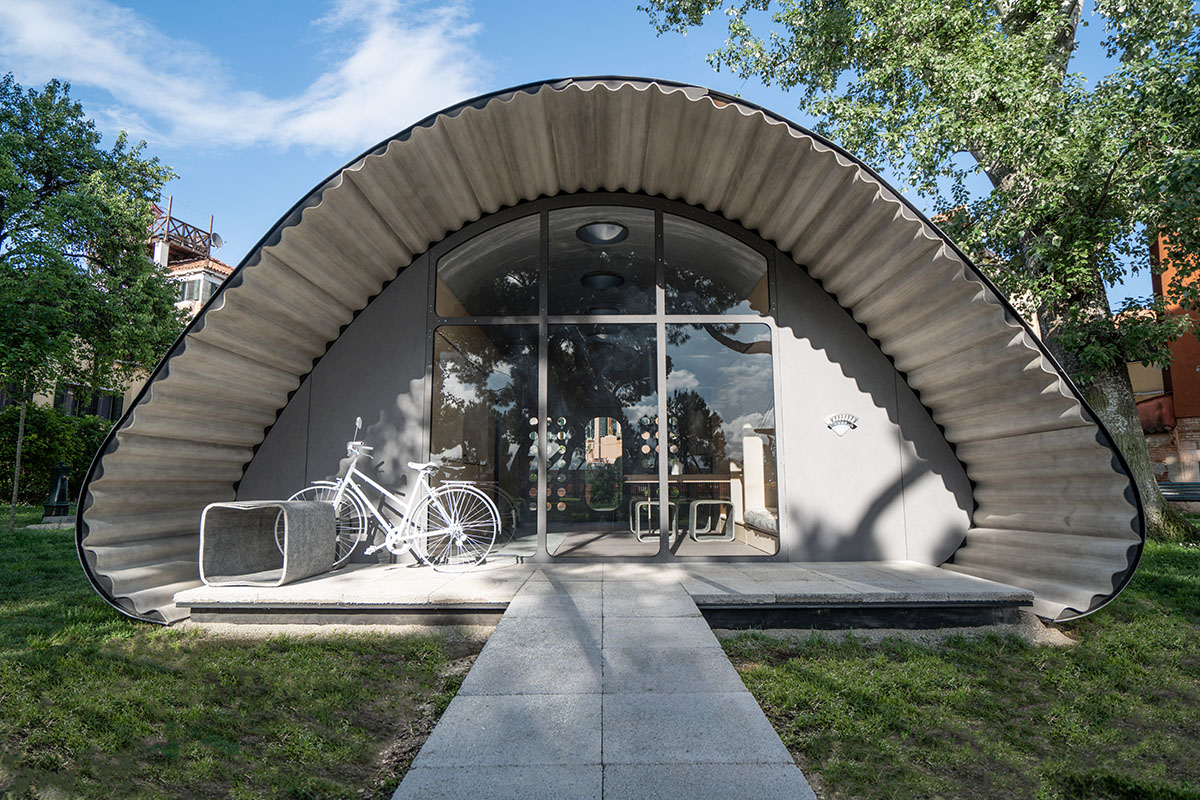 "How can we ensure everyone, including some of our world's most vulnerable populations, can have access to decent living conditions?," said Norman Foster, President, Norman Foster Foundation.
"During the Venice Biennale we show our work-in-progress on this idea; the outcome of a few months of intensive activity in collaboration with Holcim, Foster added.
Image © Mika Cartier
"I am very excited about the potential for impact coming out of this collaboration. It enables essential homes that are built with some of our low carbon, energy-efficient and circular building solutions, showcasing how sustainable building can be possible for all," said Jan Jenisch, Chairman & CEO, Holcim.
The home is also connected with permeable pathways made of Holcim's ECOPact low-carbon concrete tiles connecting the homes, which are made of light-absorbing aggregates reflecting natural light at night, while also reducing energy use and light pollution.
It also includes energy-efficient insulation systems from Elevate boards to low-carbon Airium foam to ensure thermal and acoustic comfort.
To enable circular construction, for the base of the home, the team used Holcim's ECOCycle circular technology which uses recycled construction demolition materials.
The base of the home is made of cement, concrete and aggregates to make it more weather resilient.
The Essential Homes Research Project is aimed to open a fundamental conversation about making sustainable building possible for all, to build a future that works for people and the planet.
The home was built on site as all materials are easily transportable. This also speeds up construction for all emergent situations.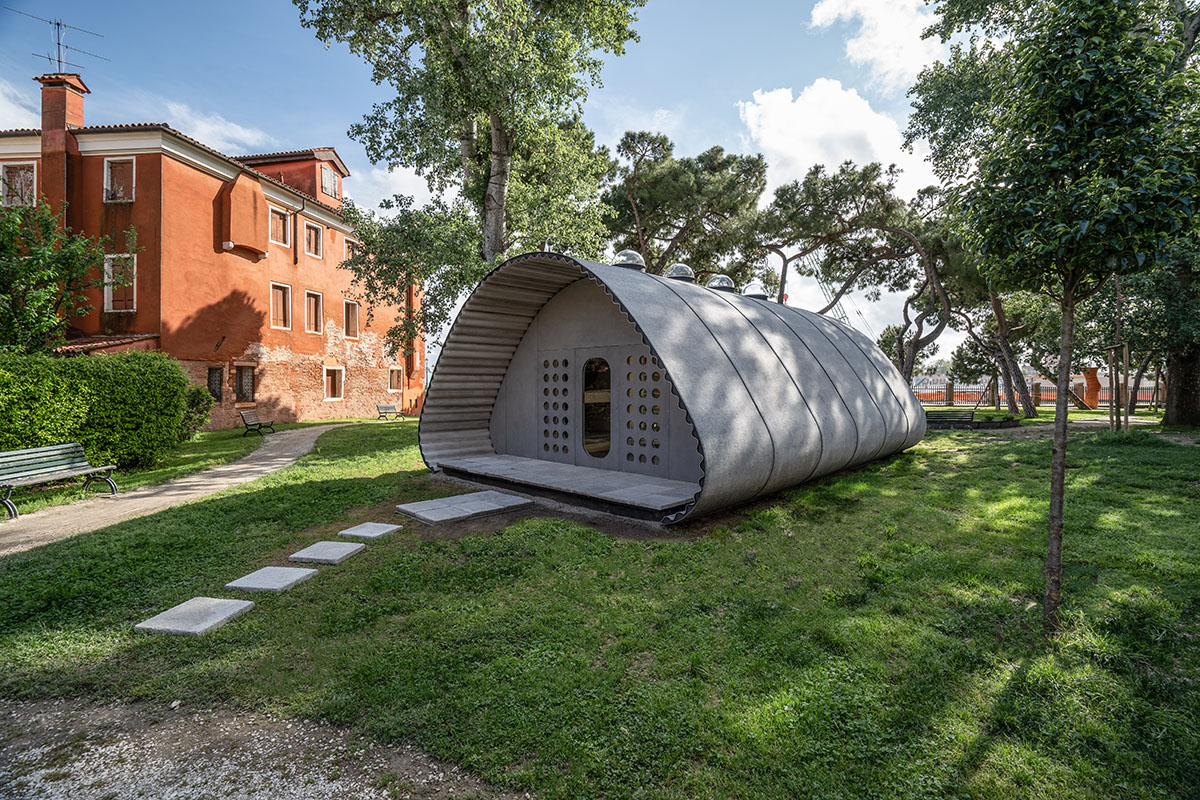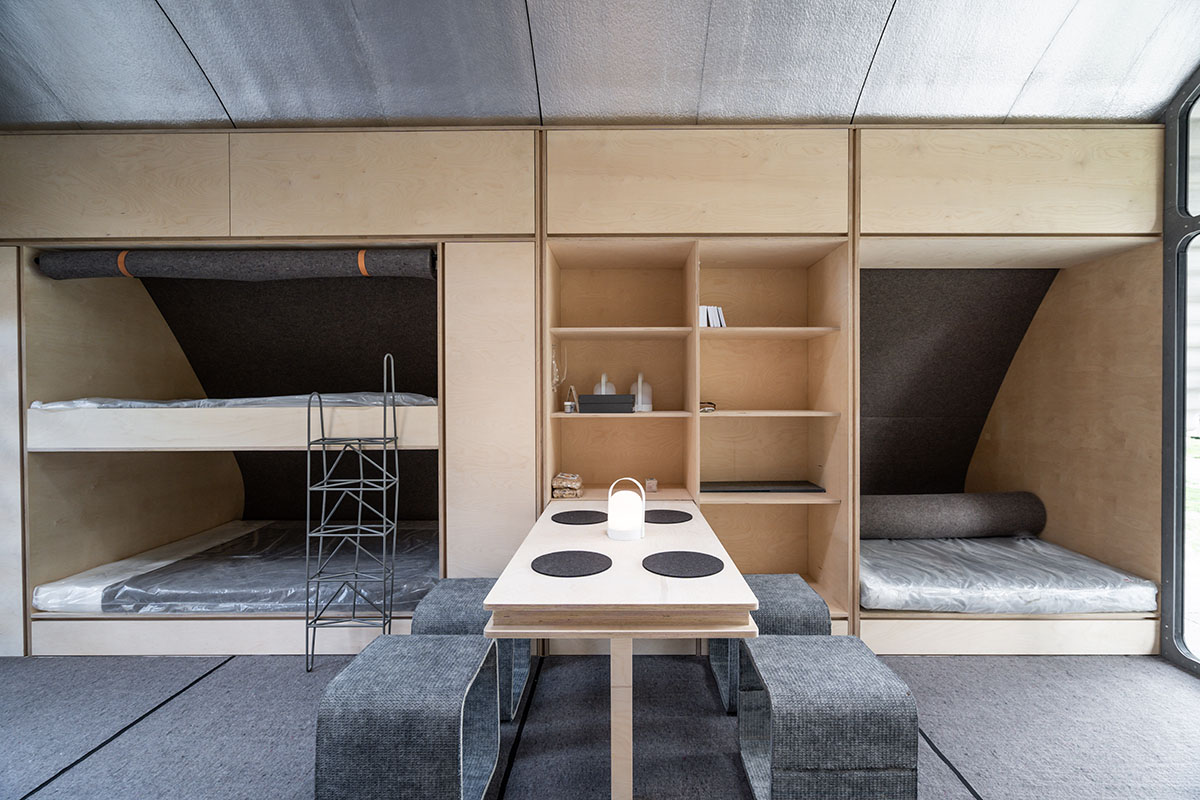 Image © Mika Cartier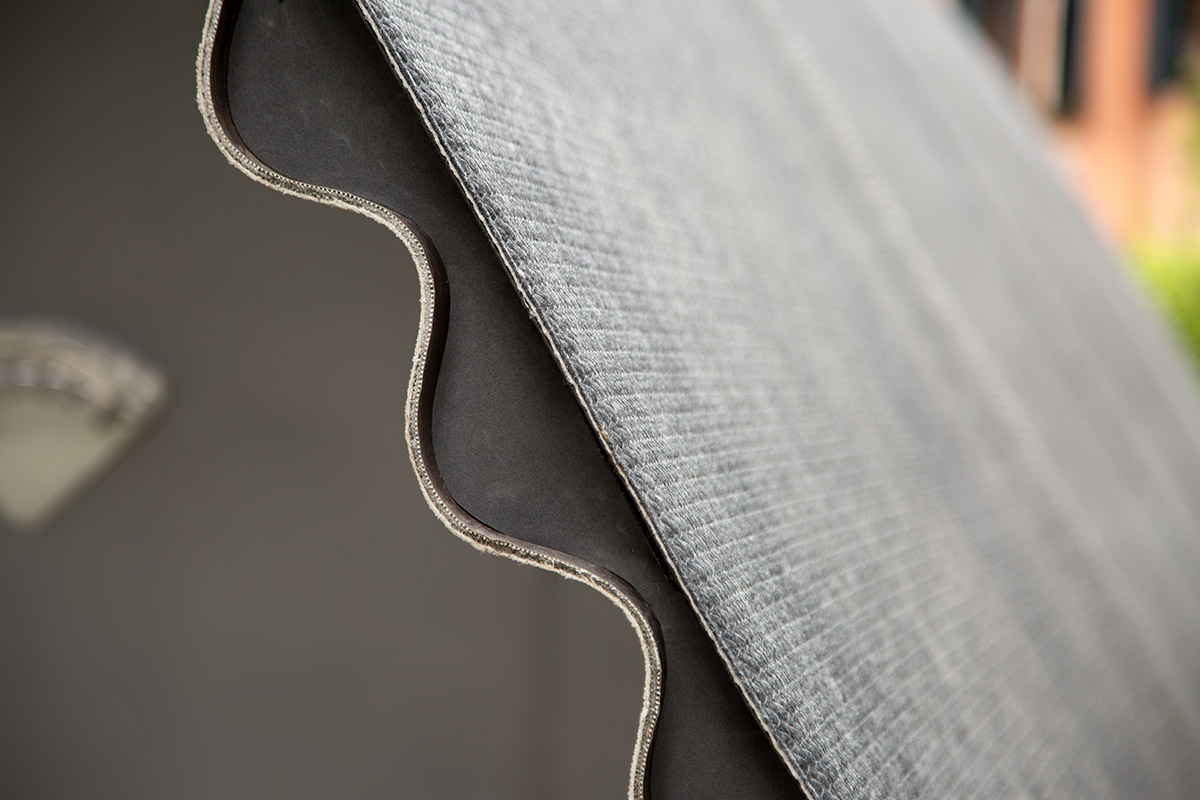 Image © Mika Cartier
Image © Mika Cartier
Site plan
Floor plan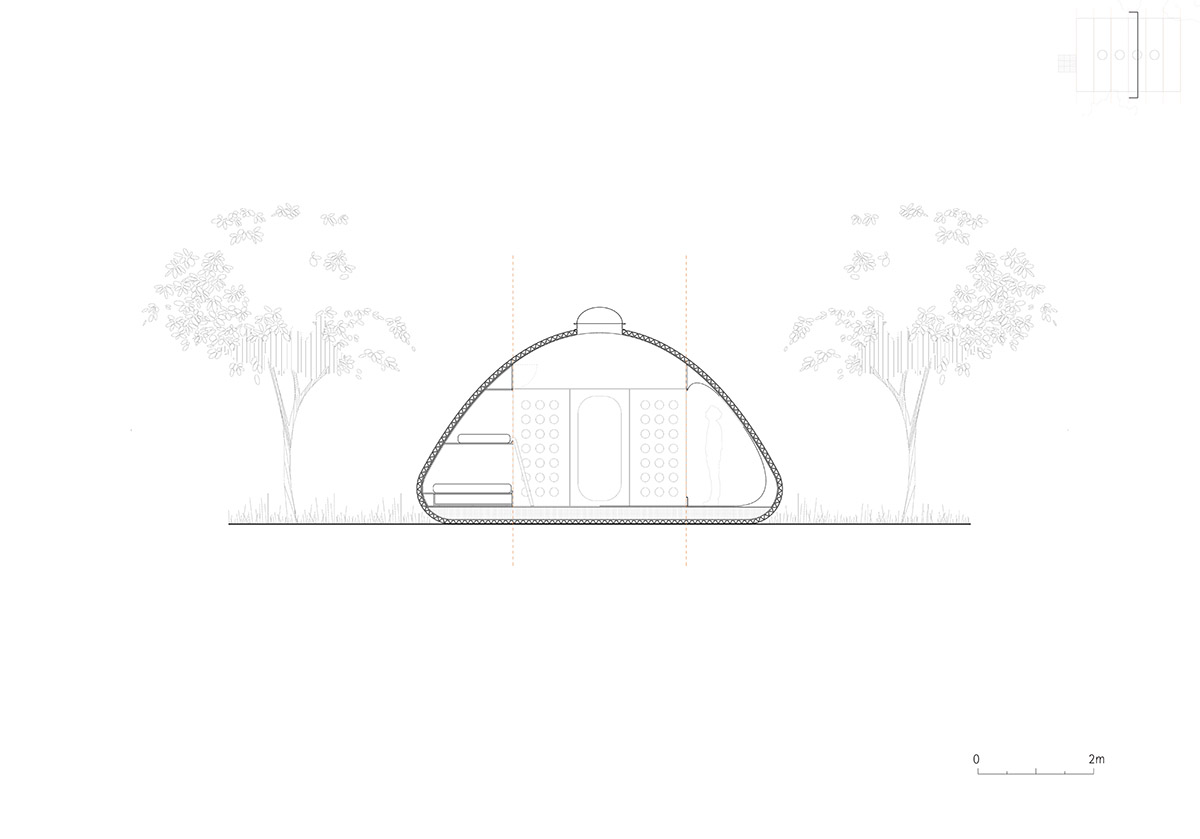 Section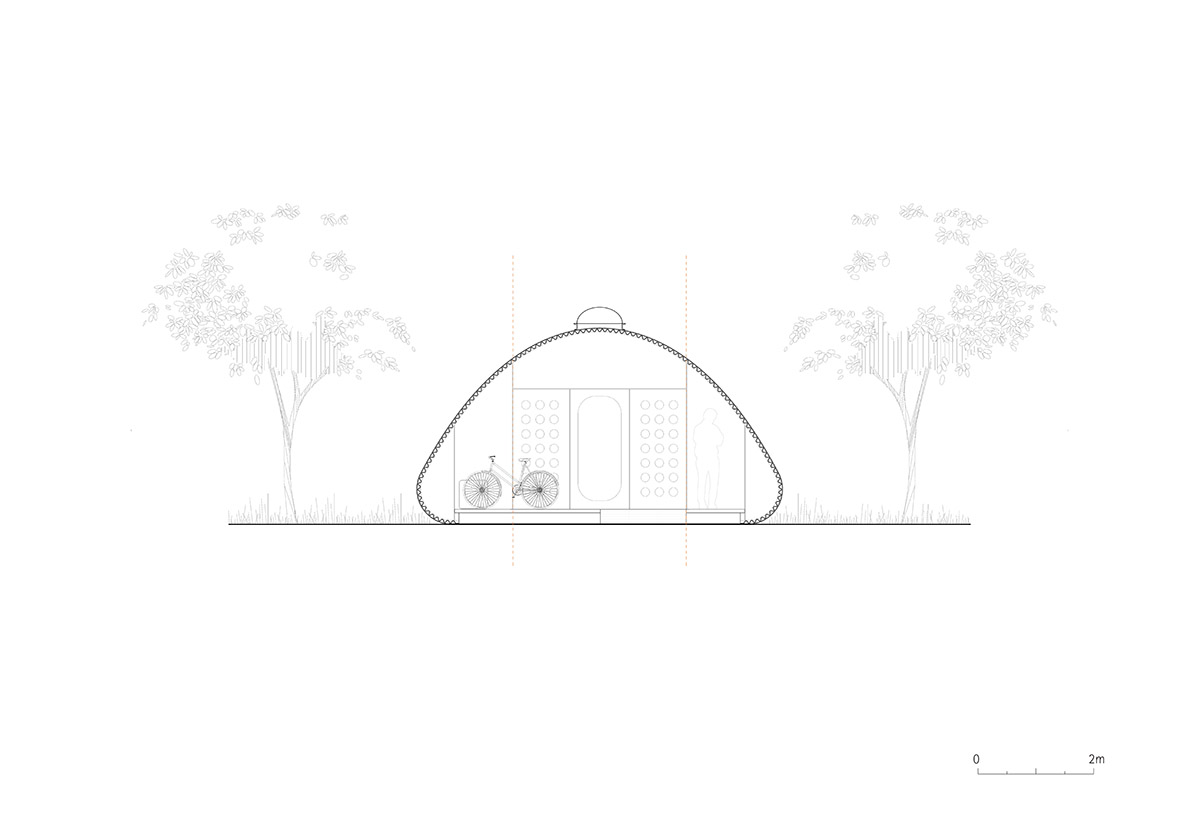 Front elevation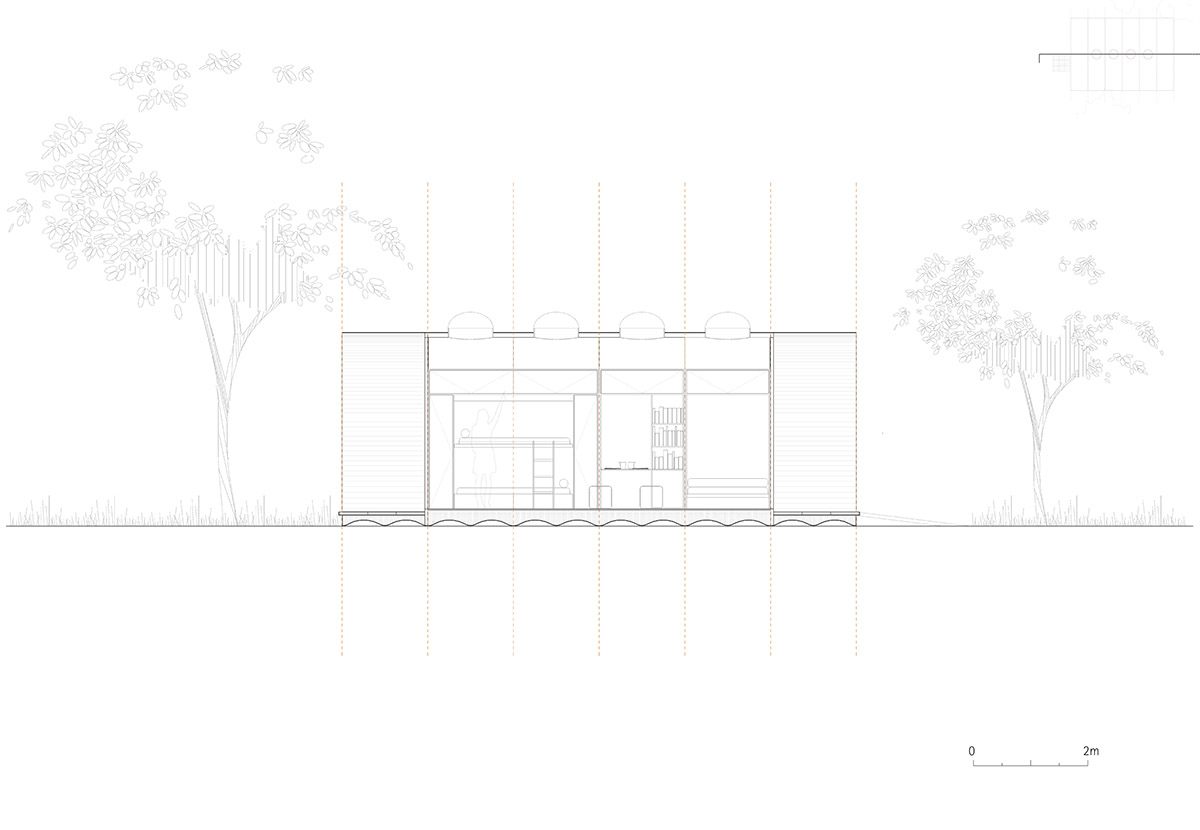 Longitudinal section
Parts diagram
The one-to-one scale prototype can be seen at the Marinaressa Gardens, Exhibition in Palazzo Mora, Italy during the Venice Architecture Biennale.
The Venice Architecture Biennale 2023 is taking place from Saturday 20 May to Sunday 26 November, 2023 at the Arsenale and Giardini venues in Italy.
The theme of the 18th Venice Architecture Biennale is The Laboratory of the Future curated by Lesley Lokko.
Read more about WAC's coverage about pavilions on Venice Architecture Biennale 2023. To see more pavilions from this year's biennale, you can also visit WAC's Instagram/Reels for exclusive videos.
All images © Chiara Becattini unless otherwise stated.
All drawings © Norman Foster Foundation.
> via Holcim
Holcim Norman Foster Foundation Venice Architecture Biennale