Asif Khan, Cave_bureau, Wallmakers among participants of Sharjah Architecture Triennial 2023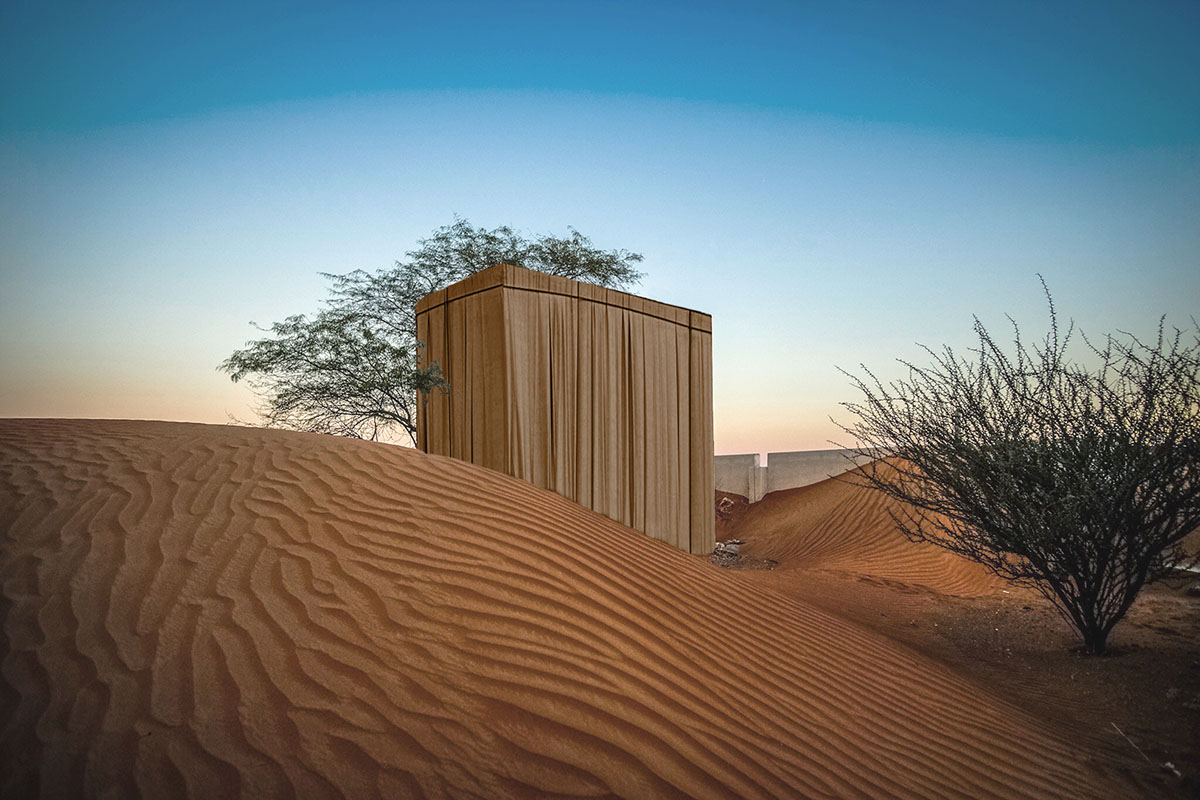 Details, new commissions, participants and site-specific projects have been revealed for the 2023 Sharjah Architecture Triennial, which is curated by Lagos-based Nigerian architect Tosin Oshinowo.
The Sharjah Architecture Triennial 2023 will take place from 11 November 2023 to 10 March 2024 in Sharjah, United Arab Emirates.
This year's show, themed as The Beauty of Impermanence: An Architecture of Adaptability, will explore innovative design solutions borne out of conditions of scarcity in the Global South.
The list of participants will feature 29 architects, designers and studios from 25 countries, and will include from large-scale installations and exhibitions to critical conversations and wider public programming.
UK-based practice Asif Khan Studio, Nairobi-based Cave_bureau, Milan-based research-based studio Formafantasma, Indian firm Wallmakers, Peruvian studio 51-1 Arquitectos are among the participants of the triennial.
The triennial will focus on how cultures of re-use, re-appropriation, collaboration and adaptation can help to deliver a more sustainable, resilient and equitable future.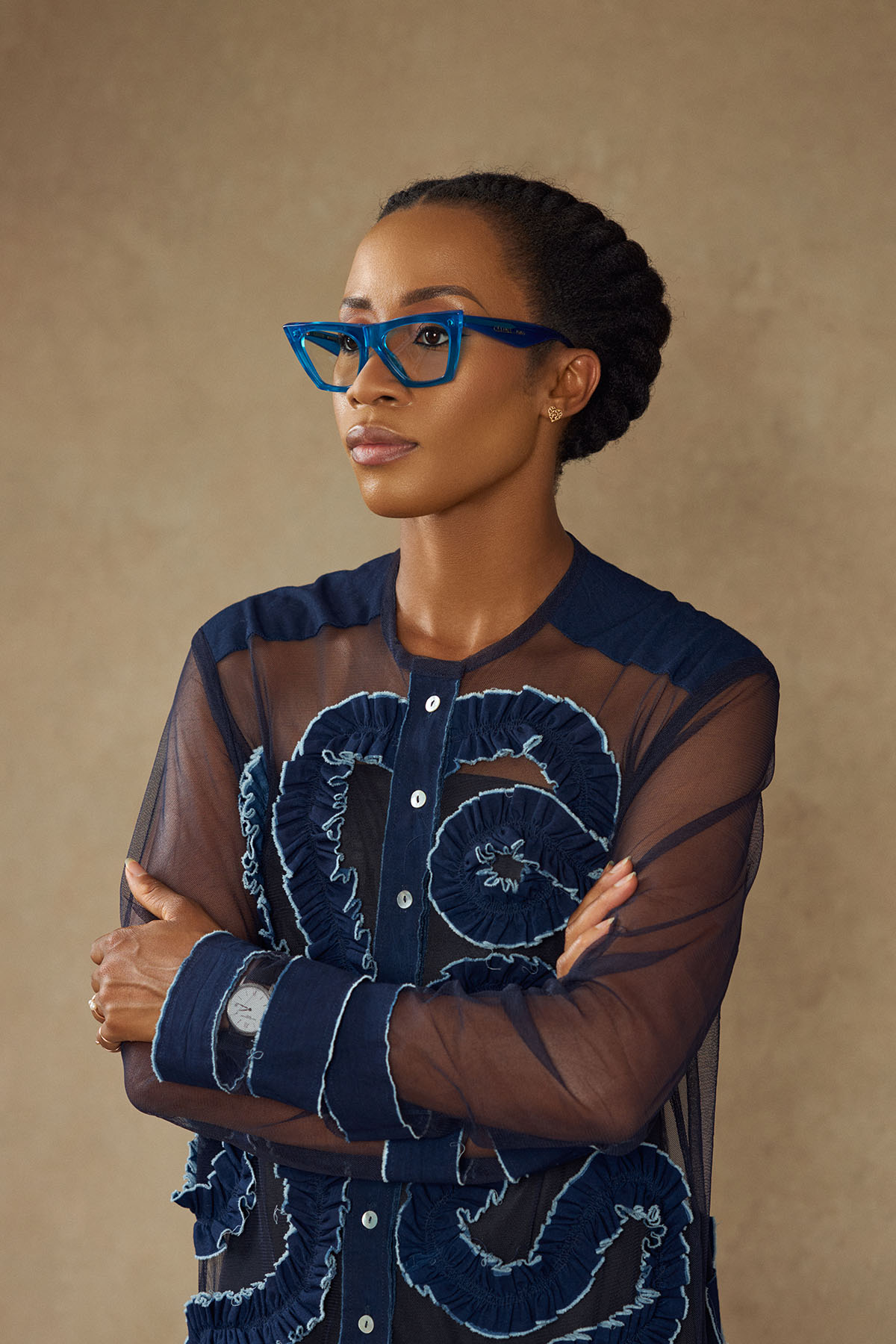 Tosin Oshinowo, curator of the 2023 Sharjah Architecture Triennial. Image © Spark Creative
First established in 2018, the Sharjah Architecture Triennial was aimed to provide a platform for architecture and urbanism from West Asia to South Asia and the African continent, framed within the context of Sharjah.
Selected projects will be displayed across the city and its environments, from central locations such as the old Al Jubail Vegetable Market and the Al Qasimiyah School to the surrounding desert.
This edition will immerse visitors in an ambitious and dynamic presentation that, while rooted in the history, culture and tradition of Sharjah, transforms the region into a global hub for architectural discourse.
The theme is based on Oshinowo's environmentally and socially responsive approaches to architecture. Oshinowo's choice of theme is inspired by her own design philosophy, which embraces contextual solutions.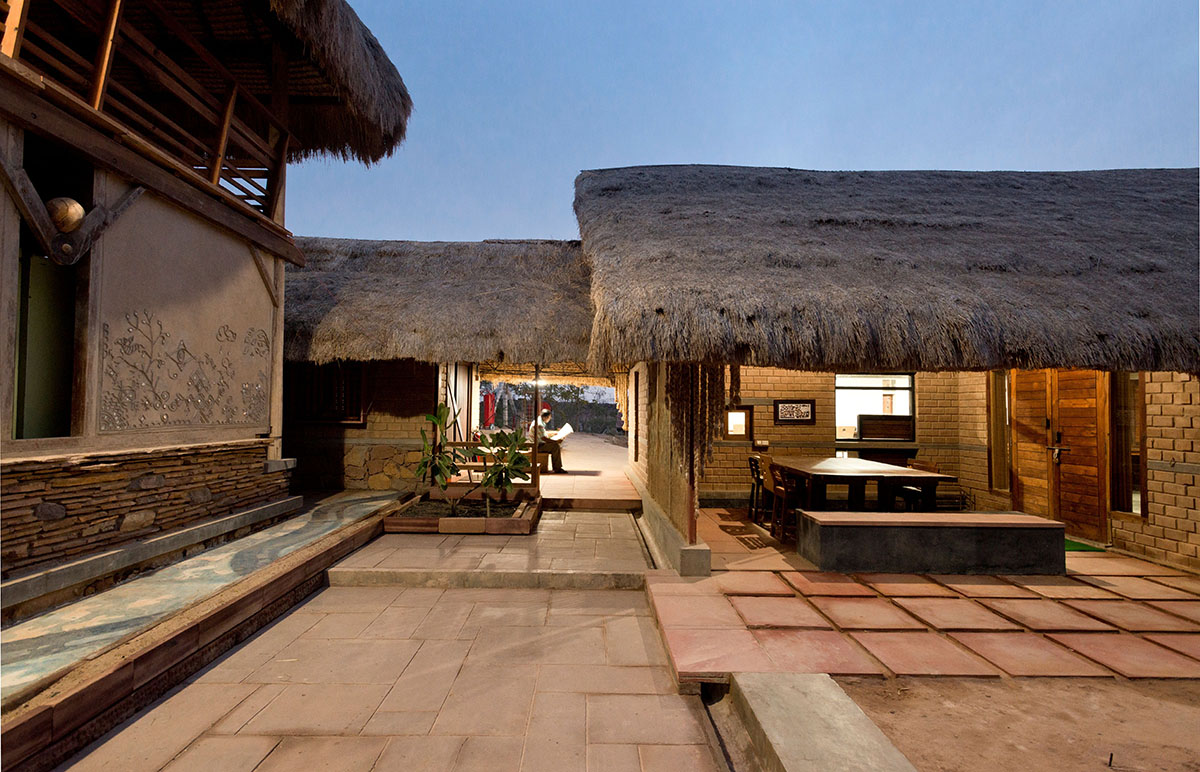 Hunnarshala Campus, Bhuj. Image courtesy of Andreas Deffner
"The triennial's participants will shine a spotlight on design solutions that draw from indigenous knowledge, explore the potential of local materials, and examine the climate resilience and adaptability of communities around the world," stated the Sharjah Architecture Triennial.
As highlighted in a press statement, selected projects are expected to respond to the theme across three key strands: Renewed Contextual, Extraction Politics, Intangible Bodies.
Renewed Contextual
Under this title, from climate change to resource scarcity, participants will demonstrate how knowledge derived from the Global South can inspire resilient design. In this section, selected projects will be highlighting the versatility of natural materials as a building resource include ETA'DAN by Hive Earth, a multi-functional wall made of rammed earth and agro-waste.
The show will present an interactive installation for all ages with seating and steps for rest and relaxation; it will promote sustainability through resource sharing and waste reuse.
Employing mud as material, Saudi architect and founder of Dabbagh Architects, Sumaya Dabbagh, will present "Earth To Earth" - a curved wall structure that reflects the fundamental circularity and duality of a material which embodies both solidity and fluidity.
Addressing the extractive impact of modern market economies on biodiversity and indigenous knowledge, Hunnarshala Foundation will open "Back to the Future" exhibition that will explore how natural materials and traditional building skills can strengthen marginalised voices.
Projects will also highlight innovative responses, and resistance to, waste culture. Thomas Egoumenides' "Ship of Theseus" will embrace a circular approach using discarded plastic spools and threaded rods.
"Repurposing these materials to craft an architectural installation, the project becomes a symbol of resistance to a throwaway culture," as stated by the triennial. A project by Papa Omotayo & Eve Nnaji MOE+AA/ADD-apt will be based in one of Sharjah's industrial zones, exploring life amid the area's vacant lots and unutilised spaces. The installation, titled "We Rest At The Bird's Nest", is constructed from organic waste and scaffolding that asks what happens when space is adapted to create a collective point of rest.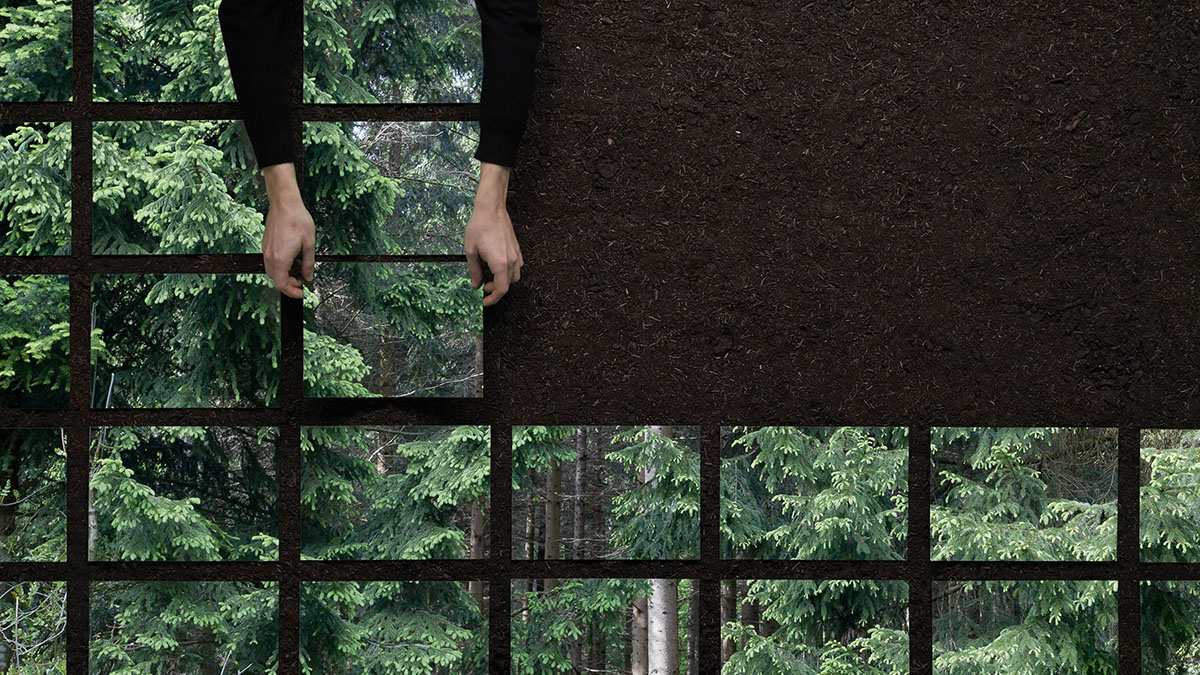 Formafantasma, Still from "Cambio - Seeing the Wood for the Trees" (2020-2023). Image courtesy of Formafantasma
Extraction politics
The second section will dive into "Extraction Politics". In this section, participants will engage in documenting, recording, and addressing the extractive processes that often underpin design. Milan-based research-based studio Formafantasma will present an ongoing project, Cambio (2020-2023), which will investigate the wood industry's origins in colonial bioprospecting in the nineteenth century.
The project explores the supply chain's environmental impacts and seeks to expand design beyond finished products by integrating forestry, legislation, science and activism. Through videos presented as part of a multidisciplinary exhibition, they ask how design can address environmental issues through collaborative and informed approaches.
Highlighting the issue of waste colonialism, clothing brand BUZIGAHILL - who creatively transform second-hand clothing waste from the West and sell it back to the Global North - will reconstruct their production studio and stage Return To Sender.
This defiant performance showcases the resourcefulness of Sub-Saharan Africans in harnessing waste as a valuable resource. Sharjah plays a significant role in the second-hand clothing supply chain, and bales of unwashed second-hand clothing have been specially acquired for the performance from a sorting centre in one of Sharjah's Free Zones, where migrant workers unpack, sort and repack unwanted clothes collected in Europe.
Lebanese visual artist Dia Mrad will present Power Shifts, a photographic installation by that will look at Lebanon's economic collapse using aerial imagery of the proliferation of solar panels on rooftops in Beirut. Viewed not just as objects, the panels become manifestations of the crisis itself, inviting viewers to reflect on not only the visual impact of the economic collapse on the cityscape, but also its profound effect on the lives of its residents.
In response to Sharjah's evolving national identity and cultural significance in the UAE, Olalekan Jeyifous will present SHJ 1X72 - 1X89, a speculative work that offers a retro-futurist vision of the region. Set on Sharjah's Bank Street and its 'heritage areas', Jeyifous will imagine an alternative architecture that embraces sustainable practices and local typologies, in tune with the climatic conditions of the region and the social rhythms of its inhabitants.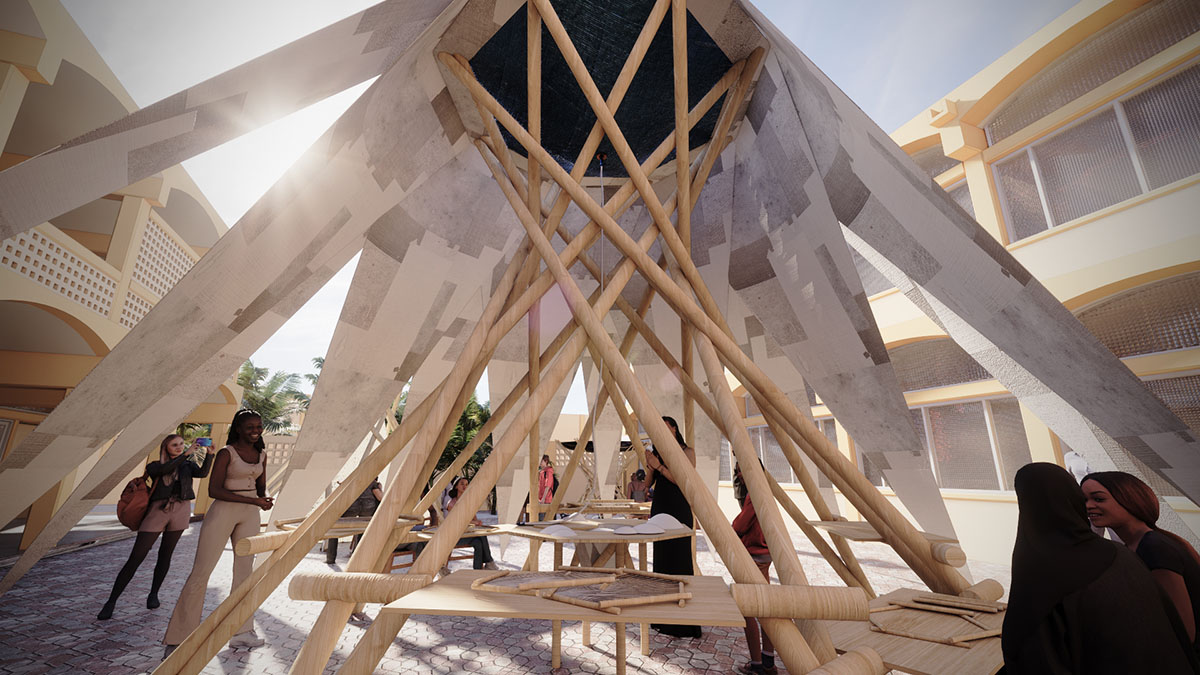 Collab - Henry Glogau & Aleksander Kongshaug, render of Resource Autonomy
Intangible bodies
Participants will celebrate the ephemeral nature of civilisation's interaction with the environment, with projects exploring how natural landscape systems and cultural narratives can be integrated into new urban frameworks.
Abandoned sites in Sharjah will provide a catalyst for many of these ideas, such as the old Al Jubail Vegetable Market, which closed in 2015 but was saved from demolition by SAT in 2019. Peruvian studio 51-1 Arquitectos will turn the area adjacent to the venue into "Play You Are in Sharjah", a public space for communal activity with tables, chairs and board games that are reconfigured according to the position of the sun throughout the day.
Elsewhere, in the desert surrounding the city, the Al Madam 'ghost village' is part of a series of modernist settlements that were built in the 1970s to house nomadic groups.
Long since abandoned, DAAR – Sandra Hilal & Alessandro Petti's project "Concrete Tent" will use fabric to cover the ruins of the village, reframing it as a symbol of enduring transience. Ultimately, like the buildings, the project will be reclaimed by the dunes, a poetic reminder of the inevitability of impermanence.
Honouring architecture as a space for ritual, performance and tradition, Yussef Agbo-Ola will present "JABALA 9: ASH CLEANSING TEMPLE". This sacred structure – honouring Bedouin, Yoruba and Cherokee cultures – will be built from organic materials such as jute, hemp and cotton yarn and illustrated with cosmological motifs, inviting visitors to partake in collective incense burning and breathing ceremonies within.
The Museum of Artifice by Miriam Hillawi Abraham reimagines the sacred rock-hewn churches of Lalibela in Northern Ethiopia as constructed entirely from blocks of salt – a nod to the material culture of Sharjah and its historic relationship with Ethiopia. The structure will eventually be dismantled and its salt blocks returned to the merchant for re-use in agriculture and construction, only leaving behind remnants of salt, dust, and memories.
The full list of participants: 51-1 Arquitectos (Peru); Adrian Pepe (Honduras/Lebanon); Al Borde (Ecuador); Art and Culture Development Foundation of the Republic of Uzbekistan (ACDF) (Uzbekistan); Asif Khan Studio (UK); Bubu Ogisi (Nigeria); BUZIGAHILL (Uganda); Cave_bureau (Kenya); Collab: Henry Glogau & Aleksander Kongshaug (Denmark/New Zealand); DAAR - Sandi Hilal and Alessandro Petti (Italy/Palestine/Sweden); Dia Mrad (Lebanon); Formafantasma (Italy/Netherlands); Hive Earth (Ghana); Hunnarshala Foundation with Aabhat and AINA (India); Limbo Accra (Ghana); Miriam Hillawi Abraham (Ethiopia); Papa Omotayo & Eve Nnaji MOE+AA/ADD-apt (Nigeria); Natura Futura (Ecuador); Nifemi Marcus-Bello (Nigeria); Ola Uduku and Michael Collins (Nigeria/UK); Olalekan Jeyifous (USA/Nigeria); RUÍNA Architecture (Brazil); Sandra Poulson (UK/Angola); Sumaya Dabbagh (Saudi Arabia/UAE); Thao Nguyen Phan (Vietnam); Thomas Egoumenides (France/Tunisia); Wallmakers (India); Yara Sharif & Nasser Golzari (Palestine/UK); and Yussef Agbo-Ola (Nigeria/UK/USA).
Top image in the article: Rendering of wrapped building in Al Madam. Image courtesy of Herman Hjorth Berge.
> via Sharjah Architecture Triennial