Anupama Kundoo to receive 2021 RIBA Charles Jencks Award
Acclaimed Indian architect Anupama Kundoo has been named as the recipient of the 2021 RIBA Charles Jencks Award by the Jencks Foundation and the Royal Institute of British Architects (RIBA).
The award is given to an individual or practice who has simultaneously made a major contribution to both the theory and practice of architecture.
Anupama Kundoo will receive the award on Tuesday, 2 November at 6.30pm (BST) after which she will deliver a lecture and be interviewed by a critic in collaboration with the New Architecture Writers program, with questions from an online audience.
The architect was previously spoke to WAC's Netherlands Reporter Lola Kleindouwel to discuss her recent exhibition and the notion of "time" in architecture as part of WAC's Live Instagram Series.
Titled Taking Time In Architecture, two episodes of the interview can be watched on the Episode I and Episode II on IGTV.
Anupama Kundoo, Wall House, 2000, Auroville, India. Image © Javier Callejas
Anupama Kundoo trained as an architect in Mumbai before building a substantial body of work in the experimental town of Auroville, in Puducheery from 1990 – 2005.
Working in this environment, she developed a long-term research project into sustainable and building technologies with an experimental approach to material reuse and sustainable construction methods.
She has taken this research into design units and workshops in universities around the world including at Parsons The New School for Design in New York, as a senior lecturer in the University of Queensland, Davenport Visiting Professor at Yale University and she is currently Professor at the FH Potsdam.
Kundoo's work and design process was recently on show in a exhibition at the Louisiana Museum in Denmark, with a monograph called Anupama Kundoo: Taking Time: The Architects Studio.
Anupama Kundoo, Wall House, 2000, Auroville, India. Image © Javier Callejas
Anupama's practice follows a holistic design approach, combining research, building and teaching to create architecture outside of the mainstream of the commercial, developer-driven world.
Her practice is deeply rooted in a strong theoretical and ideological conviction that drives material research, collaborates with local builders, and experiments with sustainable working methods.
FullFill Home at Venice Biennale, 2016. Image © Javier Callejas
"Our built environment is the physical stage on which all human stories are lived out. This physical stage is the historical and ongoing manifestation of human imagination operating within real (or, imaginary!) constraints," said Anupama Kundoo.
"I have tried to advance the idea that architectural imagination must transcend design and enter the realms of materials science and economics where some of the bigger questions reside."
"The thrust of my inquiries has been to find practical ways to fulfill the universal human aspiration for refuge, purpose, and social engagement. I am grateful to the Jencks Foundation, RIBA and the Charles Jencks Award Jury for recognizing that the resulting body of work is no less a theory than a theory expressed in words."
"My hope is that this work inspires others to ask yet more questions so that together we can build an environmentally and economically responsible stage on which more uplifting human stories can be told," she added.
Library of Lost Books, 2014. Image © Javier Callejas
The 2021 RIBA Charles Jencks Award jury was composed of: RIBA President Elect Simon Allford; architect and critic Edwin Heathcote; architect and Dean of the RCA, Dr Adrian Lahoud; Jencks Foundation founder Lily Jencks, and previous Jencks Award winner, architect Benedetta Tagliabue.
"Anupama is a rare example of an architect who has managed to achieve a huge amount in a difficult arena, housing for the poor in India and, specifically, in the settlement of Auroville in Tamil Nadu but has also established a significant body of work in research into material and craft and how locally-made products can be reimagined to become elements of architecture," said jury member Edwin Heathcote.
"At its best her architecture is elegant, ecological and always intriguing. She has built bridges between academia in Europe and South Asia."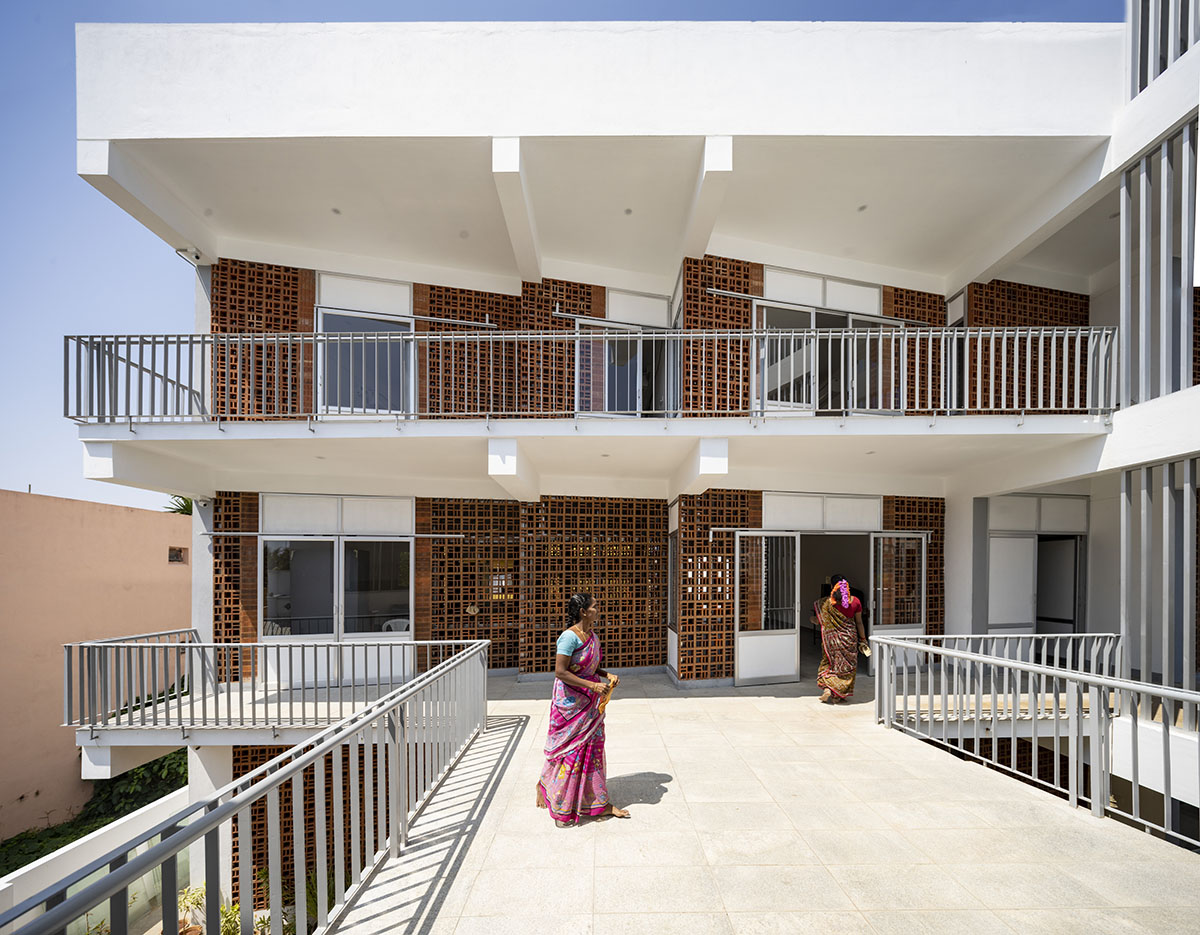 Sharana Daycare, 2019. Image © Javier Callejas
"The Charles Jencks Award posits a theory of architecture theory – one that expands the limited definition of theory as written work, and includes theory as a substantial project outside of architecture; one that provokes, propels and reframes the architectural practice. Motivated by her experience of the problems of rapid urbanization in Bombay, and implemented in experimental buildings in Auroville, Anupama has refined a strong political and conceptual theory for her practice," said Lily Jencks.
"This theory is defined by ad-hoc material experimentation and on-site local construction collaboration. Her work points to urgent methodologies for sustainable practices everywhere."
"Celebrating Anupama's work points to our effort to diversify the practitioners being celebrated, continuing Charles Jencks work on amplifying a plurality of voices and meanings in architecture," Jencks added.
Residence Kanade, 2013. Image © Javier Callejas
Anupama Kundoo was chosen from a 2021 shortlist of nominated architects: Emilio Ambasz, Alexander Brodsky, Nigel Coates, Beatriz Colomina, Francis Kéré, MASS Design Group, Peter Salter, Marina Tabassum, Eyal Weizman.
"The kinds of things that confer value on architecture, be they publications or prizes, are still heavily dominated by European and English-speaking worlds," said Jury member, Dr Adrian Lahoud.
"We must expand on that narrow frame not only to be inclusive but because Arabic, Urdu, Igbo concepts are important to our future. Anupama's work is exemplary, for the depth of her engagement with the communities she works with and the richness of spatial and material concepts that flow from this engagement, and the alternative futures this work points to."
Previous winners of the RIBA Charles Jencks Award are: Débora Mesa and Antón García-Abril, Ensamble Studio (2019), Alejandro Aravena (2018), Níall McLaughlin (2016), Herzog & de Meuron (2015).
The newly established Jencks Foundation will cultivate and build on the legacy of Charles Jencks' provocative and wide-ranging work. It will act as a cultural laboratory and promote critical experimentation in historic, artistic and scientific research through grants and residencies, and a related programme of exhibitions, lectures, and publications.
Tickets to attend the Anupama Kundoo lecture are available here.
Top image: Anupama Kundoo. Image courtesy of RIBA.
> via RIBA