EFFEKT wins competition to design new headquarters for German publishing house Kieler Nachrichten
Copenhagen-based architecture studio EFFEKT has won a competition to design new headquarters for German publishing house Kieler Nachrichten in Kiel, Germany.
Named KielHöfe, the 11,000-square-metre mixed-use building, with 7,000-square-metre basement area, will largely transform existing buildings with new spaces and will be built from timber.
While the ground is largely dedicated to public functions with a large food court, meeting facilities, and event spaces in direct connection to streets and courtyard, offices and co-working spaces will be placed above the ground floor.
A series of publicly accessible roof gardens and a large conservatory and event space will also be designed on the roof of the printing press.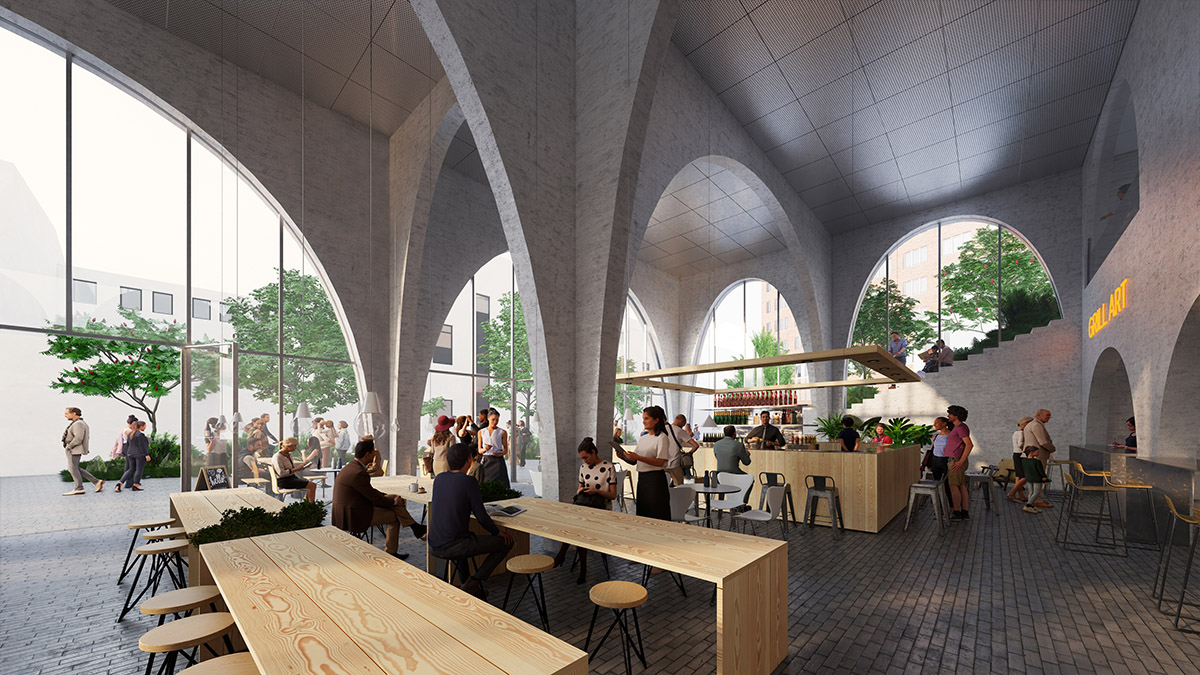 The project is the transformation of the decommissioned editorial offices and printing press of reputable regional German newspaper Kieler Nachrichten.
For more than 100 years, the Kieler Nachrichten publishing house has been present in the heart of the historic downtown Kiel, occupying an entire city block housing all aspects of newspaper production from newsroom editing to printing and distribution.
"The digitalization and change in news and media consumption have rendered the existing newspaper production facilities redundant and obsolete," said EFFEKT.
"This offers an opportunity to completely rethink the physical presence of Kieler Nachrichten and their relevance to the citizens of Kiel in a much broader context."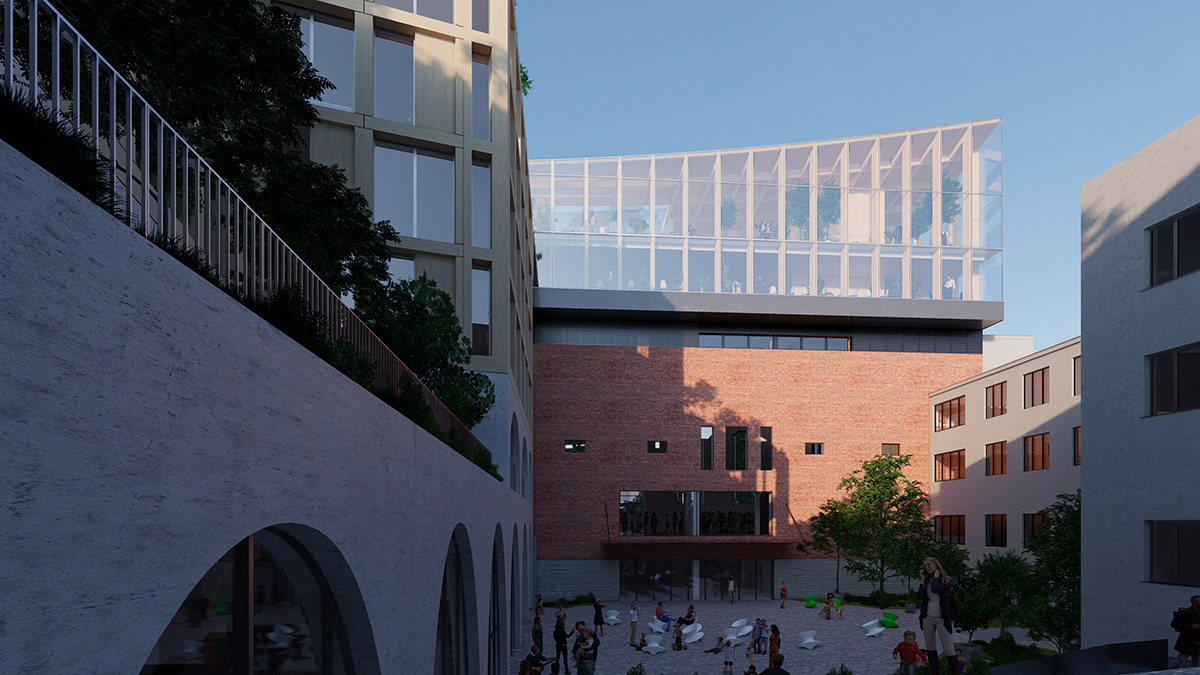 "KielHöfe shows the evolution of societies and media communication, by thinking about uses/functions that have a share in communication (like eating, creating, making, recreating, and socializing)," said EFFEKT.
The development of the industrial site into a vibrant mixed-use living hub will become a vital part of the rejuvenation and a driver in the revitalization of the city center in Kiel.
Fleethörn will still be the center for news but in the future, the citizens of Kiel are invited right into the heart of the newspaper by integrating and interweaving the consisting newspaper functions into the urban fabric and mixing these with new and related cultural programs.
KielHöfe explores a new way of disseminating information and sharing knowledge and experiences between a wide variety of users and interest groups.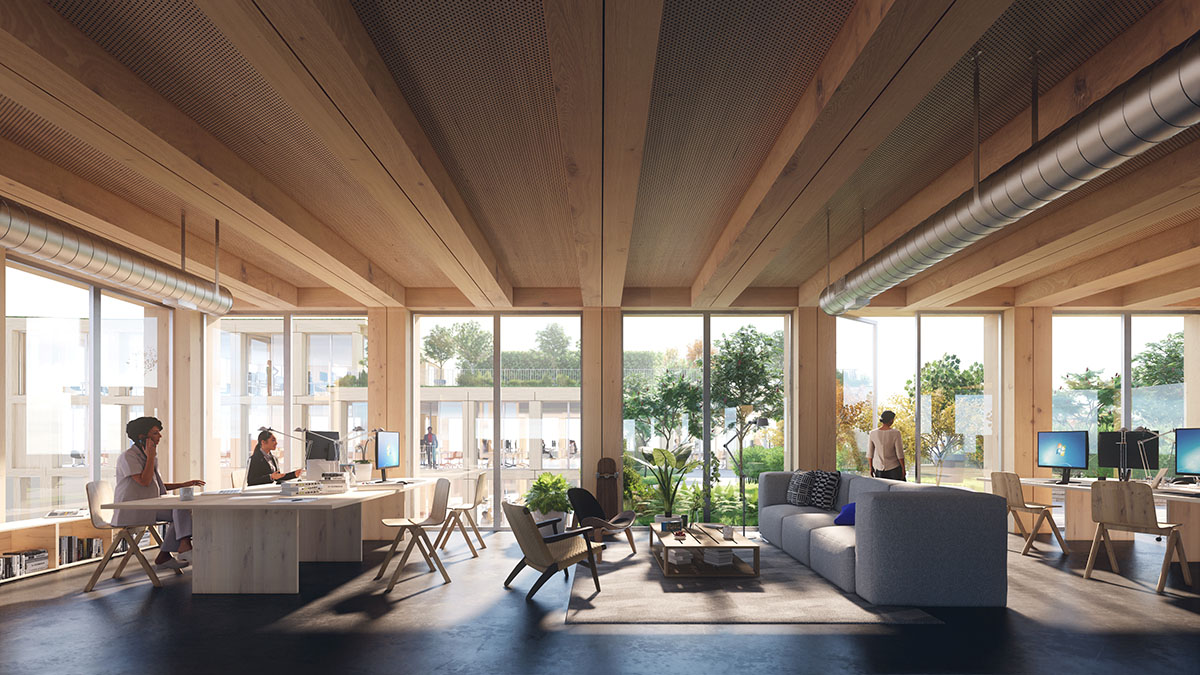 EFFEKT takes inspiration from Kiel's unique identity uncovering the architectural code and language and transposing this into modern-day. Based on these historic references, the studio blends naturally with the building culture by adapting and translation detailing, ornamentation, and material usage.
By careful planning and programming of the courtyard, this space mediate the large elevation difference of the four adjacent streets.
According to the architects, this will allow for pedestrians to filter through the courtyard, hence being exposed to the large variety of activities taking place in the new KielHöfe.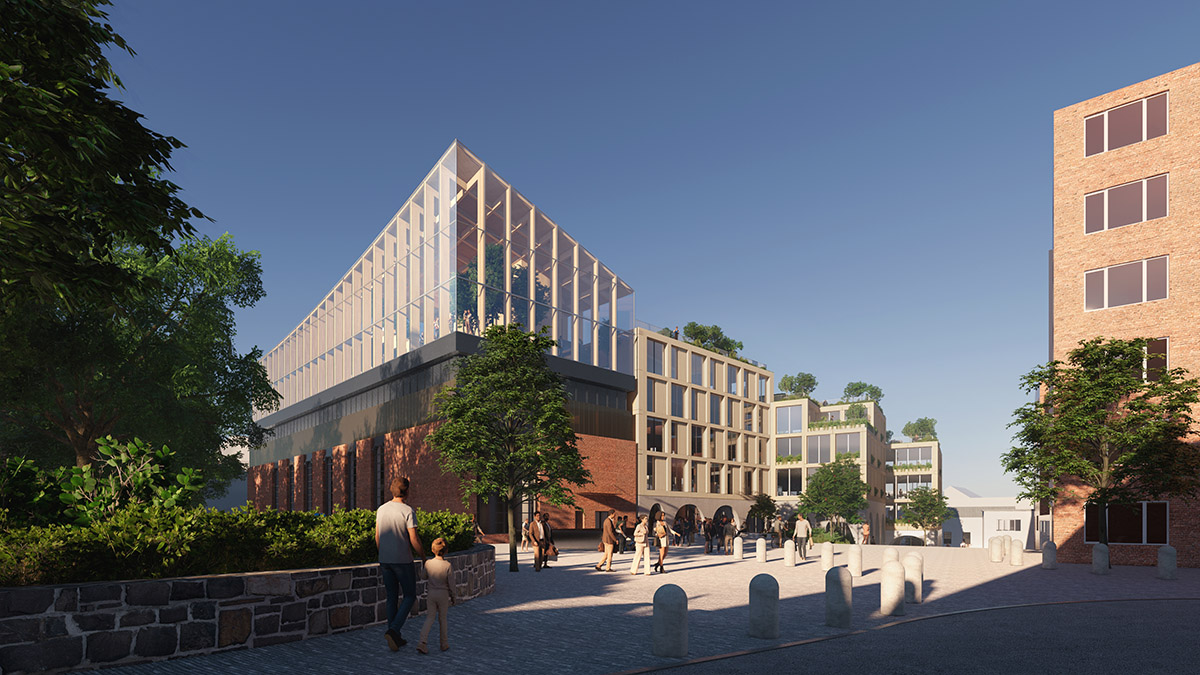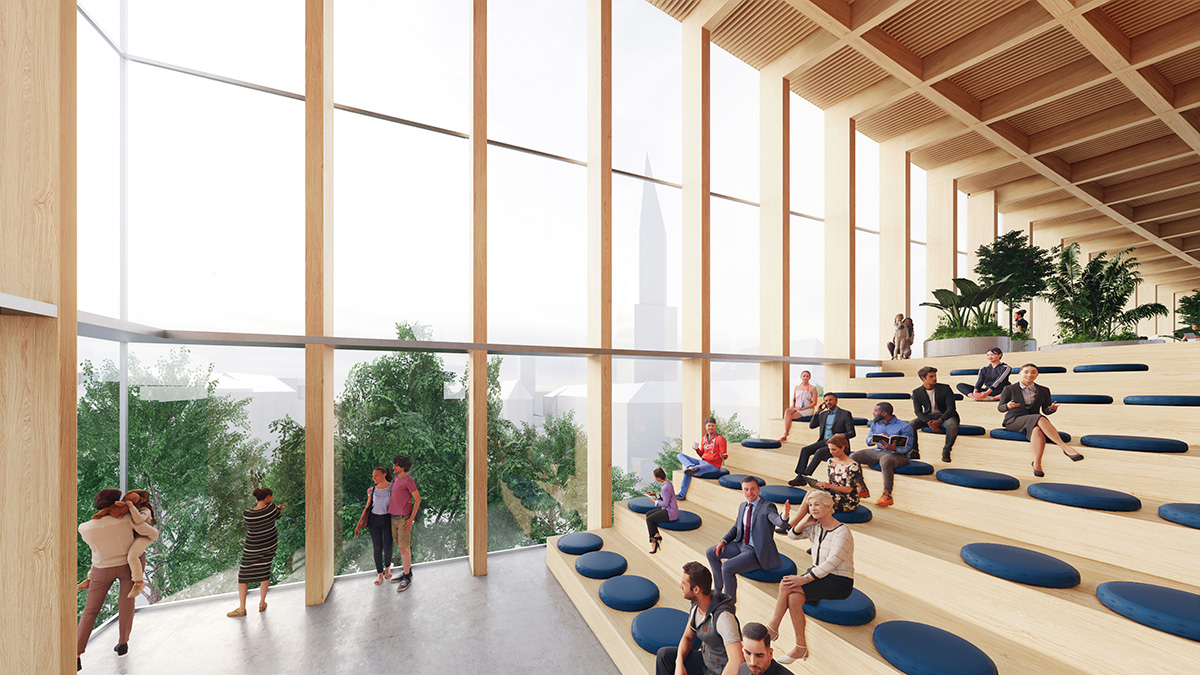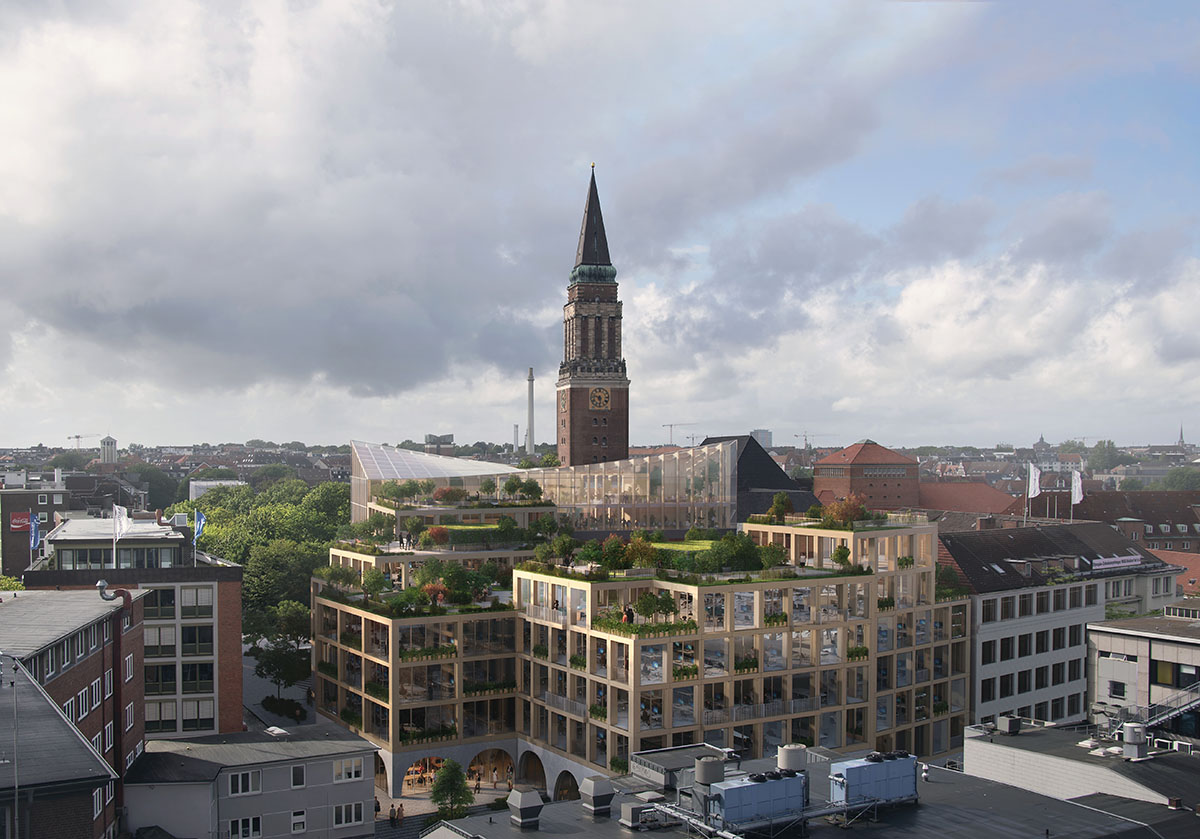 Roof plan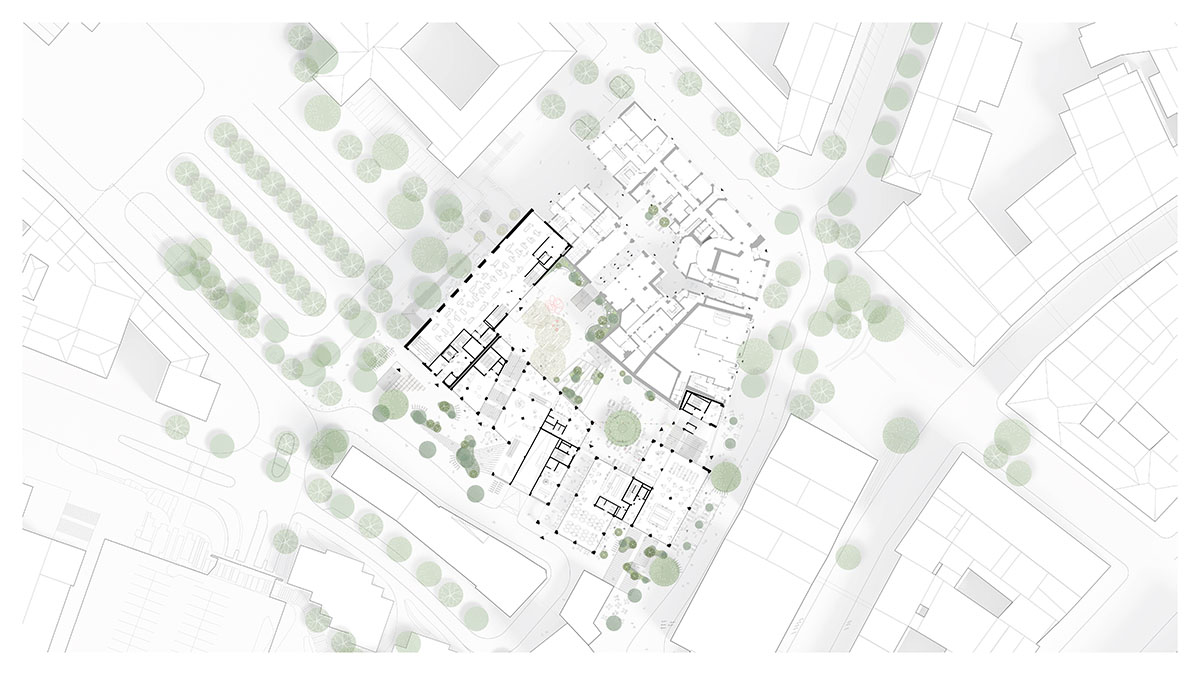 Ground floor plan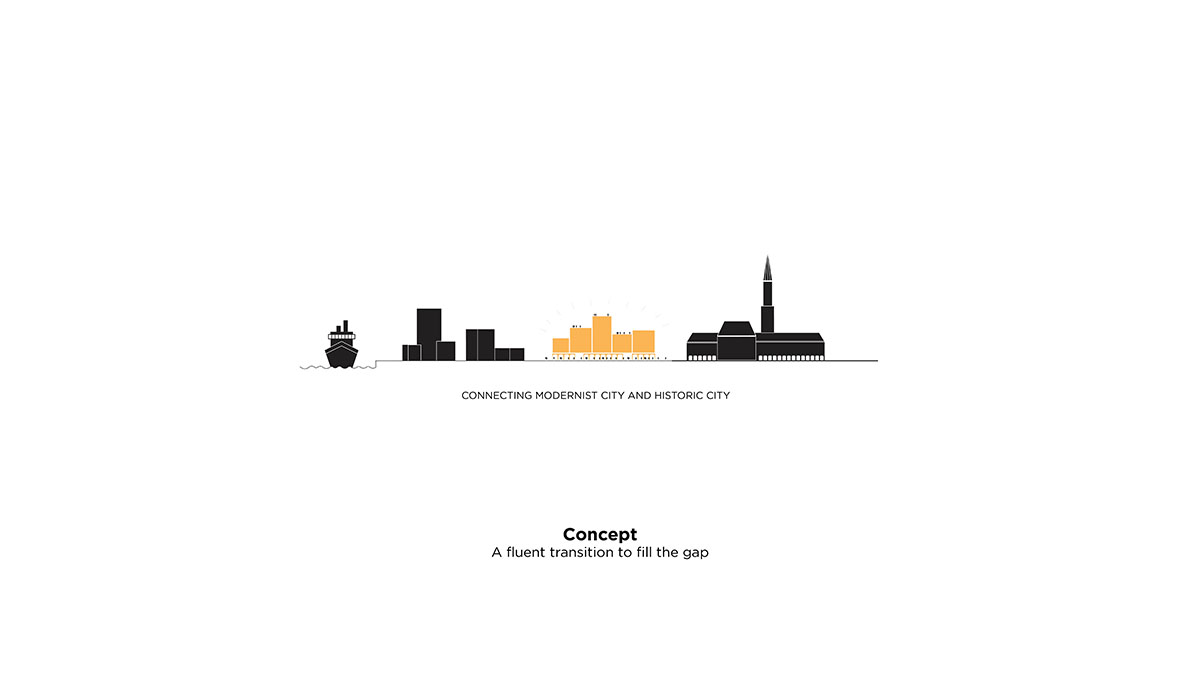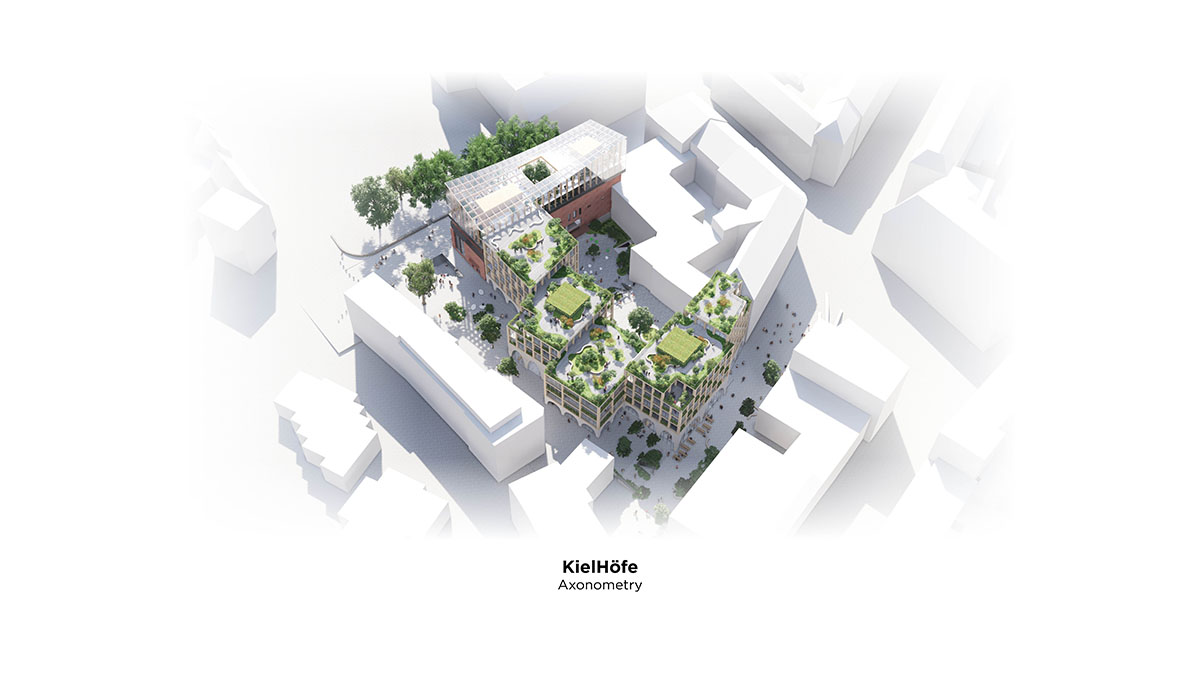 Axonometric drawing
Section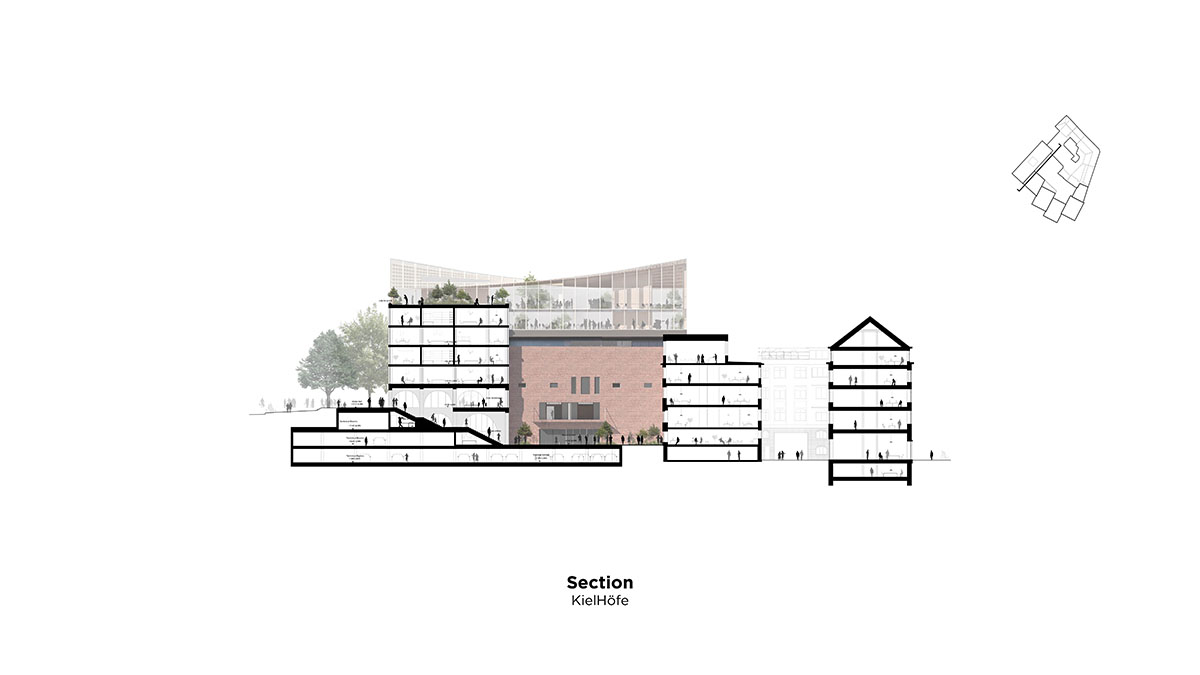 Section
Project facts
Project name: KielHöfe
Architects: EFFEKT
Location: Kiel, Germany
Size: 11.000 m2
Date: 2019
Client: Kieler Nachrichten
Collaborators: JES, Bollinger + Grohmann Ingenieure, Petersen-Ingenieure GMBH, F4 Brandschutz, AX5
Design team: Sinus Lynge, Tue Foged, Antonia Dajak, Aude Sahli, Christoffer Gotfredsen, Cristina Román Díaz, Emil Vindnæs, Evgeny Markachev, Gitte Juul Sørensen, Ilse Hviding, Michelle Hook, Mikael Schmidt, Oscar Elfving, Sandra Fleischmann Toni Rubio Soler Yulia Kozlova.
All images courtesy of EFFEKT.
> via EFFEKT