MAD designs science and technology museum with smooth and reflective façade in Hainan
MAD has unveiled design for a new science and technology museum, featuring a smooth and reflective façade in Haikou City, Hainan, China.
MAD's new museum, called Hainan Science and Technology Museum, will be located on Haikou's west coast, surrounded by sports stadiums and a National Wetland Park.
The museum is MAD's second major public project in Hainan following the Cloudscape of Haikou, which opened in April 2021.
Being an important science venue and a major tourist attraction for Hainan's free trade port, the new Hainan Science and Technology Museum will break ground in late August 2021 and is expected to be completed and open to the public in 2024.
MAD's new museum will cover 46,528 square meters, with 27,782 square meters of above-ground facilities, include a wide range of programs such as permanent exhibition space, a planetarium, a giant-screen theater, and a flying theater.
For architectural language of design, MAD draws inspiration from the site's dual urban and natural context, one where a "primeval rainforest and technology of the future meet."
The museum is set against the backdrop of a rich tropical rainforest and the museum's main pavilion is shaped like "a cloud in dialogue with nature." Smooth and undulating surface of the museum presents itself as a white cloud floating in the air.
When visitors see the building from a distance, MAD's futuristic building appears to emerge from the city, while visitors entering in the museum area witness it floating above the jungle.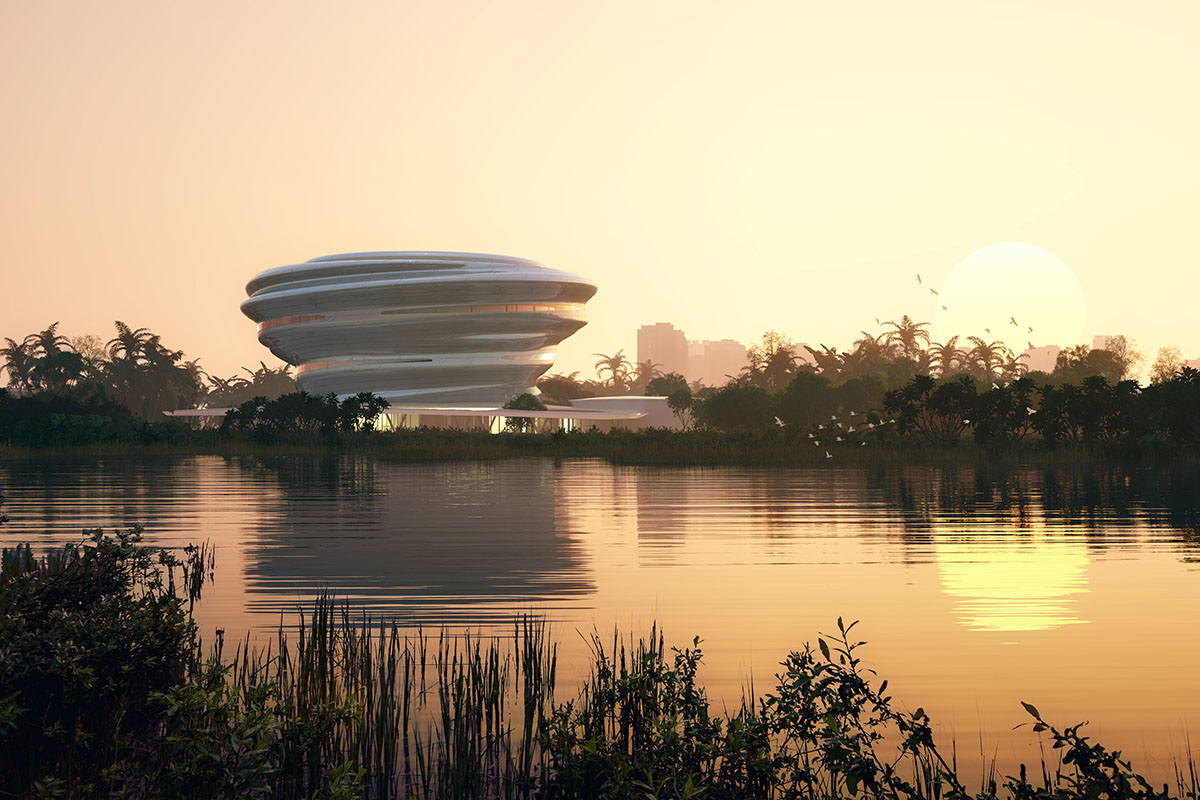 The museum's façade is clad in fiber-reinforced plastic that makes the building distinctive from both near and afar with its silver, and has reflective exterior and visionary aesthetic.
Inside, the museum's interior structure will have three floor-to-ceiling cores, curved trusses, spiral ramps, and a roof, which are all exposed to achieve harmony between the architectural forms and structural system.
A giant skylight in the museum's dome bathes the spacious atrium in natural light, creating a bright and transparent environment. A spiraling, sloping exhibition space ascends from the central hall over five floors, connecting visitors across the museum.
As MAD explains, the exhibition experience begins on the fifth floor, where the elevator opens to a 360-degree viewing platform with the sea and cityscape visible in the distance.
Visitors on this uppermost floor will begin by exploring the technology and space galleries before proceeding down the ramp to the ocean and life science galleries on the fourth floor, the math and science galleries on the third floor, and the multimedia interactive experience area and children's playground on the second floor.
"As visitors travel down the ramp, they can simultaneously enjoy the scenery and the exhibitions, and a gallery running alongside the ramp extends the viewing experience," MAD said.
Outside, an undulating canopy is extended from the main pavilion in all directions to create a space specifically conceived to accommodate the public in Haikou's humid and rainy climate.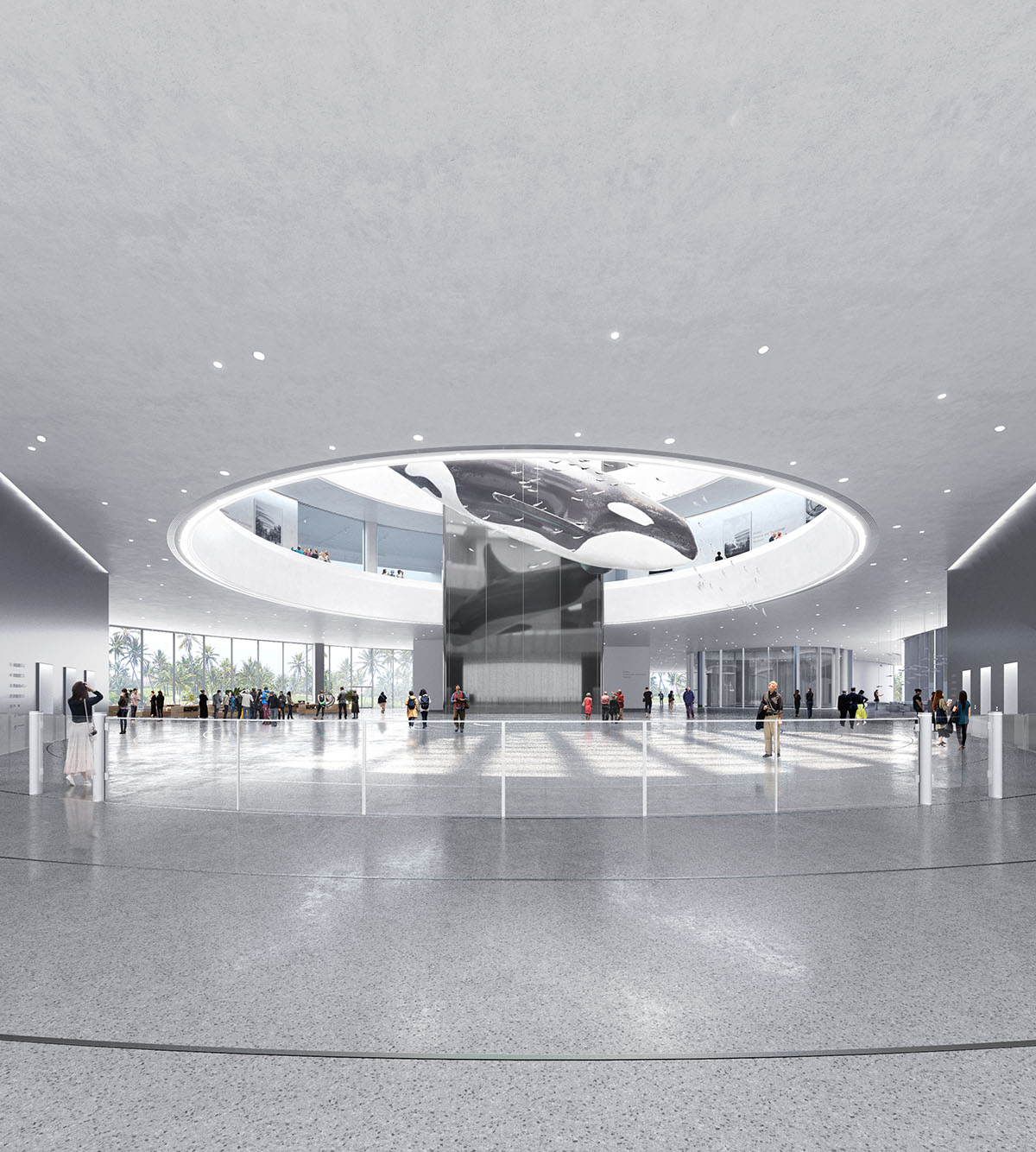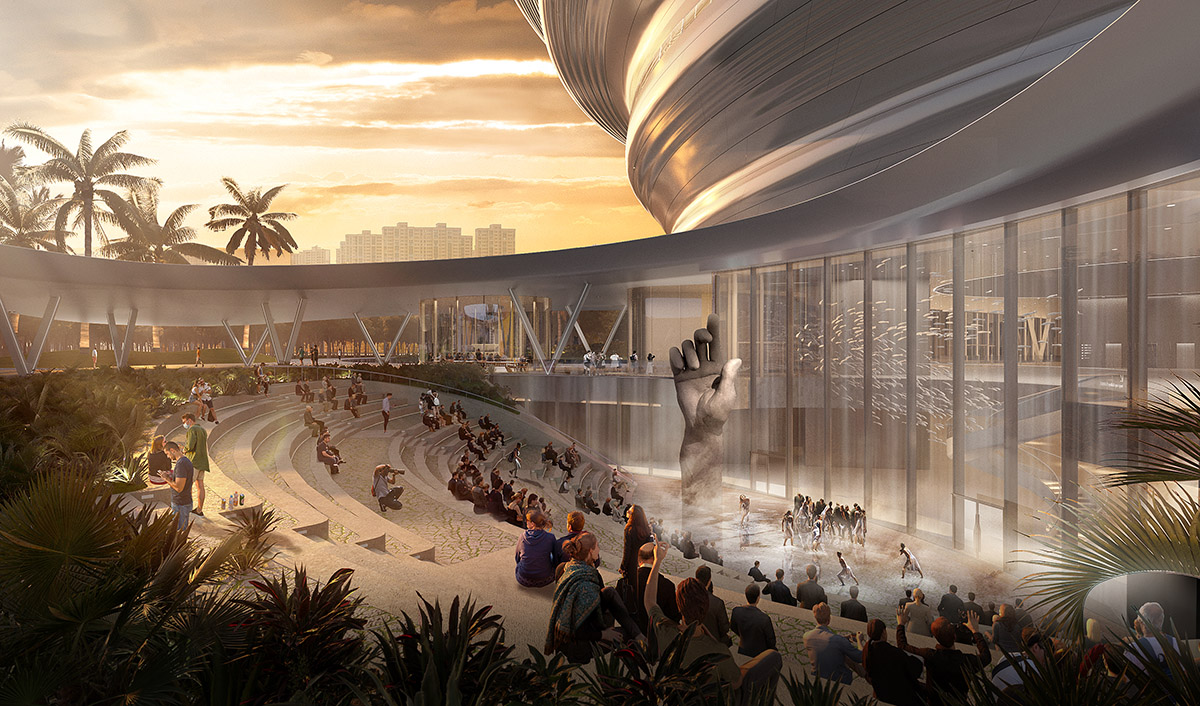 The north side of the canopy will also host the giant screen and flying theater and, in the southwest corner, the planetarium and observatory.
The museum's various outdoor public spaces, including a crater-like sunken plaza and reflecting pool, offer areas for rest and relaxation.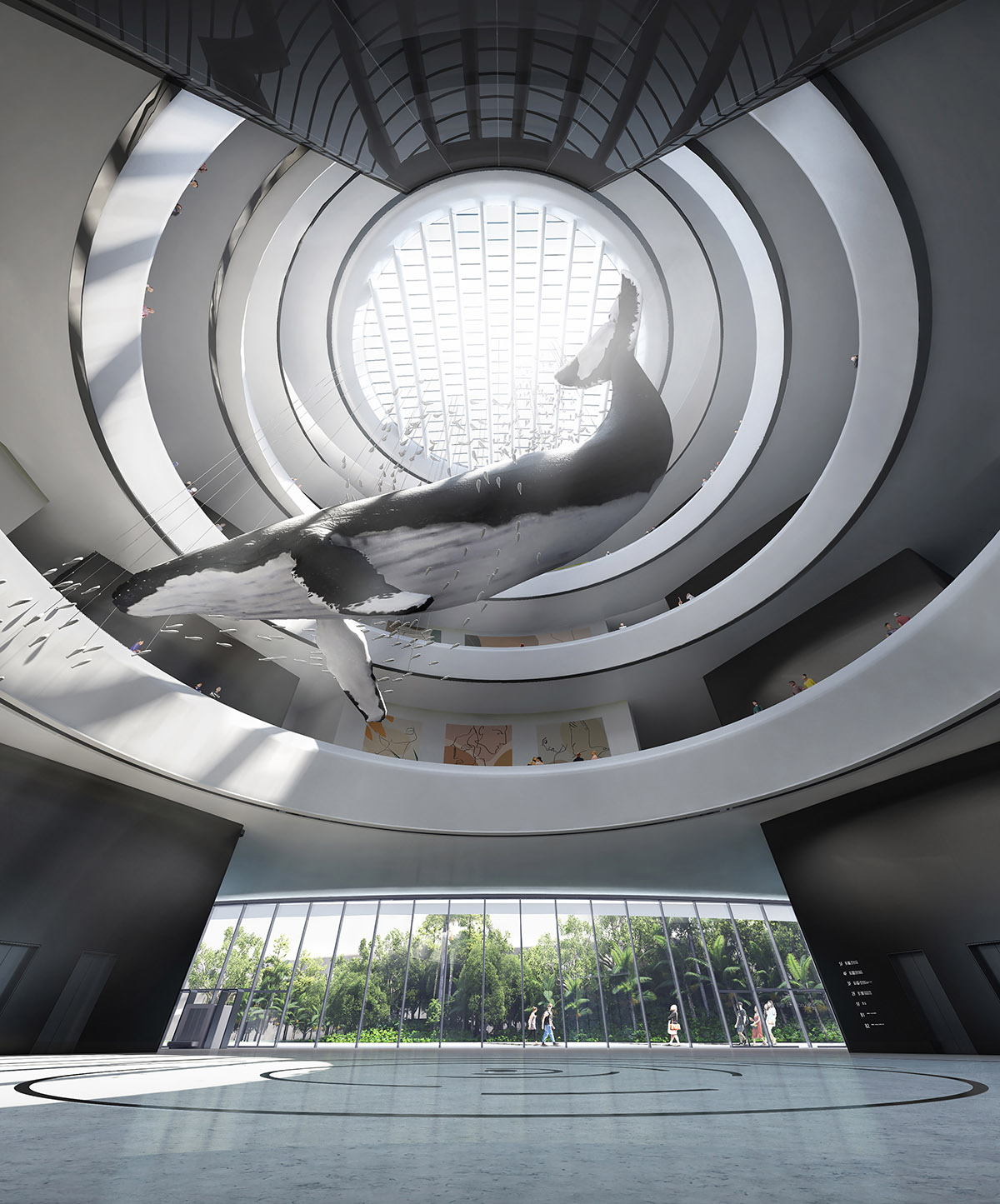 The diversity of the surrounding tropical plants makes this an ideal setting for learning about nature, offering visitors more than simply an exhibition-viewing experience by also providing a pleasant environment to freely enjoy and experience nature.
Once completed, the Hainan Science and Technology Museum will become a destination for the exploration of science, technology, and nature, which is aimed to encourage visitors to seek inspiration from both the urban and natural setting.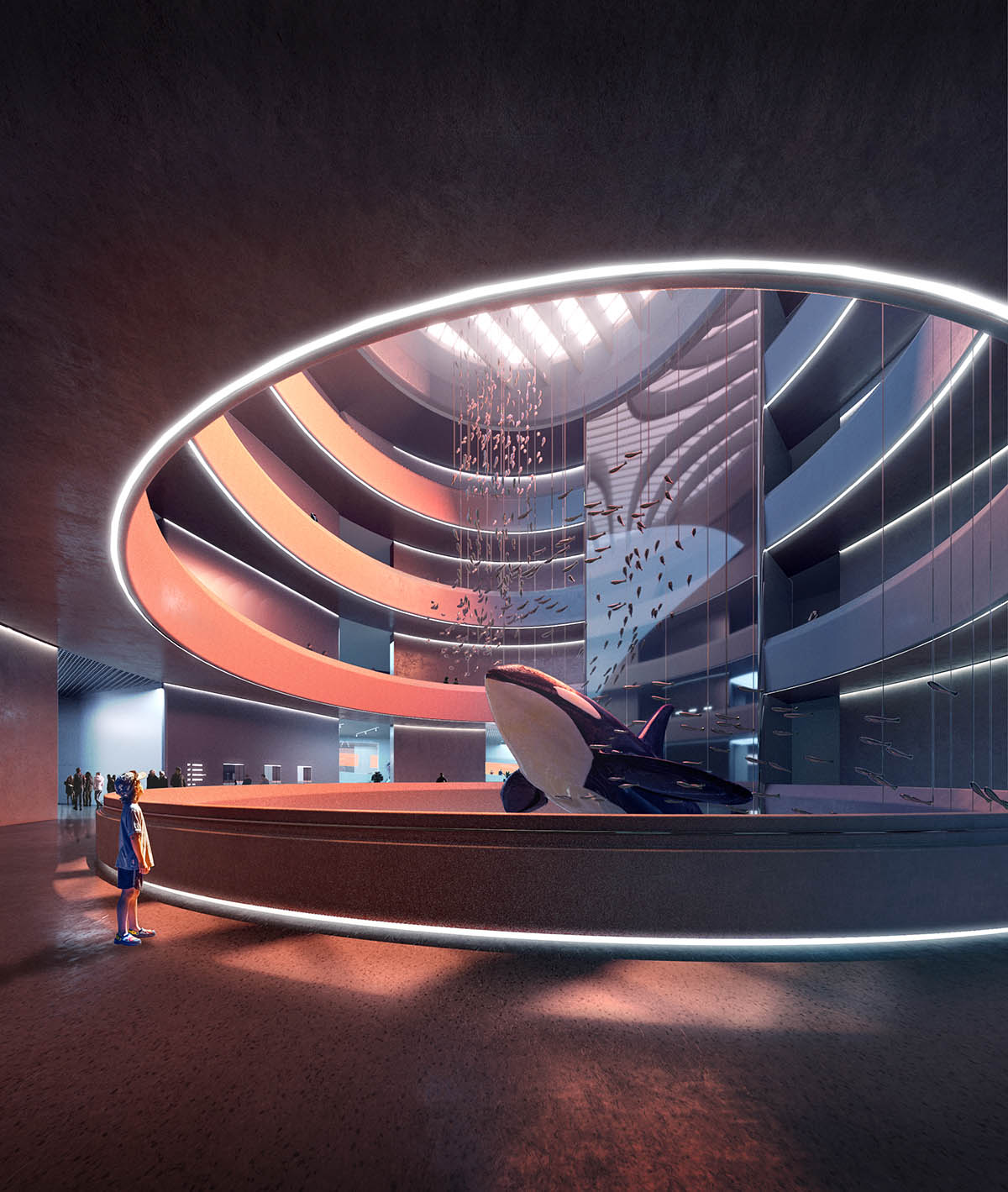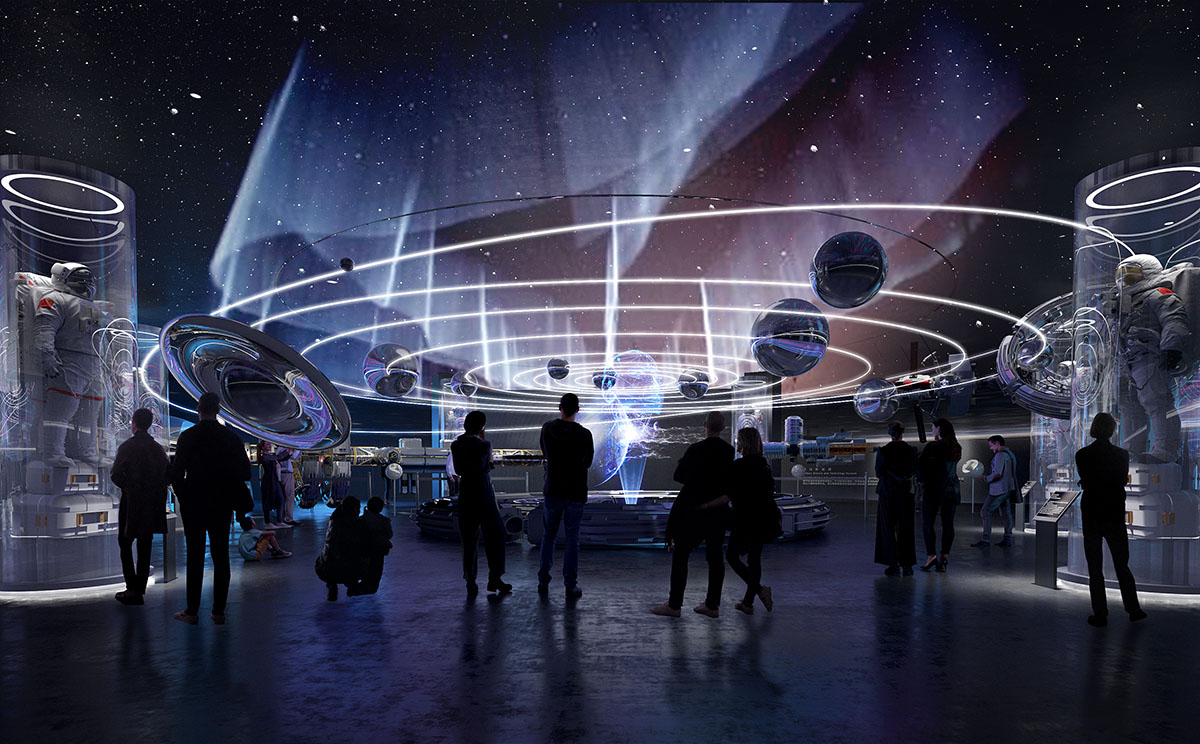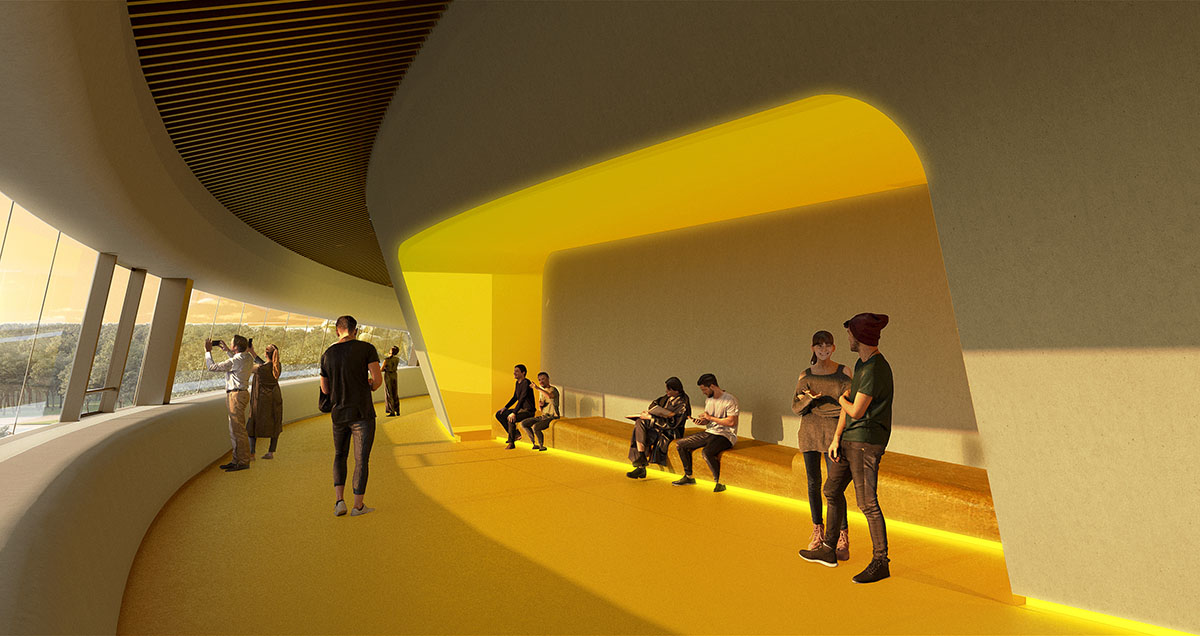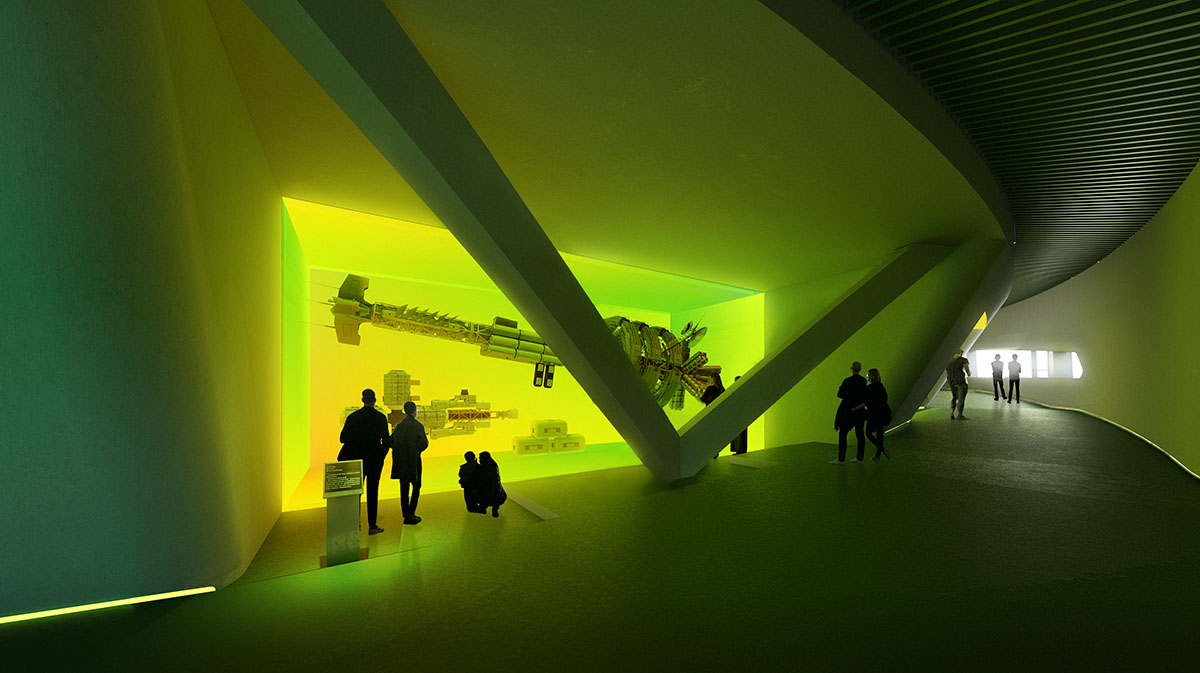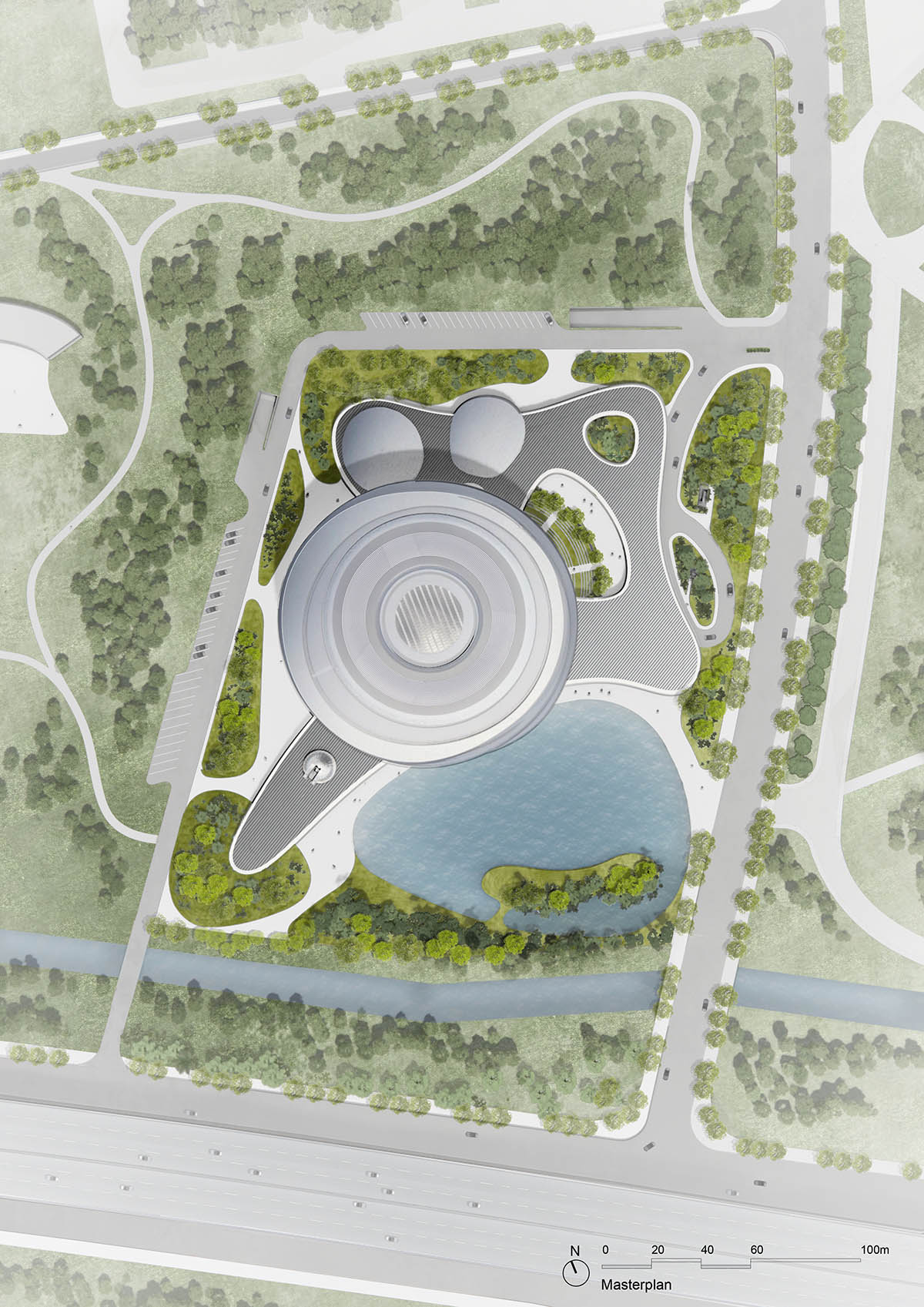 Masterplan
First basement floor plan
Ground floor plan
Second floor plan
Fifth floor plan
Circulation diagram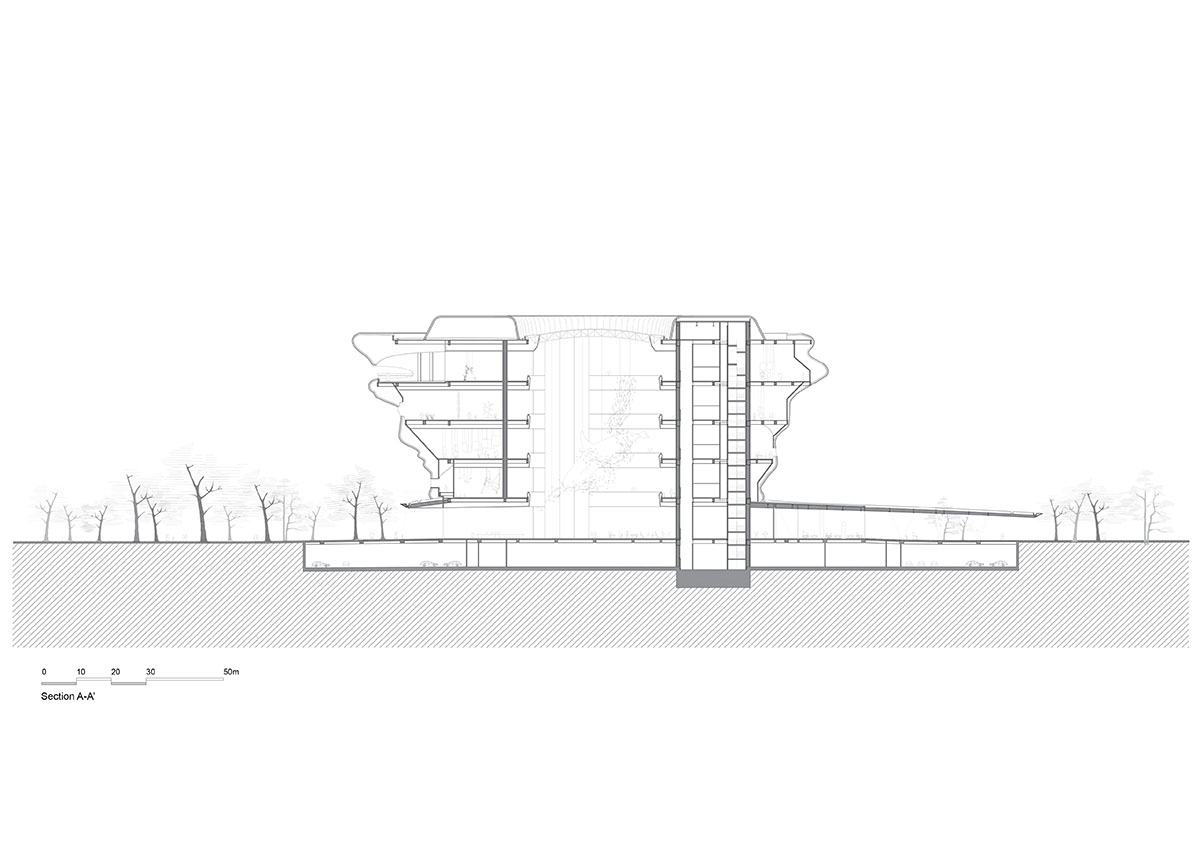 Section
Function diagram
Project facts
Project name: Hainan Science and Technology Museum
Architects: MAD
Location: Haikou, China
Date: 2019-2024
Typology: Museum
Building Area: 46,528 sqm
Above ground: 27,782 sqm
Underground: 18,746 sqm
Principal Partners: Ma Yansong, Dang Qun, Yosuke Hayano
Associate Partners: Kin Li, Fu Changrui, Tiffany Dahlen
Design Team: Wang Yiding, Reem Mosleh, Sun Feifei, Alan Rodríguez Carrillo, Rozita Kashirtseva, Wu Qiaoling, Edgar Navarrete, Zhu Yuhao, Zheng Chengwen, Zhang Yaohui, Li Hui, Yang Xuebing, Dayie Wu, Zhou Haimeng, Lim Zi Han, Yin Jianfeng, Guo Xuan
Client: Hainan Association for Science and Technology
Client Representative: Haikou Urban Construction Group Co.,Ltd
Executive Architects: China Construction Design International (CCDI)
Façade Consultant: RFR Shanghai
Landscape Consultant: Earthasia Design Group
Interior Design Consultant: China Construction Design International (CCDI)
Lighting Consultant: Beijing Sign Lighting Industry Group
Signage Consultant: China Construction Design International (CCDI)
Exhibition Consultant: Tongji Architectural Design (Group) Co., Ltd.
All images courtesy of MAD.
> via MAD