Chronicling Art Deco - India version
There's a movement starting out – slowly yet steadily building up, one city at a time. Invigorated with passion, people are resolved to reclaim their built environment, preserving the heritage that exists around them, conserving and restoring where need be.
Emerging as a counteraction to the highly stylised Art Nouveau movement, Art Deco brought a refreshing breath of air for the creative field. Starting out around 1920s in Paris, it expanded globally and landed in India through Mumbai (then Bombay) around 1930s. Since then, the movement diversified to edifices – from movie theatres to residences, offices etc., it touched every nook and corner of the city and changed it to a Deco treasure. So much so that today, Mumbai is believed to have the second-most Art Deco buildings in the world, after Miami.
Twenty-first century's technological advancement uses the power of social media and through virtual collaborations. Taking the lead, many cities in India are driving social change - local history, architecture, art and conservation enthusiasts are initiating ways to bring the change they want to see around them. But what has been their motivation? What have their learnings been? And what is the way forward for them? We spoke to the founders of Art Deco chapters in India – Art Deco Calcutta, Art Deco Madras, Art Deco Kerala, Art Deco Hyderabad, Art Deco Mumbai and Art Deco Delhi.
Staircase tower patterns - residence in Ameerpet, Hyderabad (Image © Art Deco Hyderabad)
Megha Balooni: What prompted you to choose to document Art Deco's influence in your city?
Art Deco Calcutta: I was inspired to document the city's Art Deco heritage because I have always had a love for the aesthetic of art Deco. My old school, St Lawrence High School, at Ballygunge Circular Road, was designed in an Art Deco style; my own house had Deco elements. You could say I grew up with the surrounding aesthetic. I have always found it an elegant and optimistic design. The main motivation for document Calcutta's Art Deco heritage came to me when I wanted to search for information on Art Deco on Calcutta, and trying to explore information on buildings like the Tower House at the Esplanade Square. When I found how little documentation was done on this, and how little interest and awareness there was about Art Deco in Calcutta, I started engaging people through social media to create more interest and awareness for Calcutta's Art Deco heritage. When I got the news of Bombay's Art Deco precinct, getting a UNESCO world heritage tag, it inspired me to step up my efforts. I started a wider social media engagement and increasing my own knowledge through research. I am presently making a map of Art Deco heritage buildings in Calcutta.
Art Deco Delhi: As an architecture student, I have always been driven to document and research my surroundings. For me, the lack of information on the local buildings, in contrast to the more famous names like The Imperial, Regal Cinema, Golcha, prompted me to start my documentation under ADD.
Art Deco Hyderabad: I've always been fond of walking for long hours. On my daily walks, I started noticing these similar-looking buildings, with bold curves and typical geometric patterns. When you look up Hyderabad's architecture or architecture of Hyderabad on the internet, there's almost little to no information on Art Deco. There wasn't anyone documenting these buildings, and they were all vanishing, one by one. Something had to be done. I think this was the driving force for me to document them.
Art Deco influence in Kerala (Image © Art Deco Kerala)
Megha Balooni: What are the key areas of your focus through this documentation?
Art Deco Kerala: The key focus of this documentation is to shine the light on our Art Deco Heritage, which was never been acknowledged in the public sphere. At present we only see our vernacular architecture as heritage and not these local modernities such as Art Deco, due to that most of it are neglected and few (which I came across) are left in ruins.
Art Deco Mumbai: Through documentation, our aim is to highlight the diversity of Mumbai's Deco in the context of building typologies, neighbourhoods, and the expression of the Art Deco style through various architectural features and elements. We also explore and document the cultural heritage of Deco neighbourhoods. Most importantly, our objective is to showcase the city's Deco and raise awareness and appreciation towards this rich heritage.
Art Deco Madras: Documentation, to me, is an important part of the conservation/regeneration/preservation process. It helps you keep track of the building's past and present, which informs the future of the built fabric. Another component of documentation are the intangible values. My vision for documentation of these unique buildings would be to record the family history, the stories and experiences of the family or the custodians, etc., in relation to the building. These stories and intangible aspects add more value to the built heritage itself.
Nalini Kunj, Mumbai (Image © Art Deco Mumbai)
Pivot window - residence in West Marredpally, Hyderabad (Image © Art Deco Hyderabad)
Megha Balooni: Have there been any surprise elements you have found in the city? If so, which ones and what do you feel makes them stand out?
Art Deco Calcutta: For me the most surprising elements in Calcutta's art deco has been the fusions with traditional styles, that Jon Lang calls Indi-deco. The most stellar examples of this I would say are the Shyambazar Mullick house and the Seksaria mansion, both located in Central Calcutta. These structures incorporate the art deco streamline moderne aesthetic with distinctly Indian traditional forms. In case of the Seksaria mansion there is a fusion with Rajasthani motifs, while the Shyambazar Mullick house uses an Indo-saracenic lay out, replete with chatris, for its overall design. The other surprise for me was the surprising clusters of art deco architecture in the commercial zones of Central Calcutta, which is also one of the most neglected and overlooked regions when studying Calcutta's heritage.
Art Deco Kerala: Yes, there is a mosque near my house which I used to visit since I was a kid. The people here say that it was the first Mosque in Northern Kerala to be built in cement concrete, in 1957 (there is an inscription of the year). It had a unique design for a mosque in our region. After learning about Art Deco in-depth, I figured this mosque's design is inspired by Art Deco.
Art Deco Madras: I have always had an eye for Art Deco buildings in Madras. My work in Bombay has, in a way, reinforced the process. The surprised was mostly in terms of the building that was there would be demolished the next time I went past the place. This was one of the main reasons to start documenting it.
Every building that I come across has taken me by surprise. We do not have a string of Art Deco buildings like we have in Mumbai. Most buildings in Chennai/ Madras are scattered and private residences. But looking at the larger picture, there is a very distinct blend of Art Deco architect and the traditional elements of Tamil houses that can be seen in most of the buildings. It is also interesting to see how the same style has been featured in buildings placed in a large plot of land versus in the case of a wall-to-wall construction.
Art Deco has been beautifully localised in response to its context. This is visible not just in Madras, but in various second tier cities, small towns and villages throughout Tamil Nadu.
Art Deco Mumbai: As we move northward from South Bombay, we find that the expression of Art Deco style in buildings is more modest and toned down. There is a swadeshi identity that emerges with the expression of religious symbols, mythology, architectural lettering and native stories all reflecting a distinctly local culture. We have come upon some gems that have stood out in these neighbourhoods with their flamboyant ornamentation. One of these is Hira Mahal, a magnificent street corner building opposite Wadala station. The streamlined building curves at the street corner, displays classic Deco elements and is ornamented with Indian religious symbols like the Om, diyas/lamps and sunbursts.
Chemnad Juma Masjid, Kasaragod, Kerala (Image © Art Deco Kerala)
Hira Mahal, Mumbai (Image © Art Deco Mumbai)
Megha Balooni: Why do you feel it is imperative for the newer generation of designers to be apprised with past design movements?
Art Deco Calcutta: I believe in the preservation of historical knowledge, and past aesthetics are critical to our effort to preserve knowledge. Design movements in the past did not grow in isolation of the surrounding society, there was and I believe still is an indelible connection between aesthetic and the society that spawns it. In case of art deco, the movement encapsulates the optimism that society in the early 20th century held, despite the turbulence of the period. Though that optimism died down, it is necessary to learn it to frame our own future course.
Art Deco Kerala: As a designer, we're creating space, when we're dealing with 'space' we cannot disregard the 'time', both are intertwined. We need to be aware of where we're from (what has happened in the past and so on) and where we stand, which in turn helps us to navigate where we should head.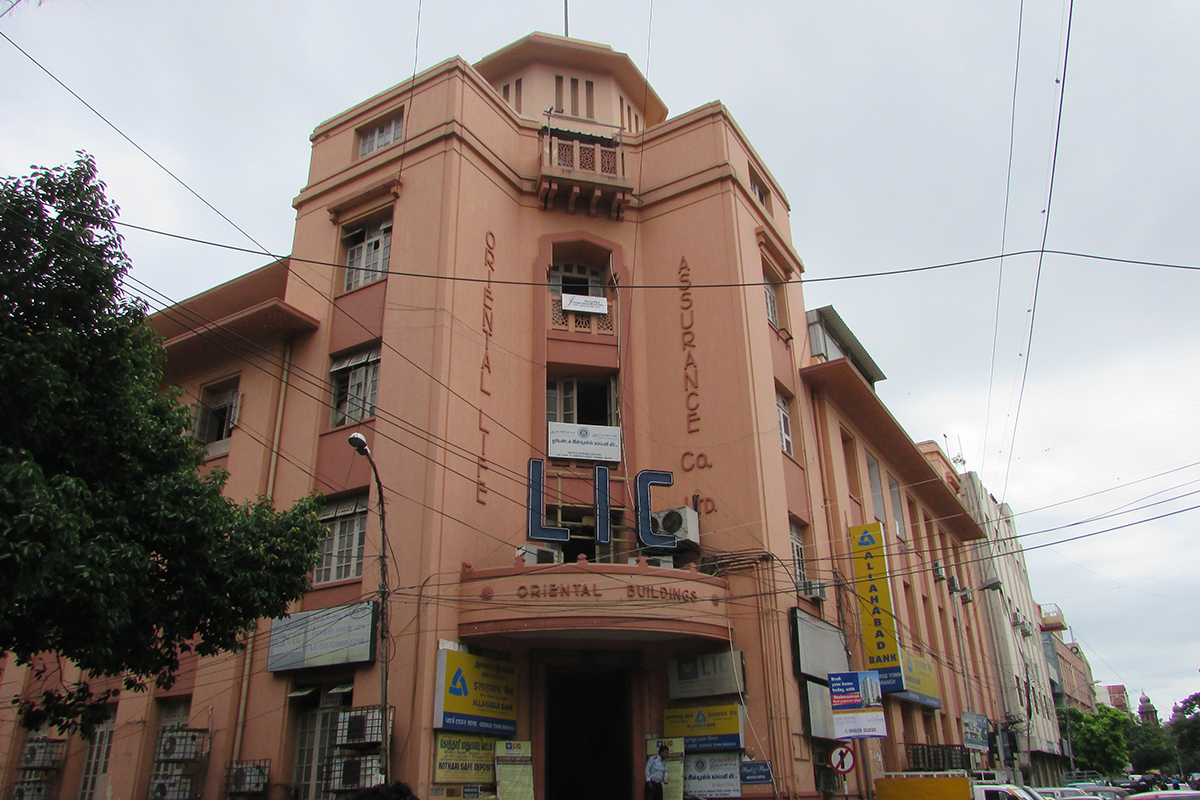 Oriental Insurance Building, George Town, Madras (Image © Art Deco Madras)
Megha Balooni: What are your thoughts on the Art déco movement in the 21st Century? How do you feel designers have kept the spirit of Deco alive?
Art Deco Delhi: I believe we are in very exciting times, where communities are choosing to be a part of the entire design process of their built environment. And it is these same people who have kept the spirit of Deco alive – when I see a detail on the side of a building, or a curved balcony, a jaali pattern – I'm intrigued by the ability of design to travel with such fluidity across borders and find its appreciation and use in some tiny nook of a city.
Art Deco Kerala: Recently I'm seeing a reemergence of Art Deco (elements) in newer designs, especially Interior Design / Furniture. I believe it will be more frequent and popular in the coming years as new designers are exposed to these newfound archives of Art Deco from across the world. Also, we need to remember the emergence of Art Deco after World War-I, when the world was devastated and looking forward to a future with nostalgia for the past, we're in somewhat a similar position in a Post COVID world hoping for an egalitarian future.
Art Deco Madras: Art Deco Movement started in Bombay with the establishment of the Art Deco Mumbai Trust, with a primary focus of chronicling, documenting and advocating the conservation of the Art Deco Buildings of Bombay. It gives me great happiness to have had the chance to work in their team during the initial stages. It gave me a lot of perspective and in-depth understanding of the style and the possibility of research. Art Deco Mumbai Trust has also inspired many other cities to start documenting their respective Art Deco buildings and elements. The effort to conserve this 20th century style has grown into a pan-Indian movement and has been instrumental in education and outreach.
Art Deco style is still visible in many premium products of jewelry, furniture and lifestyle objects. The patterns are also used in wallpapers, carpets, rugs and so on. But as an architectural style, Art Deco has in a way been over-shadowed by modern and ultra-modern designs of recent times.
Broadway Theater, Madras (Image © Art Deco Madras)
Delhi Parsi Anjuman Dharamshala, New Delhi (Image © Art Deco Delhi)
Megha Balooni: How has the support of Instagram/ social media platforms helped build a community for you?
Art Deco Mumbai: Our pages across social media platforms have drawn in Deco enthusiasts from all over the country and the world. The photographs we share strike a chord, especially with those who have fond memories of the city and its neighbourhoods. We have the highest engagement with the 24-45 age group – they weren't even born when this urban evolution took place. We have successfully brought a sensitisation and appreciation of the city's Deco to the fore in their mind space and they have responded with curiosity and an enthusiasm that has been overwhelming. That's the first step in enabling conservation.
Social media outreach has been especially valuable for connecting us with residents of Art Deco buildings and also the families of architects who designed them. We have built a community of Deco enthusiasts that not only appreciate our work but also contribute to our efforts by drawing our attention to undocumented Deco gems across the city and donating precious archival material.
Art Deco Calcutta: Social media has been very helpful for me personally; it has allowed me to get in touch with heritage activists and art deco enthusiasts within my city and around the country as well as the world. In some cases, posting the pictures of buildings on Instagram have also yielded unexpected contacts with the building owners or past residences who have come up with interesting anecdotal stories which have added to my documentation work.
Art Deco Madras: For a fairly new initiative that Art Deco Madras is, I have been fortunate to get support from all my fellow Art Deco initiatives from various cities. Instagram is a very useful tool in creating stories/content through photographs and this has paved way for the first step of Art Deco Madras. I am soon looking at having a team and creating content more regularly and eventually having a website that could be a go-to space for all things Art Deco Madras. At that point I would be able to talk about building networks in the form of a heritage walk, etc.
Art Deco Kerala: There are dozens of Instagram handles and Websites which document Art Deco from across the world, Ranging from the USA, UK, Russia, Canada, China, Japan, Philippines, Pakistan, Malaysia, Singapore, Indonesia, Argentina, Romania, Iran, Egypt, Turkey, Australia, Mexico, France, Guatemala, etc.
Also, we recently started a small collective called Art Deco India Collective by the initiation of Art Deco Mumbai and started organizing and sharing our findings once in a while via video conference.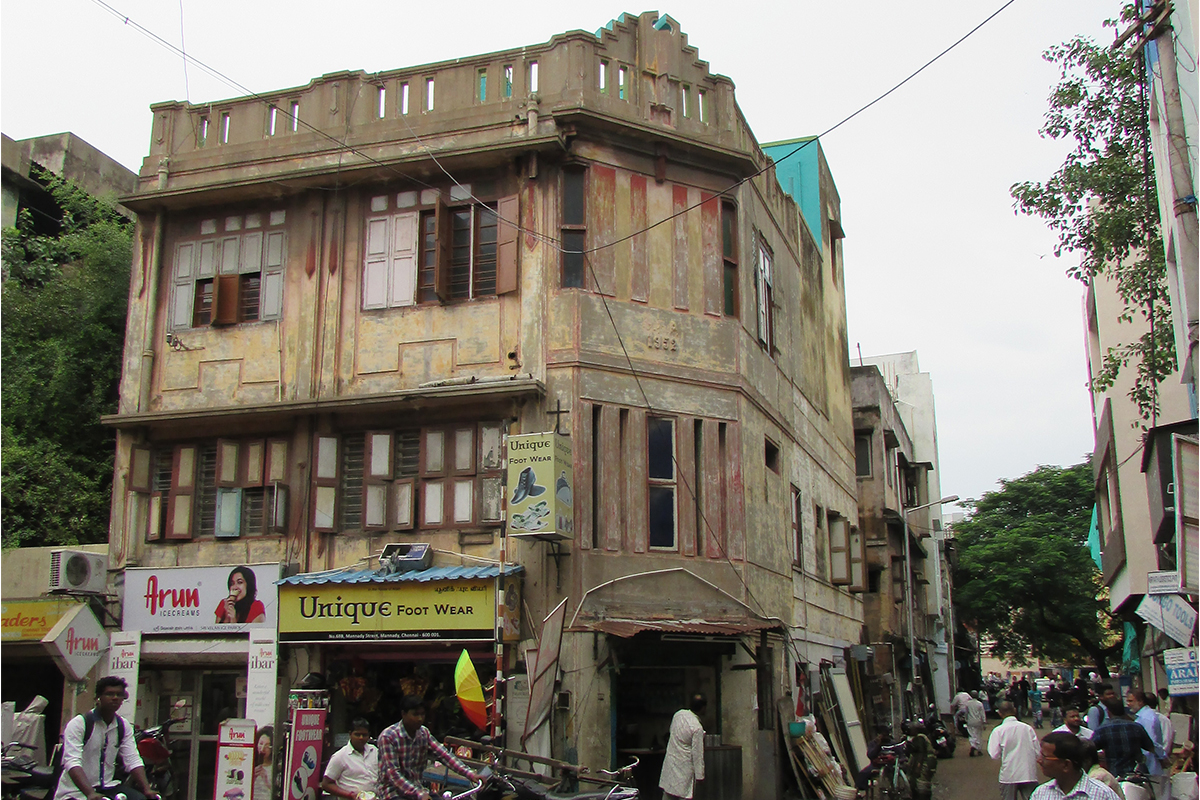 A residential building in George Town, Madras (Image © Art Deco Madras)
Head Image: Commercial Complex in Chandni Chowk, Delhi (© Art Deco Delhi)
Other Images © As Mentioned