Chorus & Partners organises the "Archi Talk 2021" about "Resilience: Post-carbon built environment"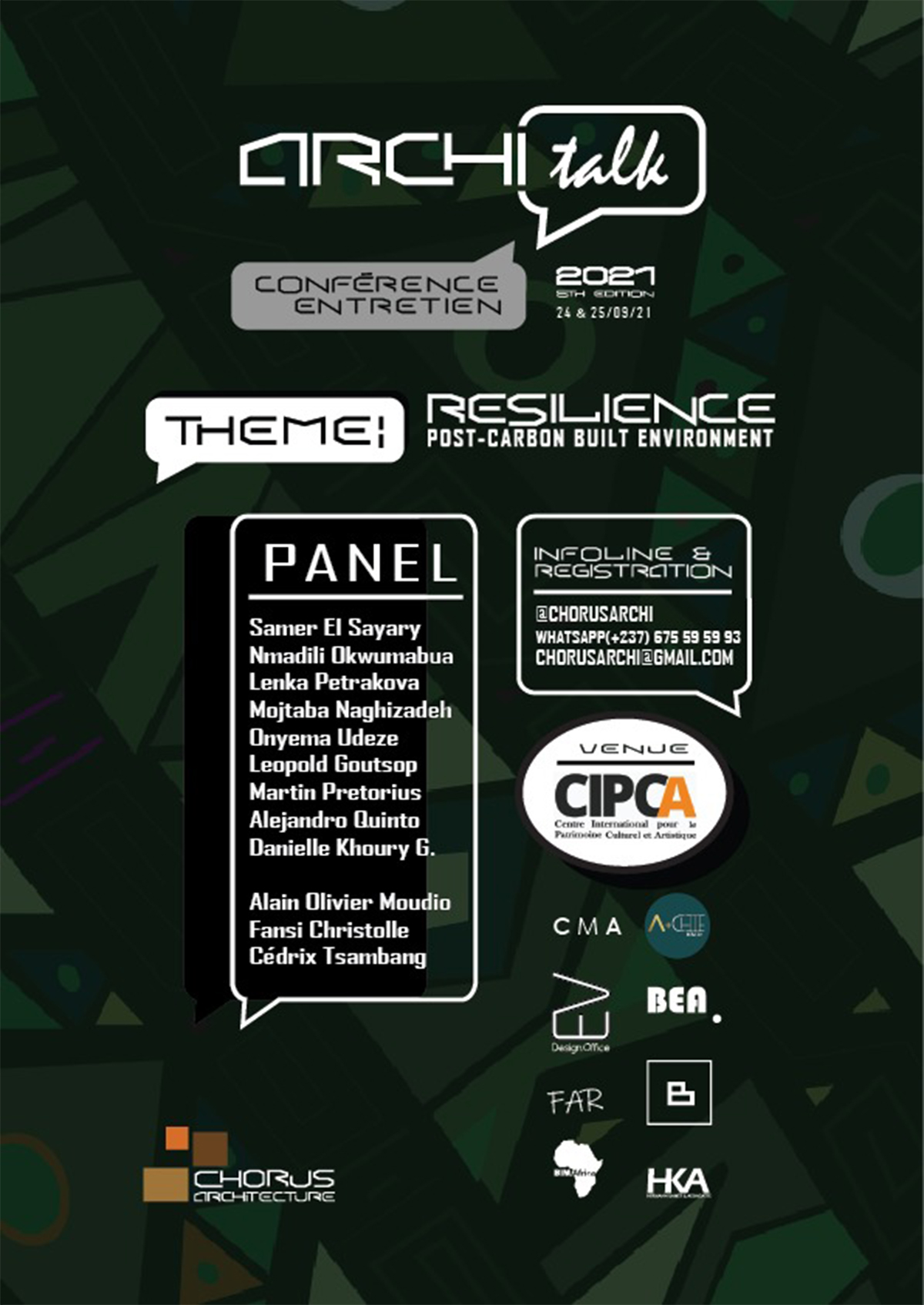 Initiator
Chorus Architecture (CA), a multidisciplinary group working in the fields of architecture, design, planning, landscape, education, health, urban agriculture, upcycling, research and connected domains founded and led by Cédrix & Christolle TSAMBANG, a young couple of award-winning architects Cameroonian, reinventing right-tech approaches, through hybrid design.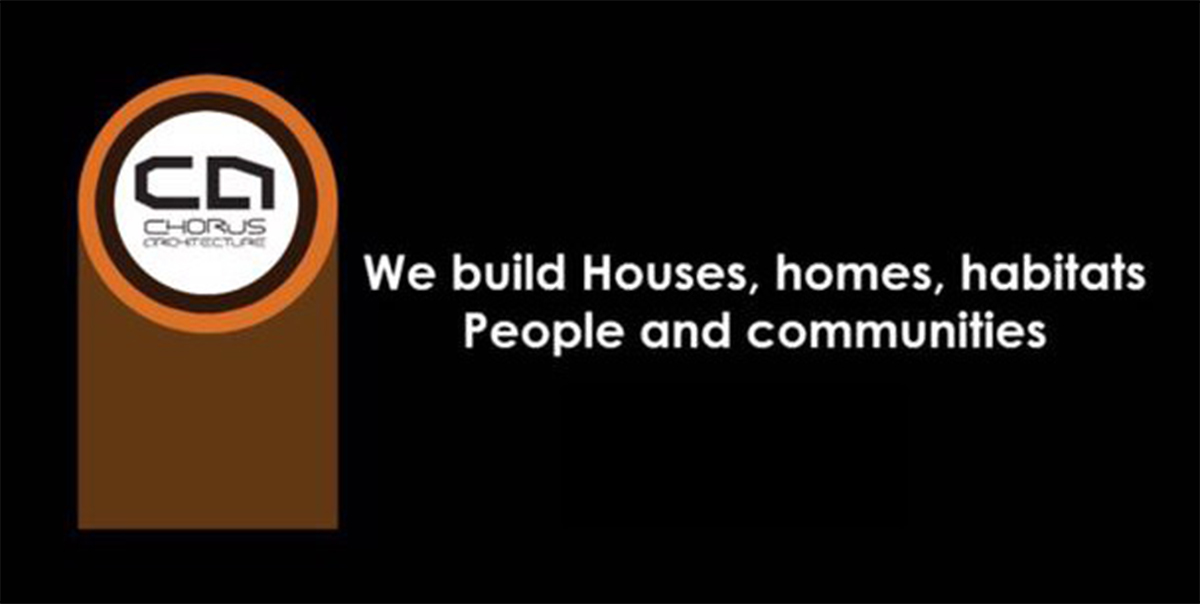 Chorus Architecture believes in a meeting of AI and contextual redesign of local pre-carbon artefacts. Combined with the confidence in the ability of architecture to help humanity, especially Africa, to achieve sustainability. The initiative aims to propose smart, sustainable and productive habitats and to build environments influenced by green and blue economy methodologies.
What is Archi-Talk?
Archi-Talk is a round-table type of international conference that focuses on innovative conceptual and/or pragmatic profiles, initiatives and practices - where design is used to solve the problem. It is conceived as a launching pad for an annual series of online discussions on good references and trendy topics borrowed from climatic and environmental emergencies in the objective through the concept "save by design" is to participate in the conceptualization of the world of tomorrow.
Archi-Talk's objective is to encourage new voices, plurality in the composition of the inhabited space, and to help develop effective, unique and sustainable design approaches linked to both materiality and cultures and heritage. The main goal is to empower young architects in their social role and to help their work to innovate beyond trends and standards and to reconcile the art of building with technology and ecology while the world embraces artificial intelligence. This year will mark the 5th edition of archi talk.
Resilience: Post Carbon Built Environment
If carbon emissions keep increasing, global warming will attend 5 by the end of the century which will result in the destruction of 95% of the planet species in 2070. That's only part of the reasons why mindsets must shift.
Post carbon must stop to be a continuous trend. Unlike many other initiatives, focusing on waste management, transport, energy, nutrition…, we believe there is a hope beyond the economic growth boosted by Carbon emissions, and that a sustainable built environment is the way we must go toward radical conversion, with pragmatism attached to the urgency and a survivalist essence tending to idealism.
The conference will be divided into several sub-themes:
PANEL 1

: The future of housing humanity at the heart of urban development

PANEL 2

: Cultural plurality at the centre of change new lines of local aesthetics in the era of plurality and cultural differences

PANEL 3

: Towards green and smart patterns humanity beyond known or new design borders

PANEL 4

: The future of cities data science, IT & AI influencing green cities development
Guest speakers:
SAMER EL SAYARI, Arch. PHD, (University of Alexandria)

NMADILI OKWUMABUA, Founder, CPDI AFRICA
LENKA PETRAKOVA, Senior Architect, (ZAHA HADID)
MOJTABA NAGHIZADEH Arch. PHD (E.V Design school)
ALAIN OLIVIER MOUDIO, Dr. Archi (CMA)
Speakers:
LEOPOLD GOUTSOP (Weart'chitect)
MARTIN PRETORIUS (Workshop and Machine)
DANIELLE KHOURY GREGORIO (University of Sao Paulo / Holcim Foundation for sustainable construction)
ALEJANDRO QUINTO, (Yeme Architects)
Some words from Cédrix Tsambang, Founder and lead architect at Chorus, Archi-Talk 2021 conference coordinator:
The world is facing many challenges, from the hazy nebula due to the effects of climate change, to the health and security crises...! We seem to converge on a point of no return, where the uncertainty of the quality of life the next day arises with every sleep, or freedom more than ever "seems" to be held hostage by our inability to regain consciousness. We are so few but so greedy, the 21 st century will lead to a transition because we cannot continue to consume so many resources linearly while demography is increasing. For sure before 2050, it will be necessary to have anticipated and prepared the development paradigm.
Insatiable builder, it is time for the human being to return to the essence of architecture...
Let's think a resilient world, a post-carbon built environment...!
Date: 24-25 September 2021
You can register to the conference on this link.
Location/ live: CIPCA, Yaoundé, Cameroon
Online: Day 1 link and Day 2 link.
All images and videos courtesy of Chorus Architecture.