AGi Architects reveals its Opportunity Pavilion with overlapping transparent roofs at Dubai Expo 2020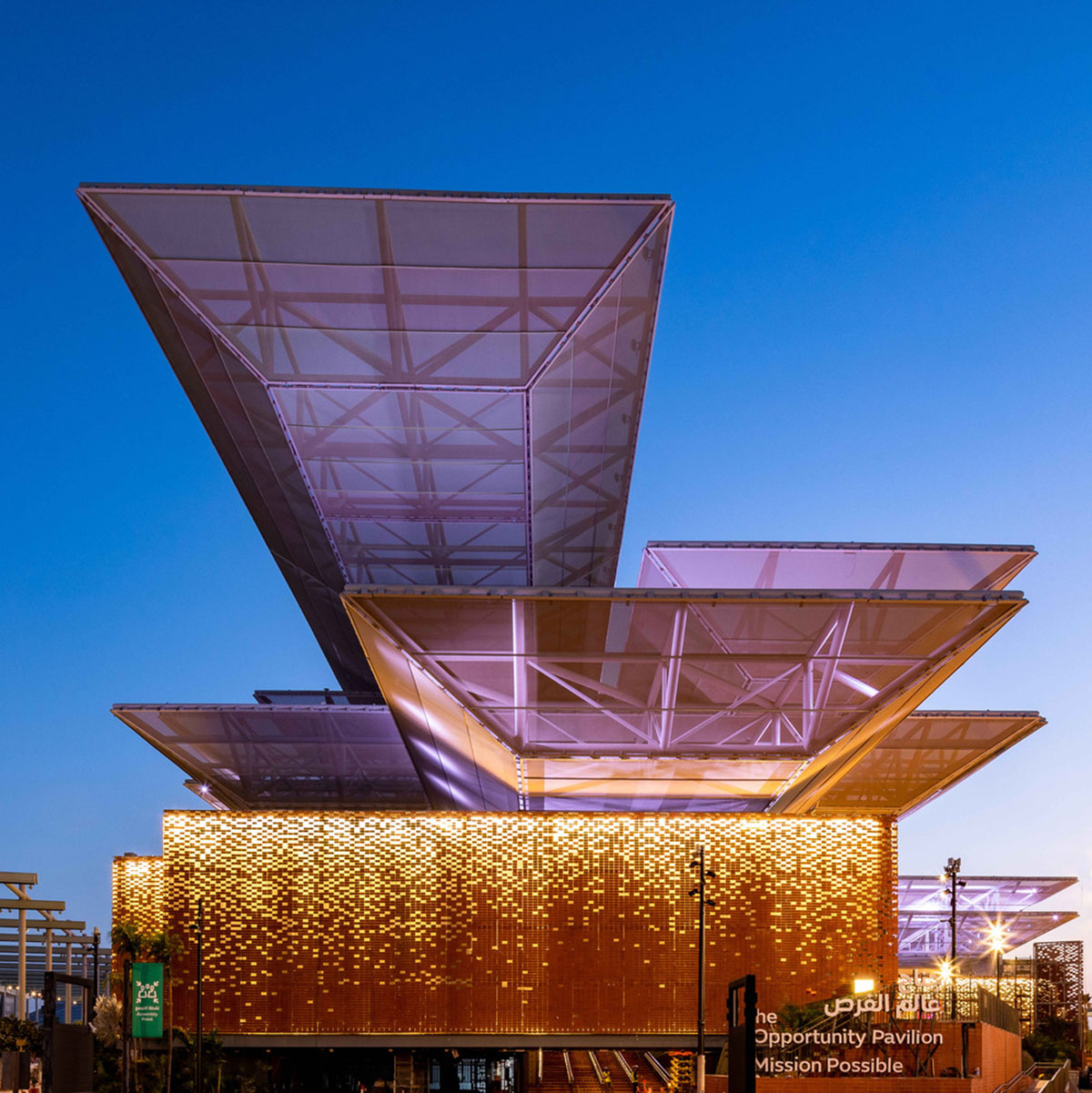 Kuwait and Spain-based architecture studio AGi Architects has revealed its "Mission Impossible - Opportunity Pavilion" at the Dubai Expo 2020 which has opened to the public today.
The project, highlighting a positive change through its large plaza, was conceived as a large plaza providing continuity to the Opportunity District in which it is located.
Postponed for a year due to the global coronavirus pandemic, Dubai Expo 2020 has opened to the public today under strict pandemic conditions. Dubai Expo 2020 will be running until 31 March 2022 in Dubai, United Arab Emirates under the theme of "Connecting Minds, Creating the Future", with three sub-themes Opportunity, Mobility and Sustainability.
As AGi Architects emphasizes, the Opportunity Pavilion aims to "examine how to unlock the potential of people and communities to create positive change for people and the planet."
Designed as a cross-cultural engagement for a positive change, the pavilion creates a large public plaza featuring six overlapping floating roofs made of textile fabric and metal profiles.
Beneath the roofs, the pavilion is covered by shimmering orange-colored tiled façades, while the ground is covered by terracota tiles. Composed of two main structures - one pavilion, and other is roof, the pavilion creates "a floating effect" in the air thanks to its transparent structural integrity.
The plaza offers a large public space that allows each visitor from all corners of the planet and from all walks of life to connect through age, language and culture, working together to achieve a significant and positive change for our planet.
"The idea that any action we take can create an impact; that everything is possible with a small step," according to the studio.
Thanks to its fabric used in the roof, the roof structures also help to reduce direct sunlights coming to visitors circulating within the pavilion. Including a canopy, floating 32 meters above the ground, it also reflects dreams that people aspire to achieve.
The roof structures allow to play with light and shadow, colors and textures, while transform people's movement inside to another level.
Dubai Expo 2020 masterplan was designed by HOK, while two other thematic districts are designed by world-renowned studios: the Sustainability Pavilion "Terra" by Grimshaw Architects and the Mobility Pavilion "Alif" by Foster + Partners.
Es Devlin's cross-laminated timber UK Pavilion, Asif Khan's giant entry portals, Santiago Calatrava's UAE Pavilion and WOHA's Singapore Pavilion are among other pavilions worth to visit.
Expo 2020 Dubai has opened today, 1 October and will be on view until 31 March 2022 in Dubai. You can see other pavilions on WAC's United Arab Emirates country page.
All images courtesy of Expo 2020 Dubai.
> via AGi Architects