BIG envisions "new city in America" that can house five million people
Bjarke Ingels Group has revealed design for a new masterplan for American entrepreneur Marc Lore. The masterplan, called Telosa, is envisioned to house five million people over the next 40 years to be built on a 150,000-acre site from scratch in the US desert.
Described as "a new city in America", the new plans were announced on Telosa's official website and BIG's website. The Telosa masterplan is aimed to "set a global standard for urban living, expand human potential, and become a blueprint for future generations."
Although there are a few renderings released on the official website, the first rendering gives a clue of what type of a city will welcome its residents, such as prioritized streets for bikes and pedestrians, slow-moving autonomous cars, nature-and infilled infrastructure.
The masterplan will offer "diverse housing options" accessible for all, abundant design of green spaces, public spaces, training centers, cultural institutions, and retail spaces spilled out onto the street where shaded public spaces encourage residents to come together.
At the heart of the masterplan, an irregularly-designed tower, called Equitism Tower, rising from the lush central park of Telosa, will be a beacon of the city.
"The inviting civic and lookout areas bring visitors and residents together. A photovoltaic roof, elevated water storage, and aeroponic farms enable the structure to share and distribute all it produces," stated in Telosa's website.
"The mission of Telosa is to create more equitable and sustainable future," Marc Lore said in an Instagram post.
"What we are trying to is to combine some sort of the best of different cities of the world bringing together. So if you can think about Telosa being as vibrant and diverse as a New York city, combined with efficiency, safety and clever city like Tokyo."
"There's a finite amount of land and that land was claimed generations ago — communities were created, tax dollars were used to invest in the land, and therefore the land increased in value over time with landowners not having to produce anything or take any risk," Lore said in Telosa's website.
"Land could essentially go from a barren piece of desert to a modern day city worth billions (or even trillions!)."
"It got me asking even more questions and thinking about a potential solution. What if that land had been owned by a community endowment? What if you took that land appreciation and gave it back to the community since they created the value? At first glance it seems impossible to turn back the clock and have a do-over."
"The land was claimed. But there's plenty of land left —What if we had a clean slate to demonstrate this new model?," Lore continued.
Describing Telosa as "the most sustainable city in the world", Lore added that "once I thought through the Equitism model, I realized there was an opportunity to build a new city from scratch to demonstrate how that model could work."
"From there, my focus turned to making Telosa the most sustainable city in the world. From global warming to water and energy — How can we do better for future generations? And what technology and other innovations in policy and design can we embed in the city that is only possible because of the fact that we're building it from scratch?."
"Just imagine what's possible with sustainable building materials, autonomous vehicles, electric aircraft, and underground movement of materials."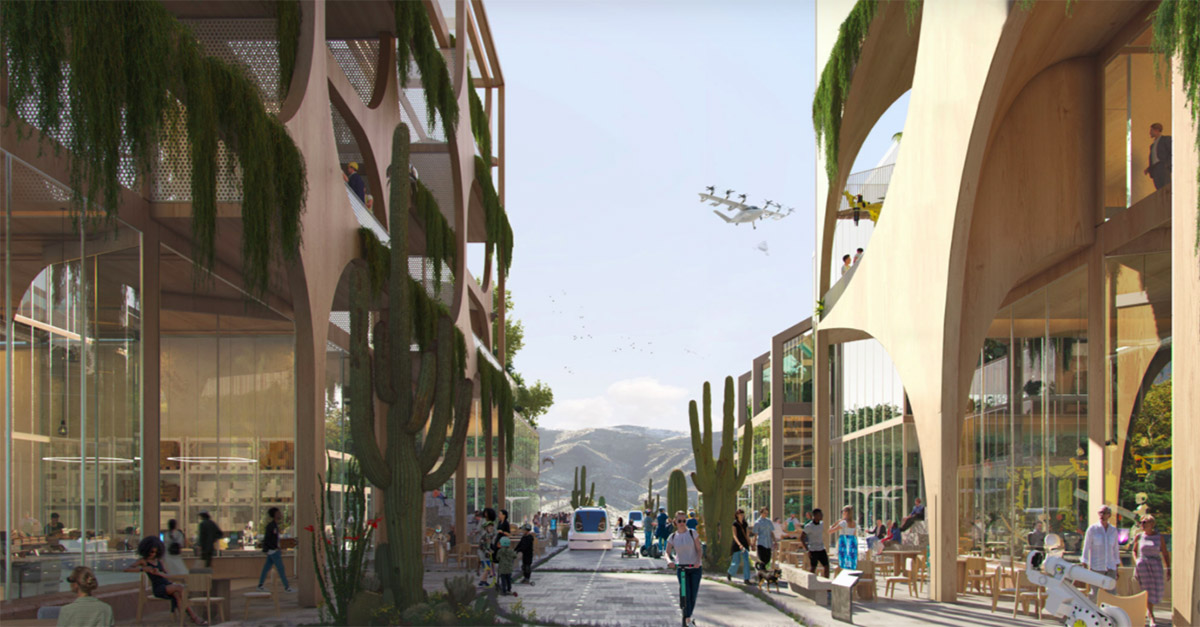 The Telosa's masterplan will start with 30,000 acres to be built within 10-20 years and is intended to expand to 150,000 acres within 40 years which will house 5 million people. The Telosa city will have a density of around 33 people per acre which is equivalent to San Fransisco's density.
First Telosa residents are expected to move in 2030.
BIG was founded by Bjarke Ingels in 2005, BIG is one of the most prolific architecture firms in the world. BIG is led by 24 partners and 57 Associates and 20 Directors. BIG has offices in Copenhagen, United Kingdom, Barcelona, New York.
All images courtesy of BIG & Telosa.
> via BIG