Minimalist farmhouse designed to blend into the wilderness of Karjat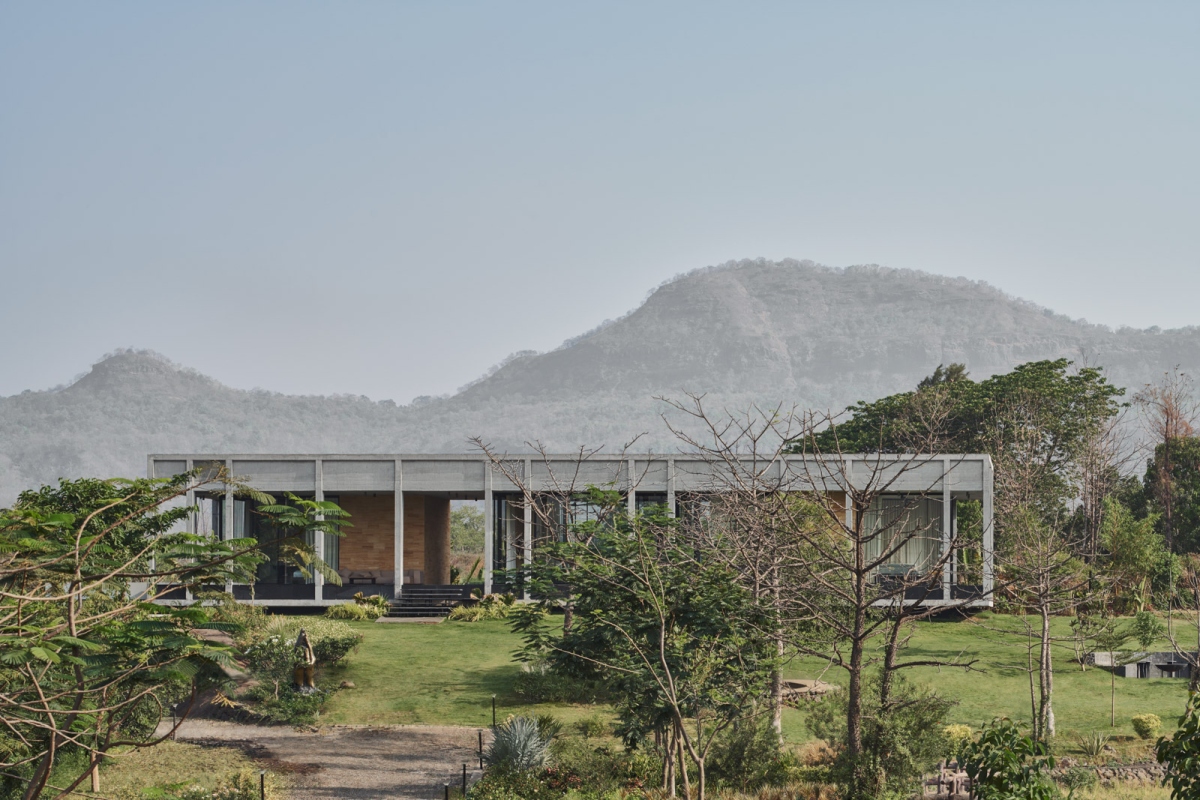 Self-sustaining environments have become the need of the hour. Architecture studio ShroffLeón has designed a contemporary home in the heart of Karjat that is now part of a fully functioning three and a half-acre farm ecosystem. Surrounded by mountains and verdant greenery, the farmstead is perched above river Ulhas and provides fresh produce to the owner's city home. The initial brief called for a pavilion to protect against the heat – a space for the family to unwind, oversee farm activities and take in the extensive view. The project eventually materialized into a two-bedroom farm stay, with two additional bedrooms in the works. Situated at the pinnacle of the site and being the vantage point, the house was named 'Mirador'.
The external concrete colonnade frames views of the river, the mountains and the farmland. The structure was designed to age gracefully, eventually merging into its surroundings. "We wanted a finish that would acquire a patina of time, iron rusts, copper becomes green, we felt that concrete in a similar manner starts ageing and in the ageing, we felt it would blend into the backdrop a lot more," explains Kayzad Shroff, co-founder of ShroffLeón. Apart from exposed concrete, the external façade is a mix of glass and sandstone. Locally available black limestone has been used for the flooring to keep it dustproof and maintenance-free.
Structurally, a seven-foot roof overhang blocks direct sunlight and, a white china mosaic rooftop minimizes heat due to radiation. Two thin roof slabs filled with insulation material regulate internal temperature while conserving energy.

The house is raised above ground level, with a six feet cantilever from the foundation running along its periphery. In addition to making the structure seem like it's floating, the projection keeps the arthropods prevalent in farm-living out.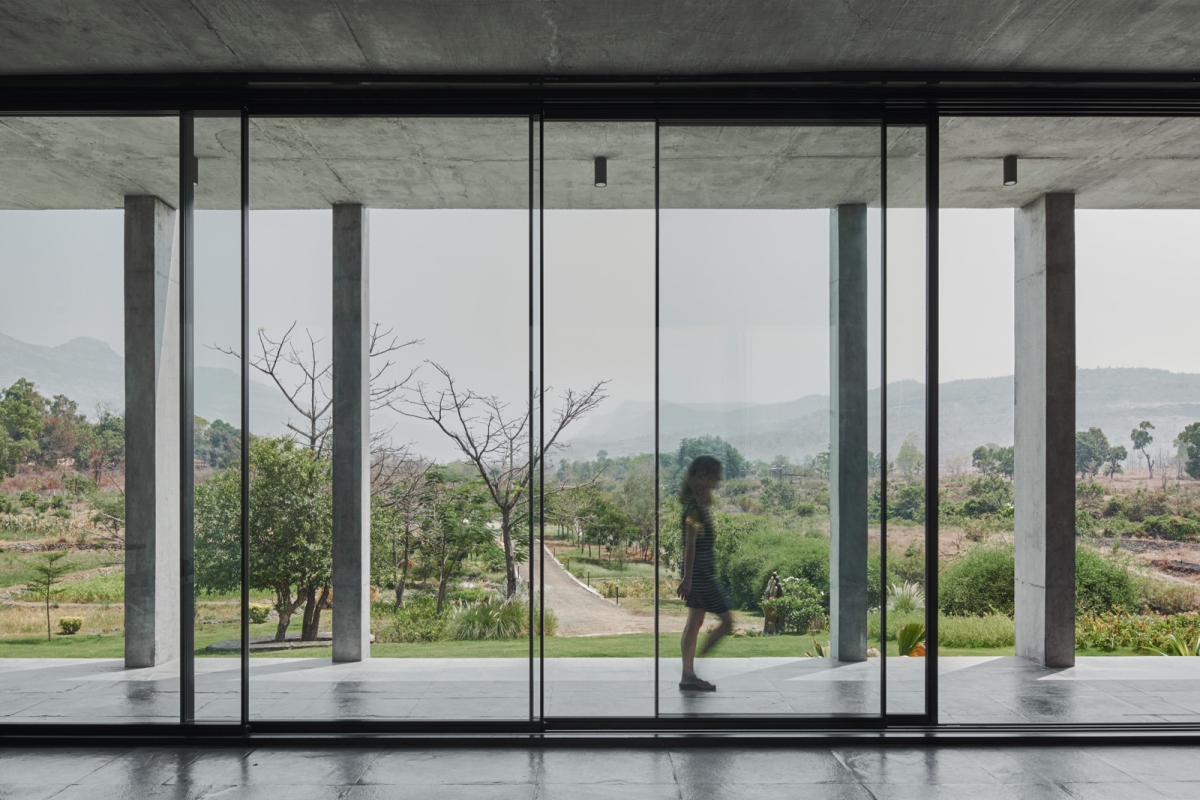 To further accentuate the view outdoors, the interiors are kept minimal. Material palette similar to the outside, the inside is finished in larch veneers, marble and natural stones. The central core serves as the living-dining area and has bedroom units on either side. An external portico encased within the colonnade connects these spaces and extends towards the infinity pool, offering panoramic views of the mountains beyond. The landscape was intentionally left untouched to be part of the cycle and age and change alongside the house.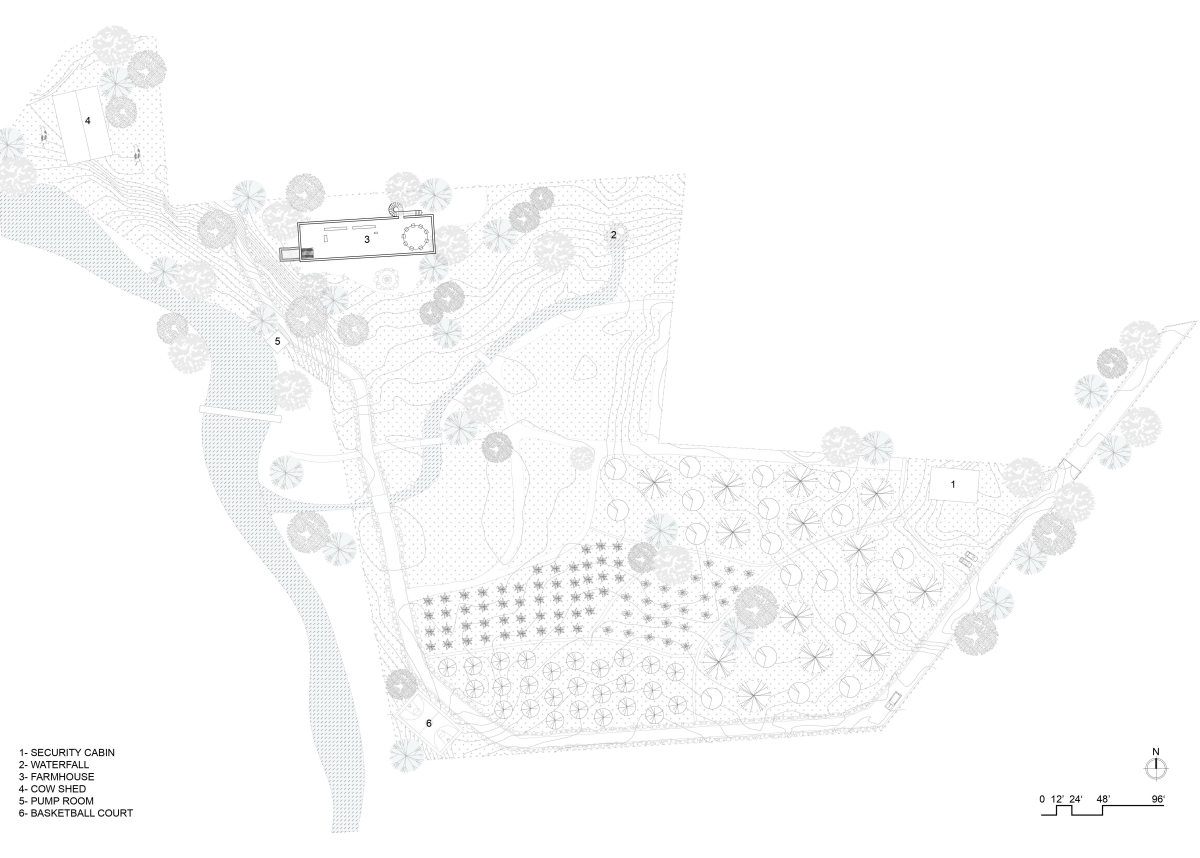 Site plan. Image © ShroffLeón
Floor plan. Image © ShroffLeón
All images © Suleiman Merchant, courtesy of ShroffLeón.
> via ShroffLeón