Share your best architectural visualizations at the 2021 World Architecture Festival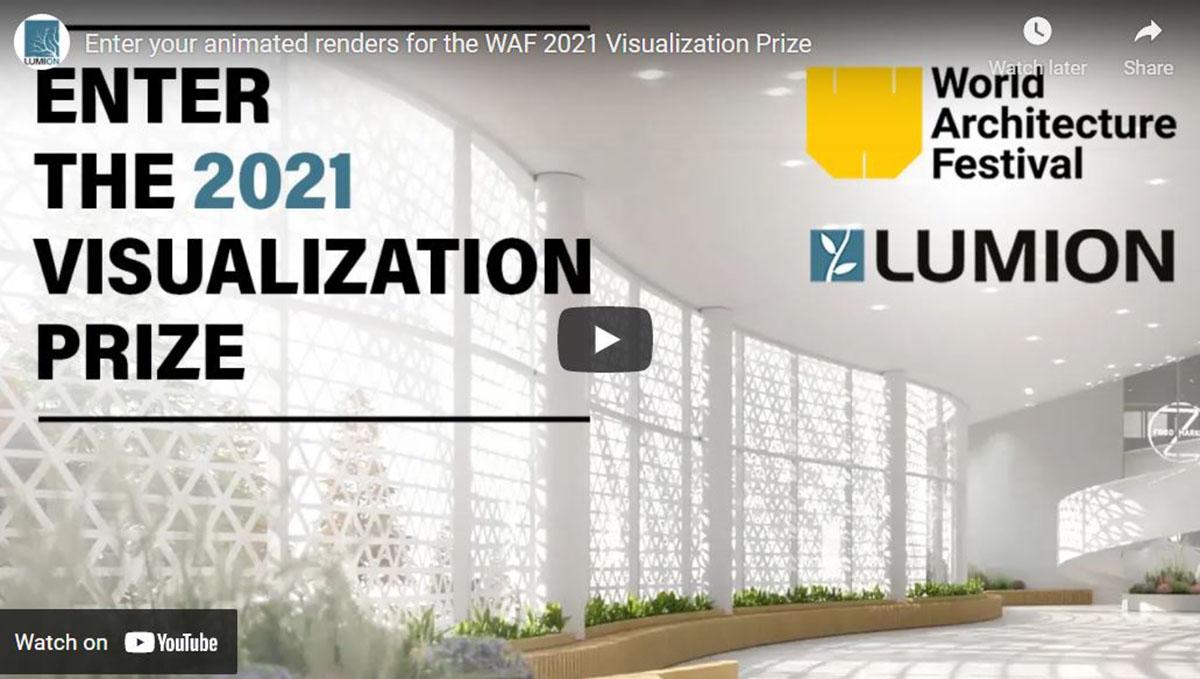 The World Architecture Festival (WAF) and Lumion are celebrating the best-in-class architectural renderings with the 2021 Visualization Prize.
Submissions are open until October 22nd and live-judging takes place at WAF 2021 in Lisbon, Portugal, on December 3rd.
Over the past few years, creating architectural visualizations has become an integral part of the design process. No longer is it reserved solely for the big client presentation, as the practice of rendering has given architects more options for creative expression and a more compelling method of communication to a wider audience. With the array of visualization tools today, architects are empowered to better explore and develop their projects while, at the same time, making sure their ideas are clearly understood and appreciated.
To celebrate the impact of rendering in architecture, Lumion is sponsoring the annual Visualization Prize at the WAF 2021 event in Lisbon, Portugal. Submissions for the 2021 Visualization Prize are open to architects and visualization artists who worked on a project with an architecture firm.
If you meet this requirement as well as the other submission criteria, you can take part in this exciting chapter by sharing your digitally rendered videos in one of the industry's most prestigious events. Winners of the WAF Visualization Prize will have the opportunity to showcase their work in front of an audience of top architects from around the world.
"Visualisation is the inevitable and essential benefit that technology offers to designers, and of course their clients," said WAF Programme Director, Paul Finch. "It is also the welcome method of communicating to a wider public."
By bringing the worlds of architecture and visualization closer together, the 2021 Visualization Prize highlights the way that video renders can help architects tell better, more compelling stories about their projects.
Plus, today's rendering tools are now more accessible and enjoyable than ever. Any architect, even without any rendering experience, can turn their design ideas into inspiring and memorable experiences. From the bigger firms to the one-person architectural practices, the art of visualization opens new possibilities for creative expression, and the Visualization Prize aims to highlight this diversity across the field — residential, interior, landscape, urban and more. No matter what CAD or rendering software they use.
The Visualization Prize will be live-judged at this year's event in Lisbon, where shortlisted participants are given the opportunity to present their work and respond to questions from the judges. Judges will be looking for videos that are attractive and professional; they should be emotional yet reflect expertise in the technical side of rendering. Finally, the video must show the design in an honest, relevant manner.
The deadline for submissions is October 22nd, 2021. To learn more about the Visualization Prize and the World Architecture Festival, you can head to their website.
Top image courtesy of WAF.
> via WAF