Colectivo C733 uses triangular-trapezoidal umbrellas on the roof of Matamoros Market in Mexico
Mexico-based Colectivo C733 has completed a public market that features prefabricated triangular-trapezoidal umbrellas on the roof to gain daylight and facilitate warm air escape through these giant roof modules in Mexico City.
Named Matamoros Market, the 2,868-square-metre market is located at a residual plot of a residential area in the outskirts of Matamoros city in Tamaulipas, México - Matamoros, is a city in the northeastern Mexican state of Tamaulipas.
Vernacular construction techniques hugely take place in Northeastern Mexico, the area has a naturally defensive character and resource economy based on these local techniques, as the team noted.
Giant trapezoidal roof system makes this market distinguished as the building also offers its own climatic conditions for thermal insulation and air circulation - which was solved with a strong architectural language.
As the architects highlight, "the need of protection against hot climate and the lack of humidity derived in solid archetypes of massive proportions."
"The use of inner patios, local materials, crossed ventilation, orientation and façade density to protect from direct sunlight are some of its principal characteristics."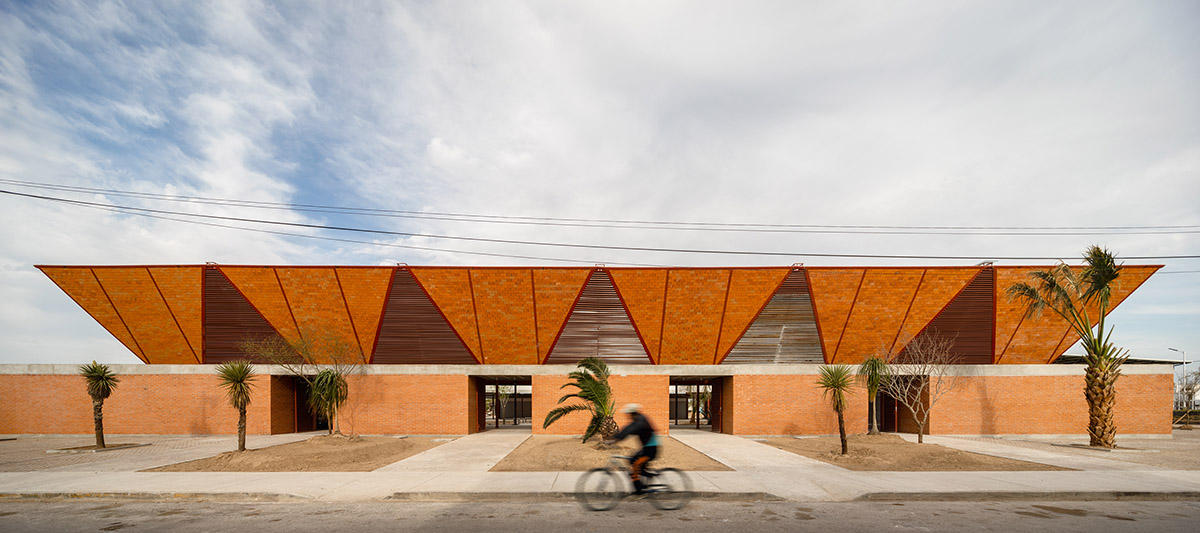 Matamoros Market was designed by Colectivo C733 - composed of a group architects; Gabriela Carrillo, Carlos Facio, Eric Valdez, Israel Espin, José Amozurrutia.
The team designed this market in response to a competition's call to create replicable projects for a number of public facilities initiated by SEDATU (Secretary for Urban and Territorial Development) and hosted by the Faculty of Architecture of the National Autonomous University of Mexico (UNAM) in March 2019.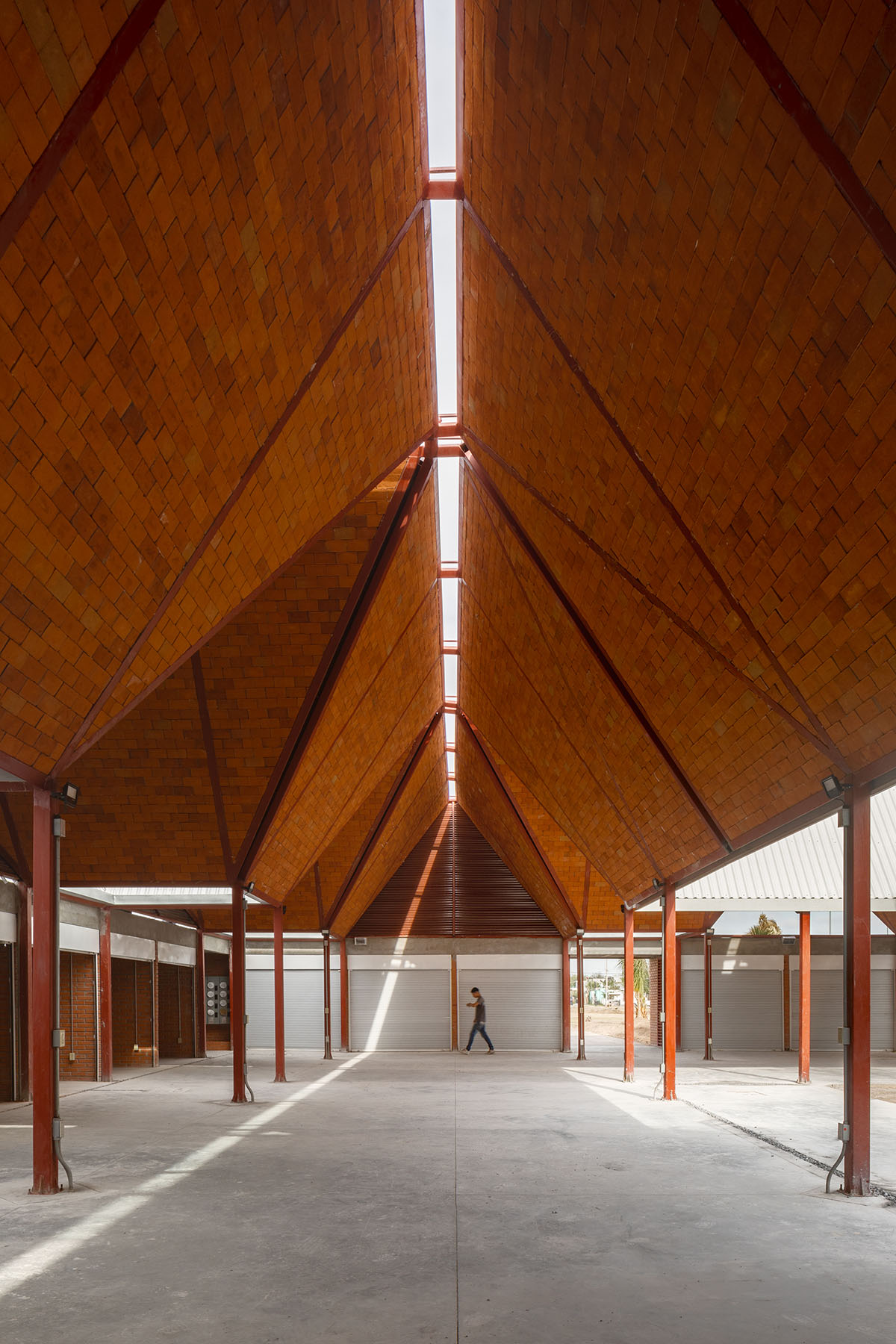 The competition called for ideas to develop prototypes in high vulnerable places in Mexico's North-border cities.
With a limited time and budget (three month for executive design and three months for construction), this market was built from December 2019 through March 2020, but the opening had not realized due to the break out of the coronavirus pandemic in April 4th, 2020.
For design, the architects aimed to offer a flexible system for the community rather designing a particular type of building. As the team explains, the building should have been capable of strengthening social bonds and a sense of belonging, evoking the spirit of the original Pre-Hispanic "Parián" markets that achieved a Square-Market perfect balance.
"For this reason, we considered three fundamental design strategies: First, constructive criteria, we reduced civil construction to 50% and left the remaining 50% for lightweight prefab techniques," said Colectivo C733.
"Second, material adaptability, in order for the proposal to be adaptable to different locations across the country. Third, spatial versatility, in accordance with its flexible spirit."
"The ambulatory nature of markets, population variation because of migration and the lack of infrastructure resources at border cities, provided the setting to imagine a mixed-use public space, with green recreational areas," the team added.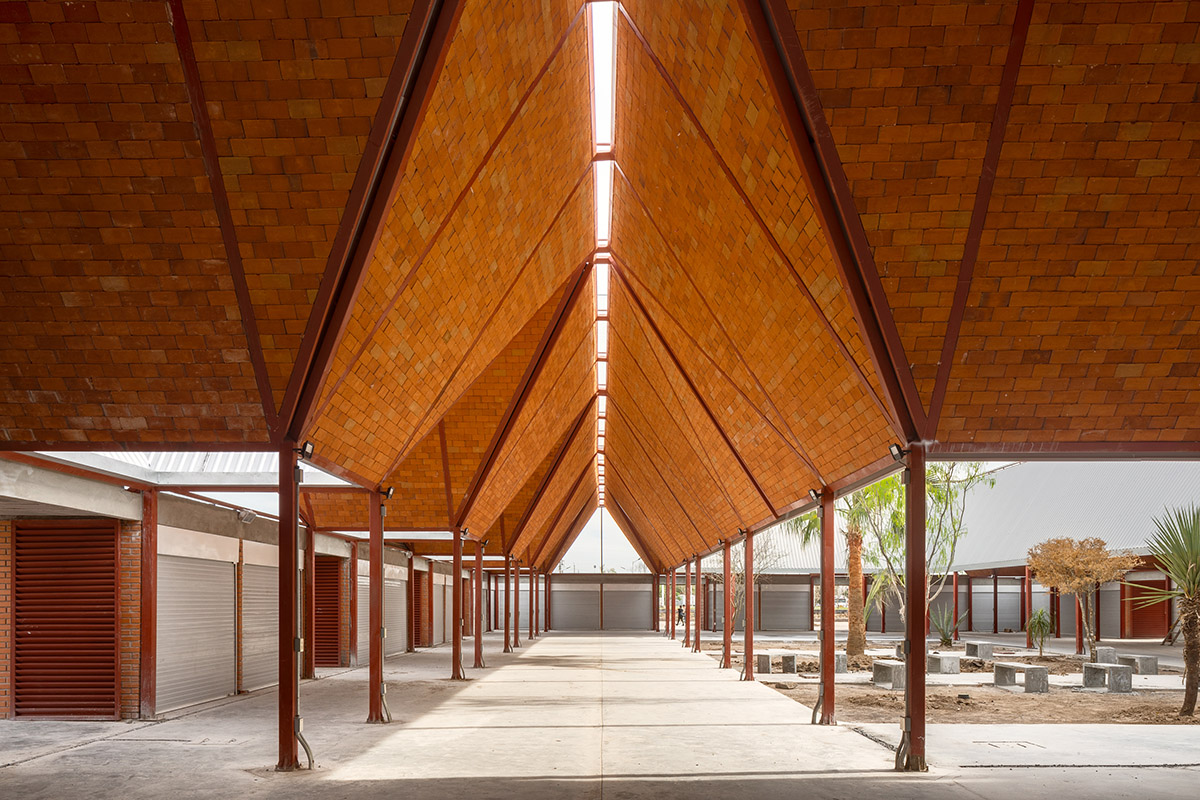 The building is set back from the street in order to make room for public squares and future gardens. The first component of the building is the wall, reminding of the solid and hermetic vernacular structures.
Its openings generate a three directional corridor system, connecting with neighboring sport and recreational venues. This perimetral structure houses forty commercial stands and the service area, serving as a backrest to protect the stands from the hottest orientations.
This brick skin is reinforced by transversal walls that separate stands and generate doorways into the main hall of the project.
The central space is described as "a hypostyle gallery" made of prefabricated lightweight structure, as the designers call them as "umbrellas".
The building's unique roof is structured with a system of triangular-trapezoidal metallic modules, clearing distances of up to nine meters and supported by five inches thick posts. These roofs are also capable of resisting against hurricanes or flooding.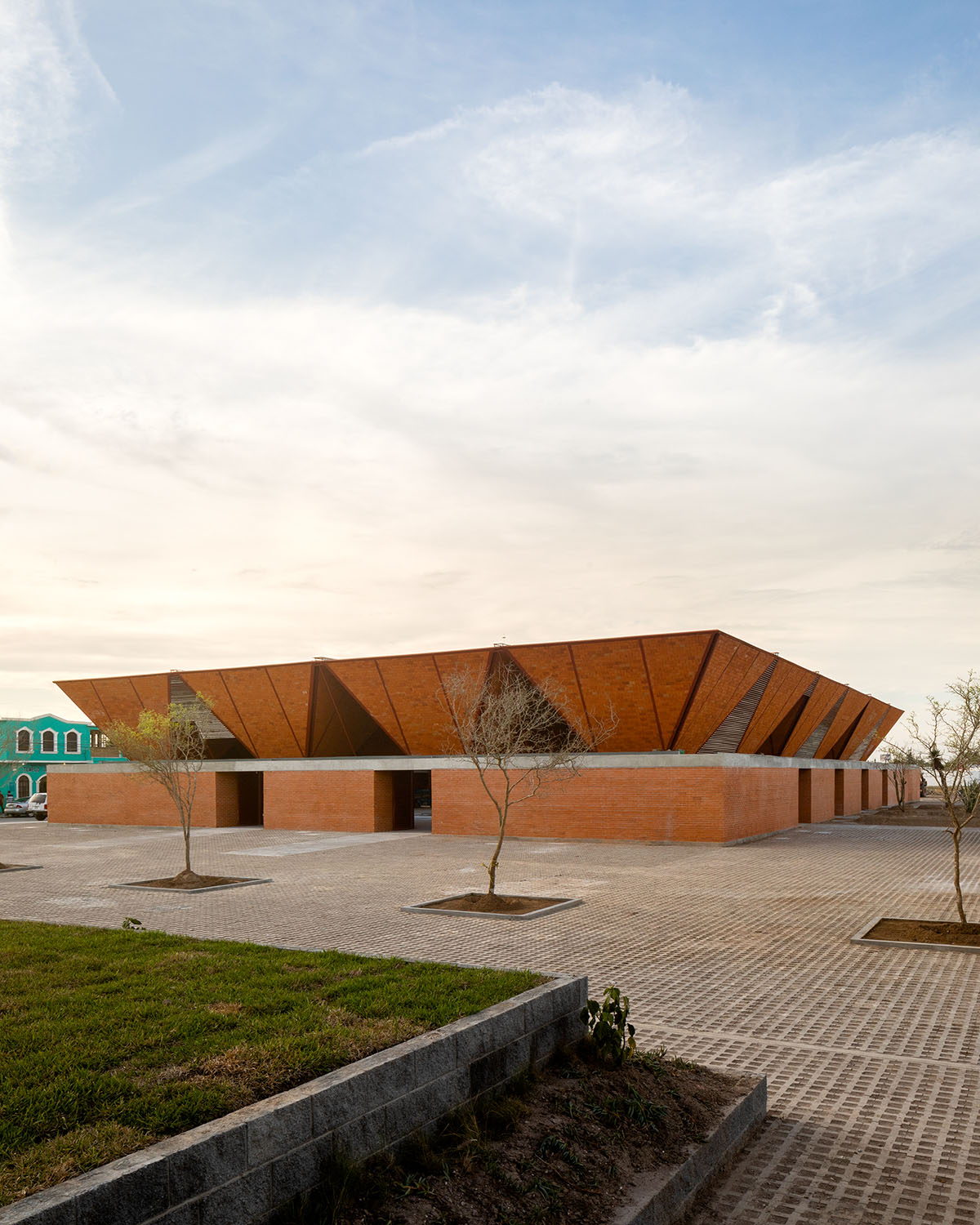 "The roof slope is calculated to reduce load-bearing and allow proper runoff for water and snow," added the team.
The constructive system of the roof is made of a lower 2cm thick layer of brick to provide thermal insulation, while the inner layer of these modules is clad by galvanized sheet ideal for rainwater harvesting and heat reflection.
Linear domes in between structural modules are designed to facilitate warm air escape and to provide proper natural lighting during the day. Another set of forty 3 by 3 meters "informal" stands, lie under this structural system that gives spatial flexibility for the community.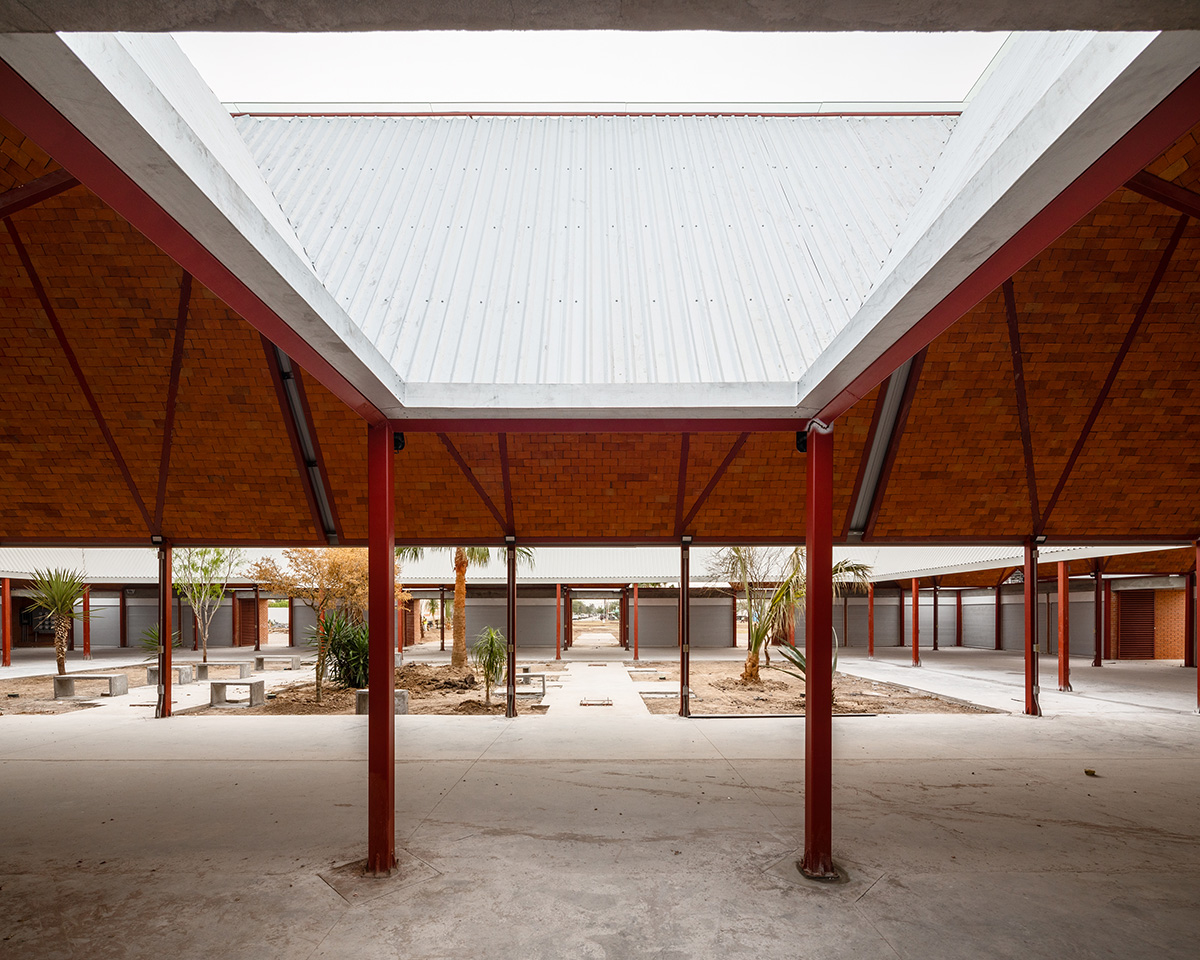 At the heart of the market there is the Oasis - a garden, made of local dry weather vegetation, is irrigated with the harvested rainwater. A flexible patio that in time will grow thicker vegetation to enhance natural shading, thermal control and provide a new silent space within the city.
"Markets are spaces not only for buying and selling daily supplies, they are a synthesis of the culture, the history of a region and of the commercial relations with its neighbors," said Colectivo C733.
"These places have historically housed all kinds of products, habits, traditions, artistic expressions, knowledge and world visions."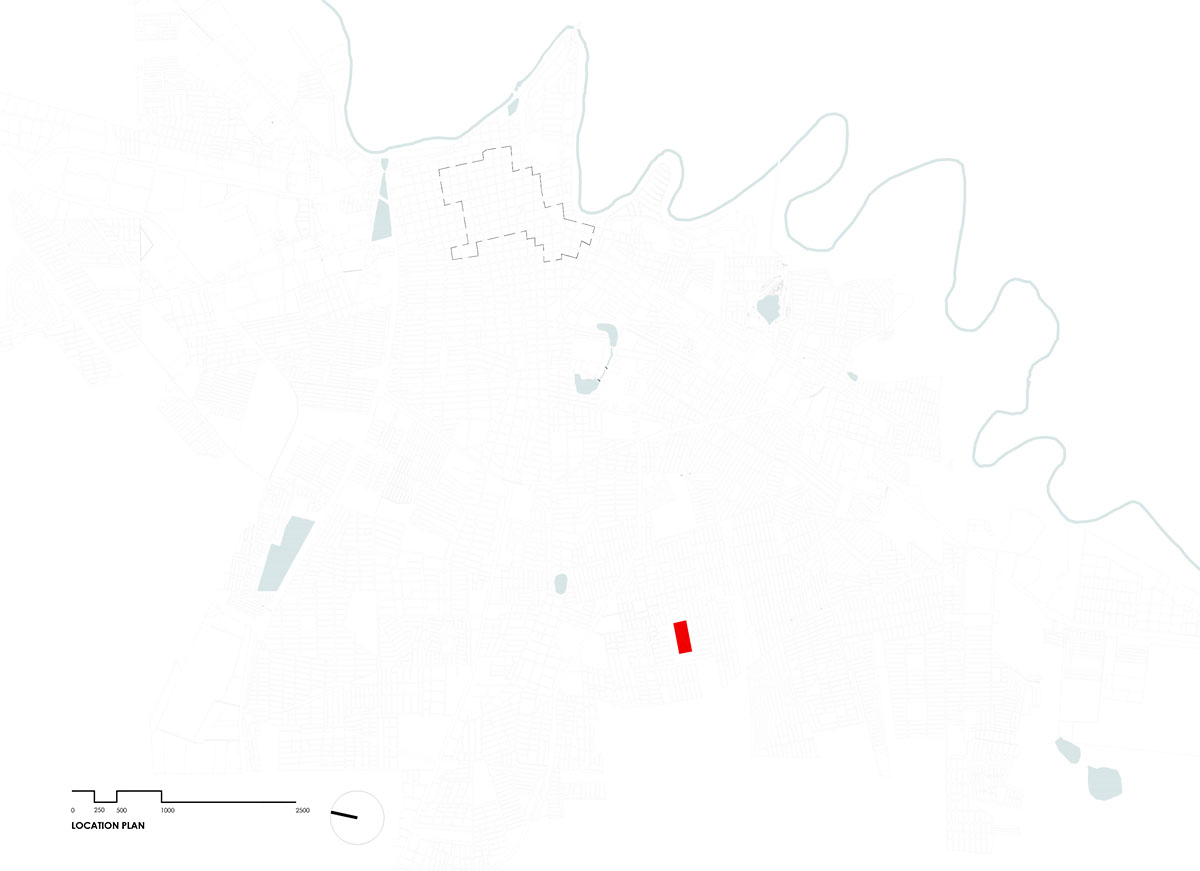 Location plan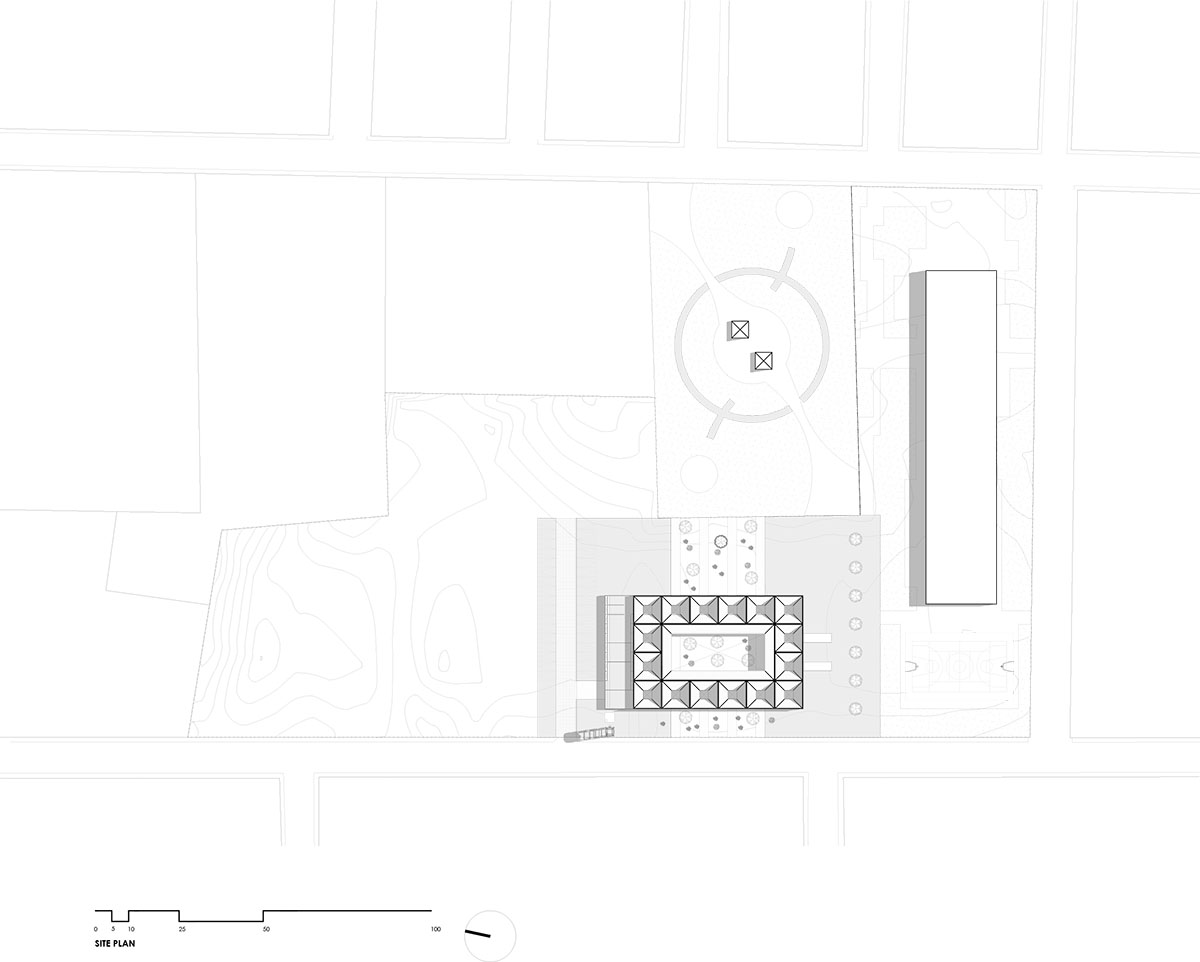 Site plan
Ground floor plan
Floor plan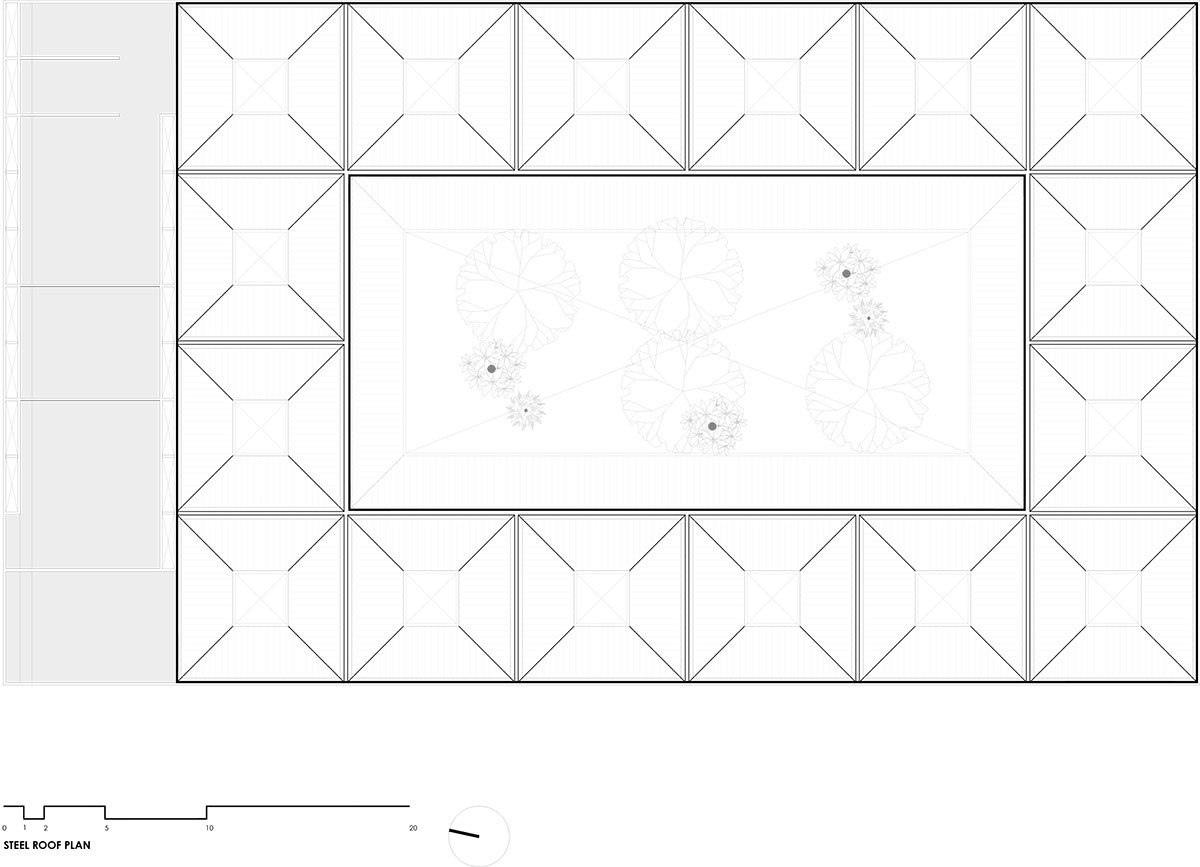 Roof plan
Sections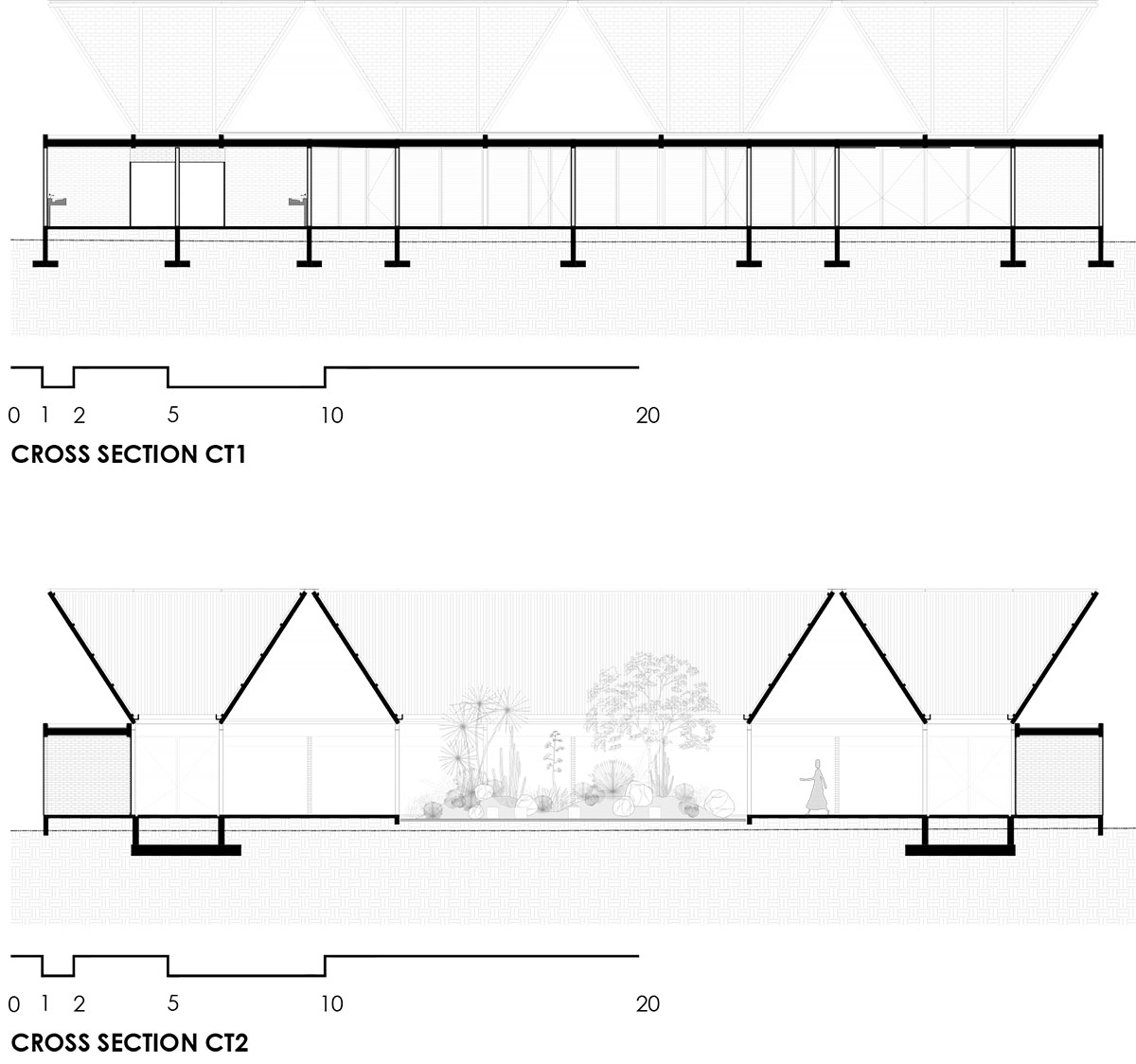 Sections
Project facts
Project Name: Matamoros Public Market
Location: Matamoros, Tamaulipas, México.
Project date: 2019
Construction date: 2020
Construction Area: 2868 m2
Author: C733 (Gabriela Carrillo, Carlos Facio, Eric Valdez, Israel Espin, José Amozurrutia) / Faculty of Architecture UNAM
Collaborators: Misael Romero, Rosendo Casarrubias, Pedro Domingues
Client: SEDATU (Secretaría de Desarrollo Agrario, Territorial y Urbano)
Structural Engineering: Gabinete de Ingeniería de Estructuras Especiales S.C.
Electrical, Hydraulic and Sanitary Engineering: Enrique Zenón
Landscape architecture: Hugo Sánchez Paisaje
Signaling: Latente Studio
3D Model: Temas MX
3D Rendering: Paul Espinoza
All images © Rafael Gamo
All drawings © C733
> via Colectivo C733