Inside of Australian Environmentally Friendly architecture: a story of Whiptail Straw-bale House
Australian housing styles have been influenced by climate considering the design of more open or semi-open spaces like balconies and veranda spaces. There are eight different major climate zones in Australia. Each zone experiences unpredictable and destructive weather with extreme winds and cyclones, intense rain, flooding and bushfire. The best response to this condition is to use passive design or building based on the site and local climate. One of the integral parts of the passive design is to choose more local and eco-friendly materials. The advantage of using eco-friendly building materials is to utilise natural ingredients to reduce non-biodegradable waste and decrease carbon emissions. An example of an Australian building without power tools and with materials sourced on-site is Tuntable Falls Primary School built with large recycled timber. Tuntable Falls School has been established in 1981 by families living in the Tuntable Cooperative Community. The school's photos are presented below.
Image © Rob Price
Image © Parisa Ziaesaeidi
Additionally, preference to use local materials can benefit both local economies and the national economy. As we know, using the extraction of raw and new materials causes an increase in the level of carbon emission across the globe and impacts the environment. Therefore, the best way to promote recycling and efficient usage of raw materials and lower carbon emission is to switch to a circular economy. The term "circular economy" defined as the closed-loop system with a focus on eliminating waste by reusing, recycling and refurbishment of equipment, machinery and infrastructure, and products for a longer duration. One good example of considering this sustainable approach in Australian architecture could be Whiptail Straw-bale House.
Regarding the use of more local and eco-friendly materials, one of the oldest materials used to build homes in Australia is straw-bale. The general availability of straw-bale in Australia is good. In many settled parts of Australia wheat or rice straw supplies is available within an hour. This local and eco-friendly material is made from leaves of many cereal crops and dried stalks, minus the seeds. As it comes from trash, it is a low-cost and undeniably great building material.
Within this context, Whiptail is a recently completed straw-bale home as a symbol of using more environmentally friendly materials. The house sits on the west-facing slope of the Border Ranges with living spaces oriented to the north to capture winter sun through large recycled timber doors. The house is built over 5 years with help of a group of volunteers from the Wild Mountains Centre. The main features of the building are the use of second-hand timber wall lining and flooring build, and recycled windows and glass bricks.
Image © Sustainable House Day
Image © Wild Mountains Centre
Image © Wild Mountains Centre
Image © Wild Mountains Centre
In order to capture the winter sun, a large living space with a high raking ceiling under the skillion roof is designed. In addition, to get the morning sun, two bedrooms along the east side have high windows and glass bricks to the hallway to borrow light from the main living space and rooms opposite.
Image © Sustainable House Day
Energy-efficient light fittings consist of bright-green downlights and custom-made pendants from salvaged materials. Also, using a composting toilet and greywater from the solar-heated shower has helped to reduce rainwater consumption.
Image © Sustainable House Day
Image © Sustainable House Day
Furthermore, recycled timber is one of the most sustainable sources of wood available in Australia. The fact that this material has been reused for a second purpose instead of wasting makes it a great option when taking into consideration the effects on the environment. Recycled timber is not only a lot better for the environment but also cost-effective in comparison with brand new wood.
In respect of this, in the whole building, less than 5% of the timber used was new timber. It means that approximately 80% of other elements are secondhand or recycled. As it has been shown in the plan, the living space is a large, flexible room with recycled timber doors opening to the north. The raking ceiling throughout the kitchen and hall is lined with Balsa Banova plywood.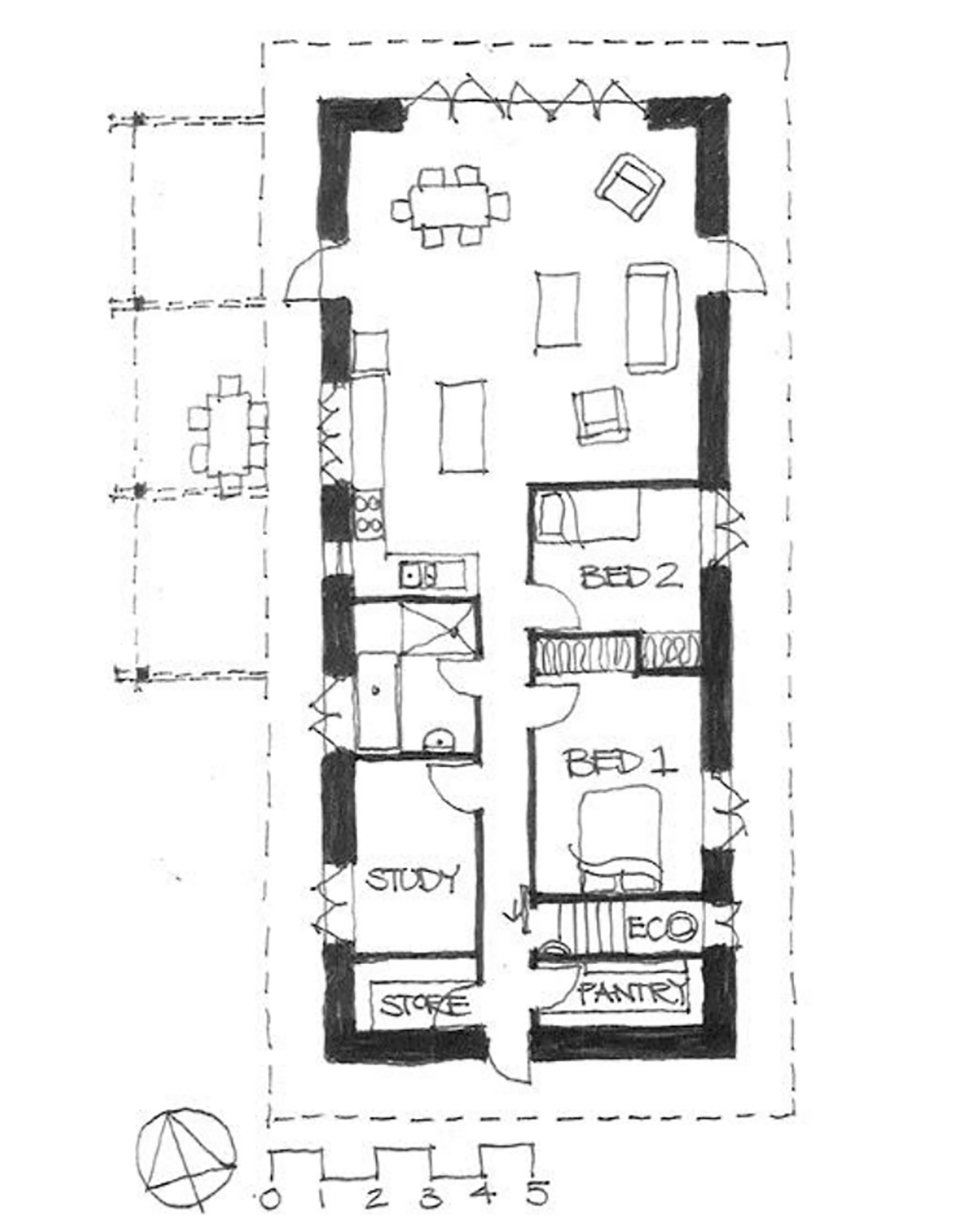 Image © Emma Scragg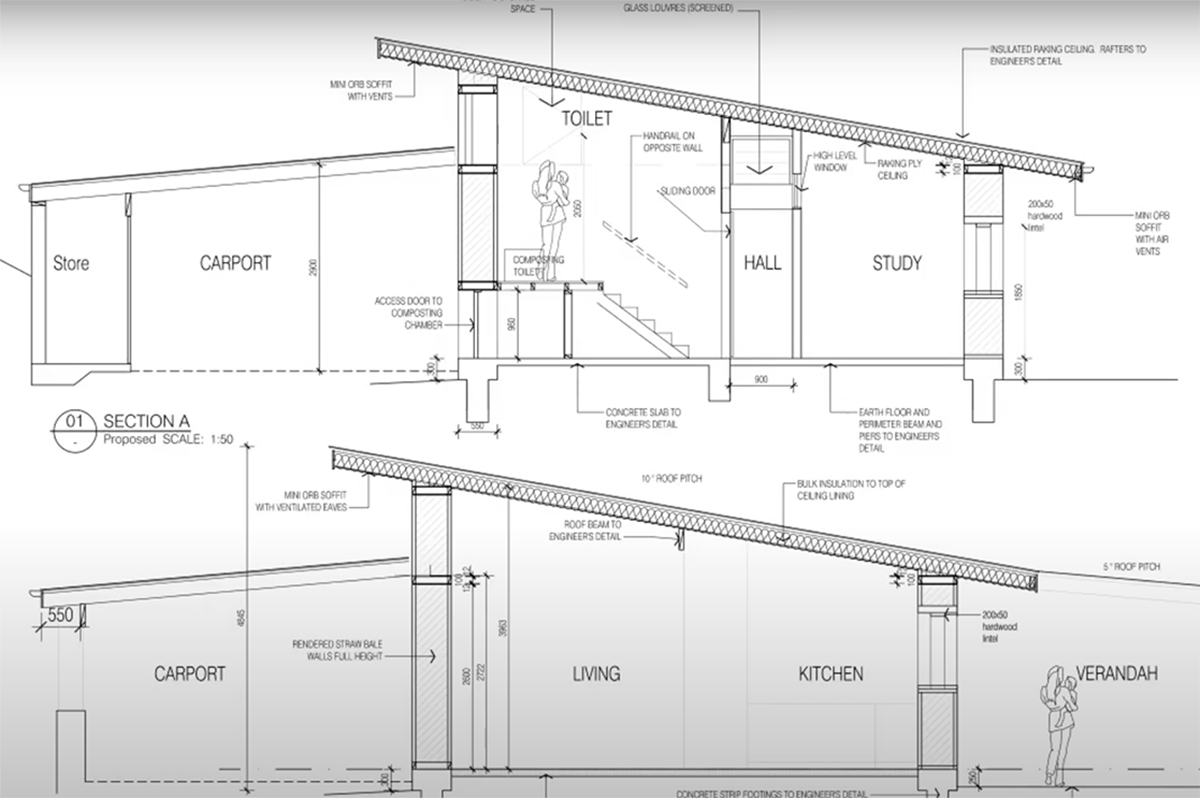 Image © Wild Mountains Centre
"This Balsa Banova plywood is about 1/3 the weight of normal ply, manufactured locally in Ecuador, where the tree is native. The company uses local labour in all aspects of the operation from the nursery where they grow seedlings gathered from the forest, right through to production. The company works with the surrounding forest to maintain diversity in tree species as opposed to clearing and just growing the one tree type. Very cool," said Wild Mountains resident volunteers Lizz and Justin.
"Internal walls to the bathroom are hardwood framed and lined with Magnesium Oxide Board as opposed to cement sheet. Wall and floor tiles are ends of run, shower basin fittings were made by Justin and a helpful plumber from bits and pieces, (only to find that galvanised pipe is no longer approved for bathrooms and so that component had to be replaced with copper). A rain head shower fitting gives a full flow drenching with very little actual water use, very low flow. Highlight tiles in the bathroom were gumtree and Justin made some picture tiles with glass from a broken window and pictures from an old storybook. The external straw-bale wall is safely away from shower and basin splashes" said Lizz and Justin.
Image © Sustainable House Day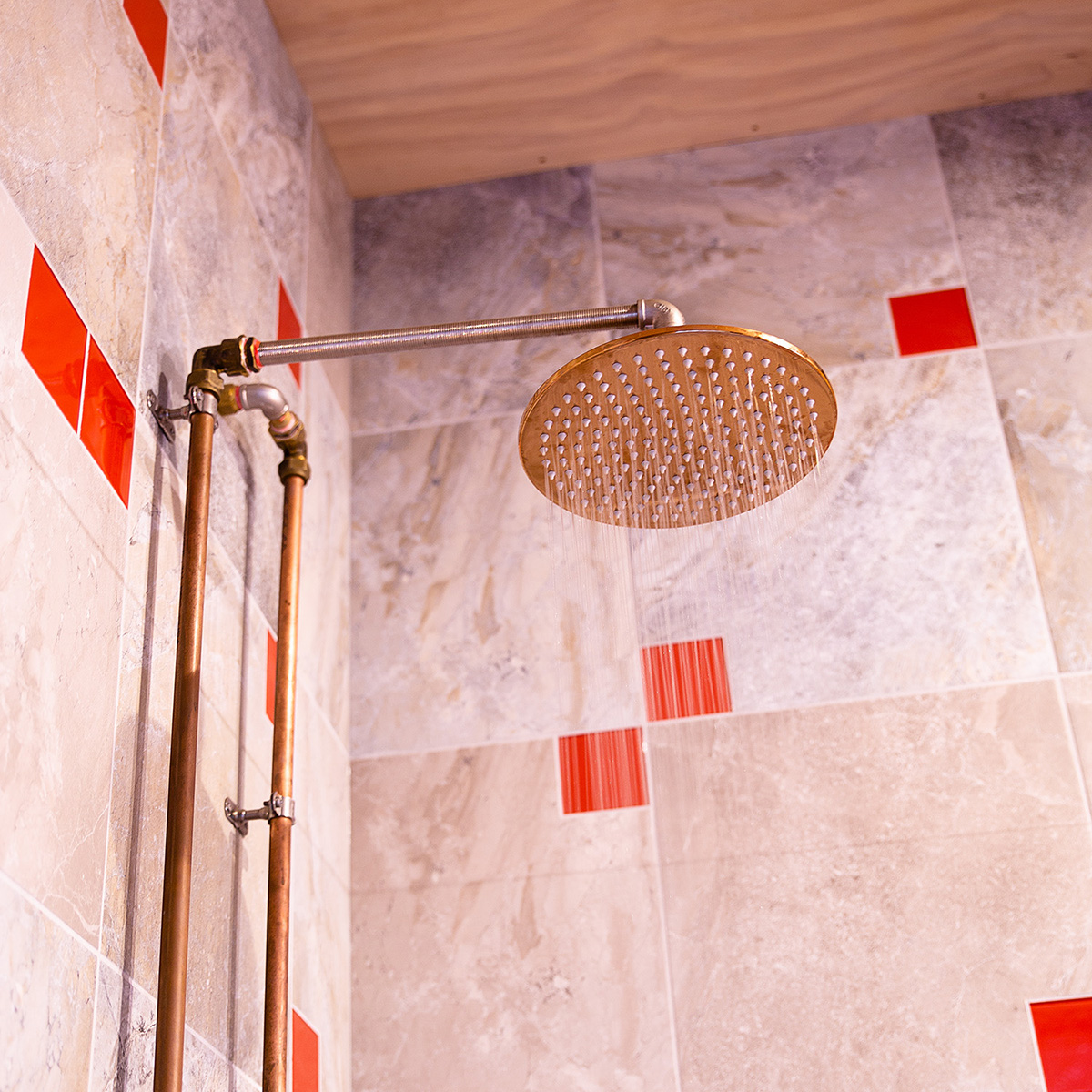 Image © Sustainable House Day
Image © Sustainable House Day
Image © Sustainable House Day
Image © Sustainable House Day
More information on this building is provided by Emma Scragg.
Completed: 2019
Architect: Emma Scragg
Builder: Rob Peagram
Project manager: Justin Hills
Build team: Rob Peagram Builders and 270 volunteers
Fire rating: BAL 19
Floor area: 138m2 + 145m2 covered area
Build cost: $208,000
Top image courtesy of Sustainable House Day.