Why Buildings Fall-In Light Of The Recent Collapse Trail In India
Over the last two months, six buildings collapsed in different cities, all deemed either illegally or poorly built, or old. What went wrong?
The collapses reported code violations, laxity on officials, poor materials and enforced labor during structural cracking. It has been common in India to build illegally on wastelands, marshlands and dried up river beds and lakes.
To act against this, in New Delhi, a plan to identify such buildings is underway. The plan will call for corruption charges on developers, owners, contractors and the architects responsible for the illegal construction.
Recent violent and fatal fires in buildings have also revealed flouting of codes. Government now realized that the Bureau of Indian Standards needs reforms which focus on construction services. This would add more liabilities to Architects and developers.
Buyers and others living have now developed fear of the validity of their homes, wondering about any future tragedies beckoned. Following are reasons why the buildings fell.
NOIDA (New Okhla Industrial Development Authority), National Capital Region, New Delhi, July 17th, 2018
Image courtesy of VAOonlinenews
A five-storey under construction building, fell on an adjacent six storey building, bring down a chunk of it too. The government official in charge of Noida district called for a campaign against illegal buildings, in response to the revealed laxity of officials. Noida development Authority officials were arrested too.
"Earthquake resistance and RCC frames by qualified engineers are selling brands that common people are deceived by."
The first step to enable poor developments was the Shaberi village becoming Noida extension. Sold as USD 28,000-dream homes 10 minutes away from the capital of Delhi, the construction was hurried and patchy with poor sewage systems. Foundations were laid unscientifically, causing water to seep through and weaken. This affects neighboring buildings too, as the soil's bearing capacity is reduced. Government's claim of land to support the market at targeting people who dream of homes, hints at crony capitalism. Hence, quality of construction is ignored.
Chennai, Tamil Nadu, July 22, 2018
A few days followed and scaffolding and iron girders collapsed to kill and injure many in Chennai's International corridor (IT corridor). The main structure stayed safe. Officials arrested the two engineers in watch of the scaffolding.
Ghaziabad, Uttar Pradesh, July 22, 2018
A five-storey building in Ghaziabad of Uttar Pradesh collapsed. District officials reported poor quality of construction again. The laborers were forced to continue work despite siting cracking of columns. A victim said that the cracks were filled and the column could have collapsed in the basement.
Following this incident, the government officials ordered checking and vacating of all illegal buildings. Investigations held four contractors responsible.
Dwarka, Old Delhi, July 23, 2018
In Old Delhi, Dwarka area witnessed an old roof falling to injure a family. Reasons cited were continuous seepage over a long time.
The old roof had seepage of water from consecutive rains. To prevent this, a layer of bricks was filled on top and a t-iron rod was installed below to bear the load. Seepage continued to disintegrate the roof and the rod weakened over time to let go.
Vadodara, Gujarat, August 12, 2018
A house collapsed, which was weak and illegal, injuring a family. The civic body of Vadodara had slapped notices several times to households on the same street to vacate as they were built 50 years ago. Notices were never paid attention to, until the collapse. The civic body again notified adjoining houses to vacate.
Ahmedabad, Gujarat, August 26, 2018
Image courtesy of The Indian Express
The trail ends at Ahmedabad, with a peculiar case. Ahmedabad is famous for its historical Pol Houses, one of which was being demolished. A wall cracked and the resident notified the civic body, which instructed evacuation. Demolition process started and three days in, the building gave way. The civic body had notified Pol house areas to evacuate several times. No other solution to house them retained these people in the Pols.
Past collapses:
New Delhi, 2010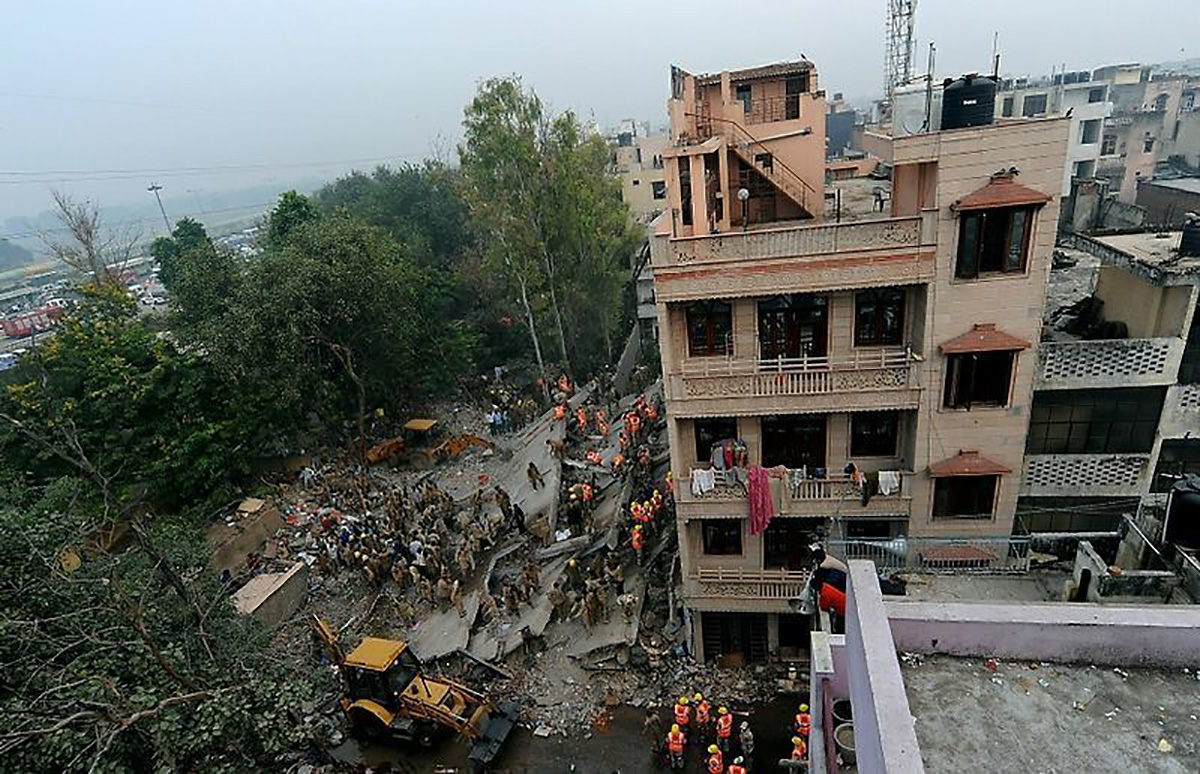 Lalita Park building in Delhi; Image courtesy of unp.im
The construction, close to a river, was going beyond permitted number of floors, and an incidental flooding in the region weakened the foundations. The construction fell and codes charged homicide on the owner of the building.
Mumbai, Maharashtra, 2013
Image courtesy of Rediff
A 32 year old state owned warehouse in Mumbai collapsed due an illegal mezzanine floor construction. Developers responsible were arrested.
Chennai, Tamil Nadu, 2014
Chennai Building collapse. Image courtesy of ABC
An eleven story building collapsed killing many workers. Investigations reported carelessness by site engineers. Engineers accepted the mistake and were fined. Following the incident, the city's development authority initiated reforms to the codes and identified more illegal constructions.
Why buildings fall
Most buildings fell during construction. A few fell due to ageing. The warehouse fell due to overloading old structures. And fires were unavoidable in standing buildings.
Another case in Chennai, of a textile and articles showroom burning down, poses worries too. The building was illegal since the time it broke ground, and the fire cost the enterprise $ 58 million. Owners had fought cases and bought rights for the high rise, despite authorities demolishing illegal floors.
The Ghaziabad collapse has also now cautioned buyers on home loans to keep watch over entire construction and purchase process, to avoid consequences.
These issues have developed over a good number of years, highlighting how malpractices arose and reduce the already short life (nearly 75 years) of concrete structures. One could start wondering if all buildings, mass-produced in the construction and development market, would start falling in the near future, before proper demolition.
Cover image: Clockwise from top-1983 in Bengaluru; 2010 in New Delhi; 2013 Navi Mumbai; 2013 Thane, Mumbai