Prague's cultural Manifesto Market reopens on March 15th for its second season
Prague's legendary gastro and cultural market is set to reopen on March 15th for its second season in the heart of the city. The new food space, named Manifesto Market, was transformed from a former wasteland in the heart of Prague into a new cultural and meeting place mixed with food. The project was envisioned and led by Martin Barry, the founder and Chairman of architecture and urbanism platform reSITE.
The new-legendary market is back starting from March 15! Manifesto Market, recently awarded the Retailer of the Year prize for Best Customer Experience, will reopen after a short winter break on March 15th.
Manifesto will welcome back with the big favorite names such as Matteo de Carli and Poké Haus and introduce several fantastic additions: among others Levitate's chef Christian Duy Chu, QQ Kitchen, stylish bar Le Valmont, and Prague's top microbrewery, Vinohradský pivovar. "2019 will be the year of digital evolution, expansion and unique experiences for Manifesto Market," said the team of Manifesto.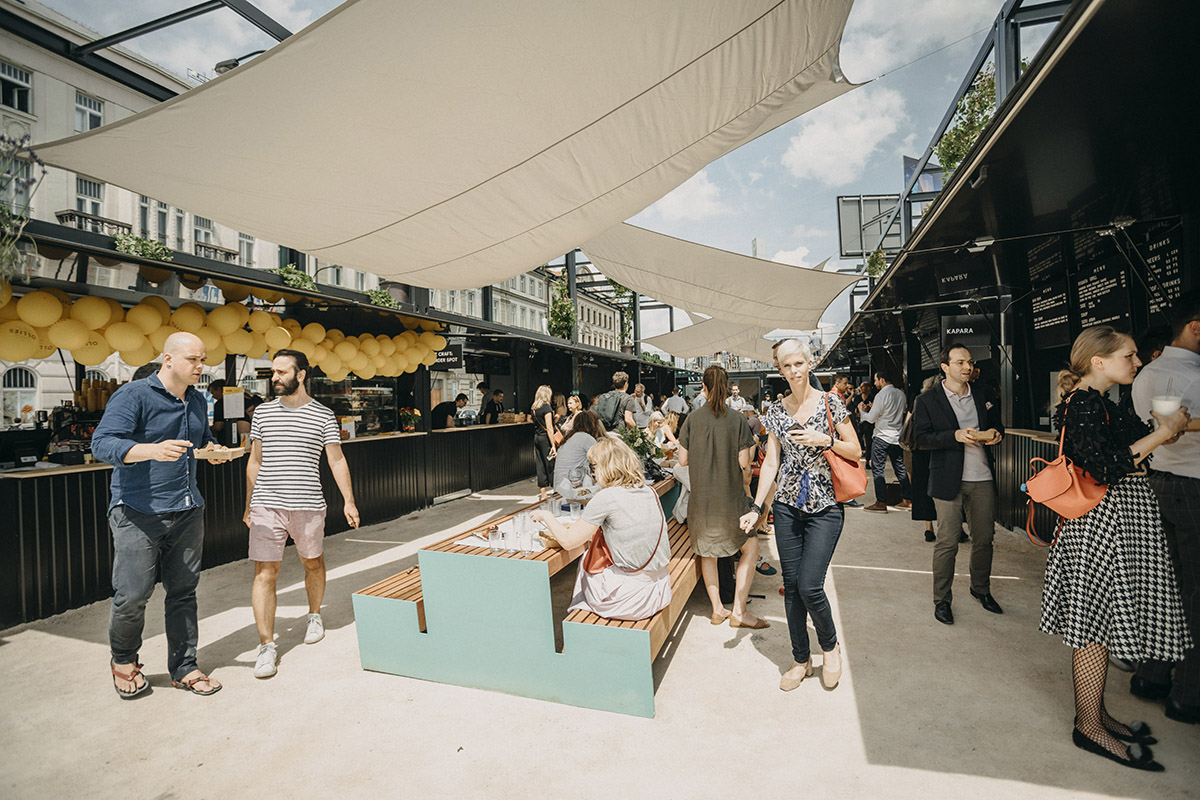 "Last year, 650 000 people – about one half of all Prague's citizens – visited Manifesto, and another 4 million were reached on social media," stated the team. In only six months, Manifesto nominated for the Retailer of the Year won the Best Customer Experience award.
"We can't wait to toast our first visitors with Vinohradský pivovar's brew, served in Manifesto branded, traditonal glasses. Not only will it improve the experience of our customers, but we will also eliminate a huge quantity of single-use compostable cups. In our first season, we were learning on-the-go. We needed the short winter break to introduce some major improvements," said Martin Barry shared one very important change.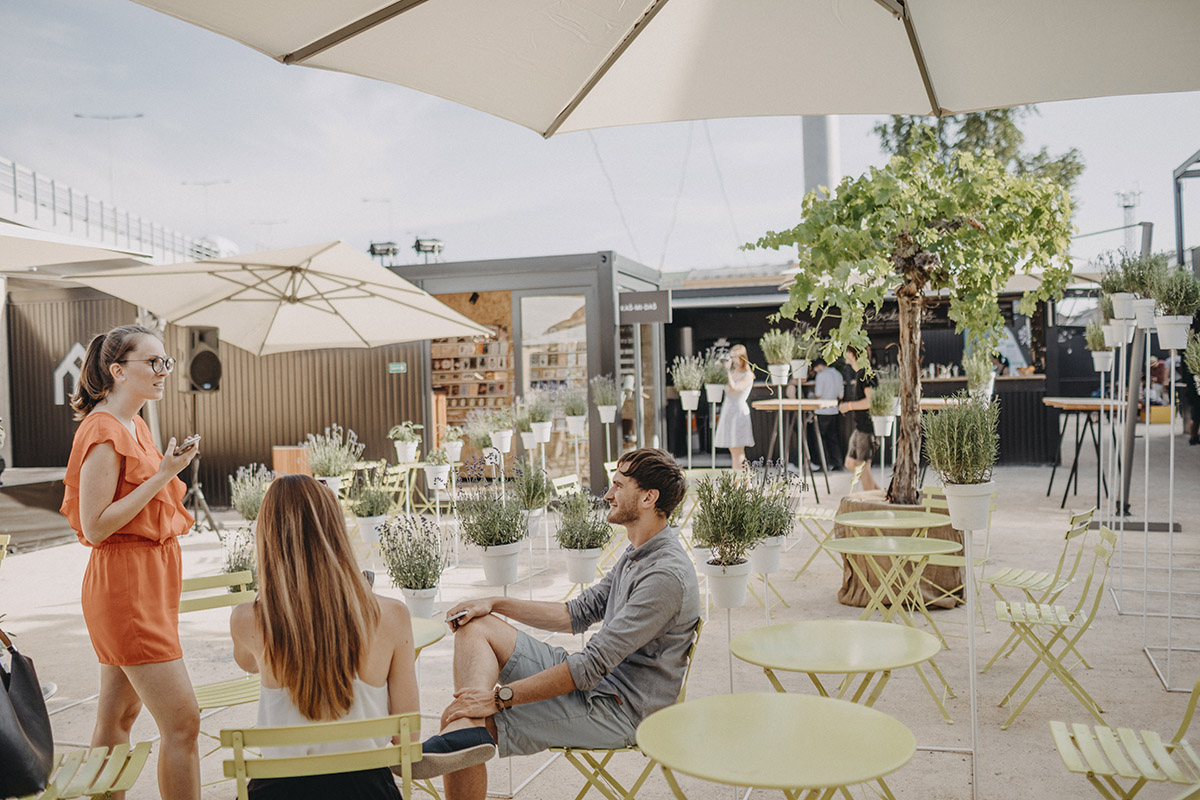 Real beer glasses are just one of the tangible changes which will upgrade the experience. In 2019, the organizers will focus on developing digital tools, to shorten delivery times, make the payments even easier and enable ordering meals and drinks from the tables, or why not from office desks. In other words, they focus on developing technology to enable guests to have a unique and easy experience online and offline.Manifesto has been the first fully cashless place in the country, with a very positive feedback from both customers and managers.
Manifesto, was developed to revive a derelict and forgotten corner in the center of Prague, to make a top attraction place in the Czech capital. The new food space was completed within only 18 months from idea to realization. Composed of 27 black containers, the aim of the project was to convert a forgotten corner and "no-go zone" in the city, adjacent to unused rail yards for Prague's Masaryk Railway station.
The architectural team lead by Martin Barry consists of Nikola Karabcová and Lucie Červená who were selected in a student design competition Superstudio.
Image courtesy of mmcité
In the new season, Manifesto's design partner, Czech multi-awarded outdoor furniture brand mmcité will launch a brand new product line at Manifesto. Their new sets "stack" designed by David Karasek and Lucia Lehrer will be installed in Manifesto's igloos.
Image courtesy of mmcité
"The sets called stack are as resilient to be used in outdoor spaces, as gentle and elegant to substitute indoor furniture. Stackable sofas, armchairs, stools and tables combining timeless design with a retro touch come with wooden or metal lamellas and can be upgraded with waterproof cushions," commented David Karasek, Designer.
"We imagined all types of spaces when we designed this set - they fit open public areas where they can coexist with usual urban furniture, and they can be used in private terraces, hotels, schools, outside or inside."
Manifesto welcomes Prague's Asian fusion concept QQ Kitchen and will offer authentic Sicilian pizza and Neapolitan street food from San Carlo. Manifesto's secret is a combination of Michelin-rated chefs such as Matteo de Carli from Ryba je ryba, with young and talented entrepreneurs behind new concepts.
At least one third of the containers are dedicated to emerging businesses, providing them a low cost of entry opportunity and good visibility and exposure, as a testing ground of their gastro idea. Experienced vendors become mentors for the others and Manifesto fulfills a mission as a gastro innovator and incubator.
Among 21 food and beverage concepts that will open this season, we will taste Asian, Latino, Italian, American, Hawaiian cuisines, French bakery, Dutch pancakes, the unmissable Faency Fries and more.
During the moody spring season, Manifesto will keep the immensely popular igloos, a big hit from the winter market. There will be some spatial changes, mostly in the raw part of the market where a larger space will be created to host concerts, social events and garden parties. The central avenue will again be aligned along the iconic wooden tables and benches blocq, designed and donated to Manifesto by Czech outdoor furniture brand mmcité, and become green thanks to installations of plants, grass and flower compositions.
For Easter, Manifesto will change the look balancing between traditional decorations and an alternative elegant style, while the chefs will prepare typical seasonal dishes, young meat, vegetable and egg dishes. Last year, 170 events were organized. This year, this number could reach 300.
All images © Jakub Červenka unless otherwise stated
> via Manifesto Market