UNStudio's modular Hyperloop Hubs will decrease distance between Frankfurt-Amsterdam to 50 min
UNStudio has unveiled its proposal for a new Hyperloop Hub that decreases distances to 50 min. between Frankfurt and Amsterdam, alongside seven intermediate stations.
The design has been released at the first edition of the HyperSummit in Utrecht, as part of UNStudio's think-tank studio UNSFutures. The design scheme features a modular, sustainable and accessible Hyperloop Hubs to be adaptable to different cities in the future.
Named Hardt Hyperloop Hub, the project, developed in collaboration with Hardt Hyperloop, will be comprised of a series of tessellating components so that the hubs can adapt themselves to a range of contexts: city-centre, city edge, or joining to existing infrastructure hubs like airports.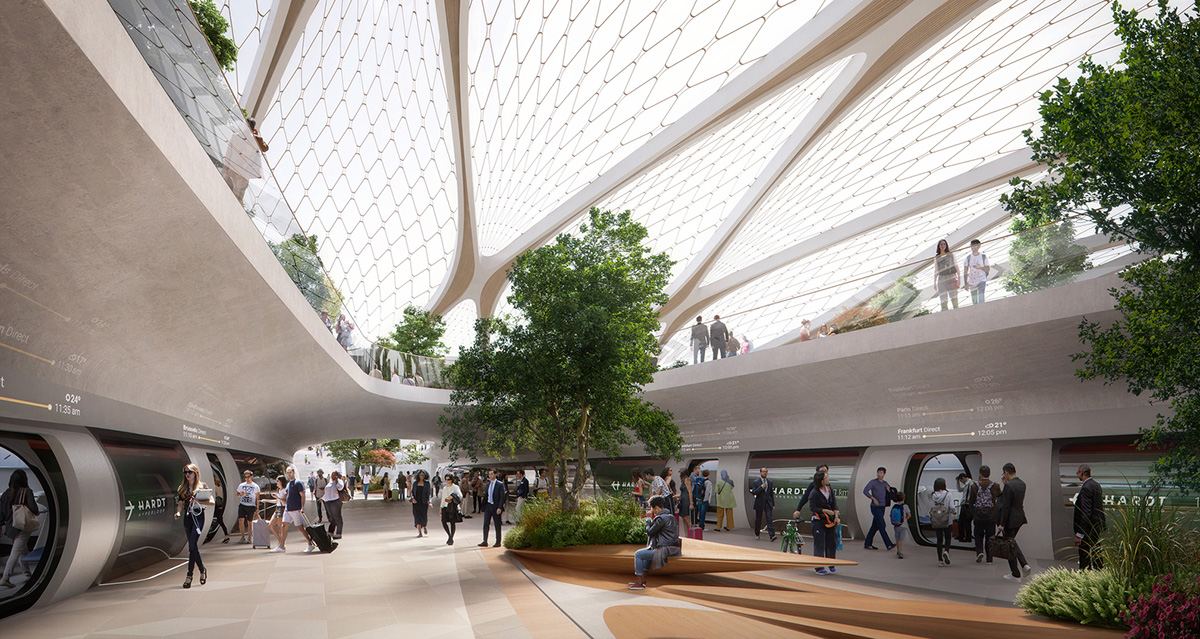 Image © Plompmozes
"Existing contexts of course mean existing parameters, and the modularity of our design means that Hardt Hyperloop Hubs can knit into any context," said UNStudio.
"The first edition of the HyperSummit was focused on urgency, research and joint effort, with collaborators and investors speaking about the contributions needed to launch a European hyperloop connection."
Image © Plompmozes
UNStudio's project, especially, looks at implementation questions relating to a potential future Amsterdam-Frankfurt Hyperloop line.
"The hyperloop is not only a realistic and viable alternative to flying, it is going to revolutionise travel. It will provide extremely fast travel times with direct connections between cities, enabling completely new ways of working and spending our leisure time, which in turn will lead to a multitude of economic, environmental and knowledge exchange benefits," said Ben van Berkel, Principal Architect and Founder of UNStudio and UNSense.
Each Hyperloop line will get power from its solar panels on the tube, each Hyperloop Hub will also act as a battery to sustain itself. The hub's roof canopy provides daylight, protects passengers, ensures climatic balance, and harvests energy and water.
Surplus energy produced at the transfer hubs and long hyper loop's tubes would power the autonomous vehicles, buses and bicycles which passenger can switch in order to complete their journey.
The station then regulates the highs and lows of the solar-powered system, as well as its internal environment through high-performance materials that respond to changing heat, light and humidity levels within.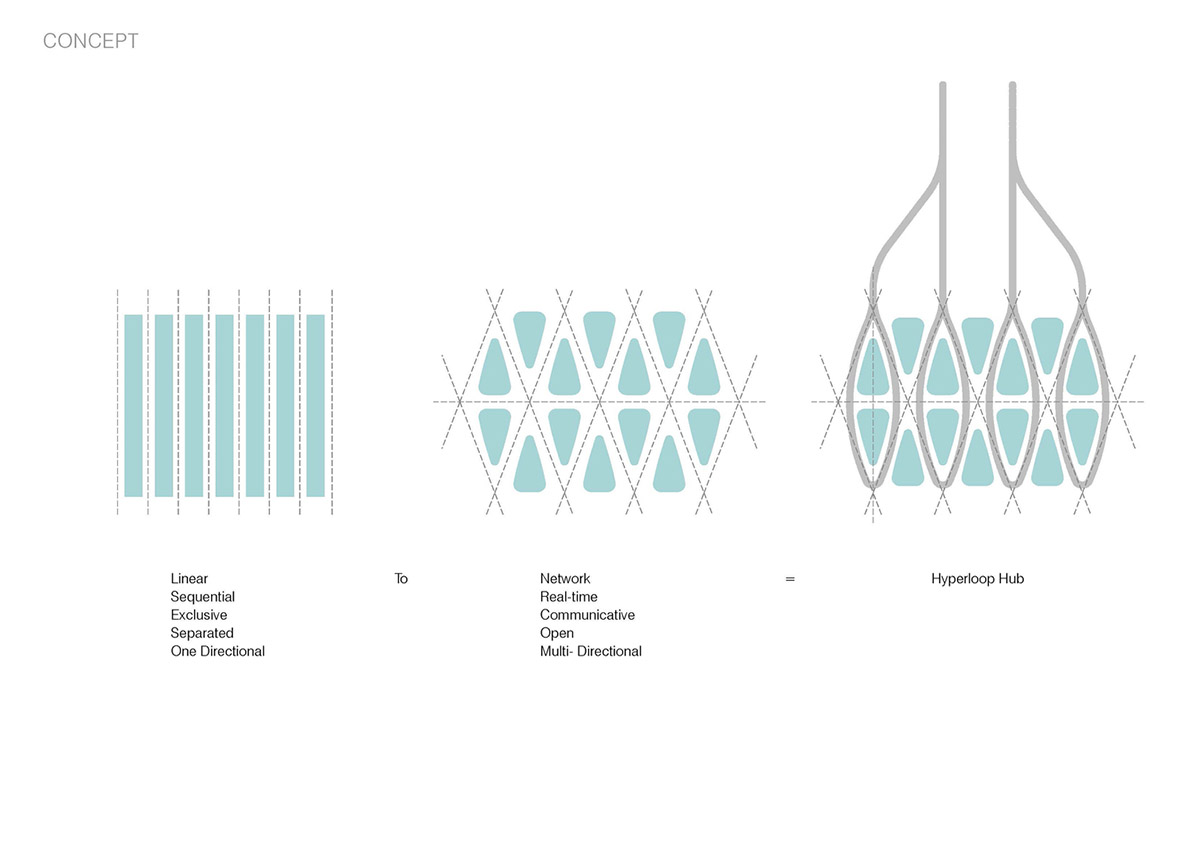 "In the near future, buildings will function as batteries, providing energy not only for their own immediate needs, but also for surrounding public amenities and transportation modes," added Ben van Berkel.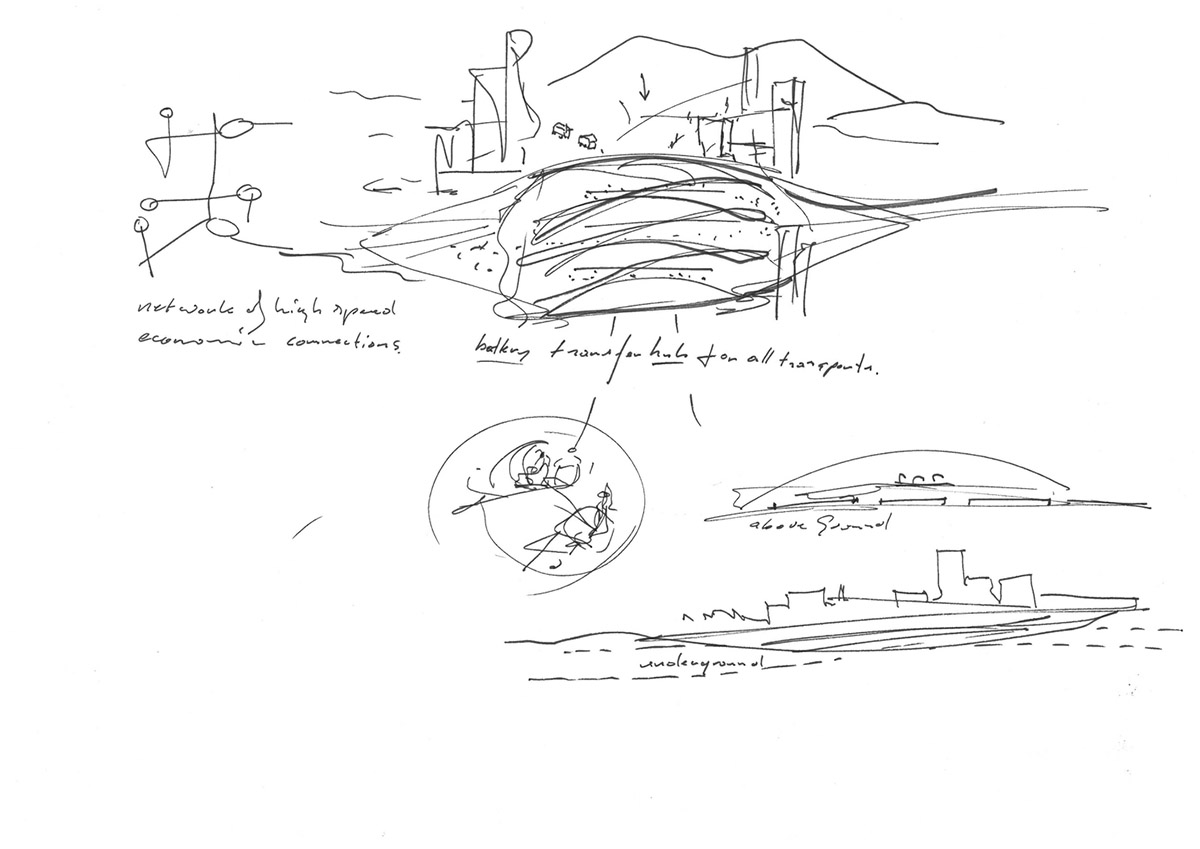 Top image © Plompmozes
All graphics © UNStudio
> via UNStudio