Huge strides in Spain's fashion industry and how architecture support this pace
A demonstration of Spain's recent economic growth shows an increase in consumer spending thereby also increasing retail activities. Retail take-up, for instance, is evident with the opening of various flagship stores and the movement of large retail establishments into the city centers of major Spanish cities. Positive impact is also seen on the investment market as the retail sector attracted the highest investment inflow in 2017, increasing by 31% from 2016.
Majority of these retail activities is attributed to the fashion sector, taking up 30% of high street stores in Barcelona and Madrid as well as 25% share of the total retail investment inflow. Some examples are the recent store opening of major brands Mango and Guess in Madrid as well as a large Massimo Dutti, the new Uniqlo, H&M and Uterque flagships in Barcelona. As sales transactions continue to grow, general operations likewise expand. Consequently, not only is there a need for retail stores but of headquarters, warehouses, and logistics centers. Alongside a heightened consciousness given by companies to sustainability and well-being as well as technology and modern ways of working, the design and construction become as important as the merchandise.
More recently, Stradivarius inaugurated its new headquarters for its design and central services teams located within the Alba Park in Cerdanyola del Vallés, the Metropolitan area of Barcelona.
The new Stradivarius headquarters. Image © Antonio Navarro Wijkmark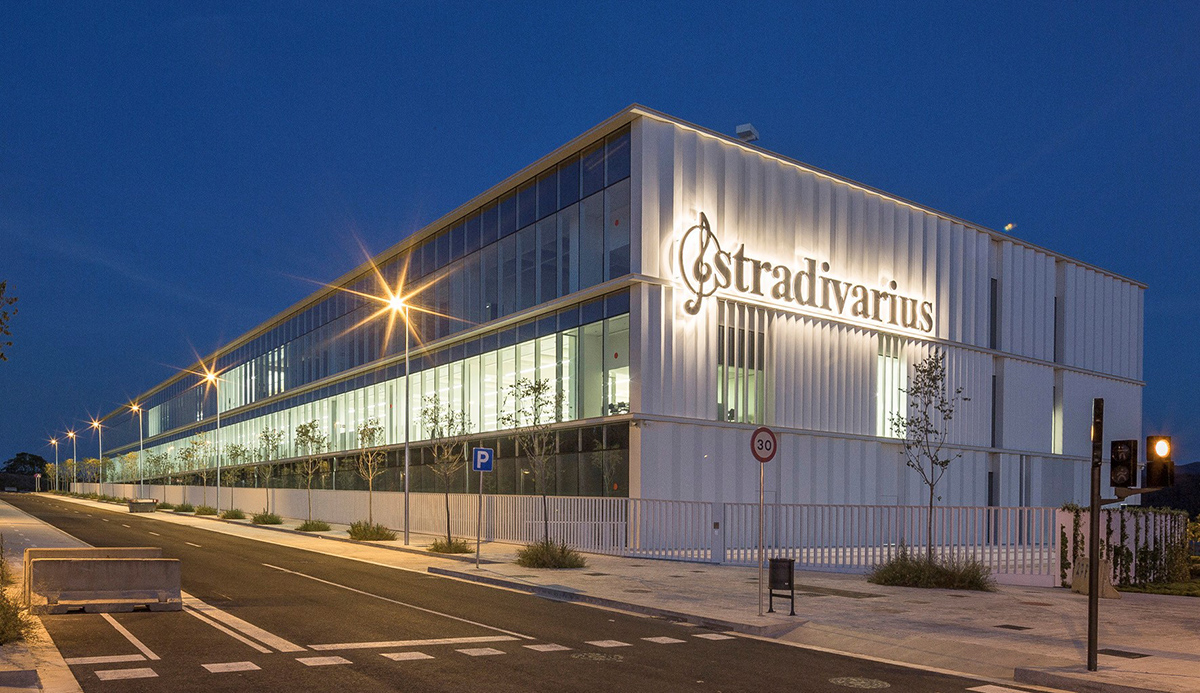 The new Stradivaius headquarters. Image © Antonio Navarro Wijkmark
A view of the from the right elevation. Image © Antonio Navarro Wijkmark
With a total of 45,170-square meter of surface area, 33,000 square meters are allotted for 3 levels of office space with the ground level utilized for parking. These office spaces, whose primary aim is to uphold health and well-being of employees, consist of work areas that pay attention to acoustical comfort and interior finishes and are complemented by rest areas, open terraces, dining room, inner courtyards and gymnasium.
3 levels of office space with parking at lower ground floor. Image © Antonio Navarro Wijkmark

The inner courtyard. Image © Antonio Navarro Wijkmark
Rest area. Image © Antonio Navarro Wijkmark
The design, through Batlle i Roig Arquitectes, is driven by sustainability and aims to obtain a gold LEED certification. This eco-efficient building is built with recycled materials and employs a high efficiency building envelope design, allowing 45% reduction in electricity. It also utilizes rainwater harvesting system for irrigation and toilet flushing thereby reducing water consumption by 30%. At the same time, native and low-maintenance landscaping is incorporated at the surrounding open spaces into the inner courtyards.
Building envelope design. Image © Antonio Navarro Wijkmark
Another fashion retail giant, Mango has recently opened its logistics center devoted to the global distribution of textile garments and accessories. Situated within the logistics belt of Catalunya (Lliçà d'Amunt, north of Barcelona), this modern 180,000-square meter logistics complex offers the latest logistics technology and robotics that enables handling of 75,000 pieces of clothing per hour. An expansion area is also in the horizon which will increase Mango's logistics center and office spaces to 260,000 square meters.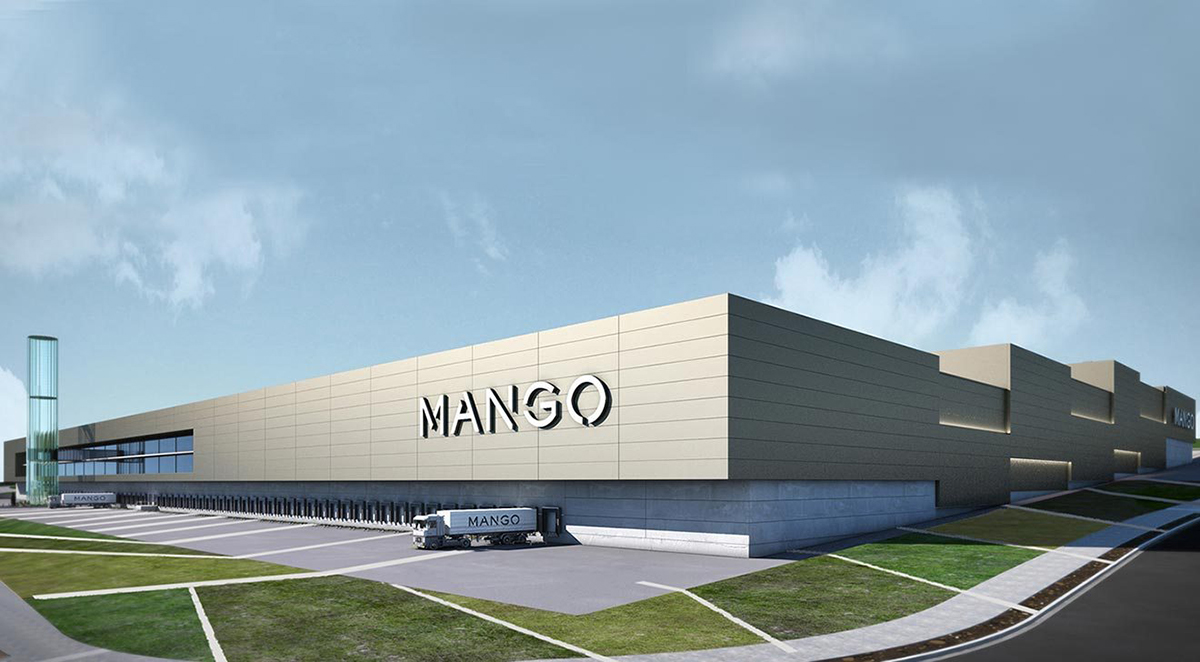 Mango logistics center. Image © GCA Architects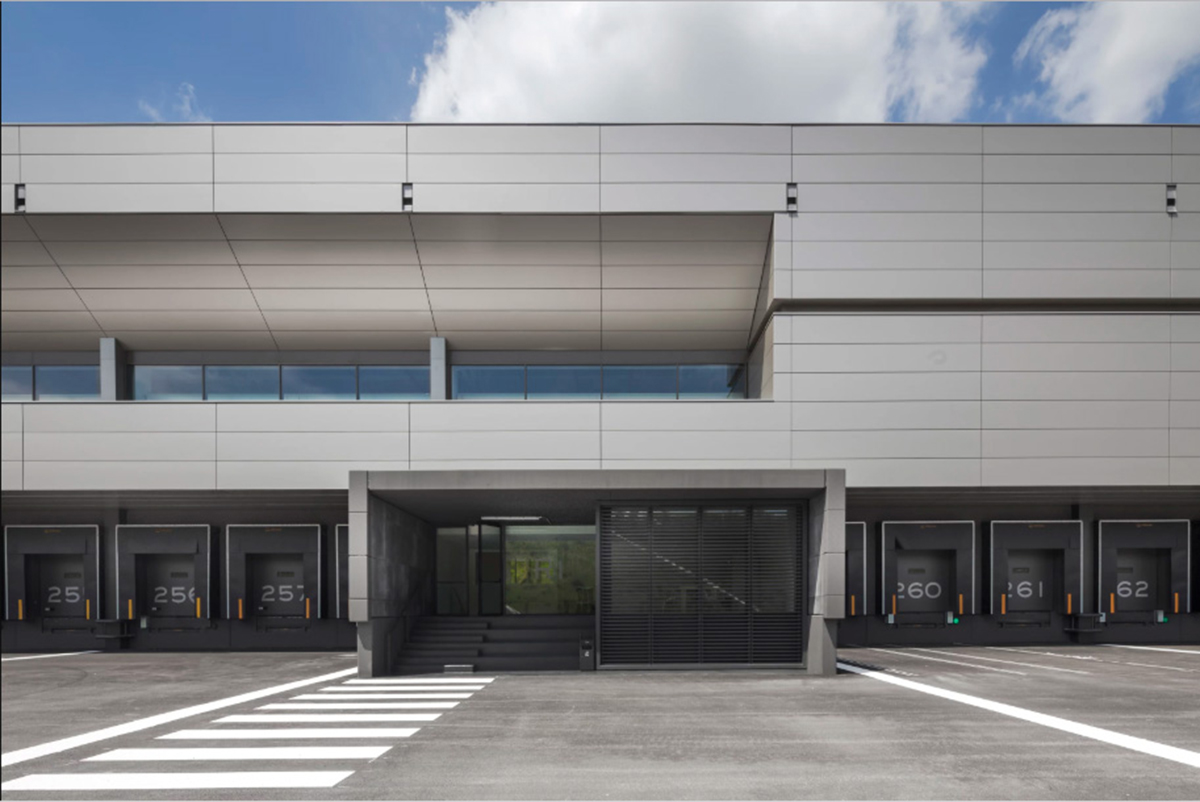 View of the building facade. Image © GCA Architects
Similar to the Stradivarius headquarters, the Mango logistics center also employs sustainability measures with the adoption of energy efficiency criteria. Key aspects include the comprehensive lighting management system where around 2% of the roof is made of transparent material permitting natural light and the same time, utilizes energy efficient light fixtures with ample lux level for proper working conditions. Water consumption is also regulated with the use of rain water system for irrigation and fire suppression. Native plants with low water consumption were also incorporated into the landscape.
Previously, Mango also inaugurated its design center located in Palau-solità i Plegamans in Barcelona and was designed by GCA Architects. Having a surface area of 14, 000 square meters and a total built area of 80, 000 square meters makes it the largest design center in Europe. The design center houses 600 professionals in 3 different areas: design, merchandising and quality control, dedicated to the creation of clothes and accessories for men and women.
Mango Design Center. Image © GCA Architects
Mango Design Center. Image © GCA Architects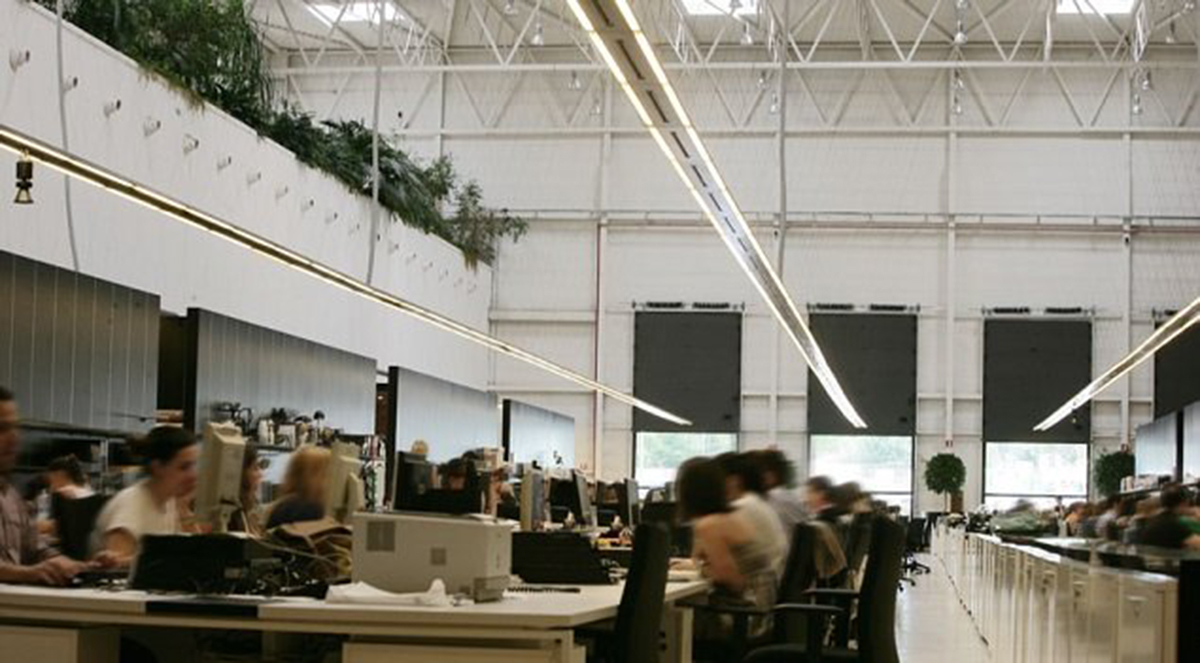 Work area showing LED fixtures and natural lighting. Image © Modaes
Committed to sustainable measures, the Mango design center also incorporates the same energy efficiency criteria as the logistics center. For instance, the efficient use of low thermal transmission materials to prevent heat entering the building (nanogel skylights, rockwool wall panels and specific windows and skylights). Lighting has also been taken careful consideration through the use of LED fixtures.
Stradivarius' affiliate Pull and Bear has also joined the trend by opening its new central headquarters located in Naron, Galicia. The headquarters has a total surface area of 27,309 square meters with a 180 meters x 85 meters building footprint. Of the 3 floor levels, 2 are utilized for office space while the ground floor is for parking, of which the pillars resemble stilts.
The new Pull and Bear central headquarters. Image © Antonio Navarro Wijkmark, Mauricio Rubal i Emilio Montero (domo estudio)
The plan is comprised of three longitudinal zones. First zone contains the central common spaces with four access points opening up to the courtyard. The two other longitudinal zones contain the work spaces. The north zone houses the product design and development groups while the parts of the program that require compartmentalisation such as meeting rooms, showrooms, private offices, etc. are all found in the south-facing zone. There is also a double height hallway, an open staircase and glazed elevators. Interior finishes such as the wooden flooring is intended to mimic the wooded landscape.

View showing the common spaces opening up to the courtyard. Image © Antonio Navarro Wijkmark, Mauricio Rubal i Emilio Montero (domo estudio)
View of the meeting room. Image © Antonio Navarro Wijkmark, Mauricio Rubal i Emilio Montero (domo estudio)
Energy efficient building envelope with the use of excluded aluminum panels protected by moving fins. Image © Antonio Navarro Wijkmark, Mauricio Rubal i Emilio Montero (domo estudio)
The Pull& Bear building was awarded the USGBC (United States Green Building Council) LEED GOLD qualification for sustainability and energy saving measures, through particular strategies such as the use of courtyards, energy efficient building envelope and treatment of the ground floor parking as a naturally- ventilated space.
Other newly-operational centers include the new Massimo Dutti headquarters in Tordera, and the extension of the headquarters of inditex in Galicia.
Cover Image © Jeancyn Alforque