MAD Architects' wavy "Nanjing Zendai Himalayas Center" nears completion in Nanjing
MAD Architects' new mixed-use complex, named "Nanjing Zendai Himalayas Center", is nearing completion in Nanjing, China. Developed as a city-scale urban project, led by Ma Yansong.
The mixed-use development, covering approximately 560,000 square meters, is comprised of commercial, hotel, office, and residential programs.
The scheme seeks to restore the spiritual harmony between humanity and nature through the integration of contemplative spaces that, while immersing inhabitants in nature, still meets the conveniences of modern day living.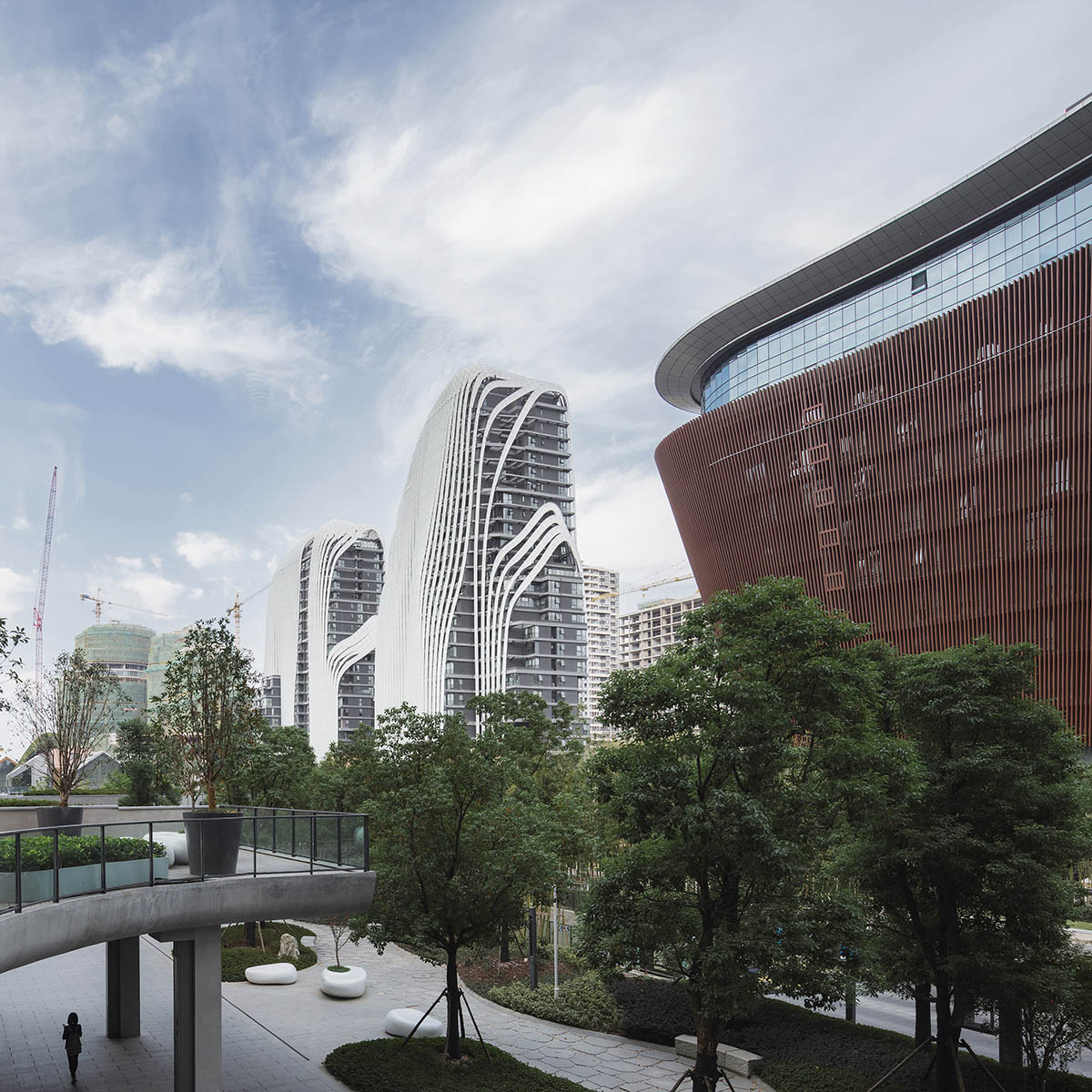 MAD's design unfolds onto the city like a village-like community. A mix of low-rise buildings connected by footbridges are nestled into the landscape.
Curving, ascending corridors and elevated pathways weave through the commercial buildings. Activated by public gardens and social spaces, they create a spiritual and poetic retreat in the middle of the city.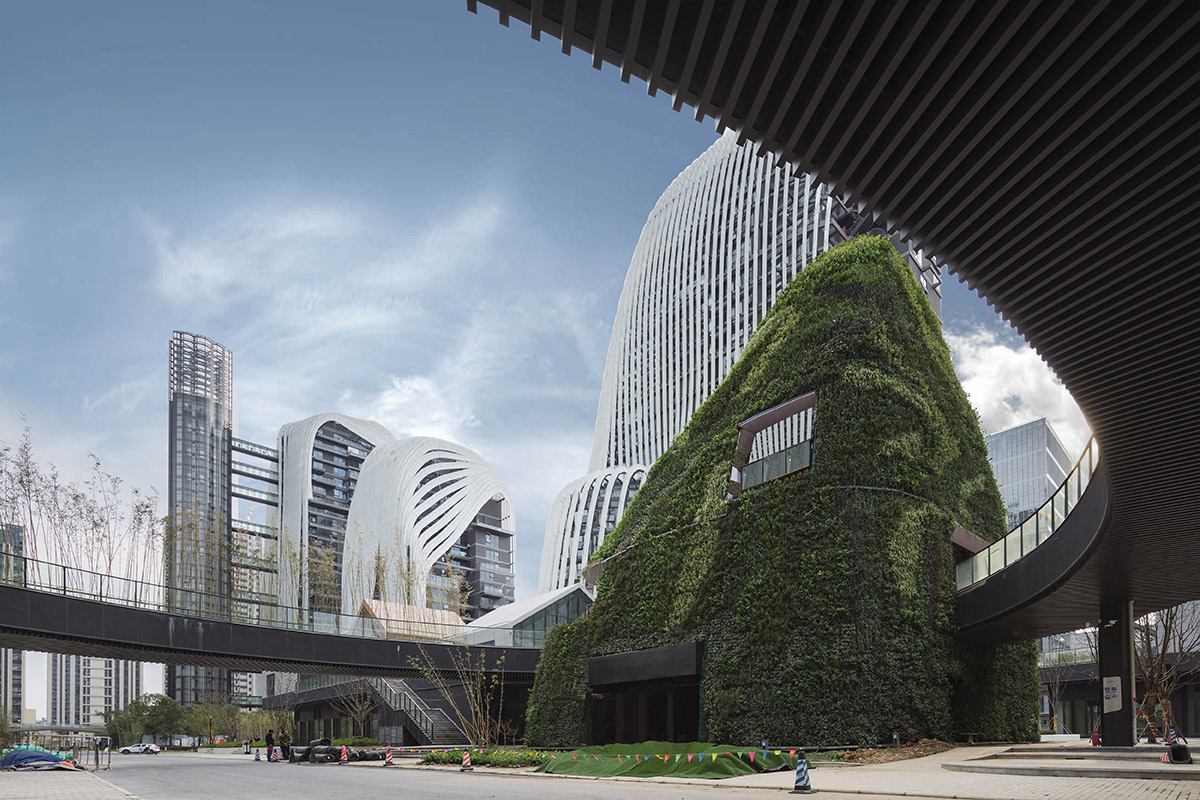 Along the edge of the site, surrounding the village, are mountain-like towers that appear to have been carved out by wind and water. Defined by white, curved glass louvres that 'flow' like waterfalls, they reflect Nanjing's surrounding mountain ranges and meandering rivers.
Image © MAD
Water features, such as ponds, waterfalls, brooks, and pools connect the buildings, while trees and rich plantings see the artificial and manmade coalesce with one another – forming a rich, architectural landscape.
The project is currently in the third and final phase of construction, the "Nanjing Zendai Himalayas Center" is expected to be completed in 2020.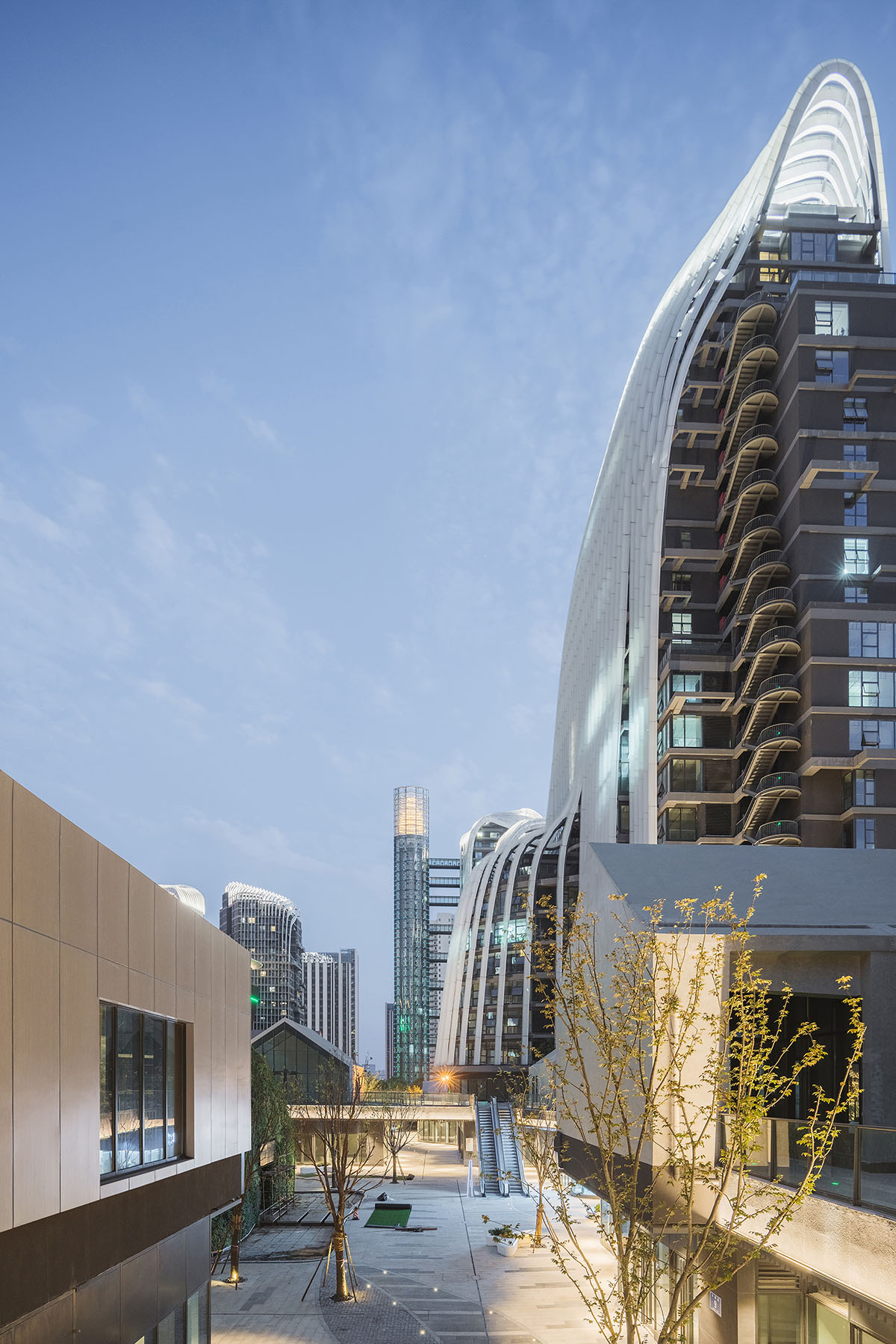 Project facts
Location: Nanjing, China
Type: Commercial, Office, Residential, Hotel
Time: 2012-2017
Site Area: 93,595sqm
Building Area: Above Ground 383,307sqm, Below Ground 181,562sqm
Building Height: 120m
Floor Area Ratio: 4.06
Team
Directors: Ma Yansong, Dang Qun, Yosuke Hayano
Advisor: Bao Pao
Design Team: Kin Li, Zhao Wei, Andrea D'Antrassi, Liu Huiying, Wu Kaicong, Tiffany Dahlen, Achille Tortini, Zhu Jinglu, Zhang Lu, Victor Shang-Jen Tung, Seow Kek Leong, Matteo Vergano, Wang Deyuan, Wing Lung Peng, Kang Mu-Jung, Lucy Dawei Peng, Wang Tao, Benjamin Scott Lepley, William Lewis
Client: Jiangsu Zendai Commercial Culture Development Co., Ltd
Associate Engineer: CCDI Group, Nanjing Kingdom Architecture Design Co., Ltd
Commercial Consultant: Boyi Architecture Design Studio
Facade Consultant: Konstruct West Partners
Landscape Architect: Earth Asia Design Group (EADG)
Transport Consultant: Sinclair Knight Merz (Shanghai) Co., Ltd
BIM: CCDI Group; Nanjing Kingdom Architecture Design Co., Ltd.
Lighting Consultant: LEOX Design Partnership
Hotel Interior Design: Steve Leung Designers Ltd.
All images © CreatAR Images, unless otherwise stated.
> via MAD