"We need to find new ways of dealing with the projects" says Jeanne Gang at WAF 2018
"We need to find new ways of dealing with the projects" says Jeanne Gang at the World Architecture Festival 2018 stage, the architect highlighted "inclusive architecture" in her keynote lecture at the first day of WAF.
Jeanne Gang, Founding Principal of Studio Gang, has delivered a special lecture focused on "Beyond Binary". Gang's lecture briefly explored sub-notions of "Identity" which is the theme for this year's WAF 2018.
"Many of our inherited binary notions of identity - female/male, nature/city, wild/tame - continue to influence architecture and urban design, though science and culture increasingly demonstrate their limits."
"How can our model of the city evolve when we think beyond oppositional relationships and focus instead on connecting for mutual benefit?," asked Gang in her keynote.
"We need to find new ways of dealing with the projects to show how they benefit each other and how they can create a multi-faceted approach," said Gang. "We have different entities, identities, or histories and architects should think of finding new ways of different inclusive processes."
"Most of architects can be scared of inclusive processes since there is a possibility of they can be dictated by others, but architecture should set up relationships between people and the environment."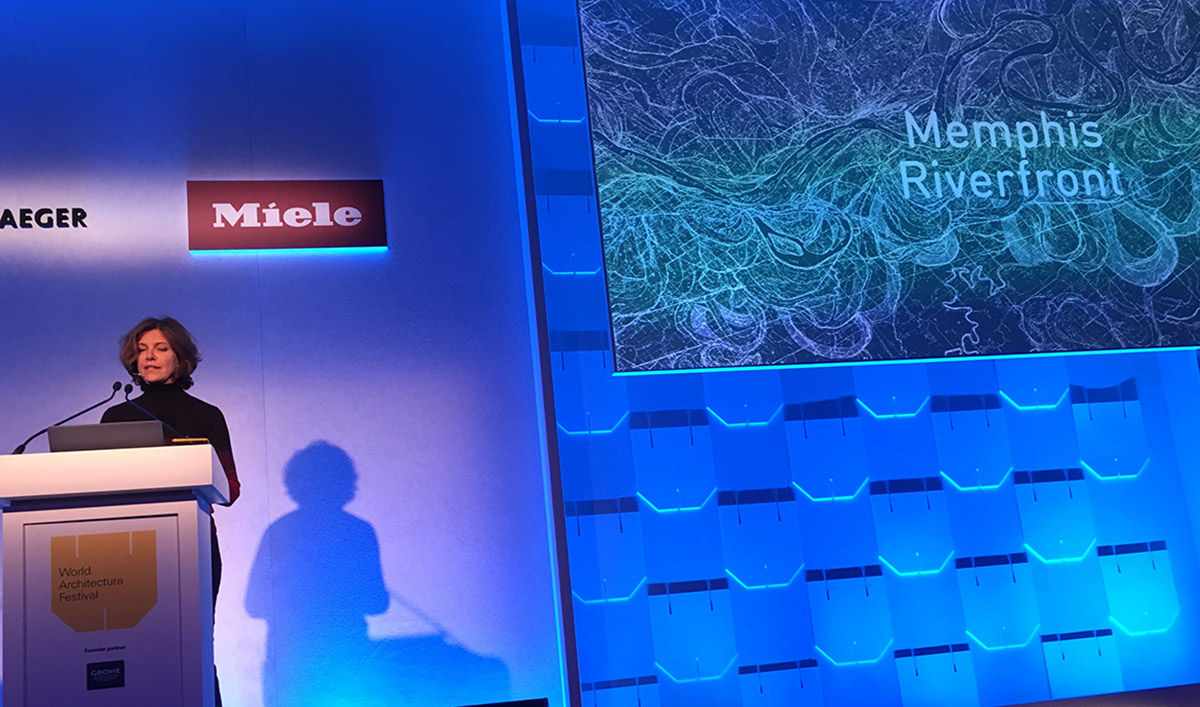 Gang also highlighted some points in her lecture, including Performance, Technology, Nature and Behavior. Gang showed a series of projects that her studio completed and is currently working on. And, she explained how Studio Gang explored all these titles in different projects regarding the context.
Especially, Gang talked about the Polis Station that her firm is currently working and she explained how her firm reversed all design process in a positive way with community engagement.
"We can also think about how to work on an issue without having a client, for example. One strategy I've done in my practice is to develop research ideas independently, and then try to find a client," Gang had said in an exclusive interview held by World Architecture Community about her different working strategy.
Kalamazoo College dedicated a new building for the Arcus Center for Social Justice Leadership. Image Steve Hall © Hedrich Blessing
The architect also emphasized the importance of finding news of dealing with the technology. "We have to follow a multi-faceted approach to find new technologies," said Gang.
"Arcus Center for Social Justice Leadership was built with wood as a new masonry, and with community efforts in the construction process. For example, it created new behaviors between the community and us and we thought a new technology as a new goal."
"The building looks like a tapestry structure, but human interaction."
Jeanne Gang in conversation with Chair Paul Finch, Programme Director, World Architecture Festival
Jeanne Gang spoke to World Architecture Community in an exclusive interview and she had said "architects can play a role in making cities more inclusive, in part by designing projects that bring together different levels of housing and encourage social connection using multiple strategies."
"In the future, I think there will be more variety in the field, more architectural entrepreneurs, and more architects will also become activists."
World Architecture Community is Media Partner for World Architecture Festival and will be following up the most fresh news, jury crits, awards and hotly-anticipated sessions on the spot during the event.
All images © WAC, except top image: courtesy of Studio Gang and second image.
> via WAF