RIBA announces shortlist for Stirling Prize 2022
The Royal Institute of British Architects (RIBA) has announced six projects shortlisted for the coveted 2022 RIBA Stirling Prize, the prize is recognized as the UK's best new building.
Hopkins Architects's 100 Liverpool Street in London, Reiach and Hall Architects's Forth Valley College – Falkirk Campus in Scotland, Henley Halebrown's Hackney New Primary School and 333 Kingsland Road in London, Panter Hudspith Architects's Orchard Gardens, Elephant Park in London, Mæ Architects's Sands End Arts and Community Centre in London and Niall McLaughlin Architects's The New Library, Magdalene College in Cambridge are among the competing developments in this year's RIBA Stirling Prize shortlist.
Celebrating its 26th year, the RIBA Stirling Prize is known as the highest accolade in architecture.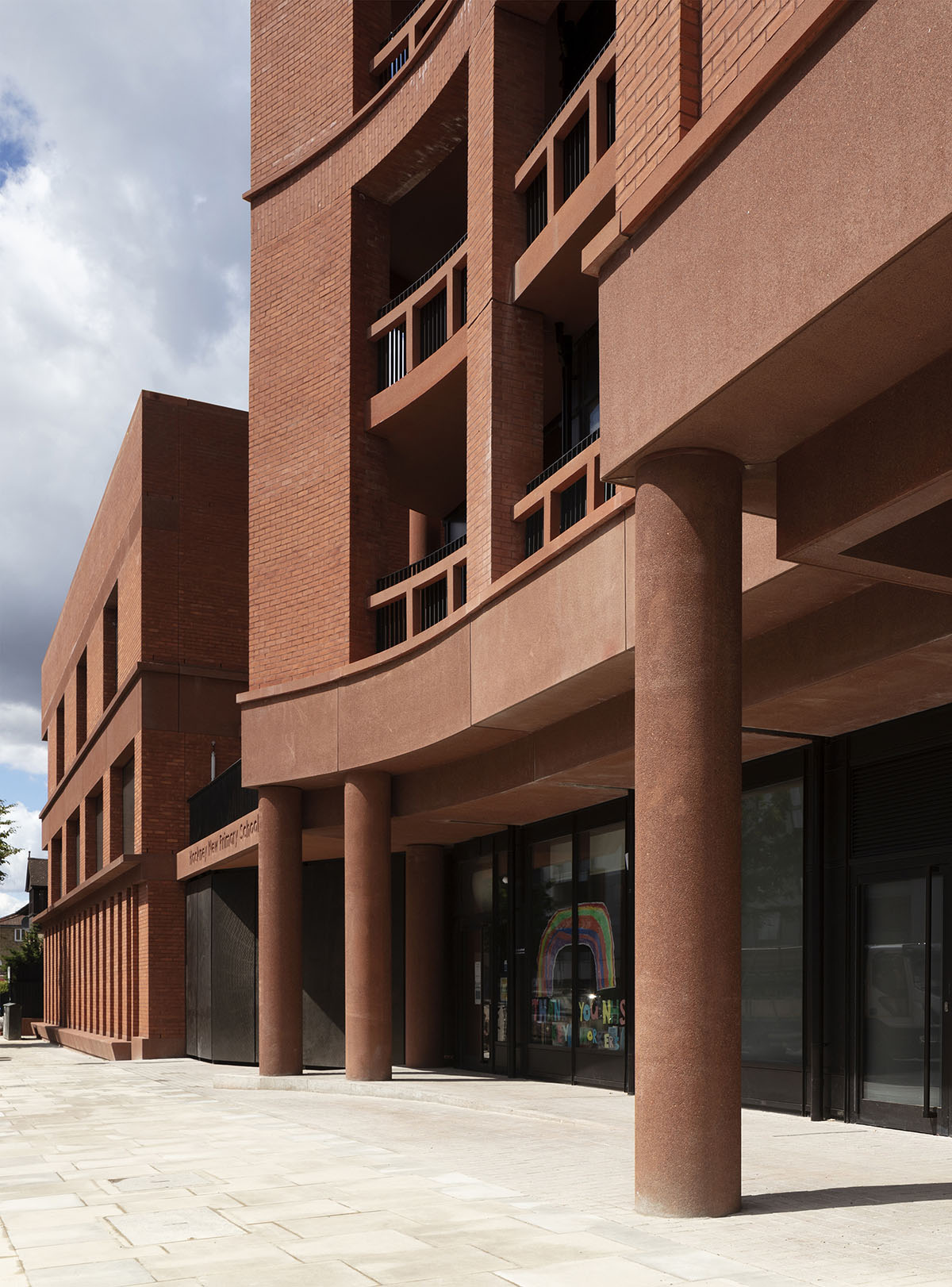 Hackney New Primary School and 333 Kingsland Road, London by Henley Halebrown. Image © Nick Kane
"As we grapple with housing, energy and climate crises, these six projects give cause for optimism, each offering innovative solutions to the challenges of today and the future. From major capital city regeneration programmes to new visions for higher education, they all share the ambition to deliver generous architecture fit for a low-carbon future," said RIBA President Simon Allford.
"Four of our shortlisted schemes provide new spaces to interact and learn. These formal and informal settings – schools, colleges and community centres – epitomise how to design for sustained community benefit."
"They are joined by ambitious new housing developments on compact and complex sites that set a benchmark for investment in high quality, desirable urban homes," Allford continued.
The New Library, Magdalene College, Cambridge by Niall McLaughlin Architects. Image © Nick Kane
"All six buildings are informed by close consultation and collaboration with clients, contractors and the community. The result: outstanding and welcoming architecture that lifts the spirit of all who engage with it," Simon Allford added.
"All six are also underpinned by their understanding of construction's responsibility to mitigate and adapt to our climate crisis. From the reuse and upgrade of existing buildings to the conscious specification of low-carbon materials and technologies, to the thoughtful design of hybrid, flexible spaces – these schemes consider their environment and give generously to their community."
"In their architects' attention to detail, and their clients' determination and commitment, these six projects distinguish themselves and represent the best of UK architecture today. Together they demonstrate the power of exceptional architecture to enhance lives. My congratulations to everyone involved," Allford concluded.
This is the first time Panter Hudspith Architects and Mae Architects have been shortlisted for the Stirling Prize. Three practices - Hopkins Architects (2001, 2006 and 2011), Reiach and Hall Architects (2015, 2016 and 2017), Niall McLaughlin Architects (2013, 2015 and 2018) have each been shortlisted three times.
Henley Halebrown was shortlisted in 2018 for Chadwick Hall, University of Roehampton.
RIBA will announce the winner of the 2022 RIBA Stirling Prize on Thursday 13 October 2022 at RIBA, 66 Portland Place in London.
The six buildings in the running to be crowned the UK's best are:
---
Image © Charles Hosea
100 Liverpool Street, London by Hopkins Architects
"This refurbishment project transforms a former 1980s office building with deep floor plates into a high-quality, flexible commercial building fit for the 21st century.
"Its approach to reusing the existing building demonstrates clear strategic thinking, keeping what could be salvaged, unpicking what could not, and adding what was necessary.
"The building sits over several railway tracks and is next door to a bus station, so the complexities in the design and build process were manifold. The design retains the existing foundations and a large proportion of the original steelwork, as well as adding three new office floors with extensive terraces and rooftop gardens at upper levels. The cores have been moved to create a new elliptical atrium at the building's heart, increasing the amount of retail and leisure accommodation and enhancing its quality."
Image © Reiach and Hall Architects
Forth Valley College – Falkirk Campus, Scotland by Reiach and Hall Architects
"Forth Valley Campus is the final building in a decade long redefinition of the college's building stock after the two previous successes at Alloa, Stirling, and Falkirk.
"Replacing a 1960s building that had reached the end of its useful life on the site adjacent, the new campus buildings hark back to the architecture of the era with long, low slung elevations, intentionally nodding to both the setting and the evolution of Reich and Hall as a practice. Externally, this results in a building made in a honeyed Pietersen Brick, profiled aluminium cladding, and a smattering of corrugated concrete. This is a building that knew where it needed money and an architect and client working in harmony to make sure it got it.
"Internally, the building is organised in a grid with courtyards, streets, open learning spaces, and closed classrooms mingling together to create a vibrant learning environment. Educational buildings in Scotland live or die by the quality of the reflected ceiling plan."
Image © Nick Kane
Hackney New Primary School and 333 Kingsland Road, London by Henley Halebrown
"Hackney New Primary School is an immense sculptural pink brute of a building, punctuating a busy junction on the Kingsland Road with a certain civic pride.
"The project comprises a school enabled by a new housing block, both on a single, tight urban site. Its size clearly challenges educational and environmental norms, with the elimination of internal corridors forming an inner world of a closely-knit courtyard and classrooms. It is clear the architects have had to be inventive to deliver the required light and ventilation on this restricted school site and the courtyard is very much the heart of the school in the same way the hall was in the Victorian board school. Everything happens within this central space."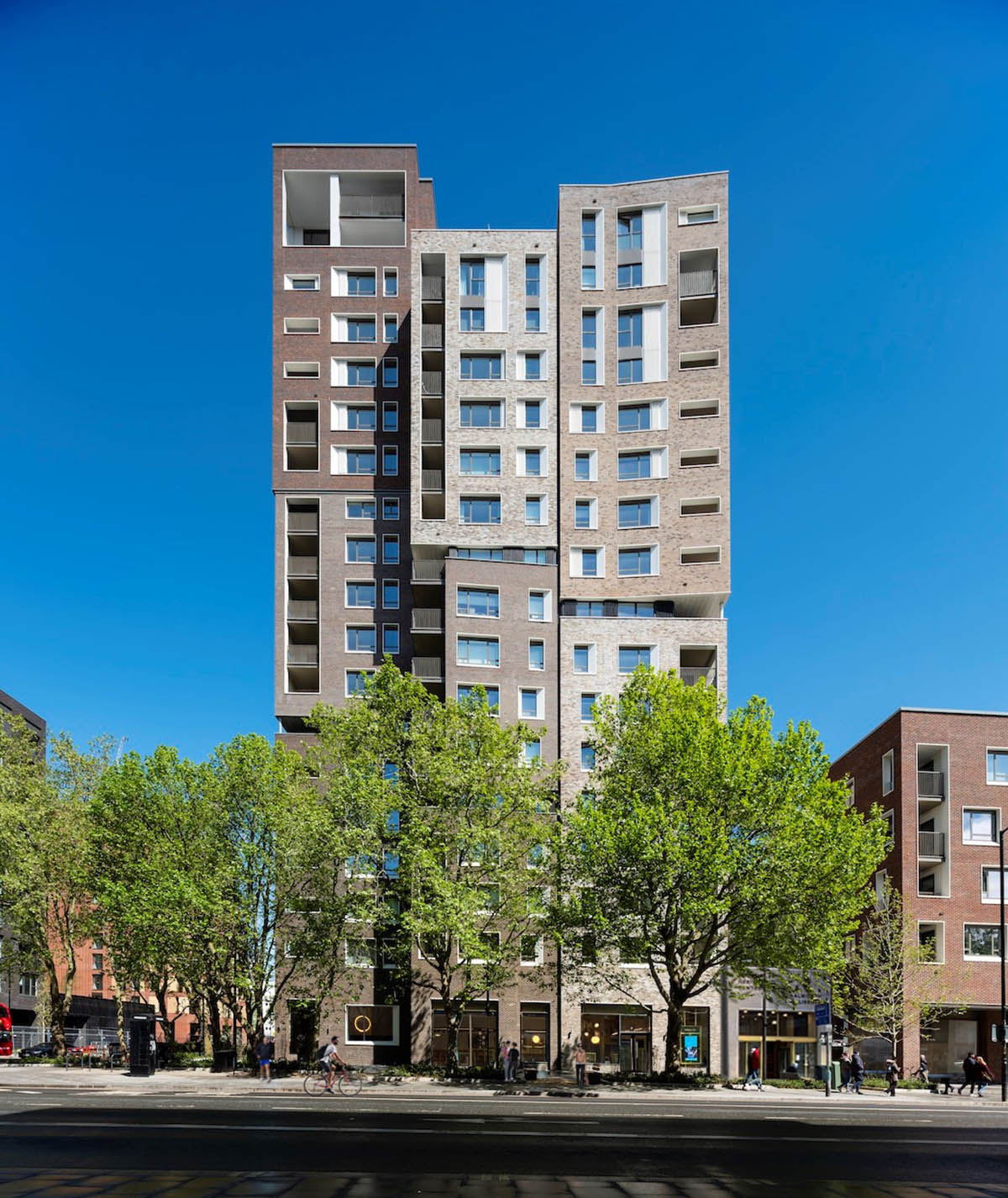 Image © Timothy Soar
Orchard Gardens, Elephant Park, London by Panter Hudspith Architects
"Comprising 228 homes and 2,500sqm of retail and cultural spaces, Orchard Gardens is an entire city block and major component of Elephant & Castle's regeneration. Designed to be viewed as a cluster of buildings, it wraps around a sunny communal garden with sophisticated and playful contrasting scales and heights, ranging from five to 19 storeys.
"The composition of these varying elevations enhances the quality of place-making around the site, creating an approachable neighbourhood, resonant of historic groups of buildings that have developed over time, without appearing contrived.
"The tallest element is located to north of the scheme, reducing in height to the south where Orchard Gardens borders the Grade-II listed Southwark Town Hall. A colonnade cleverly protrudes, both providing an entrance to the library and heritage centre and partially concealing the highest part of the building."
Image © Rory Gardiner
Sands End Arts and Community Centre, London by Mæ Architects
"Located on the northwest corner of Fulham's South Park, the new Sands End Arts and Community Centre is a collaborative development comprising several new connected pavilions arranged around the existing disused Clancarty Lodge, a popular landmark that was refurbished as an exhibition space as part of the same project.
"Driven by the local council's arts strategy of improving access to cultural activities for the widely diverse local community, the development's brief and programme were co-created in consultation with the council, user clients, local stakeholders and local residents, all facilitated by the architects.
"The result is a flexible new facility at the gateway into the park. An existing opening through the boundary wall leads to a welcoming lobby that frames views through to the central courtyard and, beyond that, the park. The central courtyard is open to the east but surrounded by new pavilions to the north and west and the refurbished Clancarty Lodge to the south."
Image © Nick Kane
The New Library, Magdalene College, Cambridge by Niall McLaughlin Architects
"A brief to create a college library with a lifespan of 400 years – to replace a library gifted to Magdalene by Samuel Pepys 300 years previously – is no small task. Niall McLaughlin Architects have certainly risen to the challenge with this deft and inspiring temple to learning.
"The library combines load-bearing brickwork with exquisitely detailed horizontal engineered timber structure to establish a lofty, surprisingly vertical space with a complex three-dimensional tartan grid. The library draws on familiar predilections from previous McLaughlin projects – the references to Louis Kahn's handling of oak panelled window assemblies for example, via the housing for Somerville College, Oxford – while also creating something wholly particular within the setting of the wider college.
"As with the best of the Cambridge's many libraries, a great diversity of spaces to read and work are established, and reflecting its planned longevity, the building feels nicely slack – bookshelves are barely half filled and an extraordinary sense of space pervades, like inhabiting a hugely luxurious treehouse."
---
Previous winners of the RIBA Stirling Prize include Kingston University London – Town House by Grafton Architects in 2021, Goldsmith Street by Mikhail Riches in 2019 Bloomberg by Foster + Partners 2018, Hastings Pier by dRMM in 2017, Newport Street Gallery by Caruso St John in 2016, Burntwood School, London by Allford Hall Monaghan Morris (AHMM) in 2015.
Top image: Sands End Arts and Community Centre, London by Mæ Architects. Image © Rory Gardiner.
> via RIBA