Adjaye Associates unveils design for a community centre "disrupting Brooklyn's racial wealth gap"
David Adjaye's firm Adjaye Associates has unveiled plans for a new community centre that aims to "disrupt Brooklyn's racial wealth gap" in Central Brooklyn, United States.
Developed for the Bedford Stuyvesant Restoration Corporation (Restoration), the new centre is planned for the nation's first community development corporation, since it was created in 1967.
Set to be built on the historic Fulton Street in central Brooklyn, the project, dubbed as Restoration Innovation Campus, is envisioned as a global hub aiming to close Brooklyn's racial wealth gap.
Renowned architect Sir David Adjaye has been following a visioning process with the community since 2019, following a community-based approach.
The 840,000-square-foot (78,038-square-metre) campus will include three structures: a major expansion of the Cultural Center and the Billie Holiday Theatre and two Commercial Buildings with new public open space.
"A place-based model to disrupt the racial wealth gap"
"The design of Innovation Campus taps into Bed-Stuy's vibrant culture to create a place-based model to disrupt the racial wealth gap," said David Adjaye, the founder and principal of Adjaye Associates.
"Based on extensive community engagement sessions, the design scheme prioritizes the public realm and ensures dedicated space for collaboration between mission aligned partners."
"We look forward to seeing the campus become a reality and model for others as Restoration moves the transformative plan forward," adjaye added.
Two commercial buildings, conceived as a mixed-use vision, will be dedicated to world-class new offices for both current tenants and private, nonprofit and government partners committed to disrupting the racial wealth gap.
The buildings are intended to expand the campus' innovative direct services model, with a set of economic mobility and arts education programs. When complete, the two structures will be able to provide critical resources to more than 60,000 Central Brooklyn residents.
The new space will focus on various scale programs such as the Restoration Software Engineering Fellowship in partnership with The Marcy Lab School, and to promote similar programs with other companies invested in advancing skills training and job placement for local residents in high-growth sectors.
The scheme includes more than 600,000-square-feet (59,457-square-metre) of Class A office space for mission-aligned impact partners in the private, nonprofit and government sectors. 190,000 square-feet (17,651-square-metre) of retail space is set to be built to create new jobs offering competitive wages.
The new Billie Holiday Theatre, developed as a major expansion of the campus, will house a wide-ranging mix of performances.
The theater building, which is imagined to have four floors in total, protrudes towards the plaza with its jagged facade details. The façade of the building is shaped by arch details and is enriched by the dimensions of the windows.
The arch-forms on the ground floor are extended to give a different view, while the ground floor invites passers-by inside.
According to the studio, a redefined public plaza will serve as a walkable, flexible outdoor forum and seamlessly connect campus offerings.
Innovation Campus is envisioned as a direct response to America's ever-growing racial wealth gap, a national crisis for cities across the country, according to Bedford Stuyvesant Restoration Corporation.
"Black households in the US have a median net worth of $24,000 compared to $188,000 for White households. In Brooklyn alone, the racial wealth gap is between $40 and $50 billion dollars—and widening amid a pandemic that was devastating to Black and Brown businesses and neighborhoods," it said.
"Despite Brooklyn's exponential growth over the past 20 years, longtime residents and people of color have largely been excluded from the borough's economic success," the Corporation added.
"Central Brooklyn is a microcosm of racial inequities reflected nationwide across our cities. With its focus on Black wealth creation, the Innovation Campus offers a new, replicable model for closing the wealth gap in communities across the United States," said Blondel Pinnock, President & CEO of Restoration.
"For 55 years, Restoration has helped lift thousands of local residents out of poverty and created countless opportunities right here in our community."
"Now, the nation's staggering racial wealth gap requires a bold, new approach—to harness Brooklyn's economic growth to support wealth creation for our neighbors, particularly longtime residents and people of color. We look forward to working with local elected leaders and the residents we've proudly served for generations to realize this critical vision," Blondel Pinnock added.
Since 2019, David Adjaye has been working on a campus design to ensure that the new campus could reflect Restoration's mission and resident feedback about what they wanted in the space.
This input was gathered in a community visioning process in 2019, where four top priorities emerged: increasing the visibility of the arts programs, expanding job and educational opportunities, improving the open space; and bringing in mission-aligned retail.
"Since it first opened in 1972, Restoration Plaza has served as a beloved town square for one of the country's largest African American communities," said the Corporation.
"Today, the site of a former milk bottling plant attracts more 1.5 million visits per year as a hub of arts, education, community engagement, nonprofit services, and commerce."
"Restoration Plaza was built to serve as a catalytic engine for economic and cultural change in a neighborhood plagued by divestment."
"But the needs it was built to address — including delivering basic infrastructure — have changed dramatically as Central Brooklyn has become a national epicenter of gentrification," it added.
According to the Corporation, Central Brooklyn today houses many of the essentials for growth such as a large and diverse workforce, arts and cultural vibrancy, and proximity to the city's other major innovation hubs.
As Vice President Kamala Harris noted when she visited Restoration in summer 2022, "All across our nation there are places like Bed-Stuy — reservoirs of ambition and aspiration — just waiting to be tapped."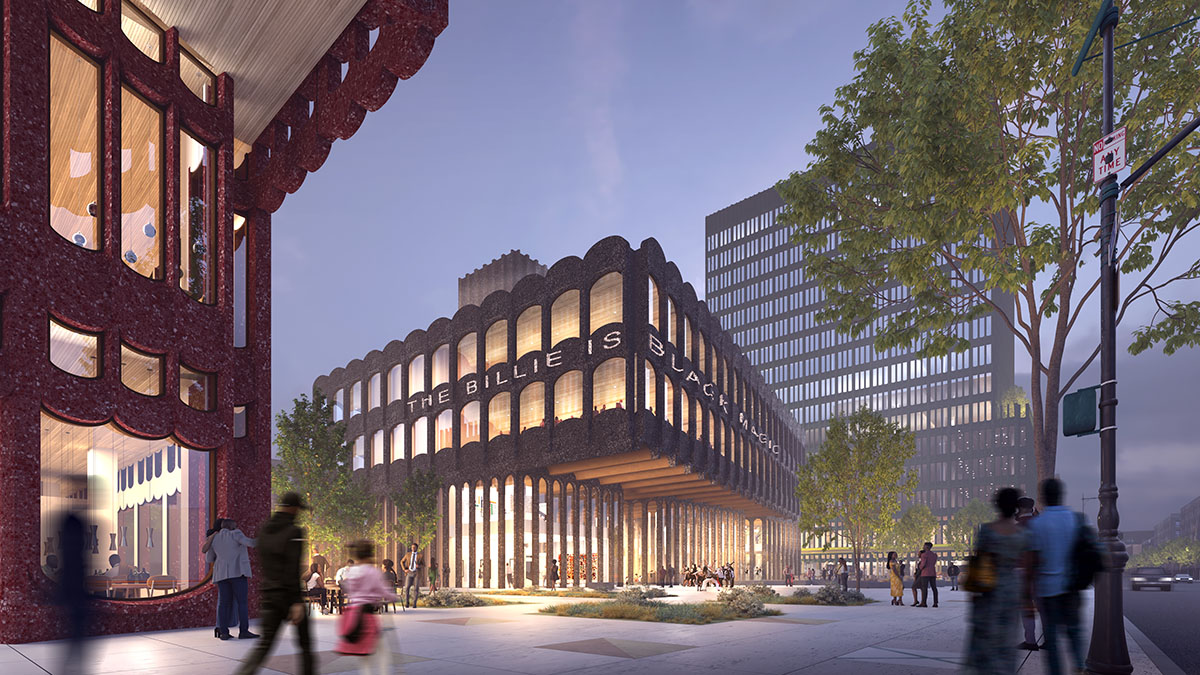 "For over 55 years, Bed-Stuy Restoration Corporation has been committed to the people and needs of Central Brooklyn. Throughout this time, Restoration Plaza has brought residents together for art, education, engagement, service and commerce," said House Democratic Leader Hakeem Jeffries.
"The Restoration Innovation Campus will further the legacy of what has come before and takes bold steps to help meet the needs of those living in the neighborhood by investing in the community and delivering good-paying jobs," Jeffries added.
David Adjaye was commissioned to the project due to his significant project, the National Museum of African American History and Culture, in Washington, DC. David Adjaye was appointed as Creative Advisor to the Commonwealth War Graves Commission (CWGC) Non-Commemoration project.
Adjaye Associates recently completed a new cultural complex, housing a new library and events center located on the northwest corner of a reinvigorated Martin Luther King Jr. Park in Florida.
All renderings courtesy of Adjaye Associates.
> via Bedford Stuyvesant Restoration Corporation