Plans approved for Zaha Hadid Architects' Business Stadium Central in Vilnius, Lithuania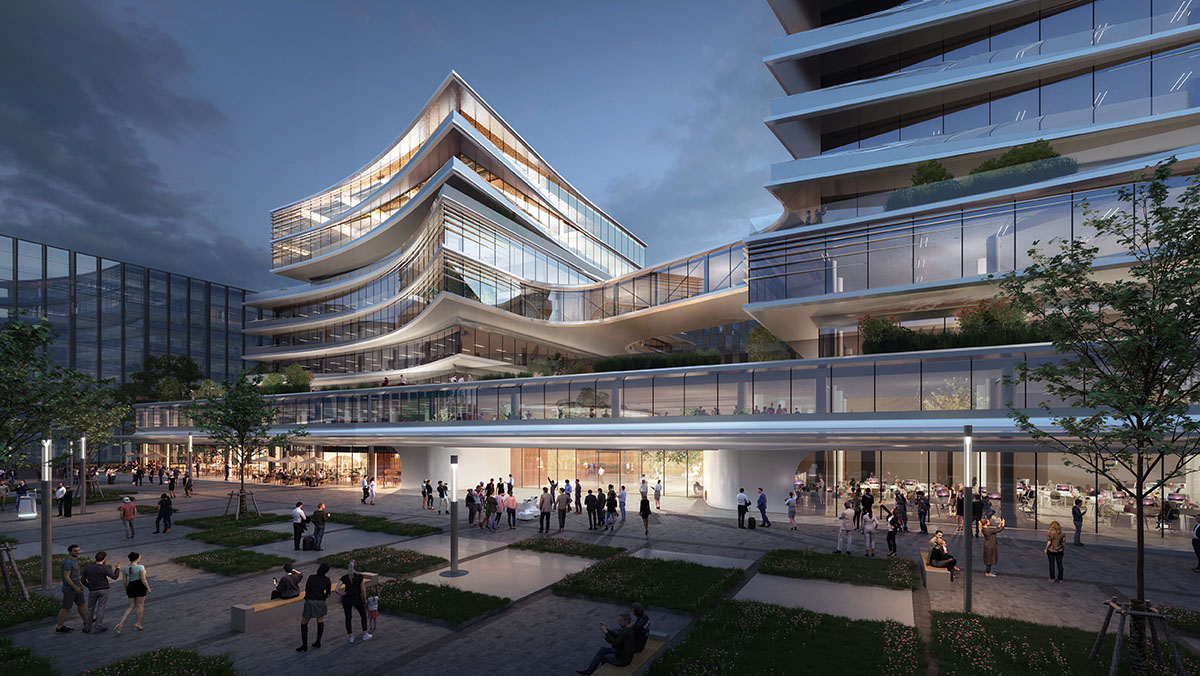 Plans have been approved for Zaha Hadid Architects' Business Stadium Central in Vilnius, Lithuania by the City of Vilnius.
Developed for Lithuanian developer Hanner, the project is developed to be inntegrated within the Vilnius City Plan and the popular public square adjacent to the site. Zaha Hadid Architects' Business Stadium Central is envisioned as a new gathering place for the city.
The 24,000-square-metre complex consists of two low-rise towers, one reaches at 8 storeys and other 9, which are connected at street level by a courtyard atrium and two floors of public amenities.
A skybridge at the fifth level also connects its two towers, is visible from the street level. The façades of the project take shape in curved forms, while its cantilevered balconies face towards the historic Gediminas Castle Tower in the heart of the city.
To create these curvature forms, ZHA draws inspiration from the dynamic geometries of the neighbourhood's existing civic architecture.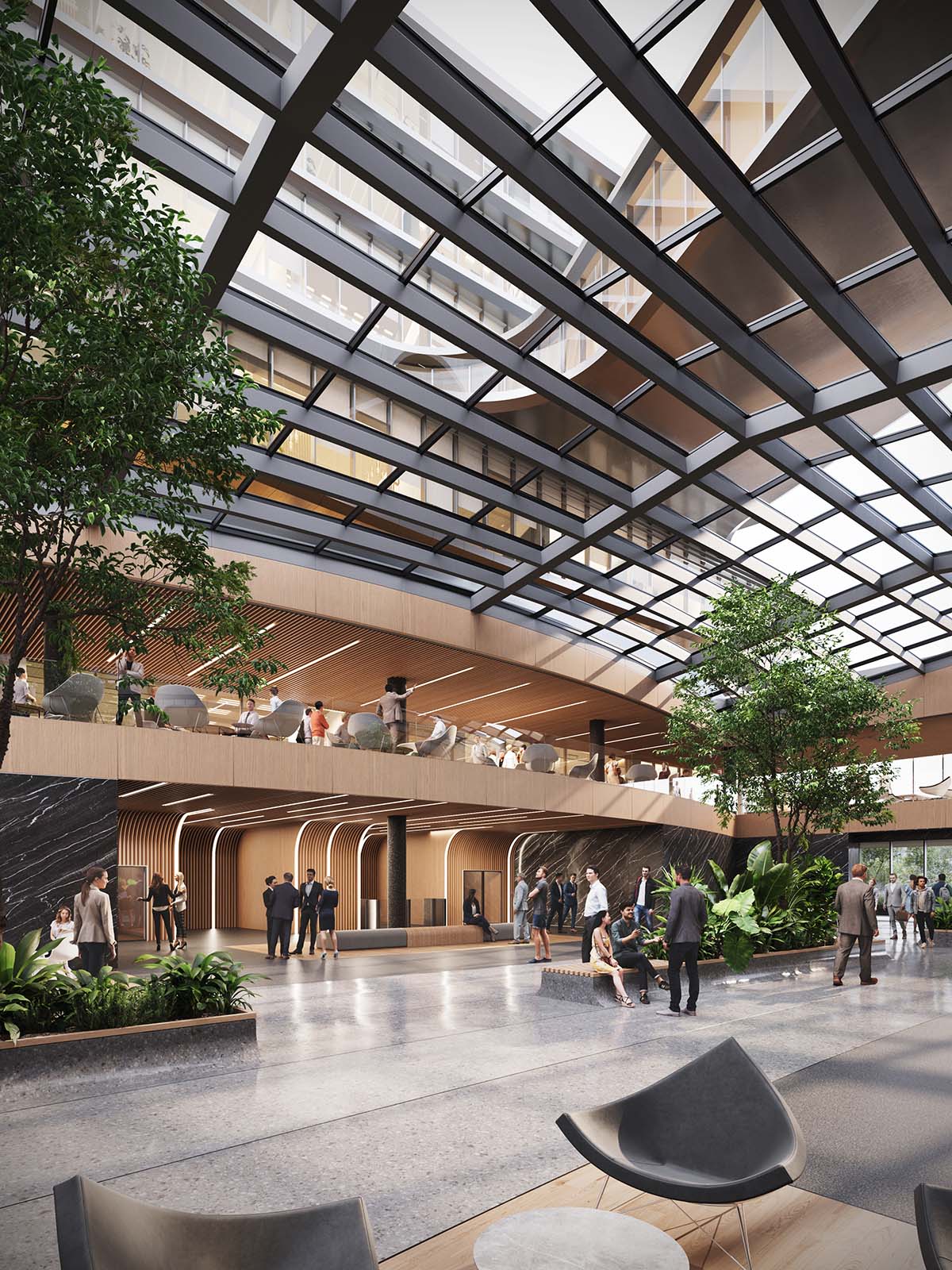 Business Stadium Central's design incorporates 11,750-square-metres of landscaped terraces, roof gardens and plazas that open directly onto the public square which will be designed by New York-based international design practice Martha Schwartz Partners.
The public square is lined with cafes, restaurants and shops, and its atrium courtyard serves local residents, office workers and visitors.
Elevators lead to top floors where the two public swimming pools, saunas, steam rooms and sun decks have panoramic views over Vilnius' historic Old Town.
Flexible office spaces are arranged within the central floors of each of the towers and provide maximum adaptability to extend the life-cycle of the development.
While each office space is different in size and layout, they are designed with maximum flexibility to suit a variety of companies from new start-ups to established international corporations.
These workplaces are also connected with landscaped roof gardens and terraces offering views of the surrounding city.
The centre's glazed facades, made up of "precisely engineered external louvres", transform into the warmer timber-based material palette of Business Stadium Central's interiors.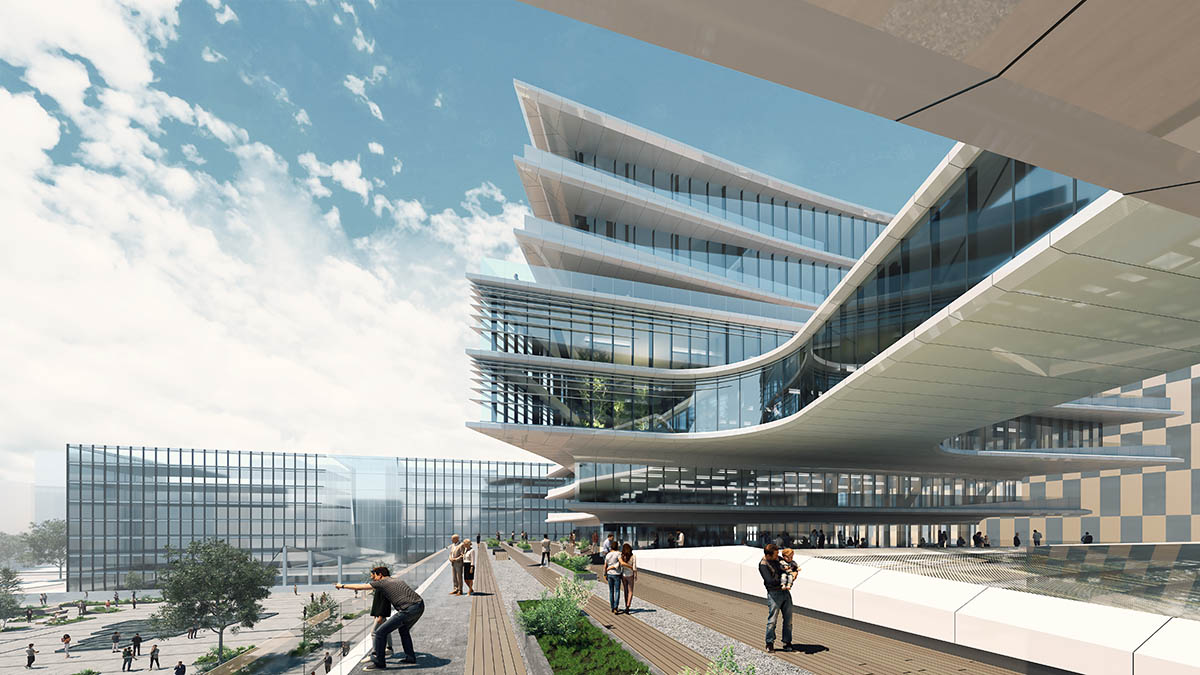 "Located within Vilnius' humid continental climate, annual solar analysis has defined the composition of the façade's louvres and balconies to reduce direct exposure from the summer sun while optimizing solar heat gain in colder periods," said Zaha Hadid Architects.
"These external shading devices are aligned with the sun's lower altitude between October and April of approximately 38 degrees and are perpendicular to the highest position of the sun in Vilnius' summer sky of 151 degrees," the office added.
ZHA integrates sustainable building systems aiming to reduce the development's embodied carbon in construction and its energy use in operation.
To achieve this, the studio use digital optimization design processes which have helped minimize the amount of materials required for the structure, and they integrate them with procurement systems that increase the project's recycled content.
In the interiors, the studio uses timber as the main material, which will be acquired from certified local sources and included within the project's overall supply chains that have been established to reduce delivery distances.
The office evaluates all the specified materials so that they can be disassembled and reused at the end of the building's operational life.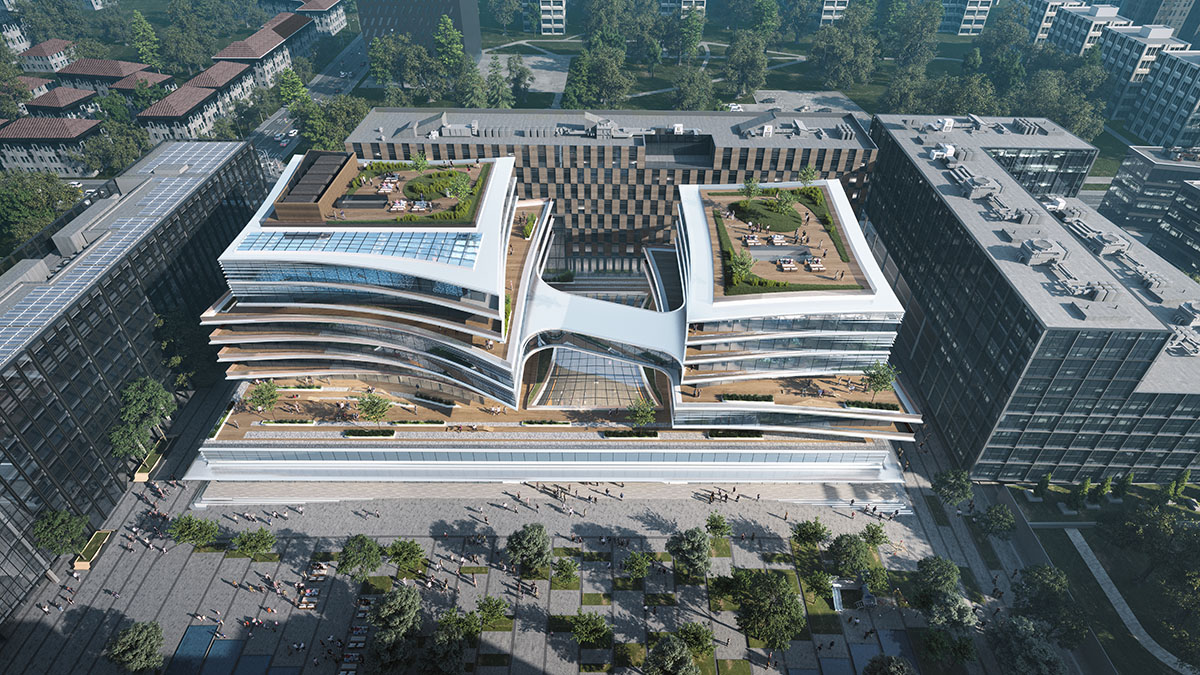 "Using natural hybrid ventilation for most of the year, high-efficiency heat exchange and recovery systems will reduce energy consumption while double-insulated low-E glazing provides excellent levels of natural throughout all public spaces and workplaces," the office added.
The construction of the project is planned to start in the second quarter of this year.
Project facts
Client: Hanner
Architect: Zaha Hadid Architects (ZHA)
Design: Patrik Schumacher
ZHA Project Directors: Gianluca Racana, Ludovico Lombardi
ZHA Project Associate: Michele Salvi
ZHA Project Team: Alessandra Laiso, Giovanni Basile, Ivo Ambrosi, Szu-An Yao
ZHA Competition Project Directors: Gianluca Racana, Ludovico Lombardi
ZHA Competition Associate: Davide del Giudice
ZHA Competition Project Leads: Alexandra Fisher, Jose Eduardo Navarrete Deza
ZHA Competition Team: Maria Lagging, Lara Zakhem
Consultants
Local Architect: Unitectus
Structural Engineers: Ribinis būvis
Façade Engineering: Staticus
MEP: Eva Danovska
Fire Engineer: GSCentras
All renderings © Frontop.
> via Zaha Hadid Architects