Residential apartment by Wood Marsh features organically-sculpted columns in Melbourne
Residential apartment designed by Wood Marsh features organically-sculpted columns that complement the undulating surfaces in Prahran, an inner suburb in Melbourne, Victoria, Australia.
Named No. 6 Sydney Street, the residence consists of collection of 15 residences within a distinguished skeleton, grounded in craft, and inspired by nature.
Created as "an organic sculpture", the residence is located within the inner-city suburb of Prahran and its form and positioning create fluid connectivity to the natural surroundings of the adjacent Orrong Romanis Reserve.
While the residential units are designed with floor-to-ceiling glazing, the units are carried by undulating floor plates where solid-void relationship is balanced with sculpted columns as continuation of surfaces.
To create this sculptural look, Melbourne-based architecture firm Wood Marsh takes cues from the sinuous curves of nature.
"The asymmetrical building appears to be carved from a singular raw material, abstracting its formal composition," said Wood Marsh.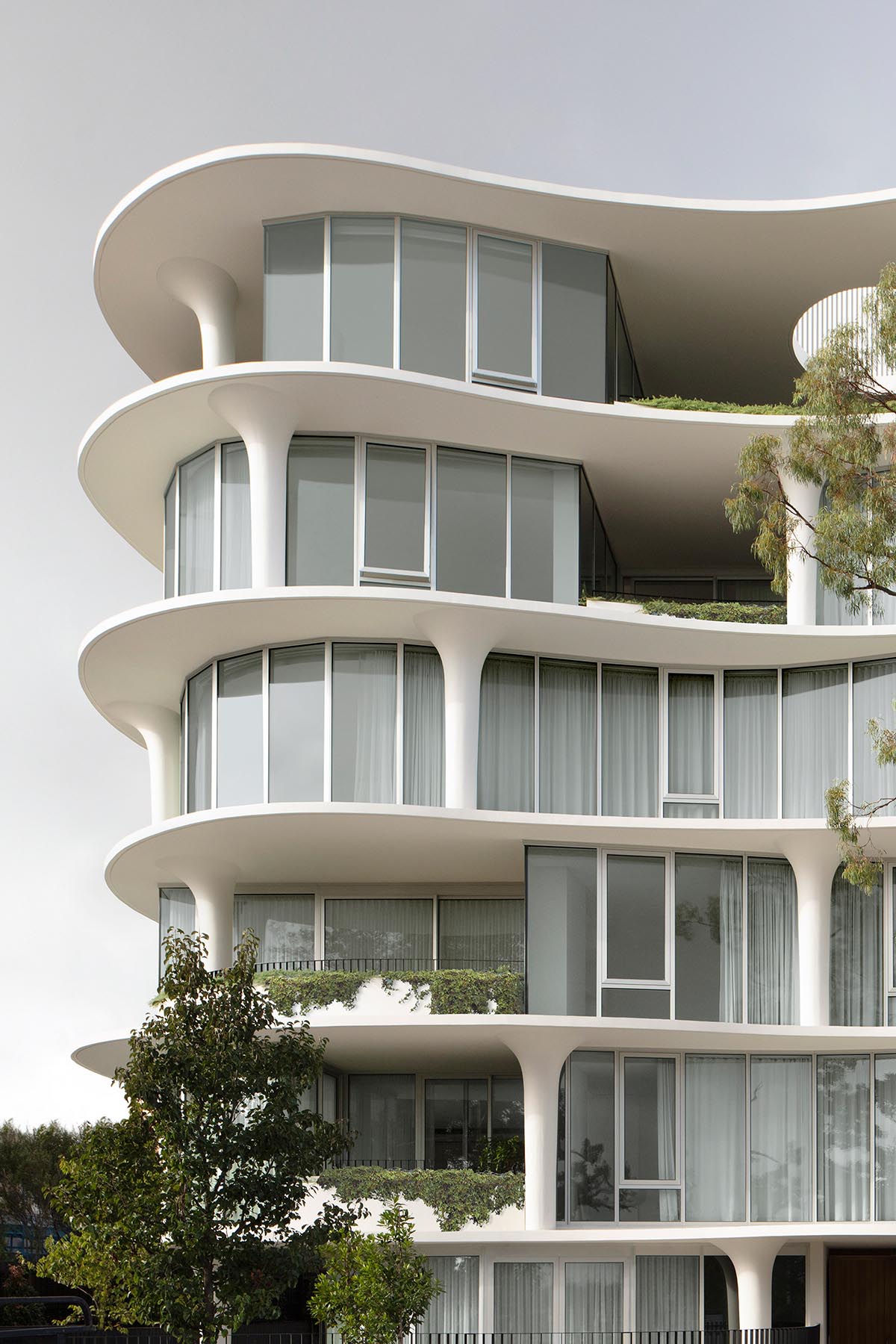 The studio softens the floorplates to be read as a primary element that is subtly moulded into fine blades resting on an irregular grid of feature fluted columns.
The studio aimed to create "an interplay of flowing forms" that give the building a sense of visual movement.
The closer you look, the clearer the feeling of depth in the façade is perceived. Although the horizontal and vertical elements serve separately, they converge at one point and turn into a holistic form.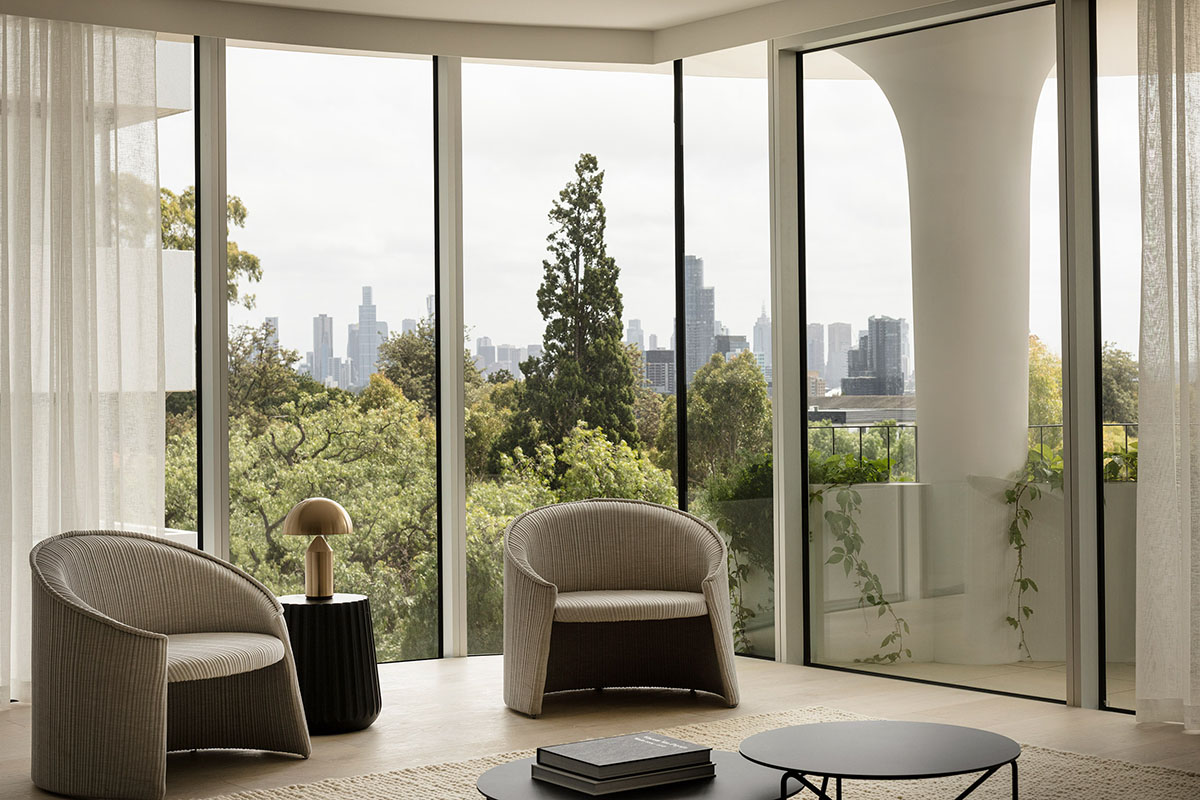 The effects of columns are clearly visible from inside without seriously disrupting the view.
"Deep rippling along the undulant facades results in a conscious layering of positive and negative spaces allowing the integration of intermittent gardens with vegetation growing to further soften the forms," said the studio.
The studio hides the base of the building within a lushly planted garden framing the entry canopy between two recessed fluted columns accessed via a curving pathway.
The entrance sequence begins to transition the external concepts more internally through a refined natural material palette and crafted details.
Another sculptural element is the timber door ornamented with a sculpted cast bronze, silver dipped door handle, which becomes another key element that gives a clue about the design of the residence.
Each of the residences is conceived with a plenty of light, with sightlines and terraces. Planting, park and city views beyond are framed by the expanse of glazing and horizontal planes.
Exterior form is also complemented with the interior design, in which many of the interior surfaces are softened with the use of curving volumes and plaster.
"Highly crafted joinery in natural timber and book-matched marble add to the overall feeling of warmth, contrast, and a refined approach to pared-down luxury," the studio added.
"The bathrooms are wrapped in a travertine mosaic providing a subtle textural quality to the space and contrasting with the solid vanity unit of stained timber and stone."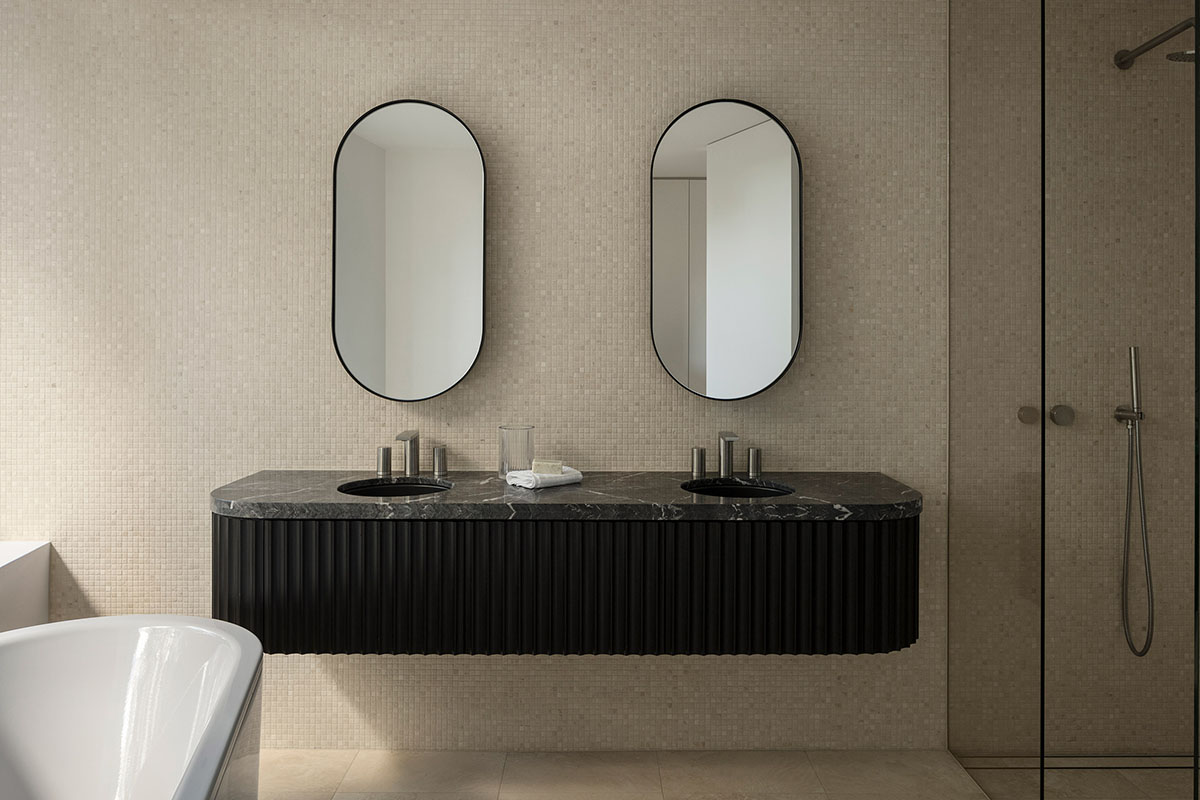 Developed in collaboration with Melbourne-based developer V-Leader, No. 6 Sydney Street is emerged from a result of "carving out its urban block, breaking down the walled streetscape created by its rectilinear neighbours."
"Its polished form carefully experiments with ideas of solid and void, in a monochromatic visual quality," the studio added.
The residence creates a connection to nature, and use of movement, and artistry in contrast to its surrounding residential context.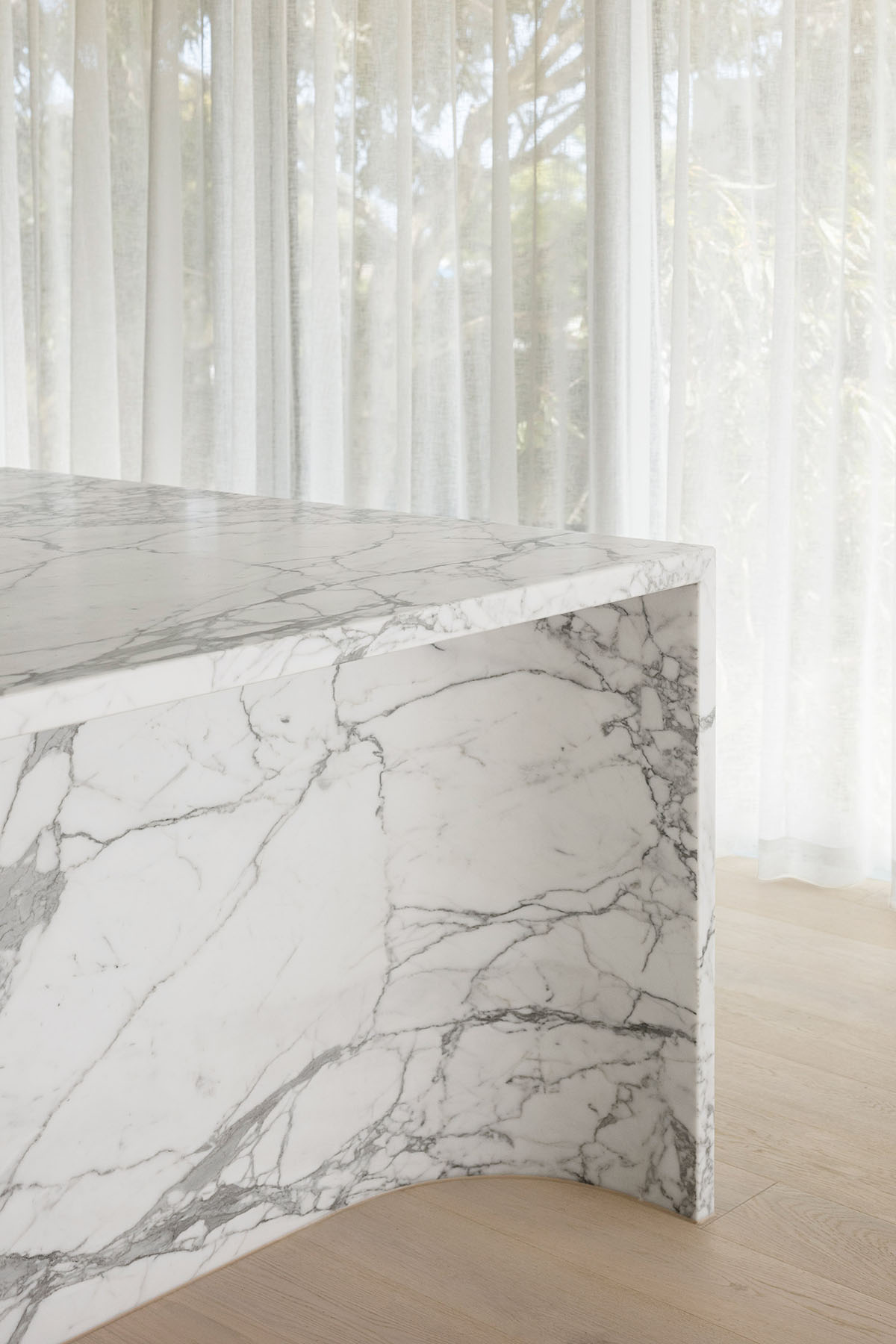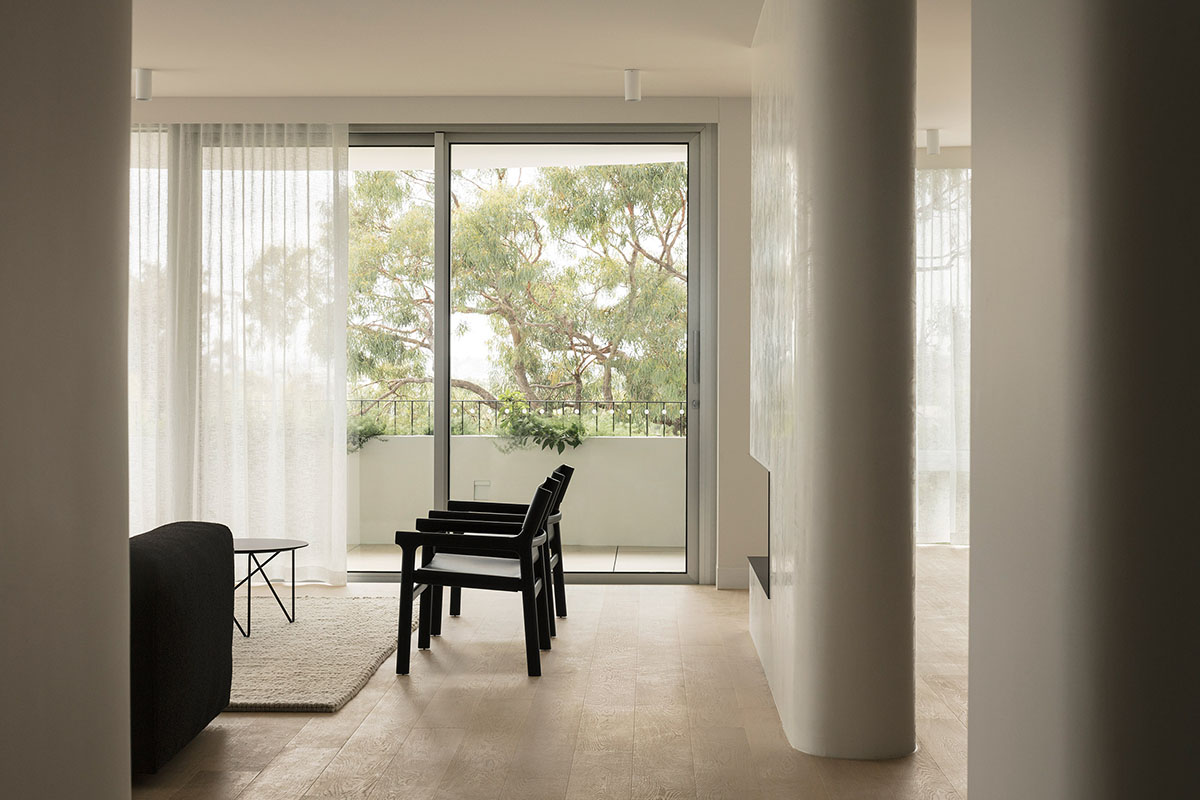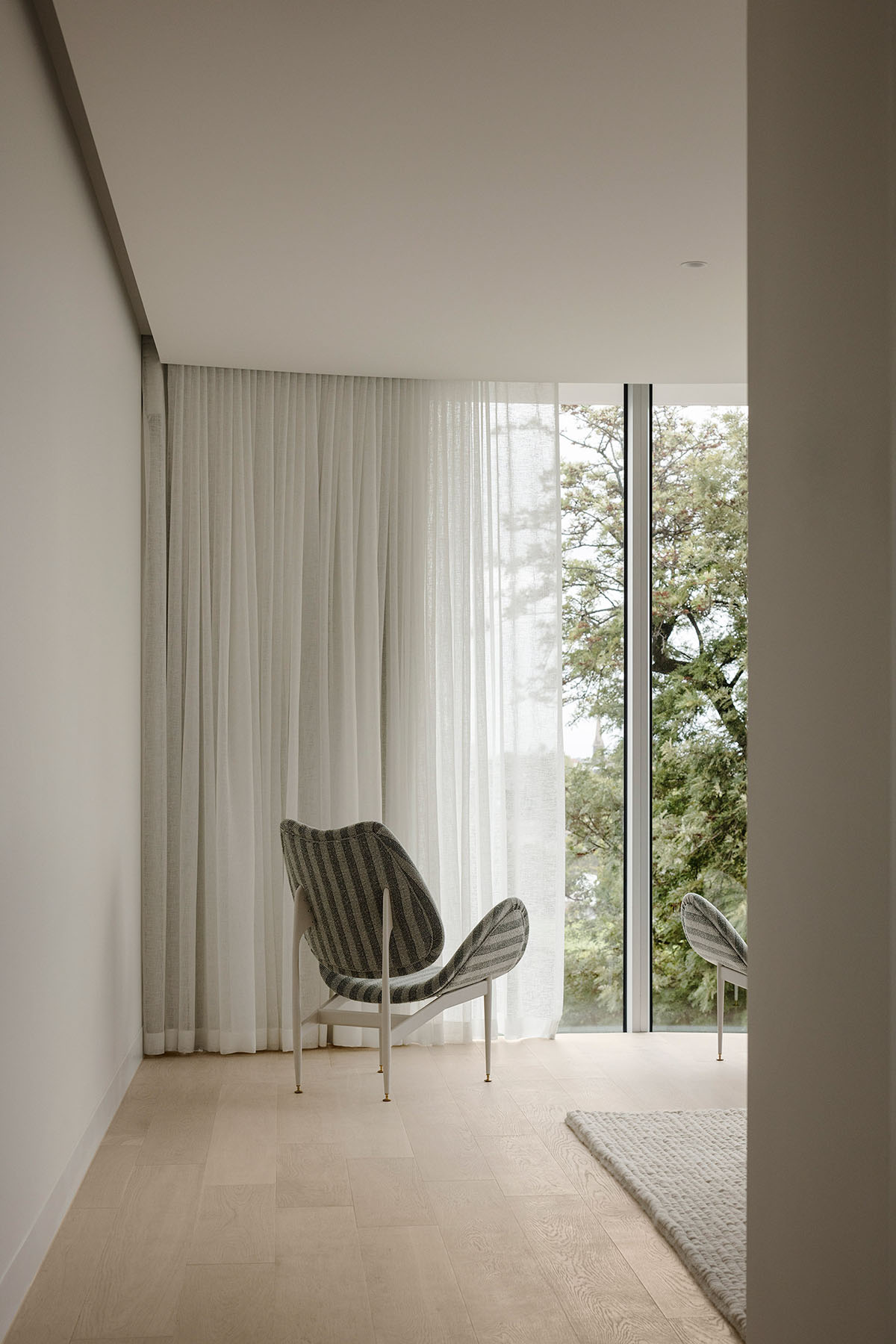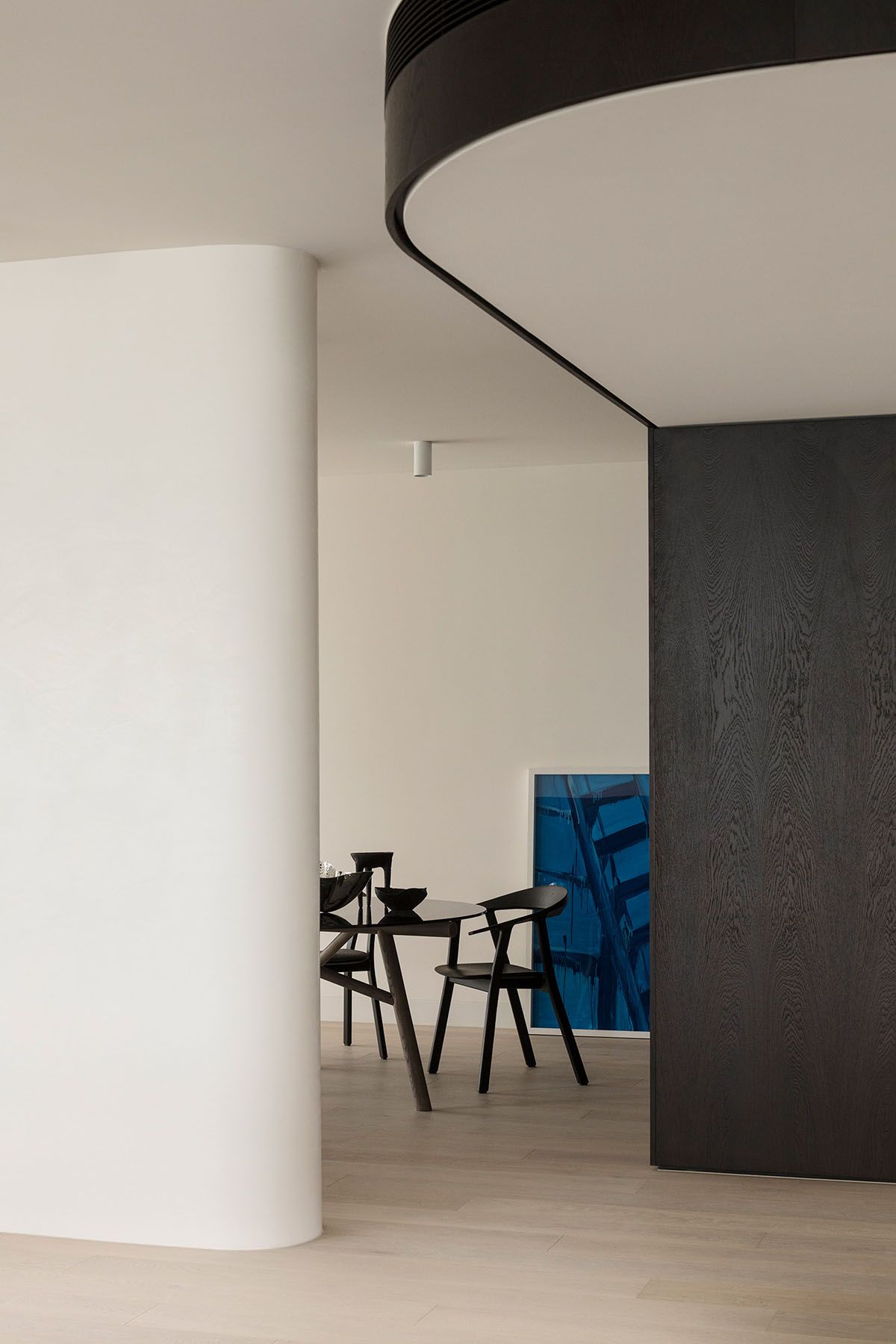 Basement 2 floor plan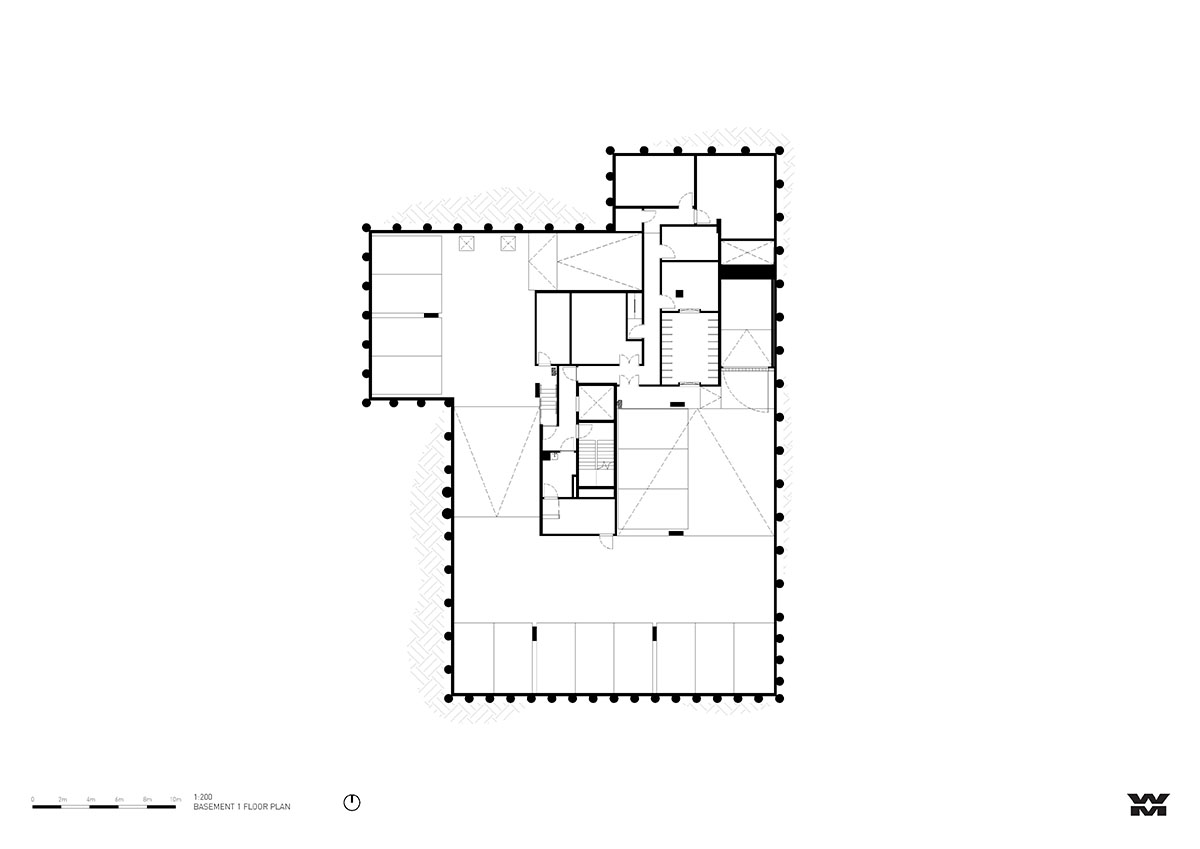 Basement 1 floor plan
Ground floor plan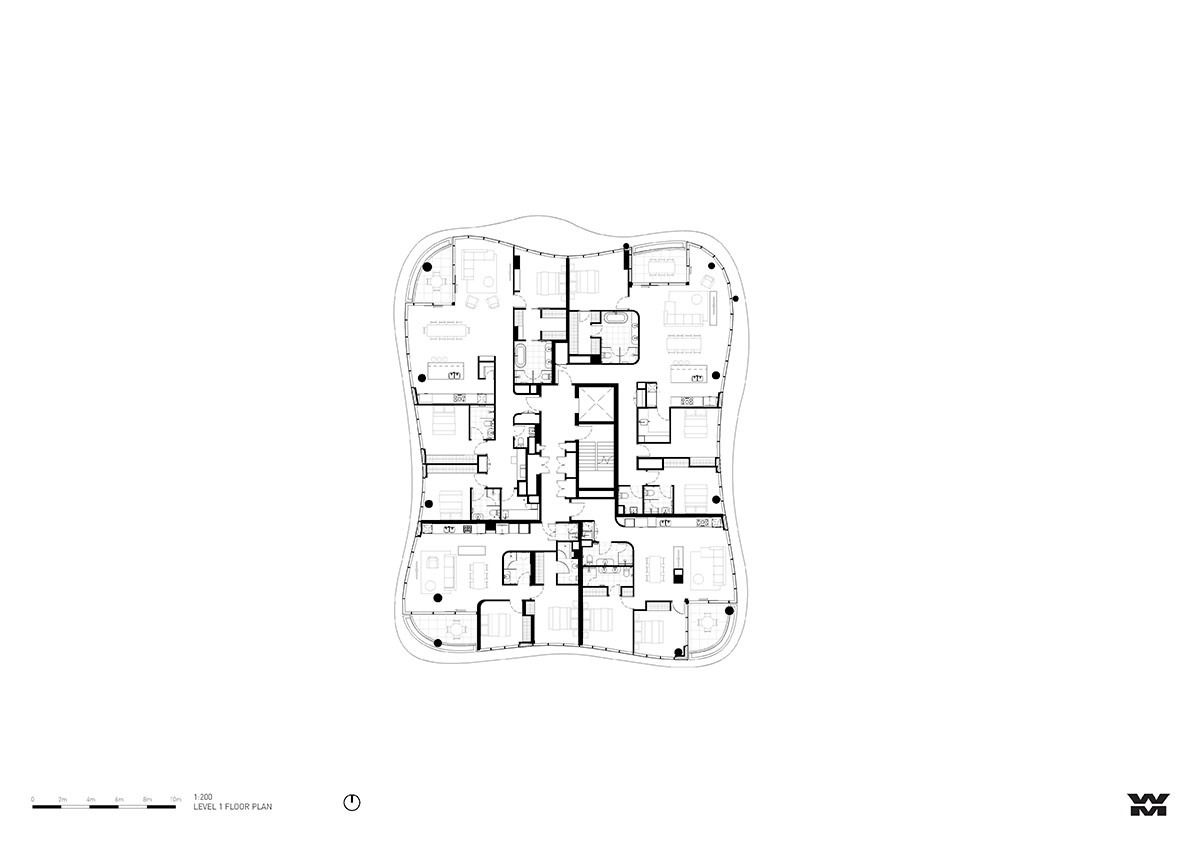 Level 1 floor plan
Level 2 floor plan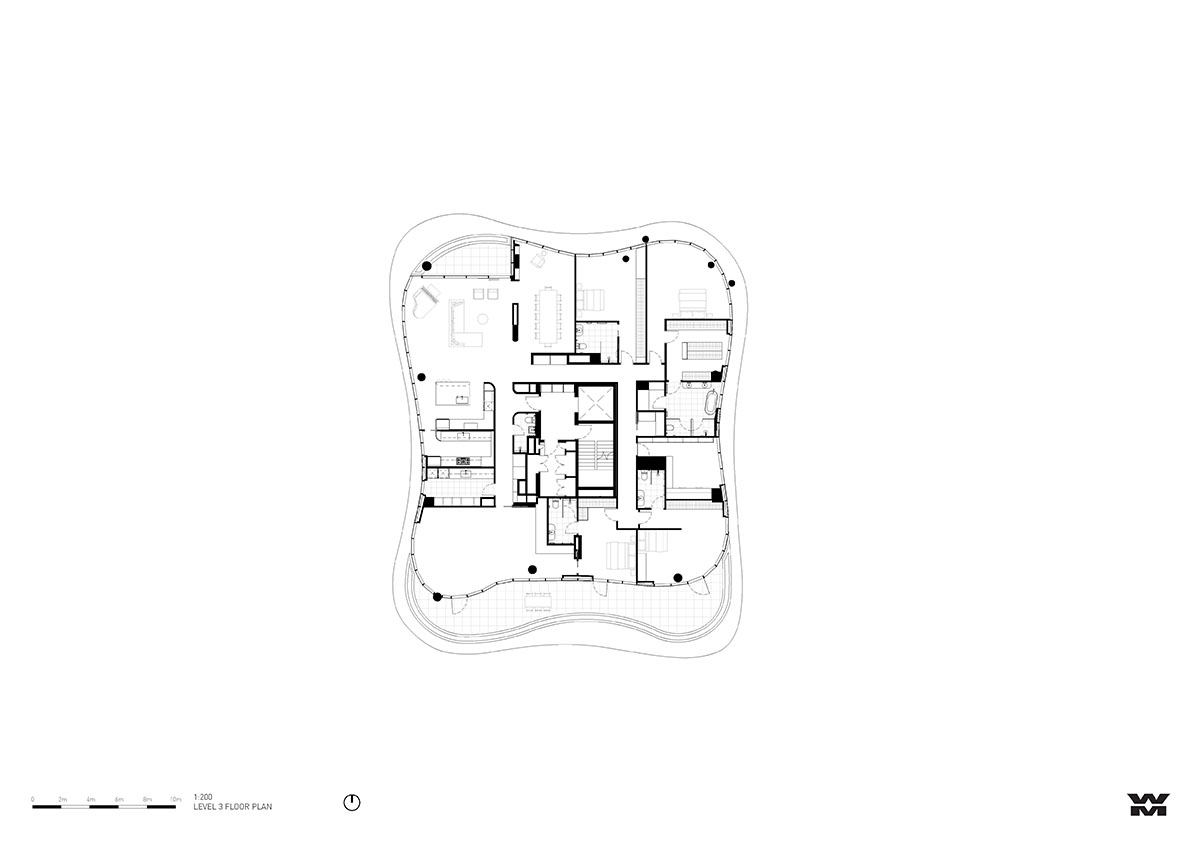 Level 3 floor plan
Level 4 floor plan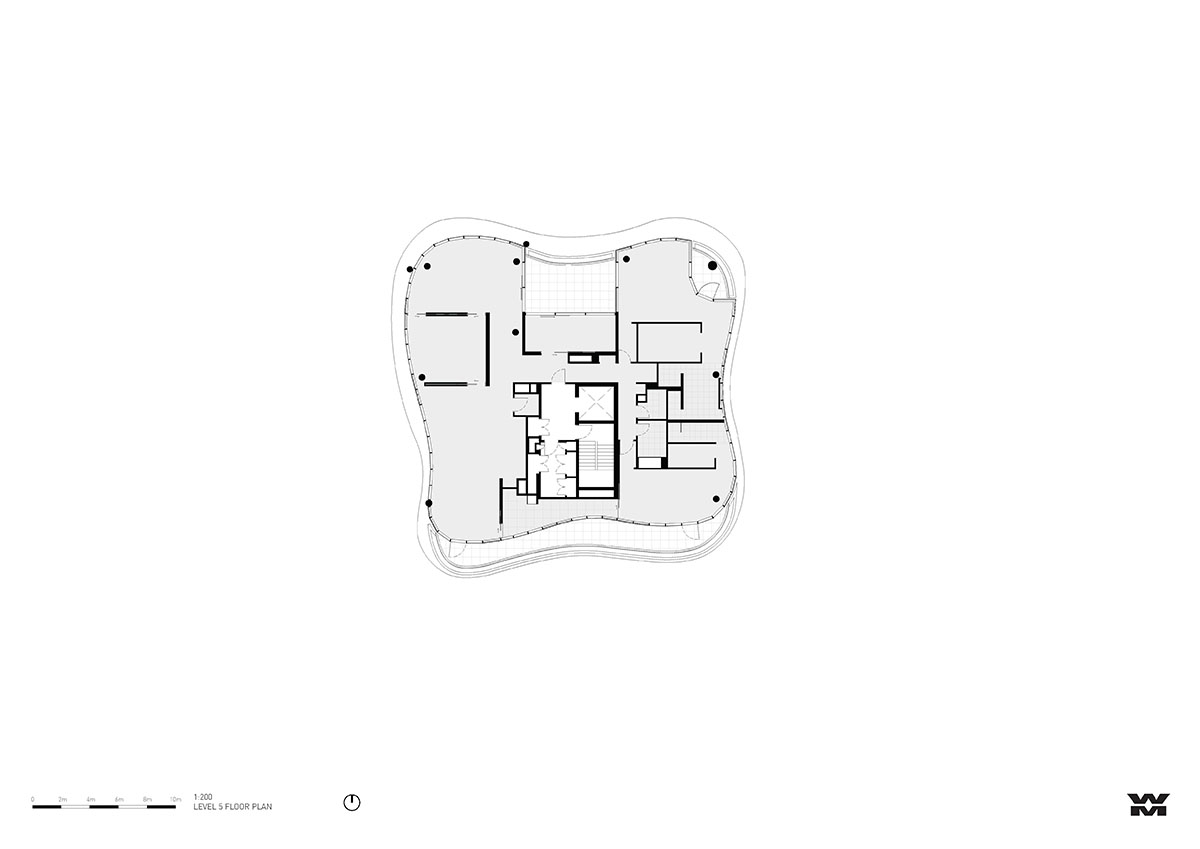 Level 5 floor plan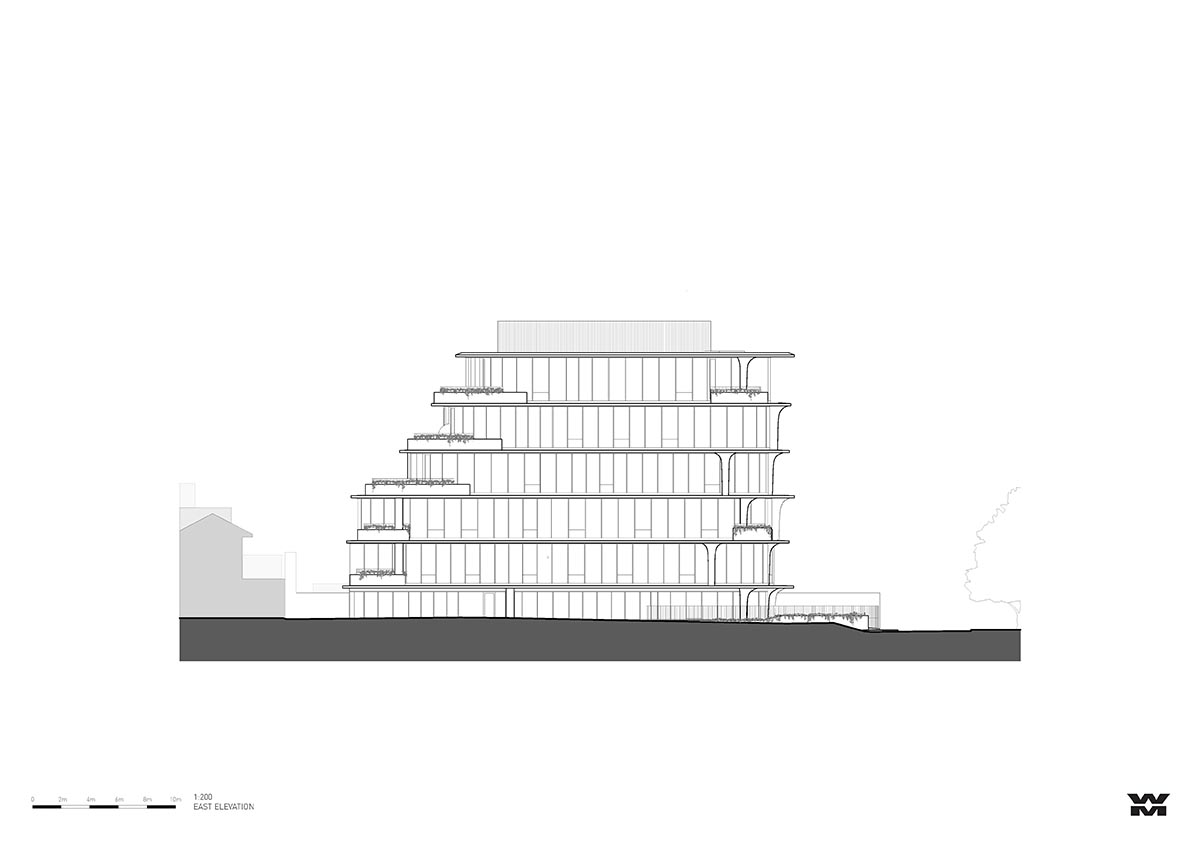 East elevation
North elevation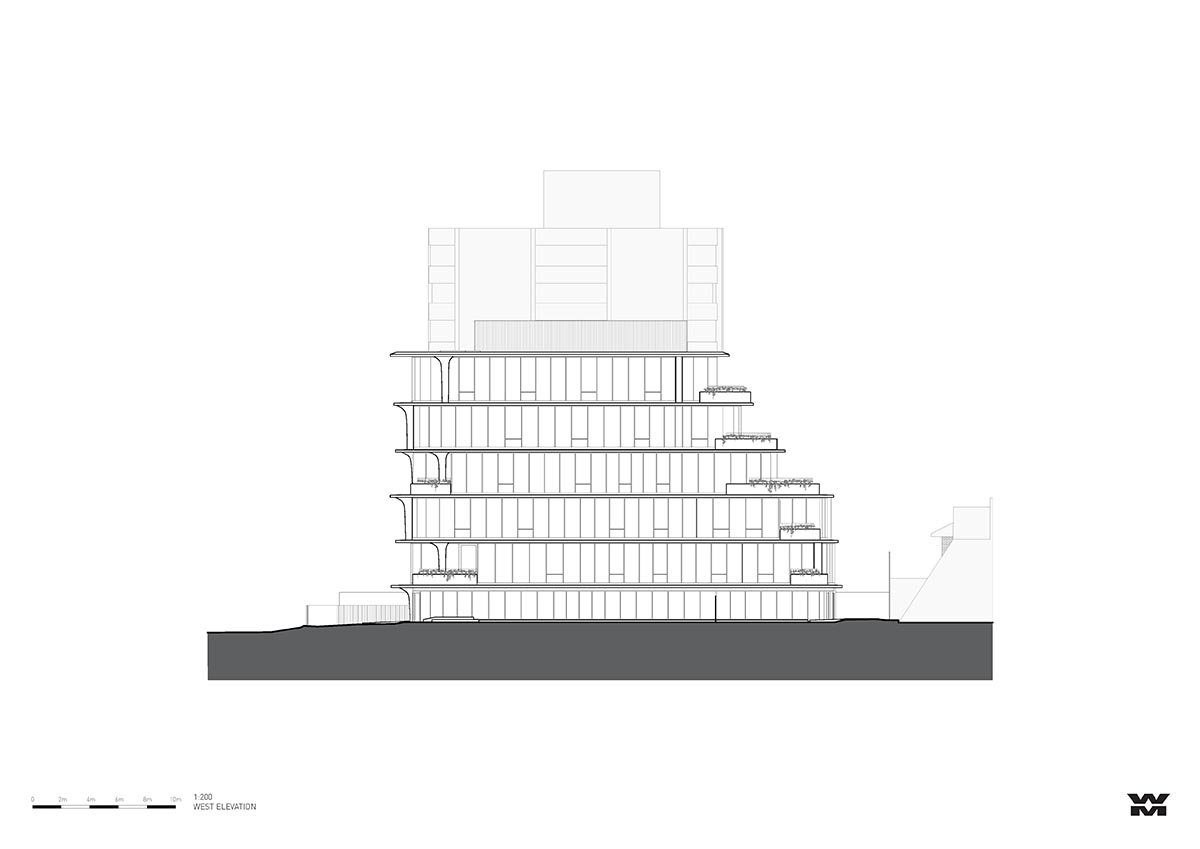 West elevation
South elevation
Wood Marsh was founded by Roger Wood and Randal Marsh in 1983. The studio's project portfolio spans residential, commercial and urban architecture, deeply rooted in contextual issues of locality.
Wood Marsh previously RACV Torquay, a five-star luxury resort in Victoria, Australia and built a curvaceous home in the Victorian suburb of Portsea, Australia.
One of key projects of the studio includes Lonsdale Links, a clubhouse with curved blade walls and inverted zinc roof in Melbourne, Australia.
Project facts
Project name: No. 6 Sydney Street
Architects: Wood Marsh
Interior Design: Wood Marsh
Location: Prahran, VIC Australia
Year: 2022
Photo styling: Karin Bochnik
Landscaping: Eckersley Garden Architecture
Builder: VCON
All images courtesy of Wood Marsh.
> via Wood Marsh