AECOM-designed Build Better Now online exhibition showcases projects tackling climate change at COP26
Build Better Now, a virtual reality online exhibition designed by AECOM, has been opened at climate change conference COP26 which is being held from 31 October to 12 November, 2021 in Glasgow, United Kingdom.
This year COP26 conference will have a dedicated day at reducing carbon emissions which is a crucial fact for all sectors in built environment.
Build Better Now, The Fountain of Circular Recovery, YEAR 2050 by Make Architects (central installation). Image © Make Architects
The exhibition showcases 17 exemplary sustainable projects and a centrepiece 3D installation designed by Make Architects. Make Architects' installation highlights the potential for a circular future to restore our natural world.
Build Better Now, running also a special events programme, highlights the urgent role that buildings and cities can play as a solution to the climate and ecological emergency.
Build Better Now, the COP26 Built Environment Virtual Pavilion. Image © AECOM
The virtual pavilion, designed by AECOM in collaboration with Install Archive, features a series of dome-shaped exhibition spaces amongst treetops and connected by walkways.
The exhibition showcases 17 exemplary sustainable built projects from around the world, selected from an international Open Call. Build Better Now also features a new 3D installation and accompanying film conceived for COP26 by Make Architects.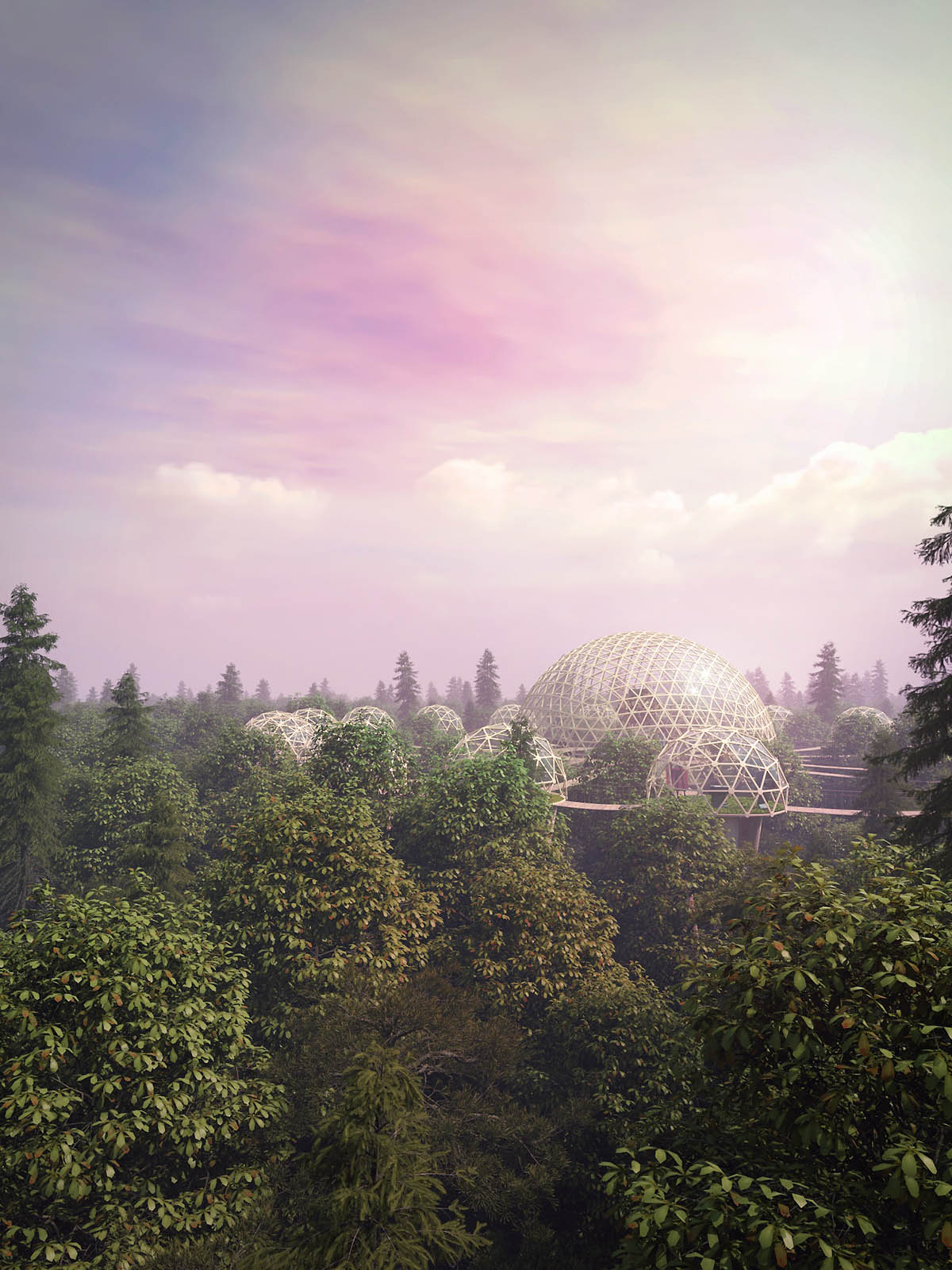 Build Better Now, the COP26 Built Environment Virtual Pavilion. Image © AECOM
The built environment plays a central role to play in supporting the world's transition to a net zero carbon economy. Globally, buildings consume over a third of energy produced, and are responsible for 40 per cent of global energy-related carbon emissions.
Build Better Now exhibition acts as a global call for climate action and is supported by a coalition of over 100 partner organisations from the built environment industry.
Build Better Now - Heart of School, Bali, Indonesia. Image © PT Bambu
"With COP26, the world is ready to tackle climate change and the built environment has a crucial part to play. We know why we must accelerate climate action and Build Better Now shows how we can get there," said Julie Hirigoyen, Chief Executive at the UK Green Building Council.
"Everyone on the planet has a stake in our buildings and cities. I invite everyone to take inspiration from Build Better Now as a global showcase of pioneering solutions to climate change and hope that it supports the industry to create more sustainable buildings, places and cities of the future."
Build Better Now - Hope Rise Bristol, UK. Image © ZED PODS Limited
Alongside the exhibition, Build Better Now hosts an events series comprising a programme of tours and talks, keynotes, panel discussions and other downloadable content, to educate and inspire the built environment industry and public to act now to identify and deliver climate solutions at scale.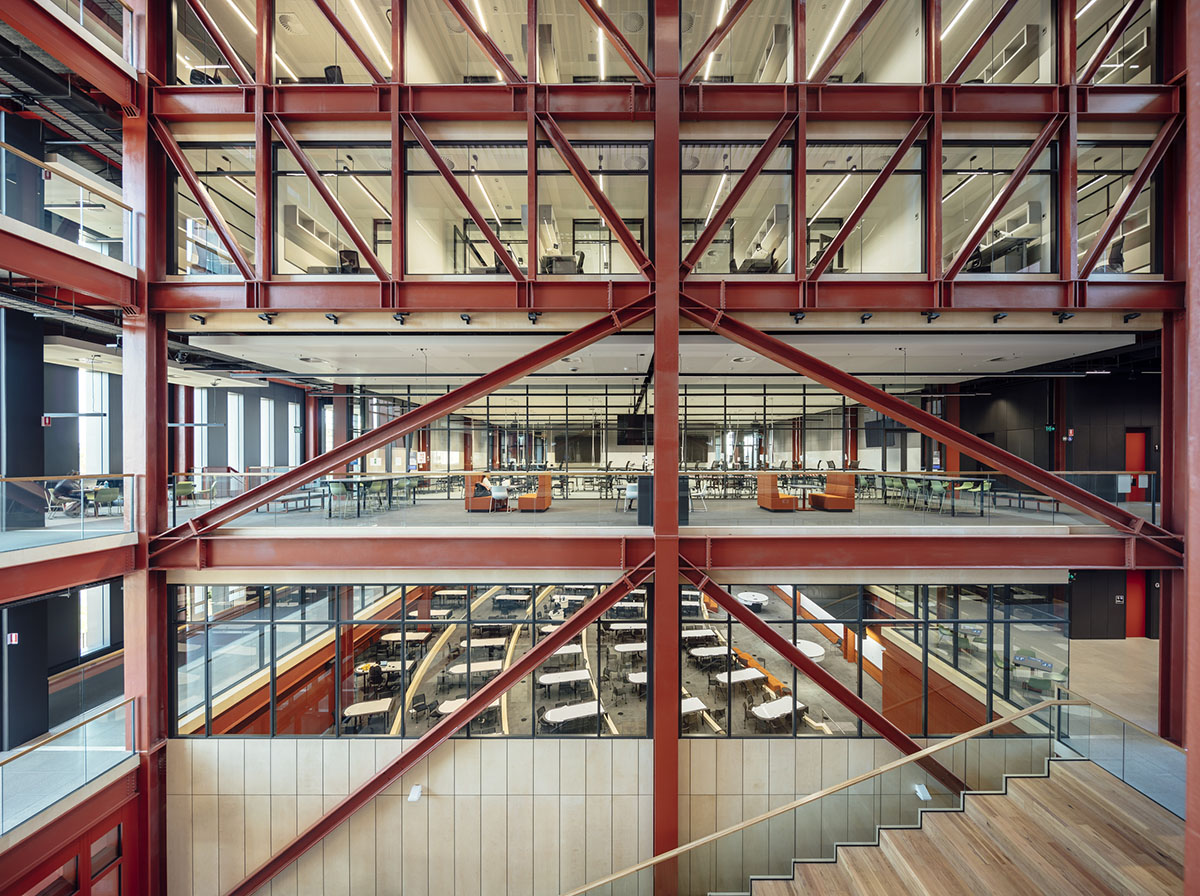 Build Better Now - Monash Woodside, Australia. Image © Michael Kai
Following the Open Call, which was launched in June 2021, a rigorous and transparent selection process was undertaken to find projects for the exhibition.
A judging panel comprising industry leaders from across the world, with insight into the complexities of built environment sustainability issues on a regional and local level, selected projects that are making an immediate positive impact on the planet and people's lives. These projects are both scalable and replicable - giving the potential to deliver far-reaching impacts.
Exploring themes such as natural resource use, climate mitigation and adaptation and nature and biodiversity, Build Better Now will showcase some of the most innovative solutions from across the globe.
Build Better Now - Powerhouse Brattørkaia, Norway. Image © Ivar Kvaal
Make Architects was selected to design a sustainability focused 360 installation and accompanying film that acts as a centrepiece within the pavilion.
Named The Fountain of Circular Recovery, the project highlights opportunities for recovery, reuse and recycling in the built environment to establish a truly circular economy.
Build Better Now - Sara Cultural Centre, Sweden. Image © Patrick Degerman
Pioneering projects include a cultural centre in Sweden that will be one of the world's tallest timber buildings, the largest Certified Passivhaus building in the Southern hemisphere in Australia, a 100-hectare innovation district in Italy digitally mapped and powered by 100% renewable energy sources, and the largest new build energy-positive office building in Norway, which supplies surplus renewable energy to neighbouring buildings as well as powering electric buses.
Build Better Now - Singita, Kwitonda Lodge, Rwanda. Image © Adriaan Louw
Buildings constructed using natural local materials range from a UK university building utilising thatch and reed; a school in Indonesia built with bamboo and the first 3D-printed sustainable homes made entirely from raw clay – perfectly balancing ultra-modern construction techniques with historic, traditional materials.
Build Better Now - TECLA project by Mario Cucinella Architects and WASP. Image © Iago Corazza
Projects protecting and enhancing nature include a government-led eco-tourism initiative to restore a national park in Rwanda and a high-tech rewilding project, restoring native forest and peatlands and reintroducing locally extinct species to 100 acres of land in the Scottish Highlands, which will form a template for similar nature regeneration globally.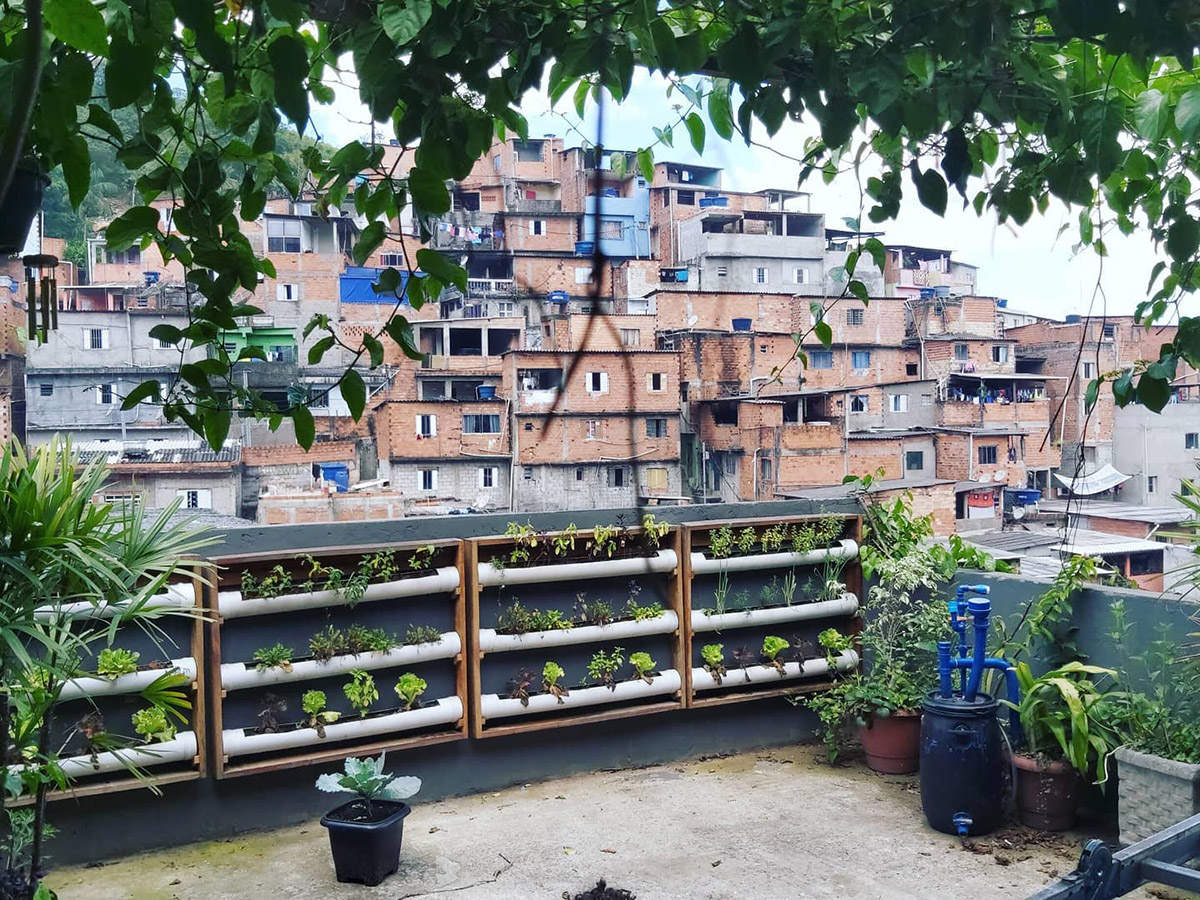 Build Better Now - Instituto Favela da Paz, Brazil. Image © Favela da Paz Institute
As well as government-funded research into retrofitting Scotland's iconic but hard-to-heat tenement homes, the exhibition features a favela in Brazil and affordable sustainable housing solutions in the UK, New Zealand and Pakistan.
It also included are an adaptable cross laminated timber bridge concept designed for a circular economy, as well as an initiative to develop a sustainable mass timber building market building in East Africa.
Build Better Now - Mass Timber Market, Nairobi, Kenya. Image © BuildX Studio
"We are coming together for COP26 to spotlight the built environment as a solution to climate change. This is the most visible and coordinated the industry has ever been at a climate summit of this calibre," said Cristina Gamboa, CEO, World Green Building Council, speaking at the launch of Build Better Now.
"Build Better Now provides us with an opportunity to learn how sustainable building practices are having a positive impact on people's lives."
"We must ensure that the world listens to the steps needed to create sustainable buildings, which means building and renovating with Whole Life Carbon principles, embracing a circular economy and creating people centric, healthy buildings that are resilient to the effects of climate change."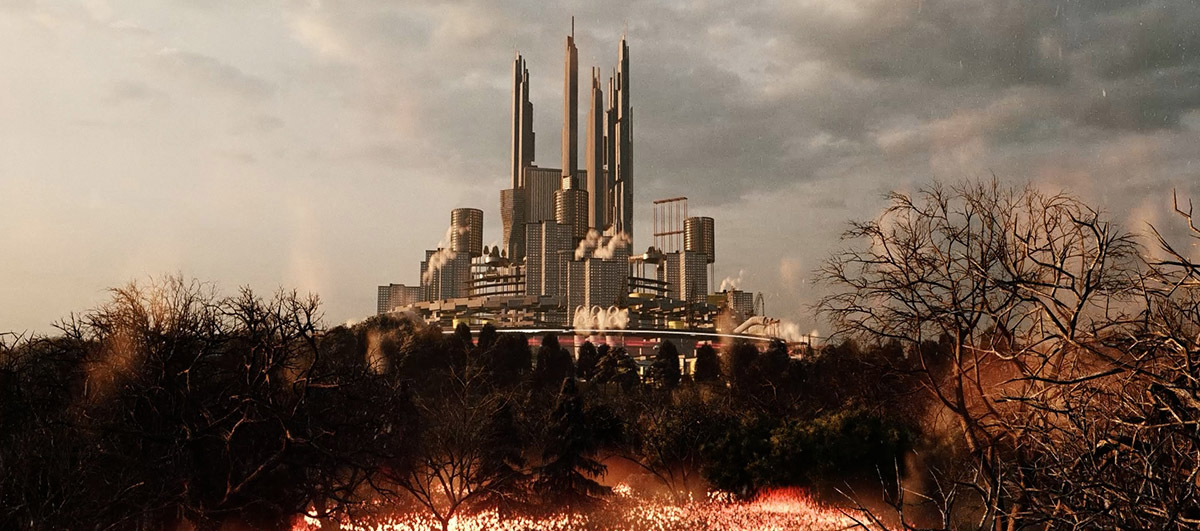 Build Better Now, The Fountain of Circular Recovery, YEAR 2050 by Make Architects (central installation). Image © Make Architects
Build Better Now - Milan Innovation District, Italy. Image © artist impression
Monash Melbourne Australia, Western Facade. Image © Peter Bennetts
Powerhouse Brattørkaia, OS N43. Image © Ivar Kvaal
Build Better Now is a collaborative project co-owned by over 100 partner organisations from across the built environment sector, for which UKGBC is acting as a secretariat.
The Virtual Pavilion aims to showcase the relationship between the built environment and climate change, both as a part of the problem and the solution.
The pavilion comprises an exhibition of global exemplar projects and places, within a bespoke virtual reality (VR) space, as well as a major series of events and downloadable content – to include keynotes, panel discussions and more. This year for the first time, COP26 will feature a dedicated Built Environment Day.
To enable maximum participation from around the world, Build Better Now at the Built Environment Virtual Pavilion at COP26 will be hosted online from 31st October to 12th November 2021, and will be free to access to all.
Read more about what the speakers and city leaders say about climate change at COP26. See the full Presidency Program of COP26.
Build Better Now
COP26 Built Environment Virtual Pavilion
1-12 November 2021
> via Build Better Now