Gold Rush by MSA wins the Prix Versailles Continental Award 2021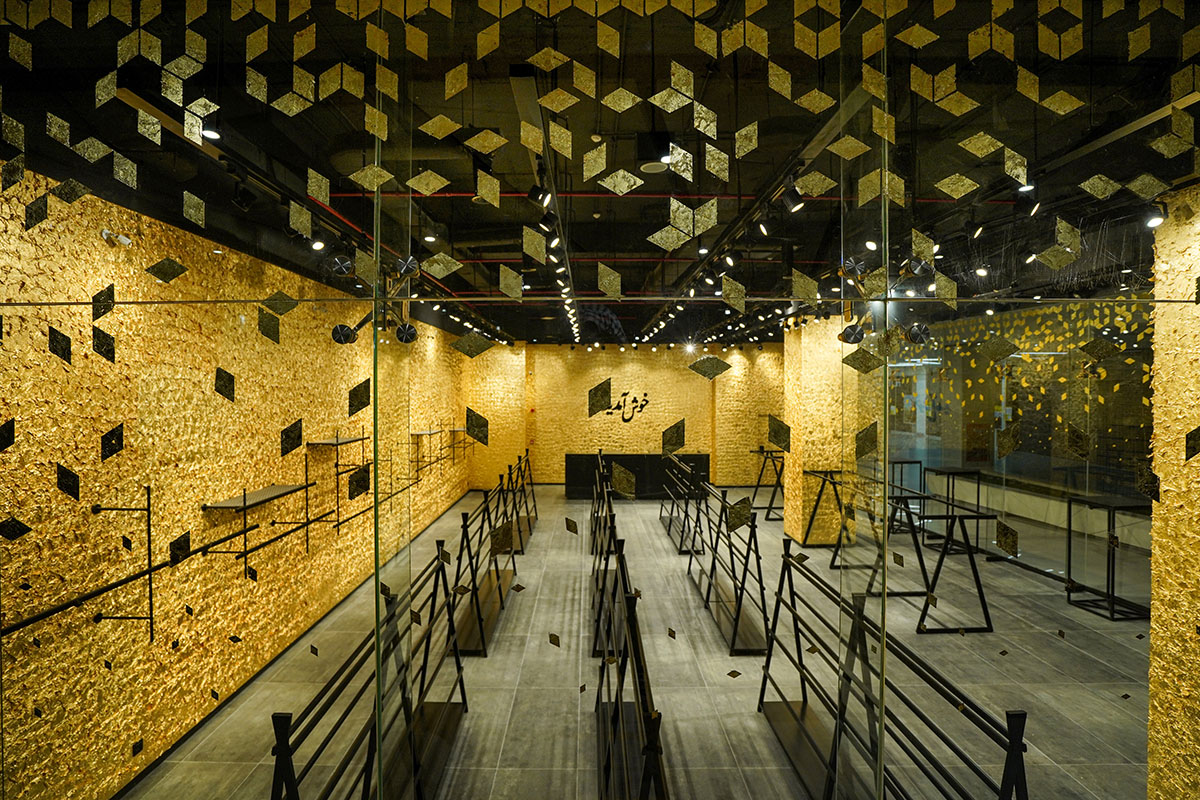 MSA (Metropolitan Studio of Architecture) a design firm from Pakistan has won the prestigious Prix Versailles Continental Award 2021 for the second time for their uniquely designed clothing retail outlet in Lahore, Pakistan.
The first time they won this award was in 2018 for their retail interior project named Crafting a Retail located in Peshawar, Pakistan.
The project, named Gold Rush, a retail store, is a celebration of Gold as a color as well as a cultural symbol for the subcontinent. Gold is widely present in the culture of this part of the world.
It is not only found in the form of precious metal but also shows its presence in the landscape of this area starting from the color of the sunshine to the ripened wheat fields to the color of the desert sand. It even transcends visual culture and entered into the language as well. In fashion, gold jewelry transcends all norms of the conventional fashion sense. It is part of all types of clothes irrespective of their colors or cuts, Gold requires no matching!
On the other hand, the store design explores gold paper as an architectural interior material that provides the interior a color loved by all along with a unique texture.
This bold application of the paper as the material gives the store a distinctive presence while exuding an impression of magnificence.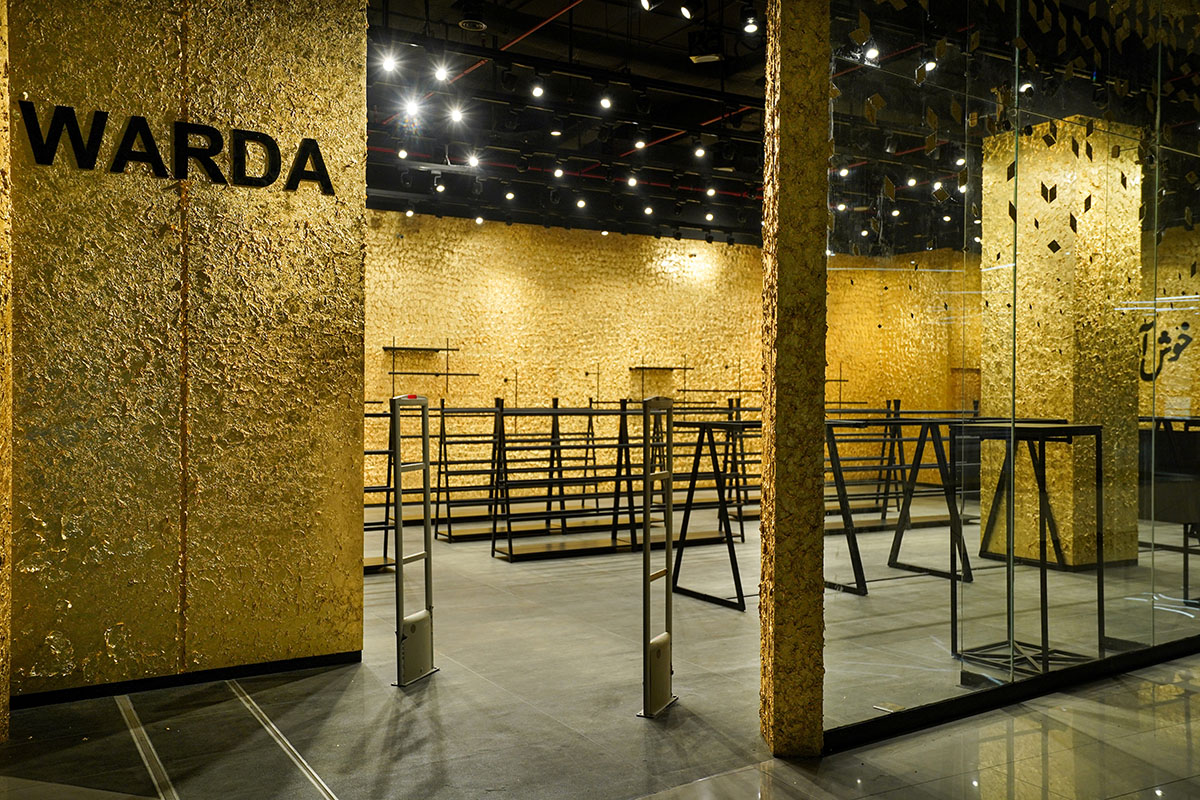 22,000 gold leaf papers were pasted by hand in this store. Each paper bearing the touch of the craft person acquires a unique texture and form. The store design is kept minimal intentionally so that the material gets a chance to express itself more profoundly.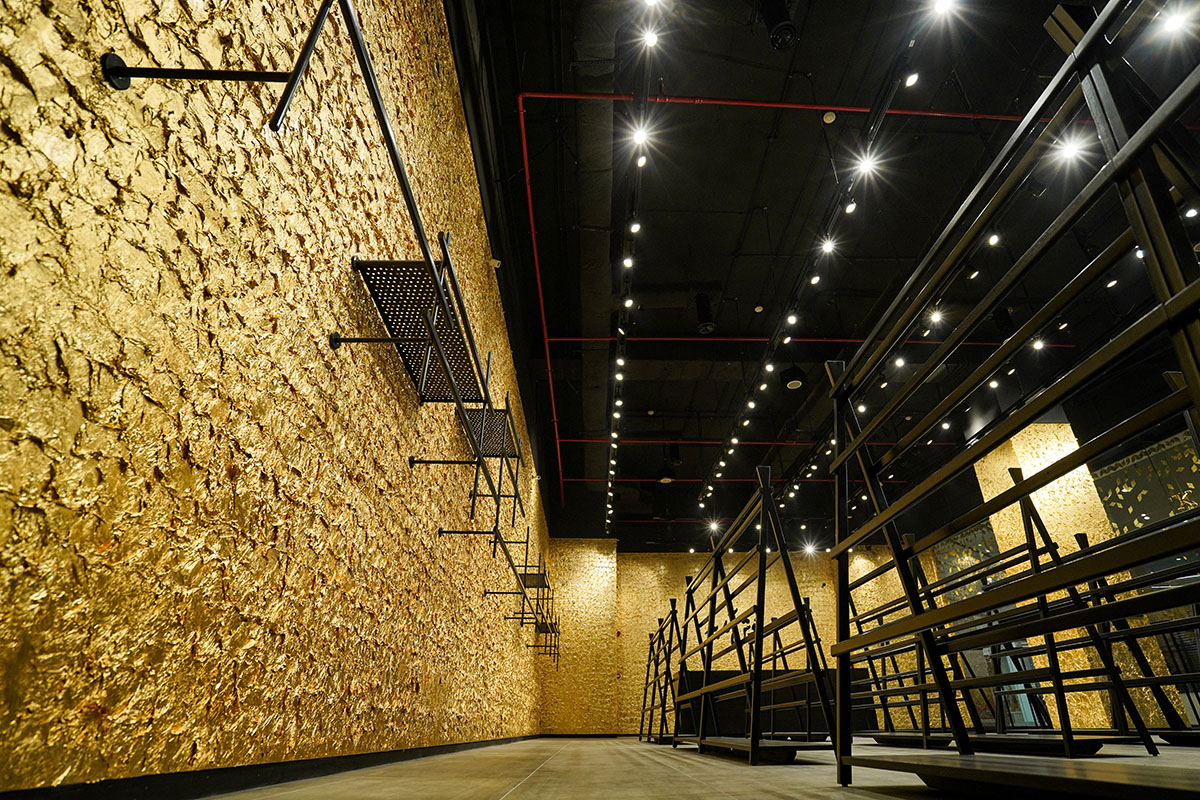 Gold has shaped people of this part of the world in many ways as much as they have moulded it into their material culture. The store is also an expression of the association of people with gold in the region of the subcontinent.
Principal Architects behind the design
Syed Fawad Hussain is the Founder, Partner and Principal designer at MSA and the head of MSA-RI and MSA-Collaborative. Prior to establishing a full-time practice in 2009, he worked as an independent architect and educator. He has been part of prestigious Architecture Design institutes of Pakistan throughout his career. With an academic background in both architecture and philosophy, his core vision lies in playing a central role in promoting greater collaboration between academicians and practitioners while cities undergo rapid urbanization and their inhabitants become more global. In addition, he is an Associate Professor and Coordinator of the School of Architecture Design and Urbanism (SADU) at the Institute for Culture and Art (IAC). Through his role as an academician and a practitioner he is able to comprehensively analyze the disconnect that exists between theory and practice and allay the latter through incorporating students and their learning and work in his practice at the MSA and its two divisions. Through this initiative, the MSA facilitates a smooth transition of students and enables them to implement and experiment with theoretical propositions learnt in their student life.
Leena Hassan is Principal Designer at the MSA and a multi-discipline specialist. Leena Hassan is an Interior designer and an accomplished painter with an academic background in Interior design and Psychology. She is the co-founder and Principal Interior Designer at Metropolitan Studio of Architecture. She specializes in corporate interiors and has headed numerous interiors projects from their inception to completion. In addition, she is also well-known for customized furniture solutions that cater to the requirements of the interior space and her clients. Moreover, she is also a distinguished Color Consultant who has worked and presented her ideas at many prestigious forums.
Though Leena's work is not restricted to interiors and furniture. She is an active researcher and contributor at the MSA-RI and is engaged in explorative initiatives pertaining to interior lighting design, object design and viability of textile as construction material.
All images courtesy of MSA.
> via MSA