Zaha Hadid Architects gets planning permission for Sberbank Technopark in Moscow
Zaha Hadid Architects' fluid-formed Sberbank Technopark facility has now received planning permission by the city's planning authority. Construction wok will begin at the project site after shortlisted contractors are invited to tender for the project's construction.
Image © VA
Zaha Hadid Architects had won a competition in 2016 to create a home for Skolkovo featuring laboratories and campuses of Russia's fast developing IT, biomedical, energy, nuclear and space innovations, as Solkovo is considered as the Russia's Silicon Valley.
Sberbank, established in 1841, is known as the market leader of the Russian banking and economic circulatory system. At the forefront of process innovations and social responsibility, over 70% of Russia's population rely on Sberbank's services.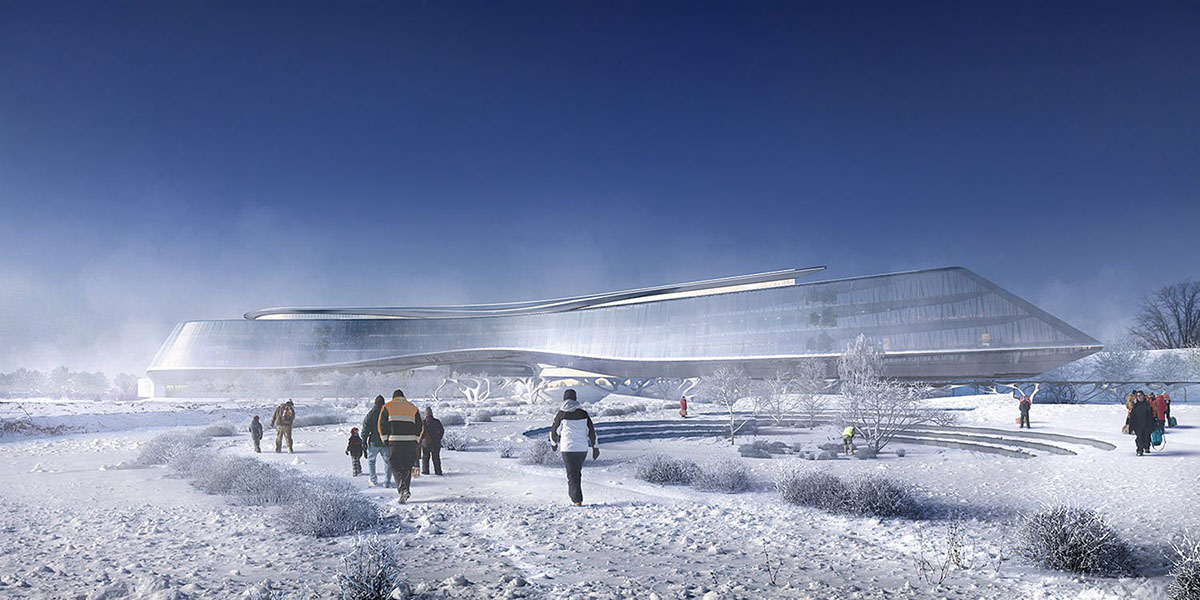 Image © Anima
ZHA's 262,000-square-metre Sberbank Technopark will become the bank's cradle of IT innovations and accommodate 17,000 people working in Sberbank's information technology and marketing departments.
"We are delighted to have received planning permission for this ambitious project," said Christos Passas, project director at Zaha Hadid Architects.
"The necessity to innovate and collaborate within the workplace environment is fundamental to Sberbank's operations," continued Passas.
"Technopark's design reconfigures working relationships by adopting a holistic approach to create an inter-connected, multi-functional workplace ecology driven by the bank's requirements for enhanced communication, interaction and diversification that promotes creativity and engagement."
Image © VA
Home to the bank's divisions that develop, implement and ensure the operation of process solutions and breakthrough technologies, Sberbank Technopark's design evolved from detailed analysis of the varied work processes and arrangements within the bank's technology and marketing departments.
Technopark's design will encourage teams to collaborate and pilot innovations that deliver inventive, high-quality solutions and applications.
Image © ZHA
ZHA had beaten other architectural firms in the competition, including Foster + Partners (UK), Eric Owen Moss Architects (USA) and Fuksas (Italy).
Project facts
Architects: Zaha Hadid Architects (ZHA)
Design: Zaha Hadid, Patrik Schumacher and Christos Passas
ZHA Design Director: Christos Passas
ZHA Competition Team
ZHA Project Architects: Eider Fernandez and Veronika Ilinskaya
ZHA Lead Designers: Chrysi Fradellou, Spyridon Kaprinis, Bruno Pereira, Melhem Sfeir
ZHA Design Team: Ben Kikkawa, Faten El Meri, Sergey Krupin, Emily Rohrer, Nicos Yiatros, Reza Esmaeeli
ZHA Workspace Analysis: Uli Blum
ZHA Schematic and Design Development Team
ZHA Project Directors: Christos Passas, Manuela Gatto
ZHA Project Associates: Garin O' Aivazian, Kutbuddin Nadiadi, Lydia Kim, Eider Fernandez-Eibar, Dimtiris Kolonis
ZHA Lead Designers: Kwanphil Cho, Seungho Yeo, Melhem Sfeir
ZHA Facade Design Leads: Mei Ling Lin, Massimo Napoleoni, Duo Chen
ZHA Planning Leads: Mu Ren, Sattor Jabbor, Leonid Krykhtin, Ben Kikkawa, Bechara Malkoun, Nicholette Chan, Alicia Hidalgo, Christina Christodoulidou, Maria Touloupou, Maria- Eleni Bali, Nessma Al Ghoussein
ZHA Scripting design: Jose Pareja-Gomez, Melhem Sfeir, Duo Chen
ZHA BIM Specialists: Eckart Schwerdtfeger, Valeria Perco, Maria Avrami, Maria Chaparro, Mauro Sabiu
ZHA Interpretation and Translations: Liudmila Harrison-Jones
ZHA Project Admin: Nastasija Hahonina
Consultants (Competition Stage)
Structural Engineering: AKTII, London; Daniel Bosia (Design Director)
Environmental/ MEP Engineering: A10, London; Meredith Davey (Director),
Cost Consultant: RLB International; Mark Weaver, Gary Danks, Andrew Blythe
Consultants (Schematic and Design Development Stage)
Local Architects: A-projects/KROST Construction, Moscow; Denis Kapralov (General Director) Maxim Blinstein, Philip Simonov (Project Managers) Ekaterina Kuraeva (Arch), Marina Zacharova, Artemy Biktimirov (MEP), Iliya Kozlov, Ivan Labin (Structure) Natalya Bobrovskaya, Anthony Evseev
Structural Engineers: AKTII, London; Daniel Bosia (Design Director), Ricardo Candel (Technical Director), Christos Digkas (Project Associate), Alex Grigoruk,
Environmental, LEED and MEP Design: A10, London; Meredith Davey (Design Director), Piers Watts-Jones (Technical Director), Rodney Barrett, Scott Hall, (Fire Design), Volkan Doda, Younha Rhee (LEED)
Façade Engineering: EOC, London; Damian Rogan (Director), Raphael Petit and Simon Pierce (Associates)
Lighting Design: OVI, New York;
Enrique Peininger and Jean Sundin (Principal), Rachel Barrow, Markus Fuerderer
Cost Consultants: RLB, London/Moscow; Mark Weaver, Gary Danks, Andrew Blythe
Acoustic Design: KP Acoustics, London; Kyriakos Papanayiotou (Director)
Catering Consultants: Tricon, London;
Gary Thomson (Design Director)
Traffic Consultants: Tyrens, London
Top image © Anima
> via ZHA