Securing Sustainable Futures 2020-Synergy Edition on September 22, 2020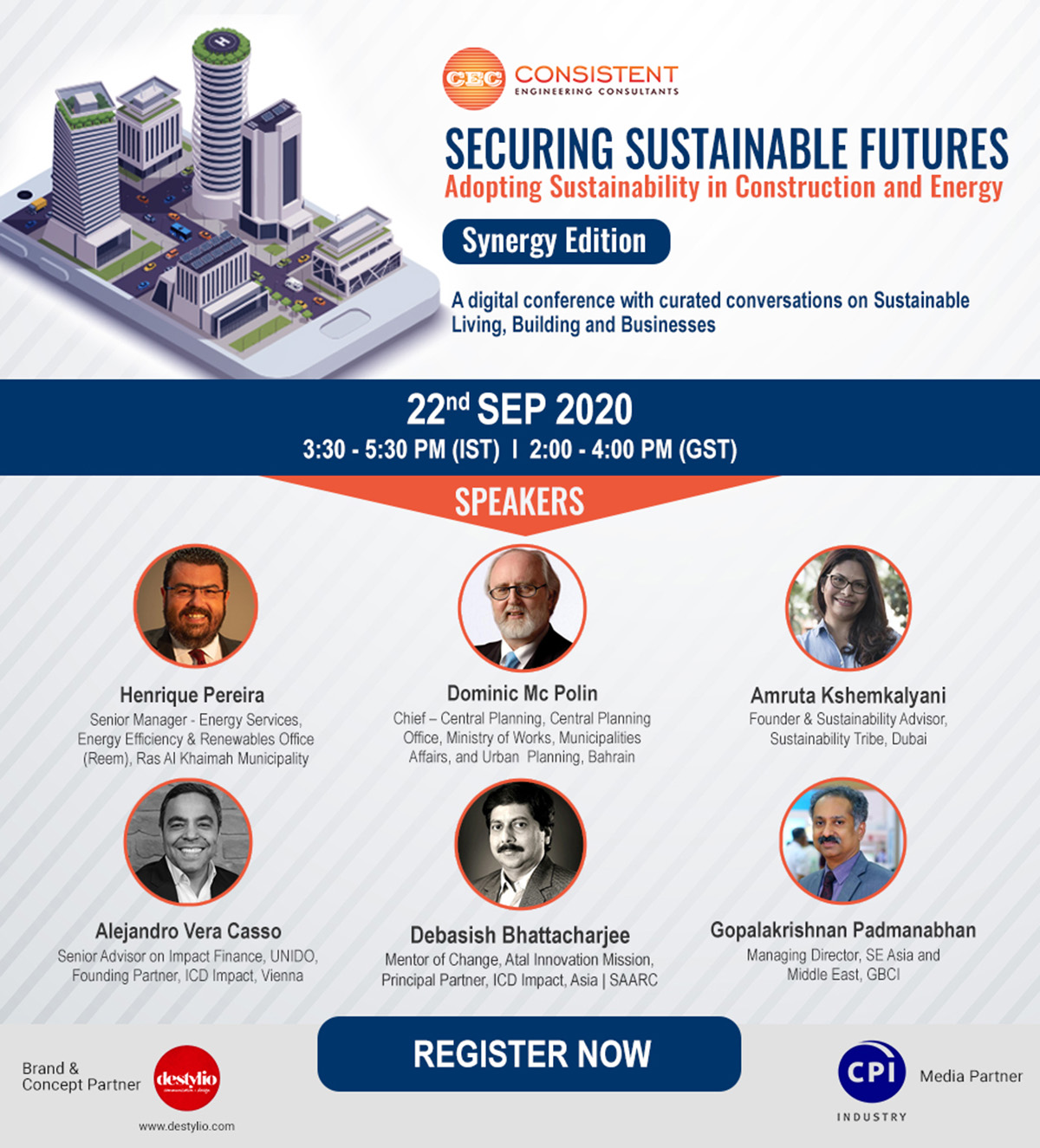 Consistent Engineering Consultants has announced the concluding session of the online conference 'Securing Sustainable Futures - Adopting the SDGs in Construction, Business and Beyond', aims to bring together experts from the construction, architecture, and MEP industry across India and the UAE on a common platform.
The third and concluding session of Securing Sustainable Futures 2020 will take place on the 22nd of September 2020.
The Synergy Edition of this conference attempts to take a comprehensive look at the observations noted from earlier editions, aiming to create awareness and power change.
Aptly titled 'Powering Movements Towards Realising the Sustainable Vision', the panel brings together experts from across the UAE, Bahrain, India and Europe to discuss a synergistic approach among global stakeholders such as the UN Industrial Development Organization, the Green Business Certification Inc., the governmental policies of Bahrain, Ras Al Khaimah, and India, as well as emerging sustainable lifestyle practitioners in Dubai.
Speakers (so far):
- Sagar Kulkarni Managing Director, Consistent
Engineering Consultants
- Rahul Shetty, Senior Mechanical Engineer,
Consistent Engineering Consultants
- Henrique Pereira, Senior Manager - Energy
Services, Energy Efficiency and Renewables Office
(Reem), Ras Al Khaimah Municipality
- Amruta Kshemkalyani, Founder & Sustainability Advisor, Sustainability Tribe
- Debasish Bhattacharjee, Mentor of Change, Atal Innovation Mission and ICDI
- Alejandro Vera Casso, Senior Advisor on Impact Finance, UNIDO; Founder Partner, ICDI
- Dominic Mc Polin Chief, Central Planning - Central Planning Office, Ministry of Works, Municipalities Affairs and Urban Planning, Bahrain
- Gopalakrishnan Padmanabhan Managing Director, SE Asia and Middle East, GBCI
To participate in this insightful session, register here.
Top image courtesy of Consistent Engineering Consultants