Foster + Partners designs Southern Dunes hotel on Saudi Arabian desert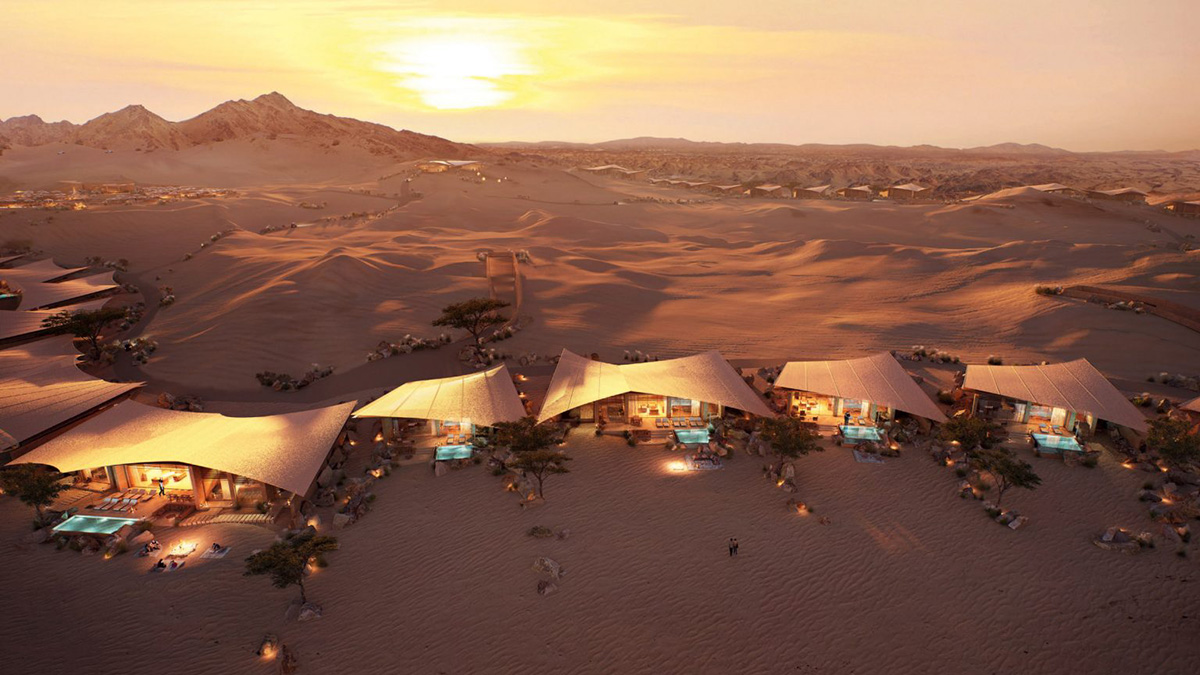 The Southern Dunes hotel is one of two inland hotels that Foster + Partners is designing in Saudi Arabia.
New visuals, revealed by The Red Sea Development Company (TRSDC), show that 40 individual holiday villas will be built on Saudi Arabian desert.
The hotel development, set to be constructed round 100 kilometres northeast of the city of Umluj on Saudi Arabia's western coast, will be surrounded by endless deserted panorama.
The hotel is developed as part of The Red Sea Project, which form a chain of 90 inhabitant islands that are being developed along Saudi Arabia's west coast. The Red Sea Project is described as "the world's most ambitious luxury tourism development, offering an exclusive experience of unparalleled diversity for discerning global travellers."
Foster + Partners' new hotel scheme will be made of wavy timber roofs and the villas are arranged in two strains to benefit from the views of mesmerizing deserted landscape.
Alongside the private holiday homes, the project will include reception buildings, a spa, a big pool and several other seating and eating facilities.
There will also be staff accommodation serving up to 700 employees, which is being built within the project.
The renderings show that the villas will be built from wavy timber roofs that are supported by timber frames. Different from angled-roofed types of the villas, the communal buildings and other public areas are sheltered by a group of curved umbrella-like structures supported on timber columns.
Due to the natural climate of the desert, Foster + Partners will use lightweight materials, avoiding the use of stone and concrete - since these two materials will cause to utilize excessive thermal mass supplies.
The materials used in the structures should be independent from such systems for artificial cooling, according to the studio.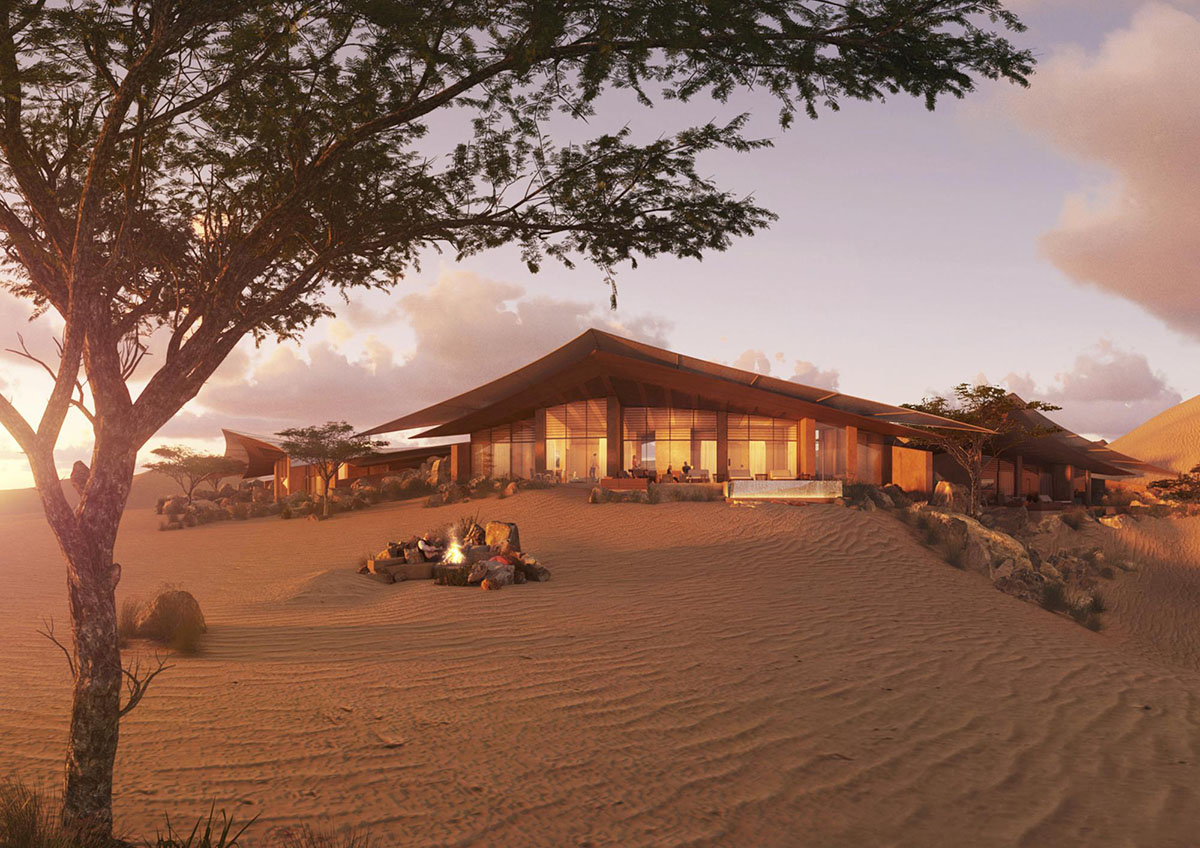 "From our work previously in the desert, one of the most important things is to avoid using what we call high thermal mass materials," said Gerard Evenden, Head of Studio at Foster + Partners.
"If you use stone or concrete in the desert, the problem is that over time it heats up and it becomes a thermal mass. They radiate heat and they hold the heat. And because in the desert they are being baked every day, they never get cooled."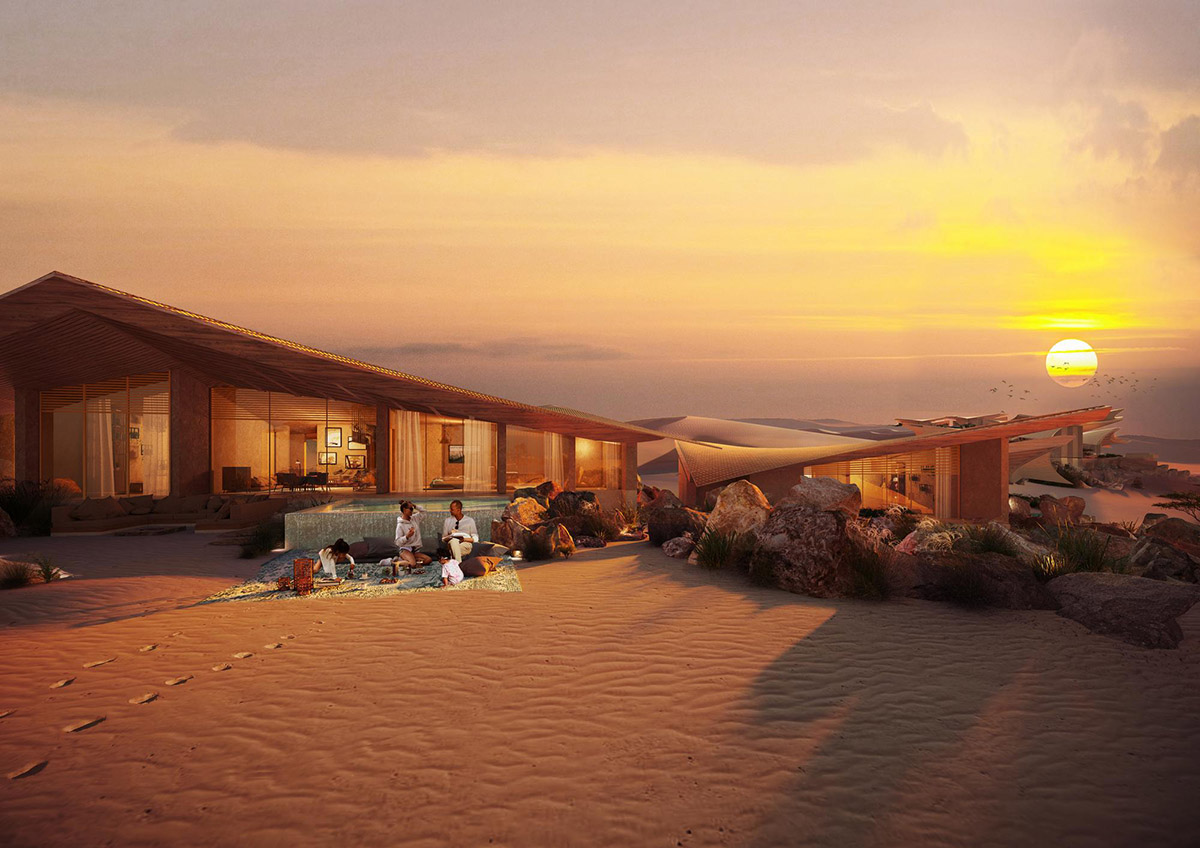 "This means that in order to reduce temperatures you have to pump in systems to lower temperatures internally within these buildings because these buildings are just getting hotter and hotter."
In order to increate the speed of construction, Foster + Partners will use lightweight and simple materials to fabricate the elements offsite and build on site.
"So the physical makeup of your buildings needs to be lightweight. Lightweight materials. Simple materials that construct together. They can then be transported as finished items," said Gerard Evenden.
"The more transportable finished items we can bring, the better. And that will lead not only to fast reactive buildings but will also lead to incredibly energy efficient construction," Evenden added.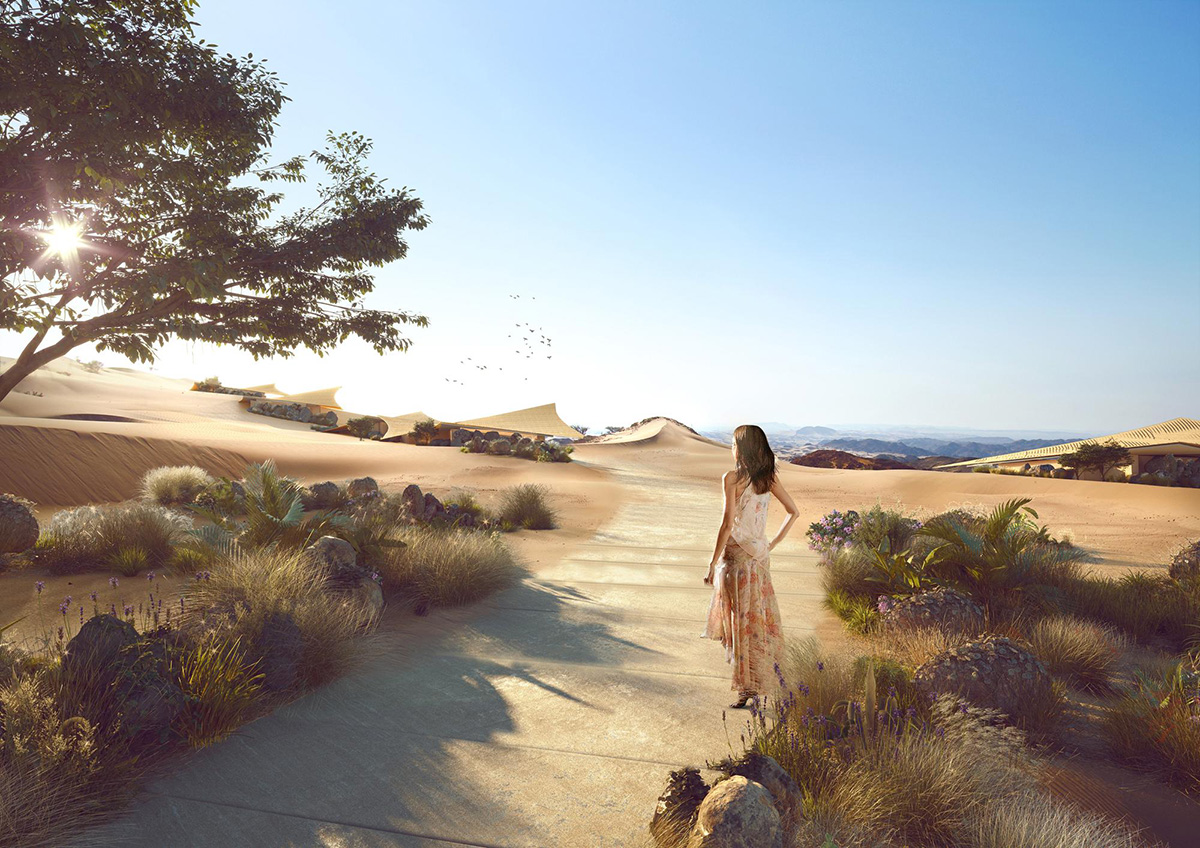 The Southern Dunes hotel is developed as part of the first phase of The Red Sea Project and is expected to open in 2022. Foster + Partners has also designed the Coral Bloom resort on on Shurayrah and a ring-shaped hotel for Ummahat AlShaykh island.
Foster + Partners has designed a mirage-inspired airport which is expected for completion in 2023. The company added that the remaining 12 hotels planned in phase one will open in 2023.
Upon completion in 2030, The Red Sea Project will comprise 50 resorts, offering up to 8,000 hotel rooms and around 1,300 residential properties across 22 islands and six inland sites. The mega development also includes Kengo Kuma-designed new 100-villa development as part of The Red Sea Project.
All images courtesy of The Red Sea Development Company.