Bon Voyage: Inter-State Bus Terminal: Yuva Ratna Awards, 15th Cycle Competition Entry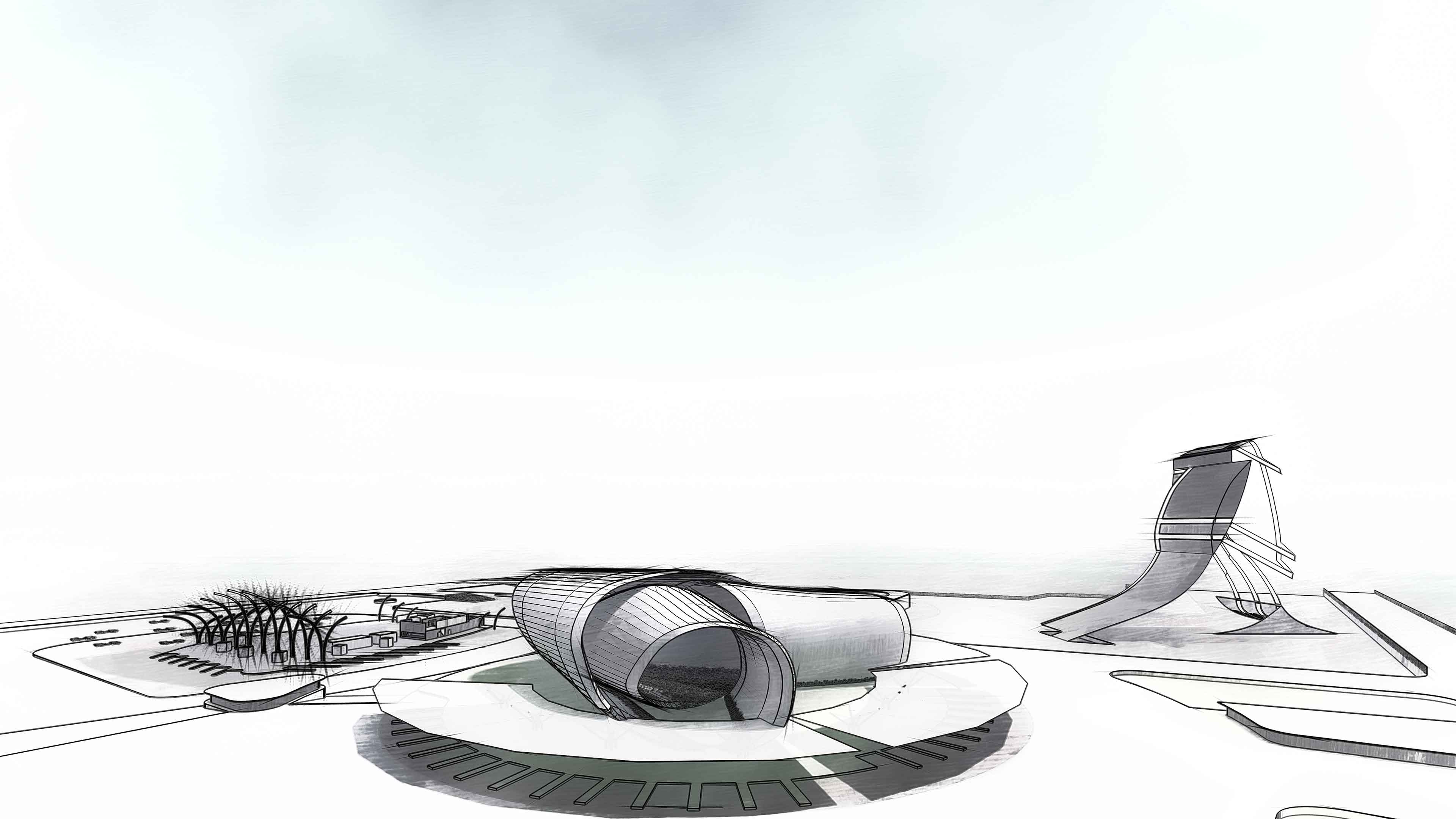 This is the synopsis of Birla White Yuva Ratna Awards, 15th Cycle: Inter-State Bus Terminal Hub, a National Design Competition Entry – Bon Voyage; A nouveau approach to help people bring their expeditions into Fruition based in Navi Mumbai. The entry is designed by Mayank Gupta, B. Arch, NIT Hamirpur under the mentorship and guidance of Pappal Suneja, Architect & Design Researcher.
The Brief description in the competition was "Transport terminals, especially bus terminals, are one among the important nodes in an urban context. Beyond being a means for conveyance, the functions they accommodate nowadays are countless which includes tourist information centers, shopping centers, multilevel parking, offices, recreation facilities including food stalls and multiplexes, lodgings for staff and short-term visitors, and also over connectivity to other modes of transport including railways, waterways, and airways. Bus terminals are getting transformed from being monotonous structures to lively places of social gathering and entertainment. Bus terminals become an important landmark and a welcoming gateway to the commuters visiting the city. It adds to the image of the city for travelers commuting to and from the city. A representative iconic building reflecting the culture and the cityscape of the urban center on a whole."
Travel behavior on roads with a public character is better influenced more by the expression of the environment than by the usual tools of the traffic engineering professions (such as signing and road marking). Speed of traffic is, to a great extent, determined by the degree of 'psychological retreat' from roads by users and other participants. Traffic engineering tools are best used reticently, with the built and natural environment used to achieve the required behavior. There is a role for experimentation and monitoring of new schemes rather than an assumption concerning the effectiveness of standard measures.
The proposed Intra-State Bus Terminal Hub is an attempt to create a new state-of-the-art transportation interchange. It shall act as an urban destination with both terminus and public facilities including retail stores, food & beverage outlets, tourism counters, foreign exchange, office spaces, and other commercial development for the people of Navi Mumbai as well for other National & International visitors. The project transforms the Satellite City from its industrial roots into a dynamic urban transit hub and a global gateway that shall bring powerful & active experiences to the city all year round.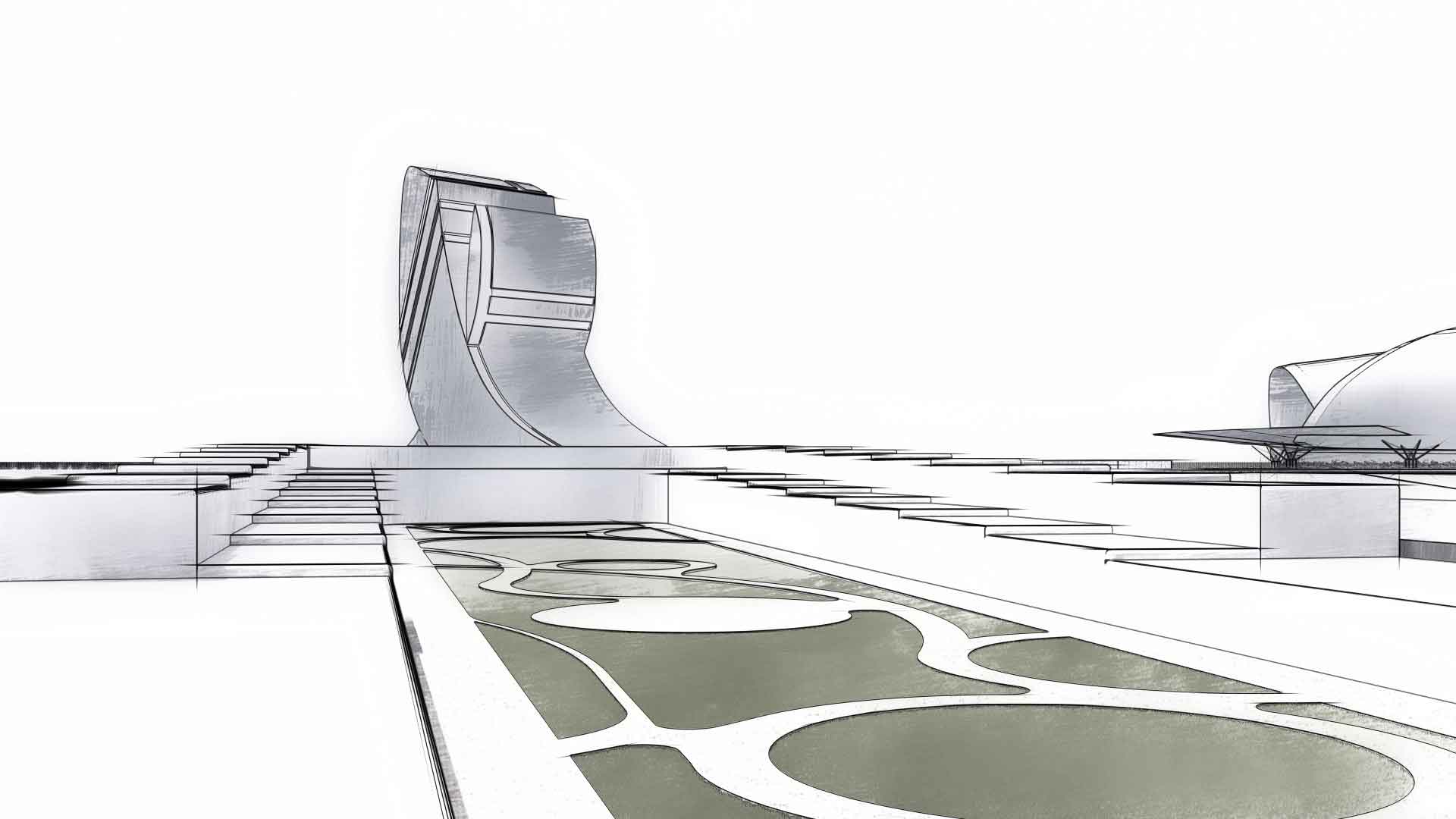 Design Interpretation: The Inter-city stand is inspired by the flying bird representing constant activity & flow. It is aerodynamic in mechanism as its shape and 60degree orientation enables it to reduce the drag and the air moves above the structure, further minimizing the noise levels. Thus, this form helps in avoiding parallel air movement. The Intra-city stand- iconic/ safe/ exhibition center - unifying/ what goes around comes around. The Hotel and Multiplex building (conceptual massing) symbolizes unity – Namaste rising from the traditional roots to which we are the first signatory.
Vision: As the name of the city Navi Mumbai, the proposed scheme is to experiment and create something unique, iconic, and nouveau. We have modulated the design, considering the climate and heavy rainfall of the region. It provides slope on the site to prevent the bus stand from being affected by the problem of water-logging during monsoons. Thus, Special emphasis is given on rainwater disposal and drainage with consideration of zero runoff. Further, it is important to provide a safe and comfortable environment for transit customers; hence the provision of amenities such as lighting, weather protection, service information, and seating is factored into the transit service.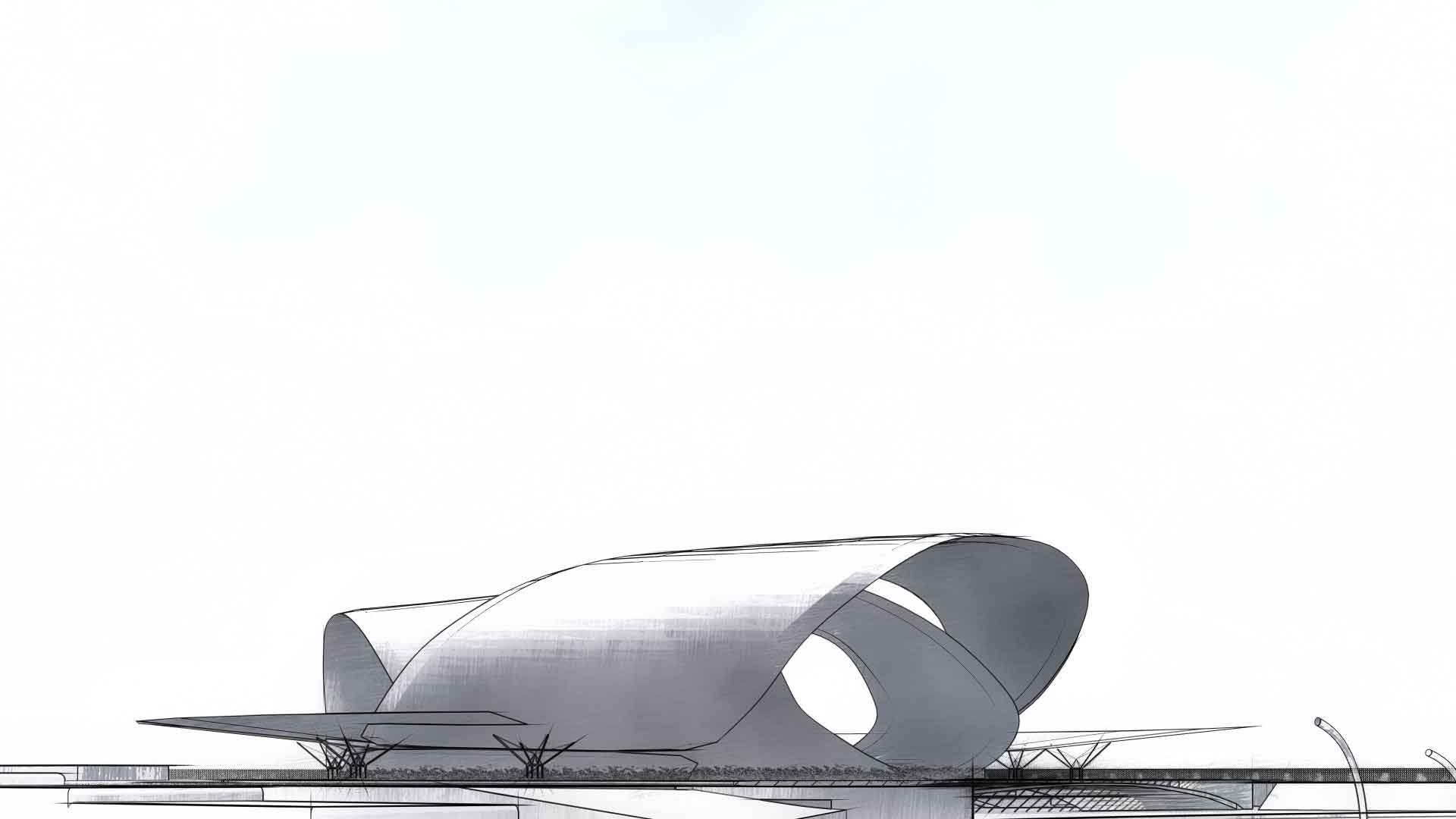 Design Goals: Invoke a feeling of urbanity, Free-flowing structures representing constant activity, Dynamic Information Signages, Reflectors are used instead of Led, Storm water management, Soft-scape to reduce the Urban Heat Island Effect, Lighting: Solar skylights, solar tracking skylights, Moser lamps, Alternative source of energy: rotators for bus movement, solar panel, pavement lighting sensing movement, Soft-scape to reduce the Urban Heat Island Effect, Use of noise-absorbing materials that is acoustic control, Street-scaping to show culture, traditions and local context, Minimize and manage pedestrian and vehicle conflicts.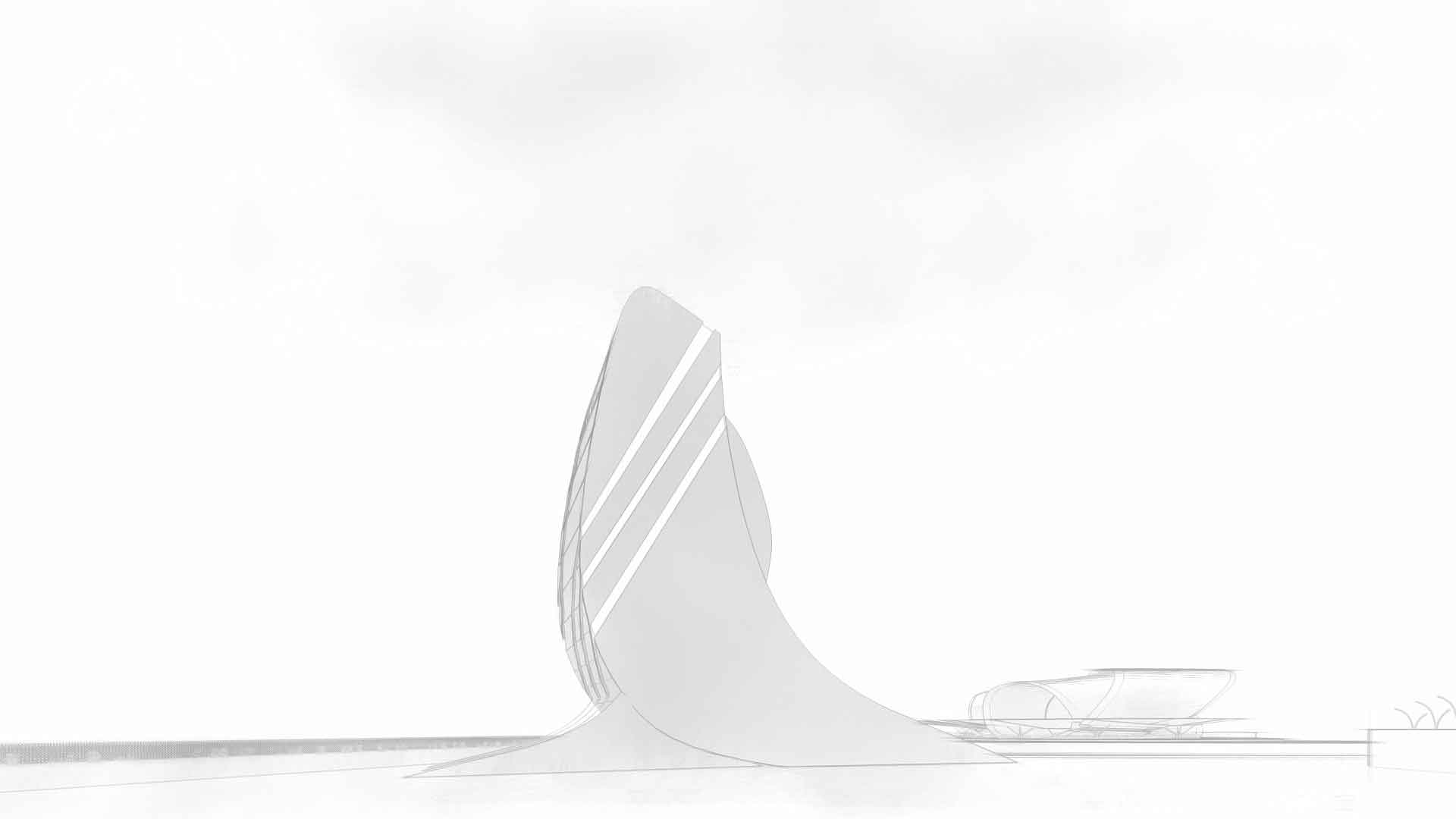 Objectives: Rapid Growth, Inter & Intra City Blocks, Mass Transit Use, Wide roads for smooth traffic flow, Underground Passage linkage for safety, Drop off point for buses on outskirts near a taxi stand to reduce the inner traffic congestion
Design Development Key Features
- Advanced Lighting: Appropriate lighting levels inside and outside promotes a feeling of comfort and security. Illuminating building facades highlight interesting architectural features and strengthens the character of the mass. Façade illumination also directs ambient light to the vertical plane at eye level, creating higher visual contrast and recognition of faces. Proper lighting reduces the area of shadow that hides pedestrians from view.
- Storm Water Management: Integrating best storm water management practices into building and site development can reduce the damaging effects of urbanization on rivers and streams. Disconnecting the flow from storm sewers and directing runoff to natural systems such as landscape planters, Swales, and rain garden reduces water velocity and cleans storm water runoff. The natural storm water system also permits reduced pipe size for storm sewers. Some good storm water management practices include bio-swales, impervious paving, rain gardens, and rain barrels.
- Softscaping to reduce Urban Heat Island Effect: Planting trees reduces the urban heat island effect by shading sunlight from hard surfaces. Deciduous trees on the south and west side of the building reduce energy use by blocking sunlight in the summer while allowing it to penetrate the building in the winter.
Reflective paving and roofing materials also help to reduce urban heat islands. Of typical paving materials, concrete is more reflective than asphalt. A green roof in buildings also absorbs solar radiation.
- Intelligent Transport System: The transit operator can use it to monitor and control bus operation, give real-time information to passengers, expedite fare collection, and allow precise docking at stations; they include automatic vehicle location system, passenger information system, traffic signal priority control, automatic passenger counters, and electronic fare collection. Bus guidance can be mechanical, optical, or magnetic.
Besides this, Traffic calming devices should be a part of complete street design. Examples of calmer include landscape islands, speed bumps, and tables, crosswalks, changing paving surfaces. This encourages compliance with speed limits.
All Images © Mayank Gupta & Pappal Suneja