GATE – AR 2022: 4 Months Crash Course: Floated by Jinisha Jain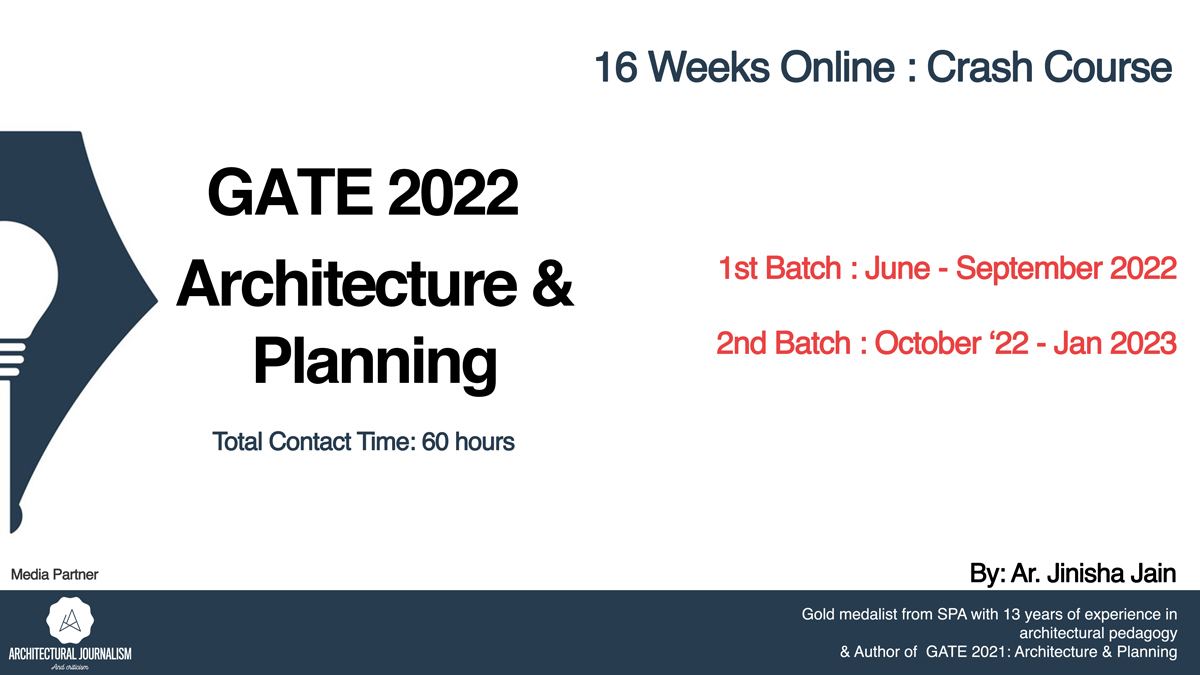 The author of the book GATE: Architecture & Planning, Jinisha Jain floats new batches for the 16 weeks (June to Sep 2021) online crash course for GATE AR 2022. The author positions the book as a self-study comprehensive learning resource. However, given the unprecedented times and update in the GATE syllabus for 2021, this is an initiative by the author of the bestseller for those students who seek additional support and guidance in the times of COVID so that they can use the learning resource efficiently in this short duration to prepare for the entrance examination.
The Graduate Aptitude Test in architecture is an examination that primarily tests the comprehensive understanding of various undergraduate subjects for higher education admissions and job prospects in India. We expect IIT Kharagpur to conduct the GATE 2022 exam as per a rotation rule, followed by all IITs.
Note: The new Series for GATE-AR 2022 are out on Amazon, Check out the links: Vol 1, Vol 2
Here are the testimonials and results of a few aspirants who have been benefitted earlier this year with the course.
"As promised, I qualified the GATE 2021 with AIR 4. Thanks to your guide book. It helped me a lot. Thanks a lot,"- Jestin Baby P

"Thank you for helping me to achieve this year, GATE. I qualified GATE with a good score. Thank you, ma'am, for your crash course. That enhanced my confidence a lot." - Anju R

Some other students who have benefitted from the book and learning support classes of the author are:
Jayati Chawla - AIR 331, Nayana Verma - AIR 470, Mithali Konety- AIR 889
Course Highlights:
- Orientation
- 60 hours of online teaching
- In-depth Concepts and Numerical Solving Sessions
- Detailed Course Content Handouts Topic wise
- Live Doubt- Clearing Sessions
- Full length Practice Test Papers
- Practice Test Questions for Each unit of the Updated Syllabus
- Personalized Response
- Evening and Weekend Sessions
Course Structure & Schedule
Topic Areas Covered
Lesson 1: Architecture, Planning and Design: Space Standards, Building Codes and Numericals on Geometry
Lesson 2: Construction and Management: Numericals on Construction Management
Lesson 3: Environmental Planning and Design: Green Ratings
Lesson 4: Urban Design, Landscape and Conservation: Names of Trees and Plants; Landscape Calculations.
Lesson 5: Planning Process: Summary of Planners, Planned cities, city concepts, and books and authors
Lesson 6: Housing: Numericals on Housing, Real Estate and Population Densities
Lesson 7: Services and Infrastructure: Numericals on Services- Transportation, Sewage Discharge, Ventilation flowrate, etc.
Lesson 8: History and Contemporary Architecture: Summary of Important Architectural Movements; Architects and their Contemporary Works.
Lesson 9: Building Construction and Structural Systems: Numericals on Structural Systems
Lesson 10: Building Services and Sustainability: Basic Concepts; Numericals on Illumination, Reverberation Time, etc.
Lesson 11: Regional and Settlement Planning: Government Schemes and Housing Standards
Lesson 12: Planning Techniques and Management: Numericals on Scale, Aerial photography, Payback period, Annual Returns, etc.
Lesson 13: Infrastructure Planning: Concepts of Traffic Planning, Types of Intersections and Capacity of Road.
Note: Recorded lectures of the above lessons shall be made available upon request.
Total Contact Time: 60 Hours
Timings: 6:00 pm (IST) onwards, keeping in mind the convenience of students and working professionals.
Fee & Registration Schedule
Early Bird Registration: Until 18th June 2021. Follow the link to enter. Also, fill up the Google form after finishing the registration process.
For Group discount contact at [email protected] for NEFT Details.
For any specific queries, contact - Ar. Jinisha Jain, [email protected]
Head Image: Course Poster Creative by AJC
> via AJC+ (Media & Outreach Partner)