International Workshop 1 - Interstellar between February 16 - March 13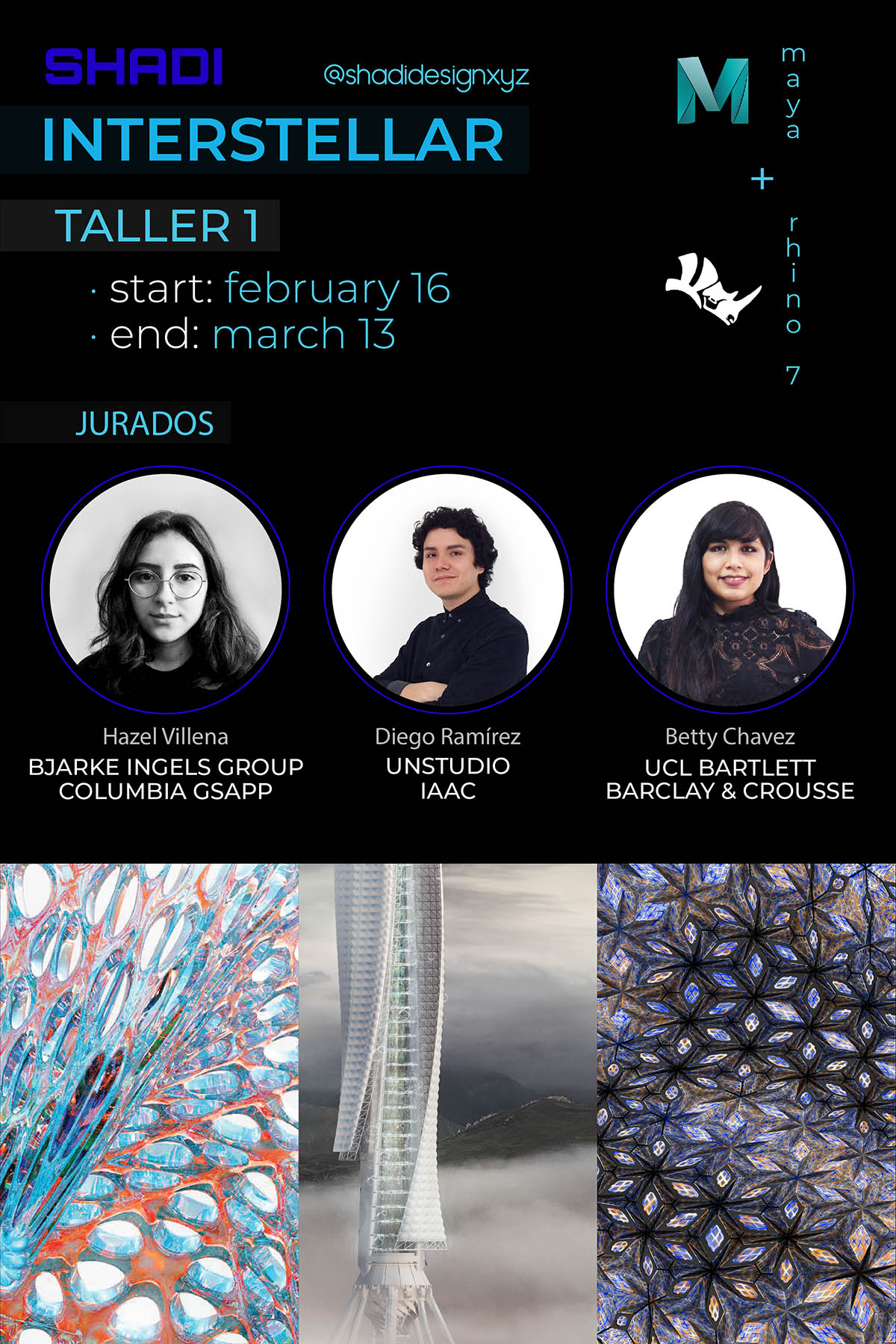 Shadi Design invites you to participate in the International Workshop 1 · Interstellar - Maya & Rhinoceros basic-intermediate-advanced levels. Which will have as sworn architects: Hazel Villena (BIG - Bjarke Ingels Group, Columbia GSAPP) + Diego Ramírez (UNStudio, IaaC) + Betty Chavez (UCL Bartlett, Barclay & Crousse Architecture).
Aimed at students & professionals in the careers of architecture, design, arts, photography, related careers and the general public. Open to participation at the national and international level virtually by Zoom.

Theme:
Interstellar. Film directed by Christopher Nolan. 2014. Gravity-physics-life-particles-travel-wormhole-fifth dimension-Murphy-. Winner Best Visual Effects, The 87th Academy Awards 2015.

Competition modality:
The procedural workshop will be developed in the contest mode, as a discipline focused on developing a project that will value competitiveness, merit and talent. Three members per team, assigned by teachers prior to a skills questionnaire.
*The registered person has the option of taking the workshop individually and without participating in the contest if they wish.
The links to the web pages of the software to be used will be available to registered students.
Portfolio + job bank + virtual exhibitions + publications in the media + community + certification.

Teacher: Kevin Abanto
Registration: Starts January 17 | Ends February 12.
Lessons: Starts February 16. | Ends March 13.
Location: Streaming worldwide on Zoom from Peru
Dates: February 16-March 13.
Fee: $112 USD - Volume discounts available
All inquiries about the workshop will be resolved in the following media:
e-mail: [email protected]
Social networks: https://linktr.ee/shadidesignxyz
Follow updated news on Instagram.
Download the brief here.
Top image courtesy of Shadi Design
> via Shadi Design