"Architects have to be really sensitive about their own traditions" says Yasmeen Lari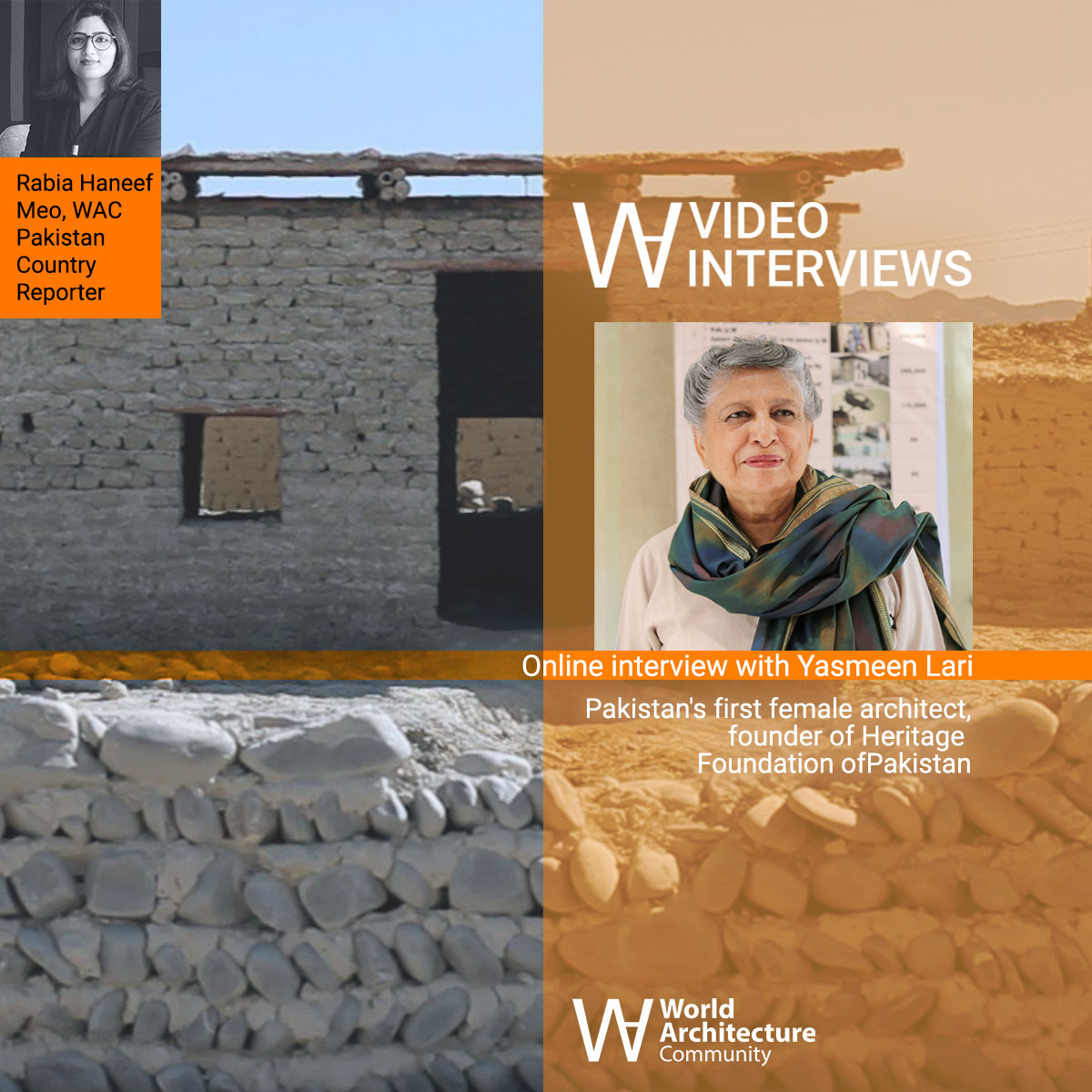 "Architects have to be really sensitive about their own traditions," says Yasmeen Lari, Pakistan's first female architect, architectural historian, heritage conservationist and philanthropist.
"Design is a very important factor and the importance of being an architect is that you develop a high sensitivity and think about how design can transform lives, and as architects, we try to find new ways which we can help them."
"Everywhere I've been I try to see that I design something using traditional materials but doing in a manner that improve the lives of people."
"So it's not just about a tangible object or something concrete that you can feel."
"But it is also something that gives women's dignity and that's very important work that I do because if we just design something and build a good building, it means nothing unless it relates to people's life or their cultural roots also," she continued.
"More and more architects should get engaged working with heritage, with doing more humanitarian work, then you learn to design elements and structures that will not only be affordable or sustainable, but they will be related to people's own life," explained Yasmeen Lari, co-founder and CEO of Heritage Foundation of Pakistan and Founder Chair of INTBAU Pakistan.
Yasmeen Lari, courtesy of Heritage Foundation of Pakistan.
Yasmeen Lari, 79, Pakistan's first female architect, dedicated her life building houses for tens of thousands of people damaged by an earthquake in her country and advising UNESCO after she retired from her practice in 2000.
As a pioneer of "barefoot social architecture", Yasmeen Lari has become an influential name for devising various programs on zero carbon footprint structures and sustainable building techniques in Pakistan in which her efforts placed her country in the lead "as the world's largest zero carbon shelter program."
In this exclusive video interview with WAC, held as part of WAC's Video Interview Series, Yasmeen Lari sits down with WAC's Pakistan Country Reporter Rabia Haneef Meo and discusses the role of women architects in the profession, the story and the mission of the Heritage Foundation of Pakistan, the importance of low-cost, zero carbon, zero waste principles in architecture and the importance of humanitarian work in her career.
Lari was born in the town of Dera Ghazi Khan, Pakistan and she grew up around Lahore until she was 15 years old. At those years, she left Pakistan and went to London with her family.
Initially her purpose was for a vacation, she and her siblings enrolled to a school in London. After her rejection from architecture school, Lari studied arts for two years in London and she was accepted into the Oxford Brookes University School of Architecture.
After graduating from the Oxford School of Architecture in 1964, she returned to Pakistan with her husband, Suhail Zaheer Lari, and she opened her own firm Lari Associates in Karachi, Pakistan and she became the first female architect of Pakistan.
Women's Centre in Darya Khan, Pakistan, in 2011.
She realized Pakistan's first larger housing scheme
In 1973, Lari took over Pakistan's first larger housing scheme, the Anguri Bagh project in Lahore. When the project was presented to women, the main concern of the project was that providing an outdoor space for their chickens. Lari designed terraces that are opened to sky and provided an outdoor space for their needs.
In 1980, Yasmeen Lari realized her second important project, the Lines Area Resettlement, which was her self-financing project, aiming to rehouse 13,000 people in the heart of Karachi. In the scheme it was important not to displace people from where they lived and worked.
Lari's other projects also include the Angoori Bagh Housing (ABH) in 1978, and commercial buildings: Taj Mahal Hotel in 1981, the Finance and Trade Center in 1989, and the Pakistan State Oil House (PSO Company headquarters) in Karachi in 1991.
Together with her husband and well-known historian Suhail Zaheer Lari, Yasmeen Lari founded Heritage Foundation of Pakistan in 1980, aiming to "document and conserve the traditional and historic built environment of Pakistan."
The mission of the Foundation was based on "to create an awareness of Pakistan's rich and diverse historic architecture and art; and to promote cultural heritage for social integration, peace and development."
Image courtesy of Al Jazeera website.
Lari dedicated her life to humanitarian work
In 2000, Yasmeen Lari closed her architectural practice and she continued her life by providing homes to people affected by Pakistan's floods and earthquakes. For those buildings, Lari implemented traditional building techniques and local materials and had experience working with mud, lime and bamboo.
She built over 40,000 houses for Pakistan's people between 2010 and 2014 after the Khyber Pakhtunkhwa and Sindh provinces were hit by floods in 2010. By using her experience and knowledge working with bamboo, she designed shelters made from bamboo, mud and lime which are all sustainable materials for a zero carbon footprint.
The community centers were raised on stilts so that the flood waters are able to pass through underneath of those structures without damaging the buildings.
Yasmeen Lari and Nayeem Shah look at the roof of the Disaster Risk Reduction Centre. Image courtesy of Heritage Foundation of Pakistan.
Yasmeen Lari was awarded the Sitara-i-Imtiaz (The Star of Distinction) in 2006 by President of Pakistan and Hilal-i-Imtiaz (The Crescent of Distinction) in 2014 for her services in the architectural profession, heritage safeguarding and humanitarian assistance.
In 2016, she has received from the highly acclaimed Fukuoka Prize for Asian Art and Culture from Japan.
Lari's works have been exhibited in the First Chicago Architectural Biennial 2015 and in RIBA's 'Creation from Catastrophe' exhibition 2016 in London, as well as being displayed in RIBA's permanent collection.
Yasmeen Lari was awarded the 2020 Jane Drew Prize for Architecture, the award "recognizes an architectural designer who, through their work and commitment to design excellence, has raised the profile of women in architecture."
She is the author and co-author of several books and has lectured extensively at home and abroad.