Mizzi Studio marks this restaurant with pink rendered facade and emerald green timber doors in Malta
London and Malta-based architecture practice Mizzi Studio has marked this restaurant with pink-rendered façade and emerald green timber doors in Barbajean, Malta.
Named Barbajean Restaurant, the studio used colors, textures and materials to reference the vernacular architecture of Malta, the restaurant is located on a corner in the street in the village of Dingli.
The architects take cues from the typical Maltese faċċata or facade – its coloured timber doors, glass antiporta, informal parapet steps, and the mid-century terrazzo architrave tradition were all used as formal inspiration.
The studio intended to create a colorful but bold vision for this small restaurant that draws attention with its facade.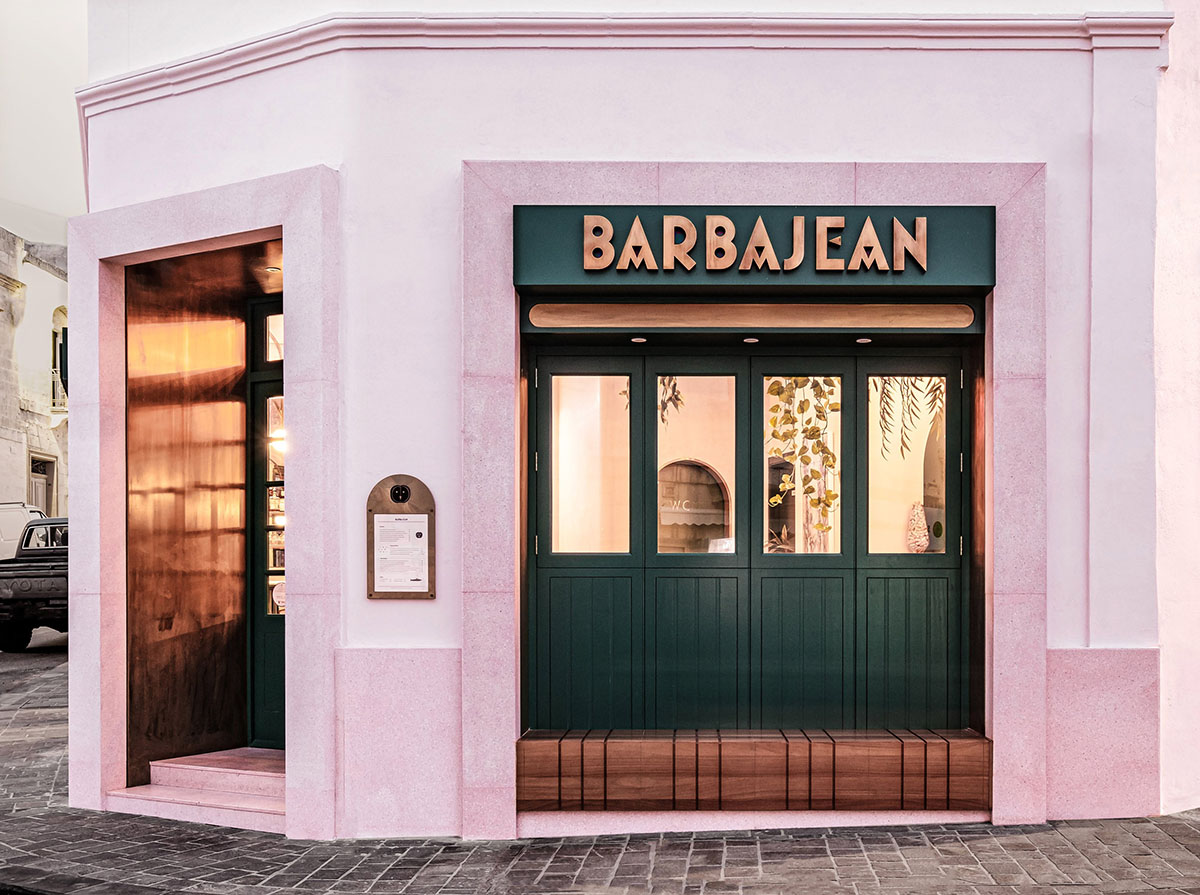 With its street-corner site, the team identified an opportunity to create a classical, symmetrical statement. A triptych of openings each punctuate an elegant grey-pink rendered façade, stylishly bordered by pale pink terrazzo architraves and surrounding emerald green timber door and window frames.
Barbajean has been shaped from the inside-out as a customised design statement. From light fixtures to signage to furniture, Mizzi Studio has carefully crafted a contemporary bistro vocabulary that is unique to the restaurant's intended ambiance. The restaurant's bar space recalls the elegance of European Art-Deco bistros.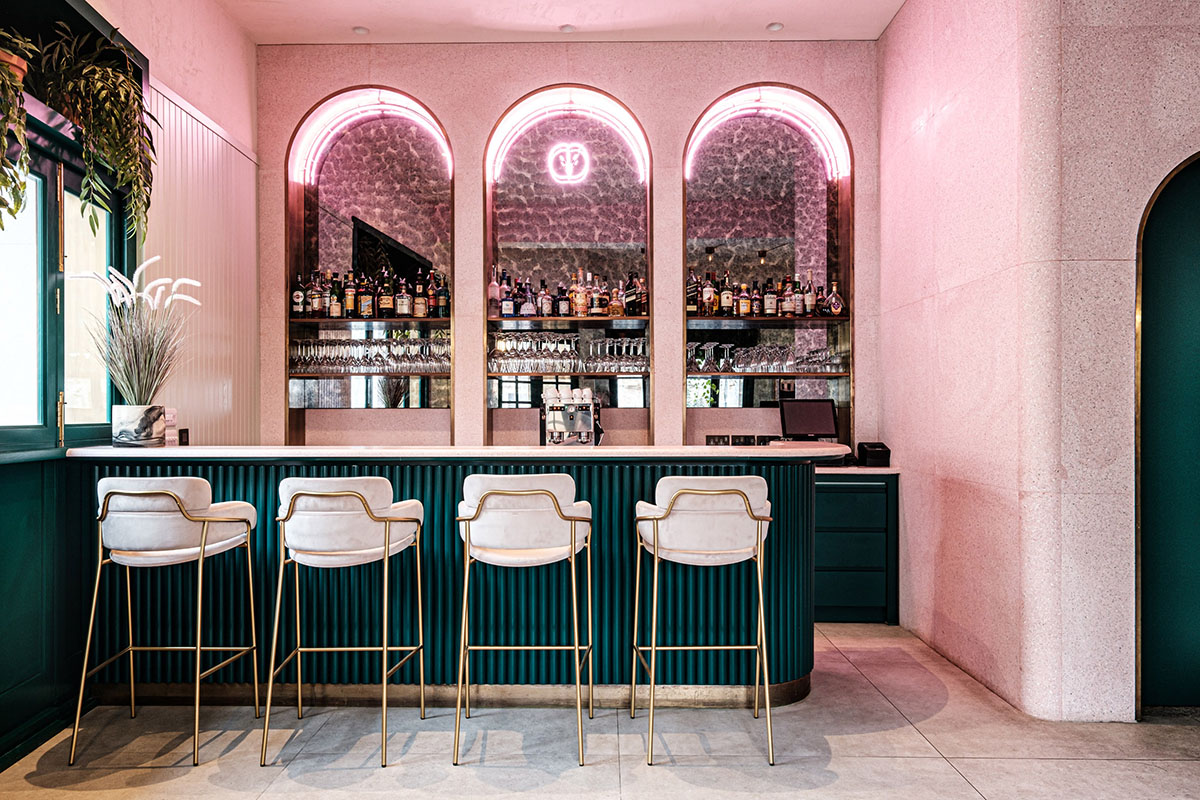 Three slender, tall repeating arches are lit with striking neon accents and calligraphy and rendered in a speckled, pale pink terrazzo. The arches complement the emerald green of the timber fluted bar body and work in parallel with its custom-made terrazzo countertop. Bespoke brass tubular barstools line up along the length of the bar, with velvet upholstery that complements the green timber fluting.
A long communal seating bench lines the back of the restaurant's entrance façade, sitting beneath its large window. The long bench is upholstered in a robust green that recalls the Parisian tubing of architect Hector Guimard's Art Nouveau Metro entrances.
The bench is partnered with a series of custom designed and built tables, each having a pink terrazzo top flecked with shards of Guatemala Verde.
Aside from the restaurant's furniture, the team designed a series of bespoke light fixtures that illuminate, partition and opulently decorate the restaurant's entire interior space.
Along the restaurant's seating wall, double-bowed brass tubes form the bodies of another series of statement lamps, each implicitly dividing the common seating bench, creating rhythmic visual partitions via their arched rods and spherical lampshades.
Mizzi Studio also approached illustrator and designer Ed Dingli to create original artwork that would hang as an exclusive series within the restaurant's interiors capturing the cultural spirit of ħad-Dingli's typical village life, aligning with Mizzi Studio's central design drive to return to heritage as primary inspiration.
"This project gave us an opportunity to create a new and distinctive design language. We wanted to create something that wholly represented this particular place and its identity – its site, its management, and its overall spirit," said Mizzi Studio.
"We are so excited Barbajean's doors are now open to the public and is fast becoming one of Ħad-Dingli's regular go-to eating destinations."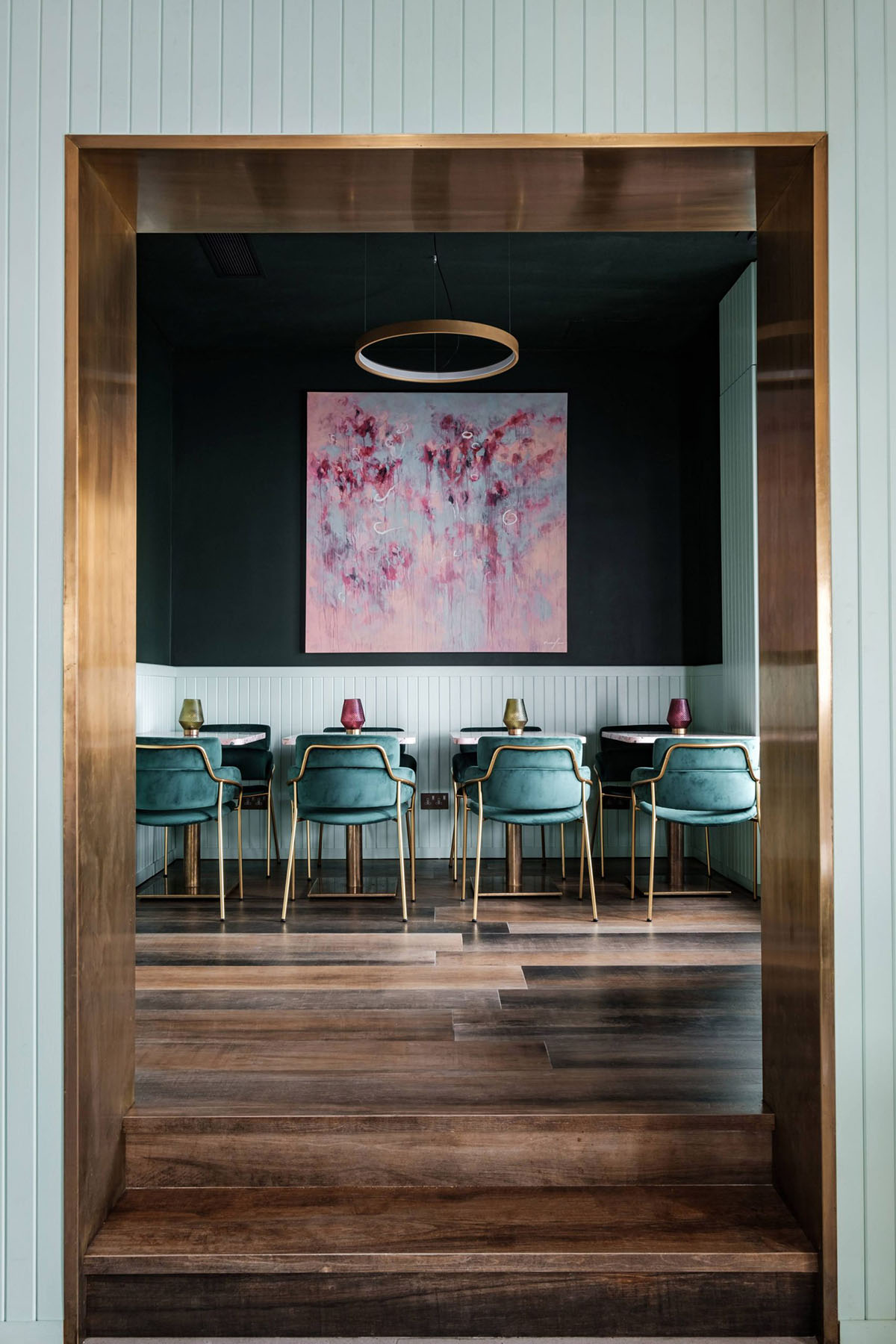 Mizzi Studio is an award-winning design studio based in London and Valletta. Founded by Maltese-British architect and designer, Jonathan Mizzi in 2011, the studio produces architectural projects, alongside interior spaces and installations, product and industrial design.
All images © Brian Grech
> via Mizzi Studio