Valode & Pistre completes housing with triangular and protruding balconies in France
French architecture firm Valode & Pistre has completed a new housing with triangular and protruding balconies in Castelnau-le-Lez, France.
Called Prado Concorde, the new 28,000-square-metre complex is located in Castelnau-le-Lez, a town located near Montpellier in the South of France which enjoys a very mild Mediterranean climate.
The program of the project includes accommodation - private, social, student, shops, offices, retirement homes, teaching facilities shaped around an internal garden.
The project contains 336 apartments, including 162 student campus rooms - of which 143 privately-owned apartments, plus 522 private and public parking spaces.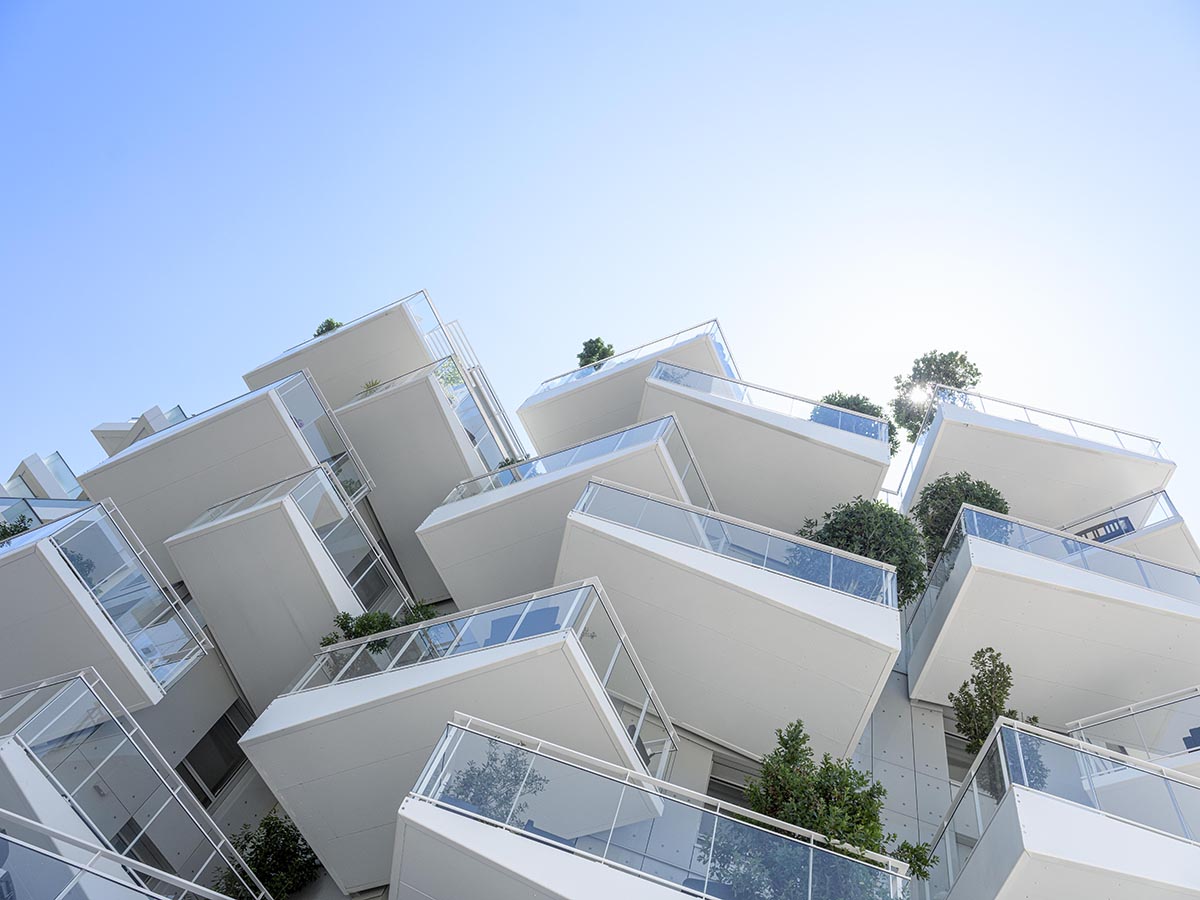 The new Prado Concorde development on the edge of the Lez river and at the entry to the town combines collective housing with school facilities and shops in a vast urban island surrounding a garden shaped like a valley.
The accommodation architecture systematically gives pride of place to the external extensions of the dwellings so that residents can make the most of the advantages of the climate. A genuine outdoor room increases the habitability of each dwelling, a living space where everyone has their own tree providing shade at meal times.
To achieve this objective, the project exploits an innovative concept of a large balcony whose triangular geometry with variable cross-section takes up the efforts through cantilevers in line with the tree container built into its thickest part.
"This high-performance prefabricated concrete component is systematically offset between floors to allow enough air for each tree to grow," said Valode & Pistre.
The advantages of these balconies go beyond their practical use; the play between their offsets and inversions and the combination of triangular prisms floating one above the other bring movement and lightness to the façade like a flight of birds.
The variable cross-section terraces allow a tree to be planted in a metre of earth approximately. Planted at 3 m, they grow to 6 m. They will be arranged on the edge of the island facing the sunny side.
Tree species are Laurus nobilis - Bay tree. The tree is especially interesting given its hardy foliage; it remains green all year long, forming a perfect screen, its flowers are perfumed and its leaves are edible and used in cooking.
Site plan

Elevation

Section
Detail drawings from balconies
Valode & Pistre was founded in 1980 by Denis Valode and Jean Pistre. Based in Paris, the studio has offices in Beijing, Moscow and Dubai, it develops projects in France and around the world.
Valode & Pistre's practice is highly diverse, from devising master plans for new towns to designing items of furniture.
Project facts
Project name: Prado Concorde
Architects: Valode & Pistre
Lead: Valode & Pistre PUP
Programme: (Partnership Urban Project) Antoine Garcia-Diaz Social housing - Tourre & Sanchis
Programme: Creation of a new mixed complex around an internal garden: Accommodation (private, social, student), shops, offices, retirement homes, teaching.
Project owner: Helenis (subsidiary of the GGL Group) Opalia
Floor area: 28,000 m2 on a 1 ha site
Delivery: 2019
All images courtesy of Valode & Pistre
> via Valode & Pistre