Kengo Kuma and Geoff Nees install Botanical Pavilion creating "tessellated interior" at NGV Triennial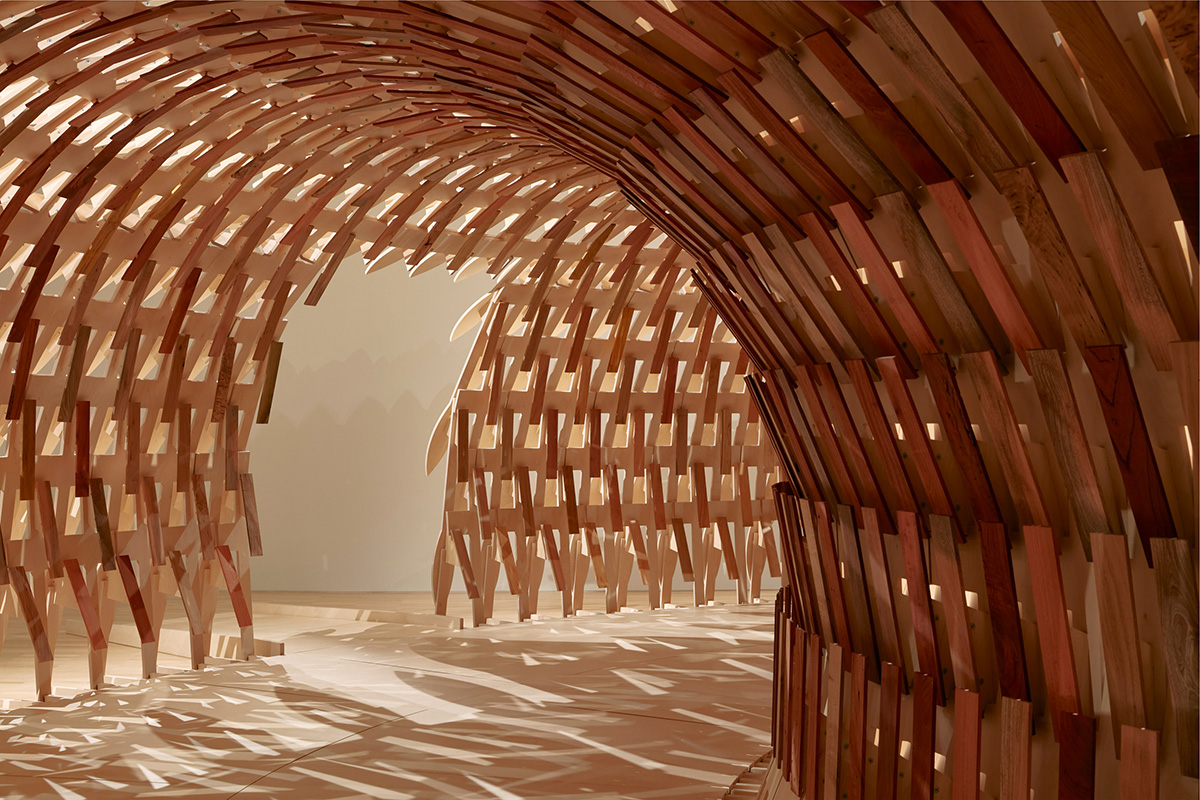 Japanese architect Kengo Kuma and Australian artist Geoff Nees have collaborated to design the Botanical Pavilion for the 2020 edition of the National Gallery Of Victoria Triennial which is being held from 19 December 2020 to 18 April 2021 in Melbourne.
Named Botanical Pavilion, the circular pavilion is made of interlocking wooden pieces that create "a sublime tessellated interior" throughout the space.
Commissioned by the NGV Triennial, the pavilion is also a walkway through which to approach and contemplate the philosophical nature of South Korean artist Lee Ufan's painting Dialogue, 2017.
A gallery-scale circular pavilion is made in the Japanese tradition of wooden architecture, the collected pieces are interlocked each other, held by tension and gravity.
Gently curved inwards, it is opened up at both ends and takes visitors inside where they explore the use of timber as a structural component.
The interior of this installation is lined with tiles of timber collected from trees felled or removed during the Millennium Drought (1996–2010) at Melbourne's Royal Botanic Gardens.
Video by NGV Melbourne
"Botanical Pavilion is a sensorial journey in which visitors are exposed to different essences of wood from Botanical Garden while walking flow it," said Kengo Kuma.
"It is a semi-circular structure made of wooden element in the looking like a puzzle to form arches."
"All the elements are joined in place and the structure becomes stable. Inside the structure, there are different types of timbers from the botanical garden and they are suspended," Kuma added.
(Right) Botanical Pavilion at the National Gallery of Victoria. (Left) Lee Ufan's painting Dialogue, 2017.
"In the Botanical Pavilion, there are many covered elements of my architectural philosophy. For instance, the use of wood and aggregation of small particles, structural challenge, porosity, light and shade are used in the pavilion," he continued.
"In design of this pavilion, small wooden pieces are assembled like three-dimensional puzzle to form a structural arch. This approach is inspired by Japanese carpentry tradition of using smaller elements relying on achieving larger spans," Kuma added.
"Some of the trees used within the architecture pre-date European settlement, whilst others signal the development over decades of the Gardens marking their role as a site of scientific research and botanical classification," said the NGV Triennial in its website.
"Prioritising natural phenomena over scientific order, the botanical species used are colour coded, rather than following any taxonomic order."
"This approach offers a statement by the designers against the reductive nature of science during the colonial era – a mindset at odds with many Indigenous cultural beliefs and knowledge systems. Botanical pavilion offers a site for contemplation, reminding us of our relationships to nature and one another."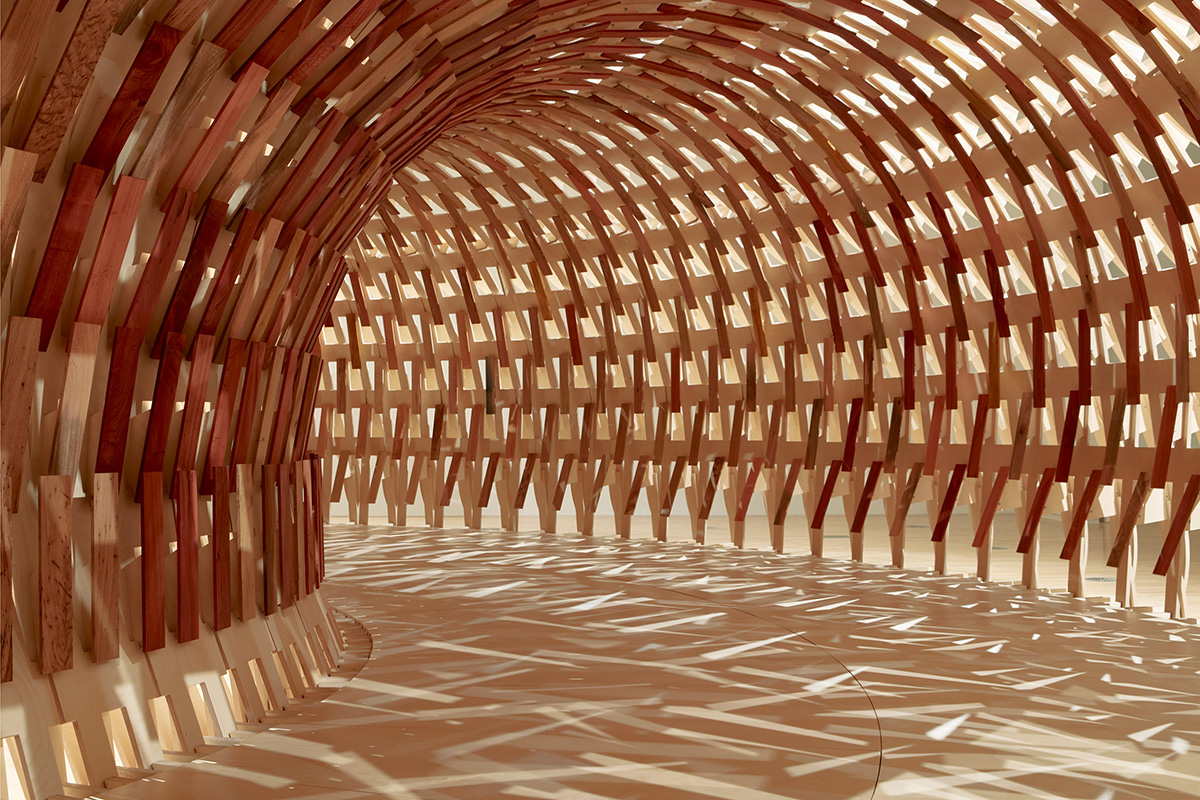 The installation will be on view at the National Gallery Of Victoria Triennial until 18 April 2021 in Melbourne at NGV International, 180 St Kilda Road, Melbourne Australia.
All images: Installation view of Kengo Kuma, Kengo Kuma Associates and Geoffrey Nees' Botanical Pavilion 2020 on display in NGV Triennial 2020 © Kengo Kuma and Geoff Nees © Tom Ross - unless otherwise stated.