Morris+Company designs modular housing system for Argentinean prefab company Phäbb
London-based architecture practice Morris+Company has unveiled plans for a new housing system, called phäbb MODU, a highly flexible modular system is designed for an Argentinean prefab company phäbb.
phäbb MODU will create affordable modular system with high design credentials that will be sold around the world.
The new housing system can be configured to create everything from one-off homes through to apartments, adaptable enough to suit both urban and suburban locations, as well as differing budgets.
Beach House
The housing system, which is divided into four typologies Suburban House, Beach House, Stack House and DADU House, will all be produced in a range of material palettes to suit the local context, from textured brick and charred timber, to metal panels and shingles.
House sizes across the four types will range from 18,6 square meters to 263 square meters.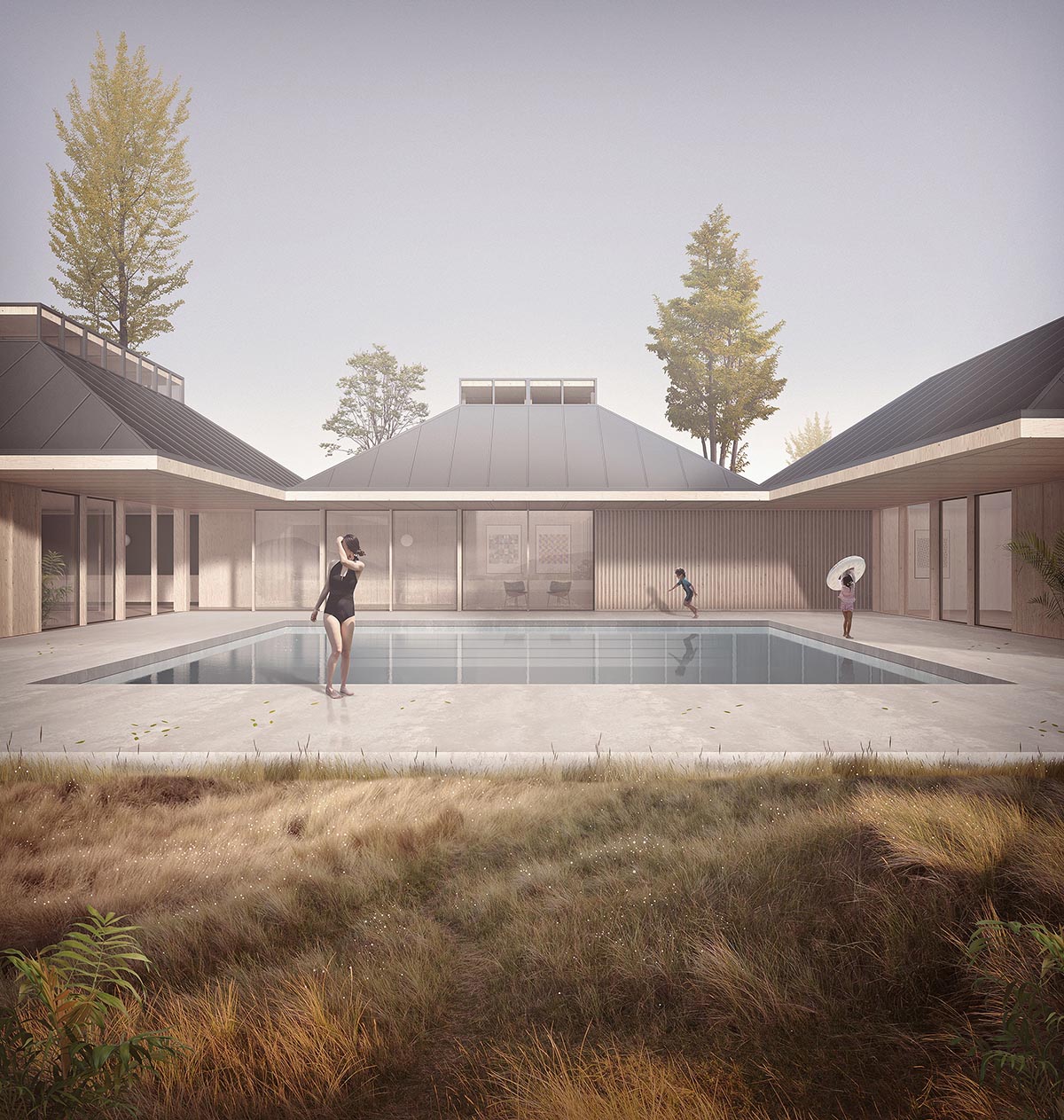 Beach House view 2
Suburban House will comprise three distinct but linked buildings, with each volume housing the living area, kitchen/dining or bedrooms. Its staggered layout creates three key external features; off-street parking to the entrance, a central walled courtyard, and a shaded outdoor dining area to the rear garden.
Double-height living areas are lit naturally via glazed roof lanterns in the distinctive roof design, while in the bedroom 'wing', the sleeping areas are at both ground and first-floor level.
Suburban House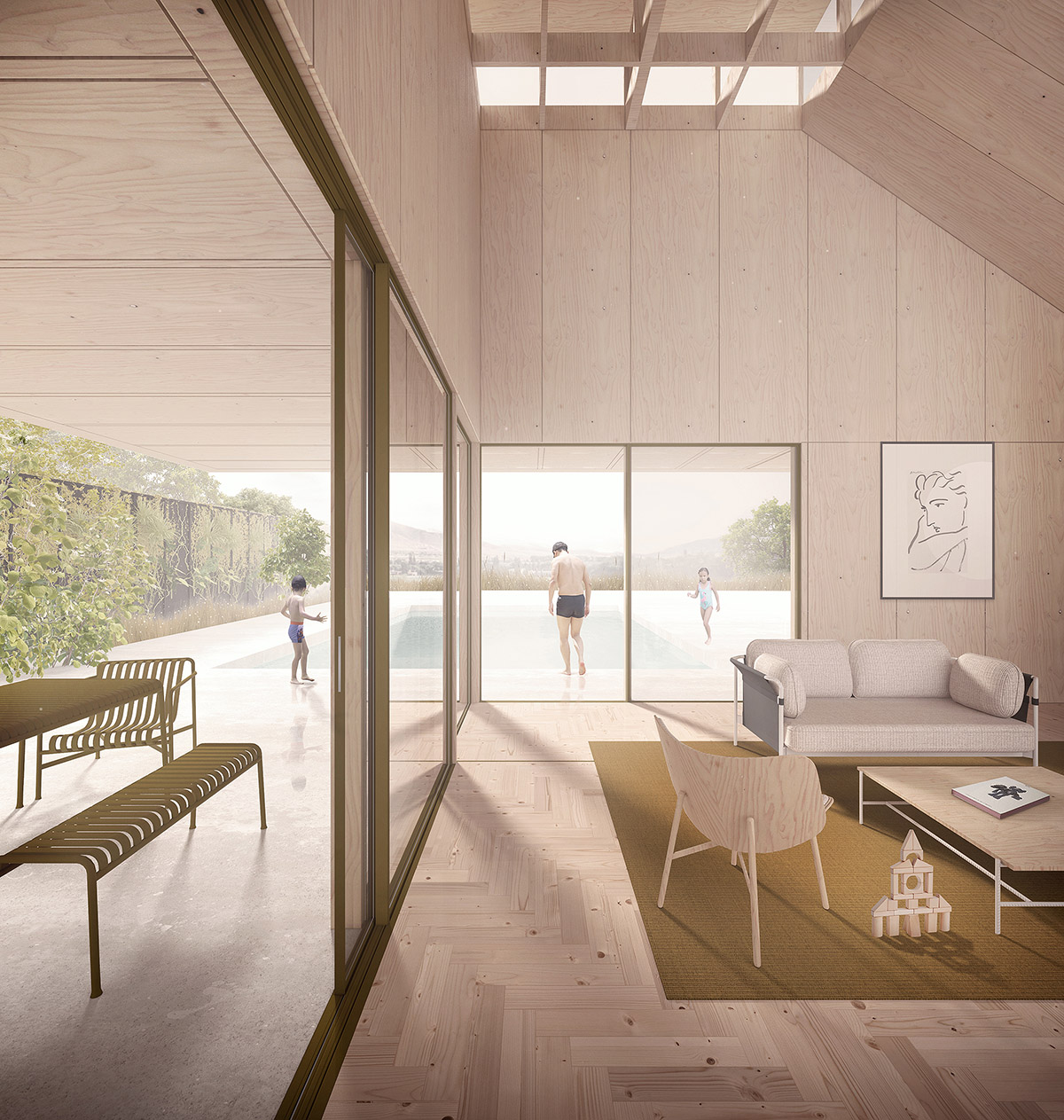 Suburban House view 2
In Beach House, the system again will use three volumes, but this time set around a central private courtyard garden or pool. Living spaces open on to this courtyard via wraparound glazed doors, which can be opened to allow seamless connection between inside and out. The roof projects to create a shaded veranda that runs around the courtyard's perimeter, and the house can be positioned to optimise surrounding views.
Stack House
Stack House view 2
Stack House is designed as an apartment building that comprises duplexes at ground floor and three-bed apartments above, which can be built as one module or a in a terrace formation. Outdoor space for all apartments is generous; deep-set galleries at the upper levels provide each apartment with an outdoor 'room'. This allows daylight in, as well as extending internal living to outdoors.
Made from battened screens that vary in density to allow for privacy and solar shading, dependent on orientation and proximity to neighbouring houses, these create irregular patterns and interest across the building's exterior.
The final typology, called DADU House, is specifically designed where space is an issue, instead using height to create dynamic interiors. Six variations ranging from 18, 6 square meters to 86 square meters mean that this model is suitable for first-time buyers, new families and young professionals, as well as additional 'garden room' spaces.
Its steep pitched roof and glazed lantern roof create a striking form, while natural light is drawn into double height living areas and windows of varying size frame views to the sky and surroundings.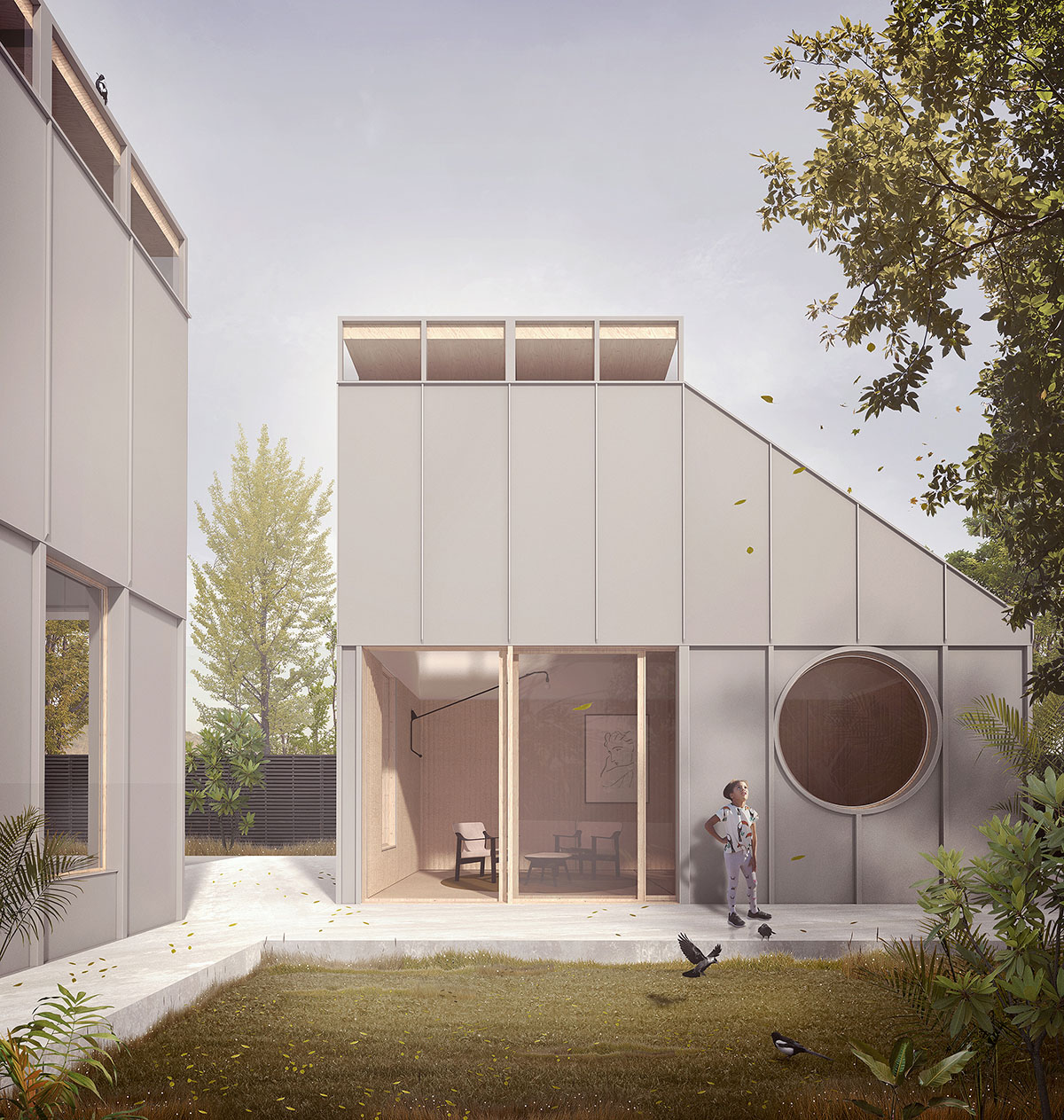 DADU House
"Housing is a fundamental human need. The shortage of good quality housing is a global issue, and the present-day design and delivery mechanisms of the housing market typically side-line the end user from the decision making process," said Joe Morris, Founder of Morris+Company.
"Through phäbb MODU, an alternative strategy is possible, whereby low carbon, energy efficient and modular typologies can be tailor made to user needs."
"As a consequence, phäbb's manufacture and delivery systems can accommodate site and user specific requirements, enabling a range of different home types to be placed into a variety of contexts. Through phäbb MODU we increase choice, add flexibility and adaptability, reduce waste and improve the standards of attainable housing for a global market," added Morris.
DADU House view 2
"We have thoroughly enjoyed working with Morris+Company throughout this creative process that has resulted in phäbb MODU, a collection of modular flexible living solutions to accommodate different lifestyles and locations," said Gaston Trajtenberg, Founder and CEO of phäbb.
"Phäbb MODU represents the ethos of the company, to explore and create collaboratively, combining different designs and experiences globally that evolve into innovative and disruptive products."
Founded in 2018, Morris + Company is a company of architects based in East London. Their buildings are the result of rich and constructive discourse with their clients, and their methodology is inquisitive, explorative and powerful, and gives a new perspective on a brief.
Phäbb is a design and technology start-up company that is transforming the way of thinking and making the places to live.
All images courtesy of Morris+Company.
> via Morris+Company